Updated on March 25, 2022
Televisions in your bedroom can provide entertainment and comfort, but it is important to install them correctly to achieve maximum viewability and use. Mounting your TV to the wall is a great way to save space and add a television without being obtrusive in the room decorations.
So how high should you mount a tv in your bedroom? You should place the TV in your bedroom 42 inches from your floor. Read on for some additional considerations regarding this rule of thumb.
See Also: 36 Family Room Design Ideas With a Wall-Mounted TV
Optimal TV Height In a Bedroom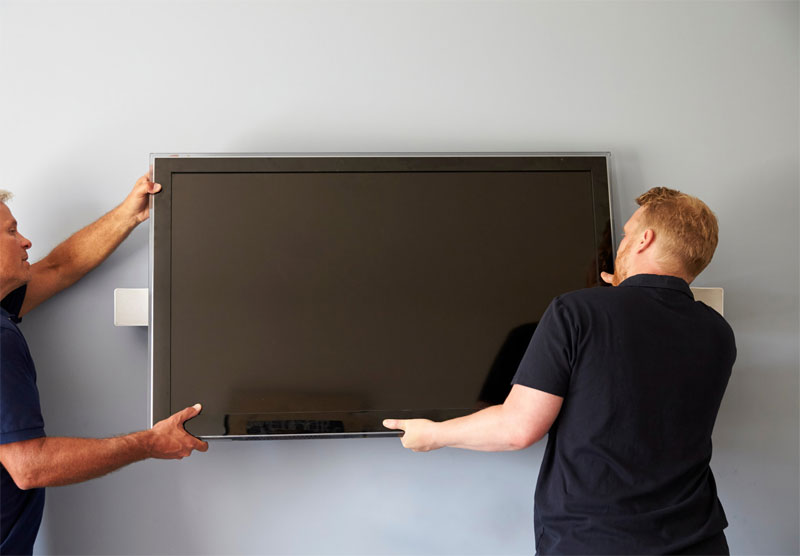 Television placement on a wall is important because you do not want neck strain or eye strain when trying to enjoy your favorite shows or playing your favorite games. To get it exactly right, you need a tape measure and a pencil.
Start by placing the end of the tape measure flat against the floor, but do not press it into the flooring, this is especially important if you have carpet. Then measure 42 inches from the floor to the approximate center of the television. This will allow for comfortable viewing when sitting or lying down on the bed.
The recommended height for a bedroom TV is lower than if mounting your TV in your living room because the level of the bed is lower than a couch.
Bedroom TV Height Guidelines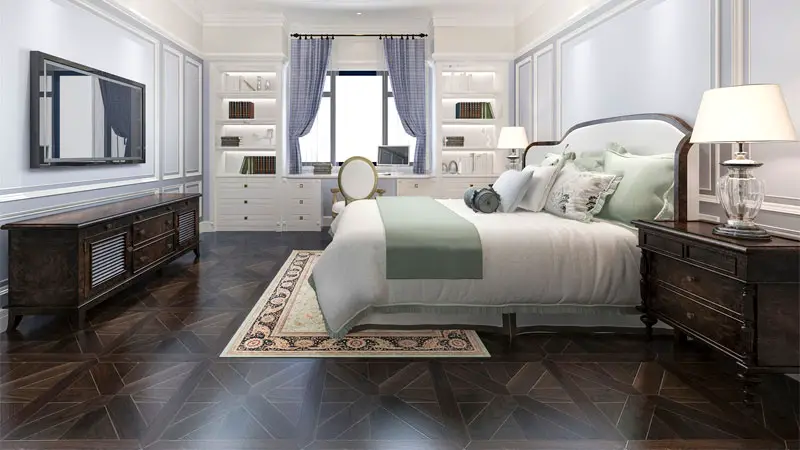 These guidelines are designed to accommodate beds with footboards that are 14 inches above the mattress because that is the standard footboard size.
If your footboard is taller than 14 inches, you should adjust your measurement accordingly, which means if your footboard is 15 inches above your mattress, you should measure 43 inches from the floor to the centerline of your TV.
Do not lower the TV if you do not have a footboard, however. It is always good practice to measure twice.
NOTE: If your TV is bigger than 55 inches, you should measure 45 inches from the floor to the center of the TV screen, assuming that your footboard is of average height. This will help to avoid the picture being obstructed by the footboard of your bed.
Placing your TV directly across from your bed will give you the best view of the screen. However, if your room set-up does not allow for such placement, you may consider mounting the TV on a sidewall next to your bed.
This may create a less than ideal angle to the screen, but most TV mounts allow for the television to be tilted. If you tilt the television slightly toward your headboard, you will have a more crisp, clear view of the screen.
You may need adjust it several time to achieve optimal viewing from the sidewall, but it can user-friendly if you are patient.
See Also: How to Place a Rug in a Bedroom
Other Things to Consider
You may consider an adjustable mounting bracket that allows the TV to swivel or be pulled up or down. This will allow for more flexibility in your space if you decide to change the layout or if the wall configuration in your room does not allow for direct placement at the foot or on the side of the bed.
Thinking ahead could save you from patching drywall and moving the TV after mounting it the first time, and enhance TV watching options.
Related: 9 Alternatives to Drywall
Final Thoughts
You now have an unobtrusive and enjoyable entertainment area in your bedroom. By following these simple guidelines, you can enjoy TV entertainment at a comfortable viewing height, and you do not have to take up the space on your dresser or bedroom table or suffer through uncomfortable viewing.