Updated on March 25, 2022
Everyone wants their family room to be an impressive place to kick back and unwind. It needs to be large enough for your Super Bowl Sunday bash and snuggly enough for family movie night.
And whatever is happening in your family room, the flat-screen seems to be at the center of it all. Whether we like it or not, the television gets a prominent place.
Need some inspiration on how to make your family room a show-stopper? Grab some popcorn, sit back, and enjoy these gorgeous family rooms with wall mounted TVs.
See Also: 26 Perfect Ideas for Putting a TV Above Your Fireplace
Stunning Family Rooms With Wall Mounted TV Design Ideas
1. Modern Luxury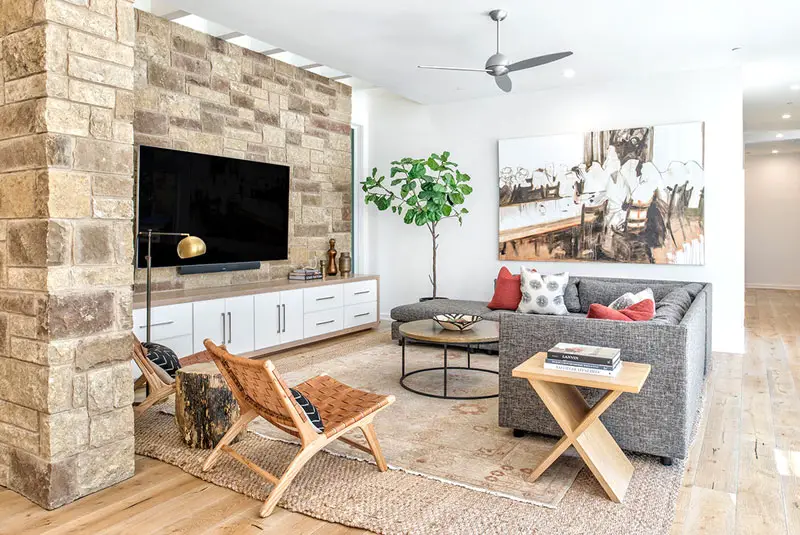 This modern family room is relaxed and inviting. The textural stone wall adds a natural element behind the wall mounted TV.
2. Sensational Symmetry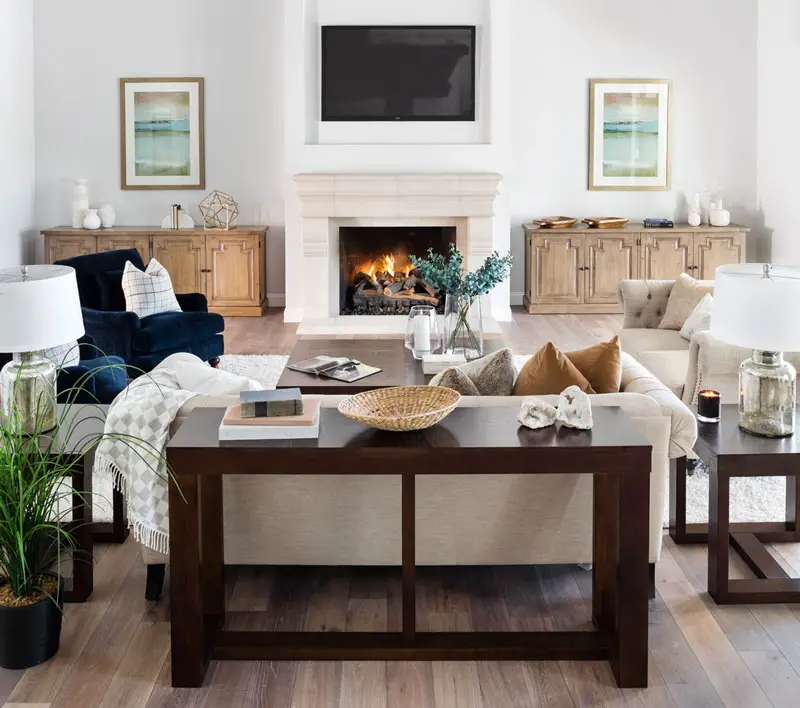 Two identical wood cabinets flank the fireplace and TV. Often, furniture placed symmetrically can feel stiff, but when other decor elements are artfully arranged, it creates a playful balance.
Read Also: How to Arrange Living Room Furniture With a TV
3. Coastal Dream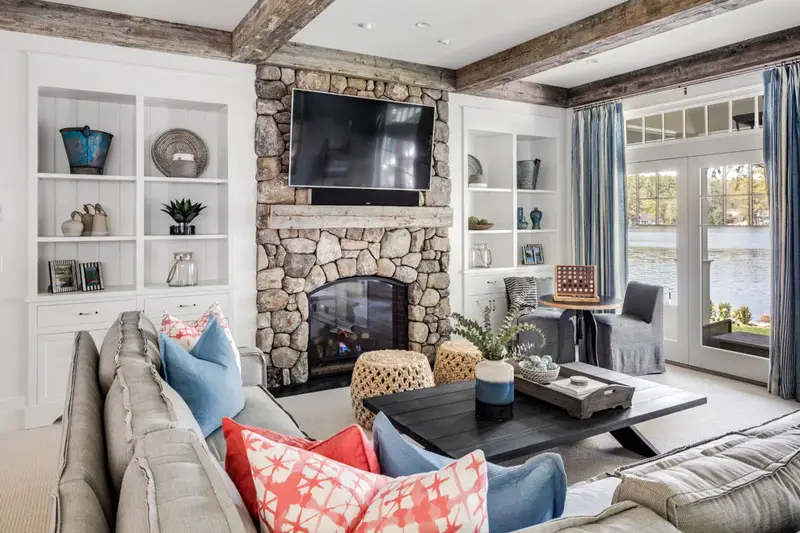 Every piece of this family room has coastal charm. Weathered accents throughout make the room cohesive.
4. Lofty Lighting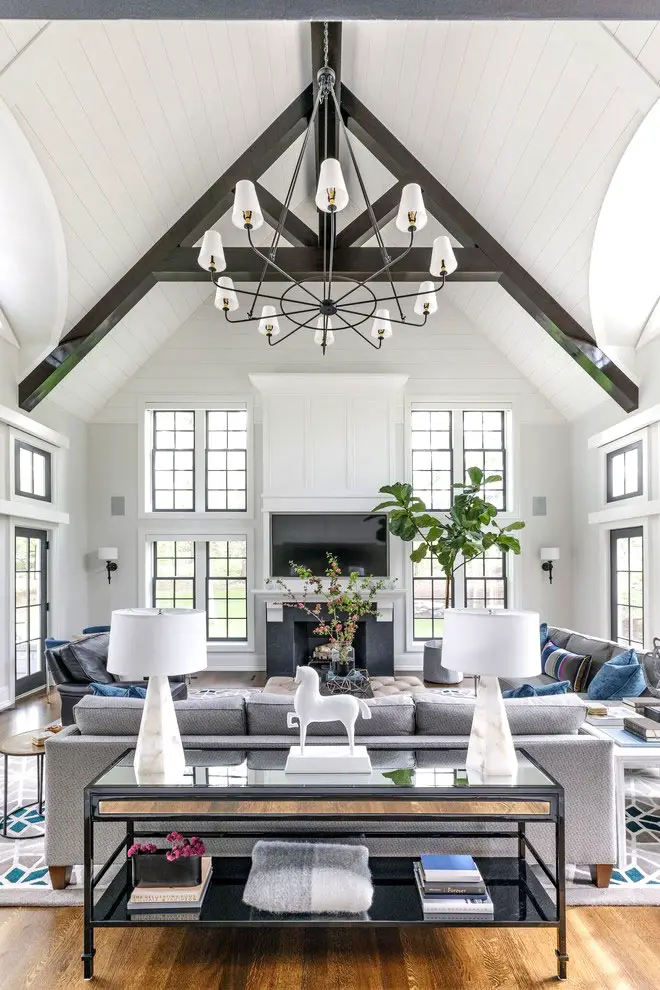 Though the TV is front and center in the room, the ceiling and chandelier are really the eye-catcher.
5.  Rustic Mountain View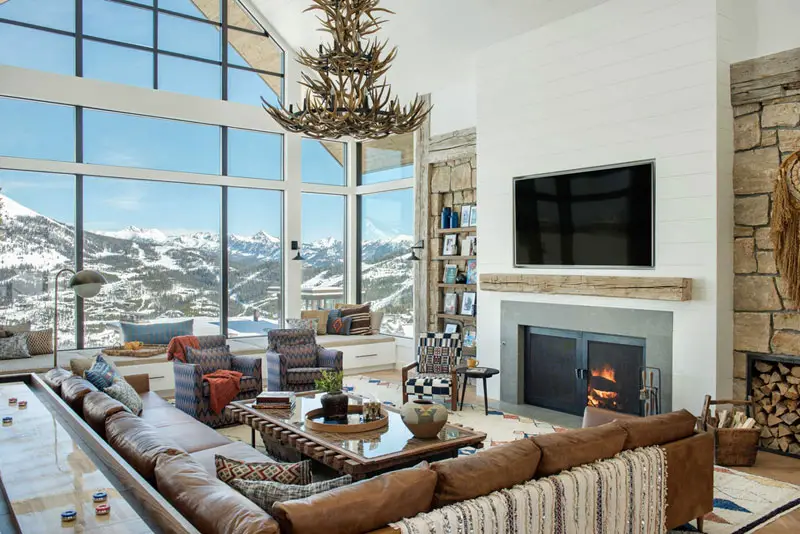 Complete with antlers, this rustic family room feels modern and light. The wall mounted TV is expertly set in the white wood fireplace surround.
6. Cozy Seating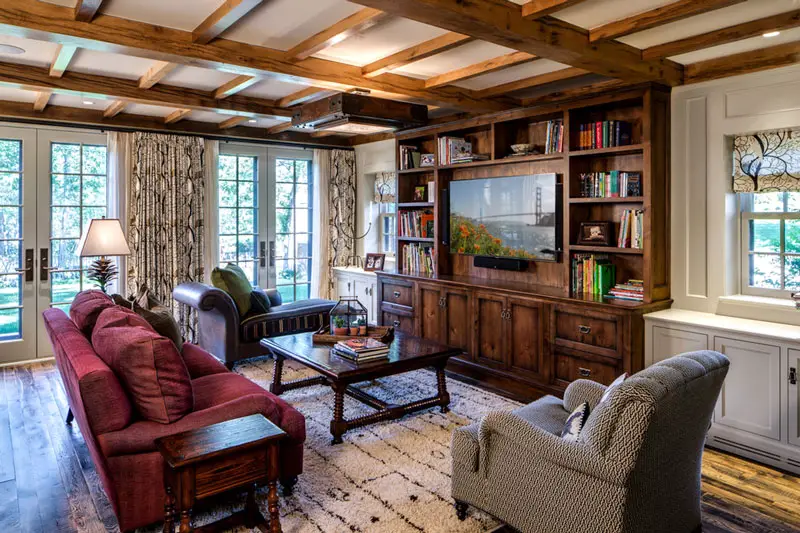 This traditional family room gets modernized with a sleek wall mounted TV, and cozy overstuffed chairs are placed for easy viewing.
7. Off the (Main) Wall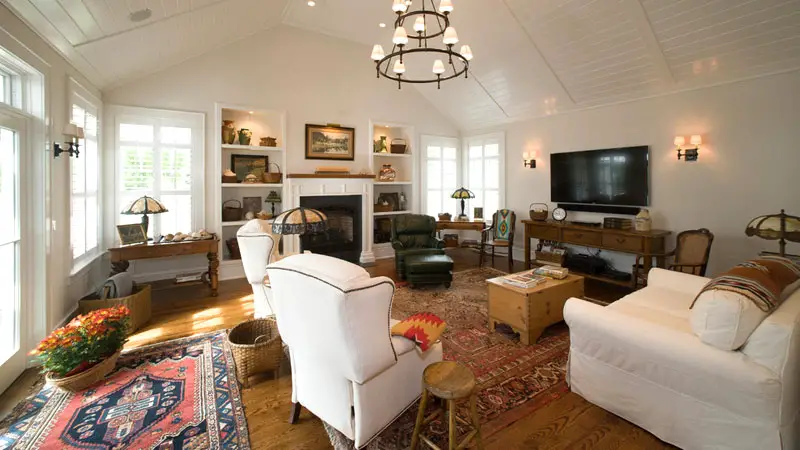 It can be hard to know where to mount the TV. If you don't want it above your fireplace, try placing it on an adjacent wall with a sofa table set below.
8. Sleek Contrast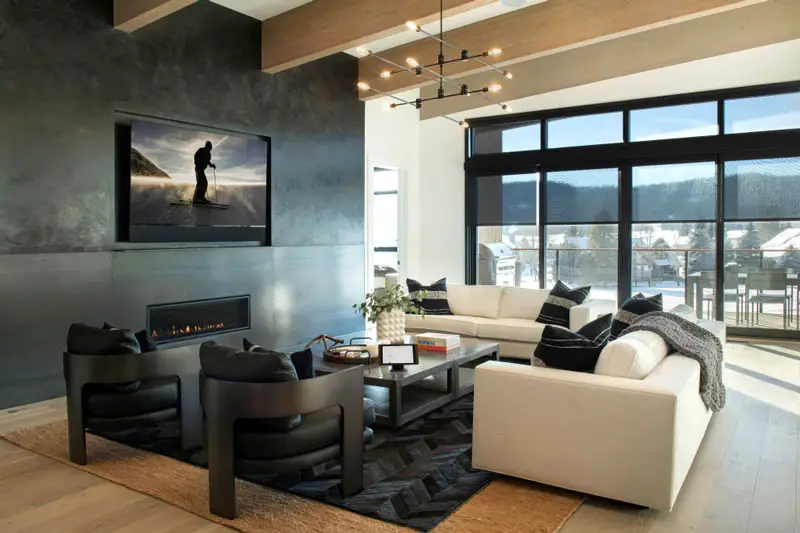 Clean lines in the furniture and dark accent wall make the TV feel right at home in this modern space. The white couch adds just the right touch of light and comfy seating.
9.  Plenty of Seating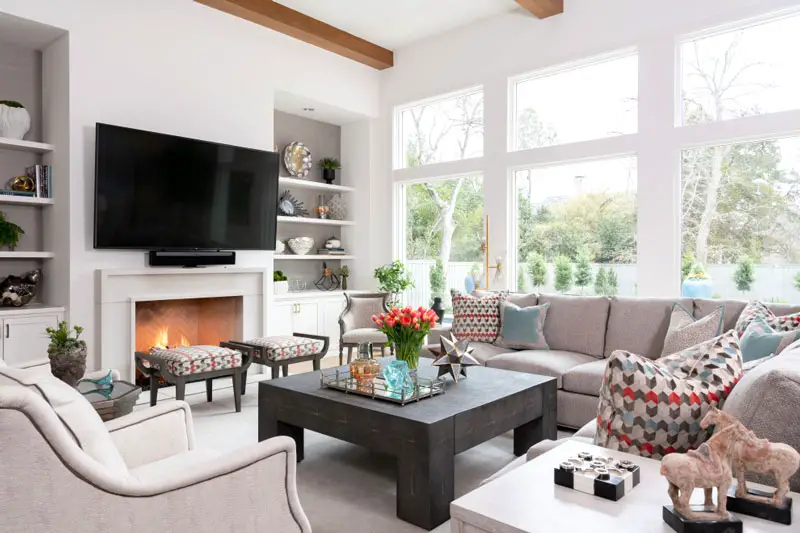 A set of twin stools sit in front of the fireplace. Having extra seating for gatherings is always a plus!
10. Black and White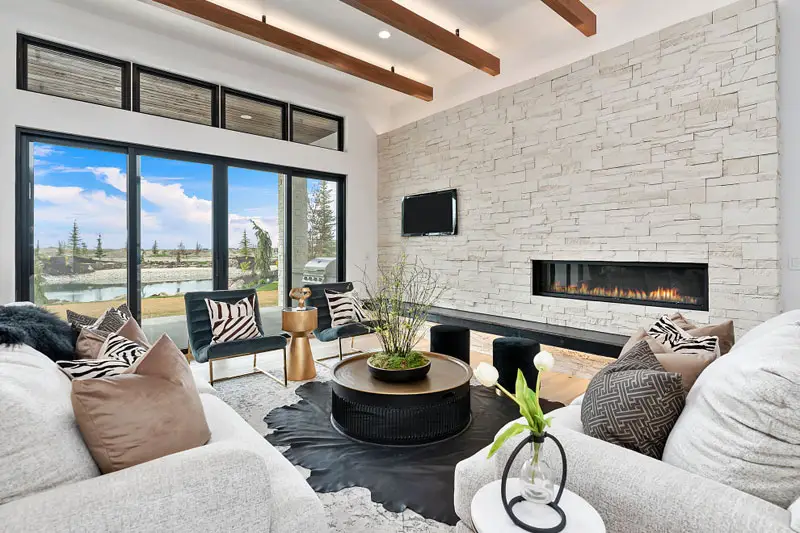 A TV is placed off to the side in this contemporary, high-contrast living room.
11. Mid-Century Marvel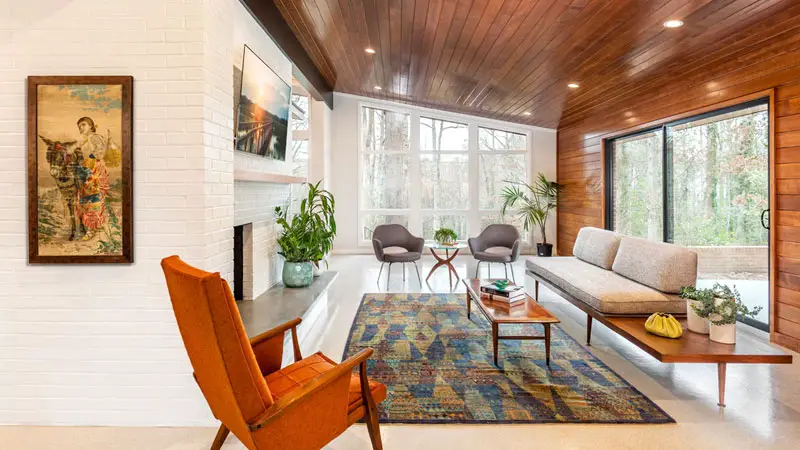 Stunning wood walls are opposite the fireplace and TV. A plethora of sleek furniture bring this room back to its mid-century glory.
12. Lake-Inspired Living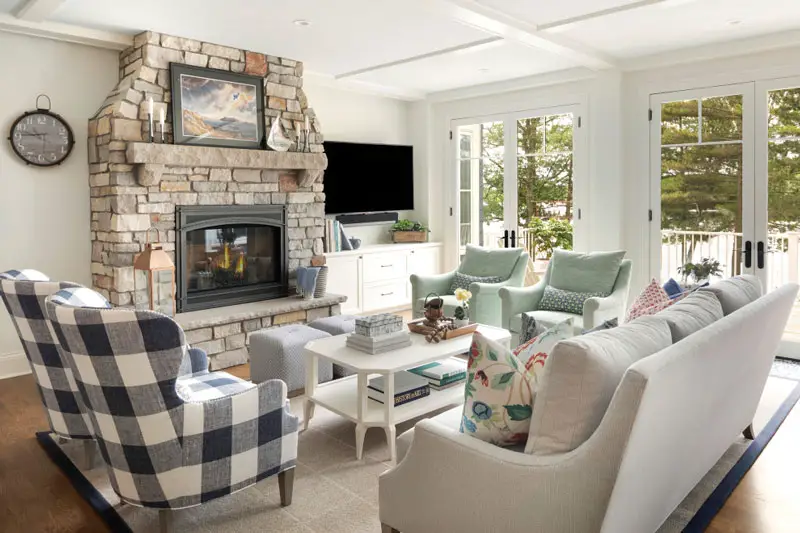 A large wall mounted TV is set above built-in cabinets. Placing it to the right of the room allows the fireplace to take center stage.
13. Simple Elegance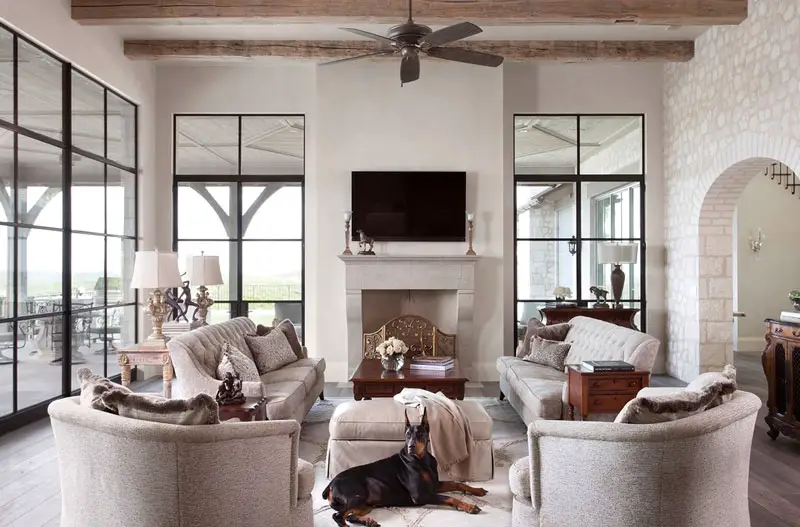 Using a masterful blend of ornate accents and demure minimalism, this design makes even a TV seem elegant.
14. Stunning Wood Wall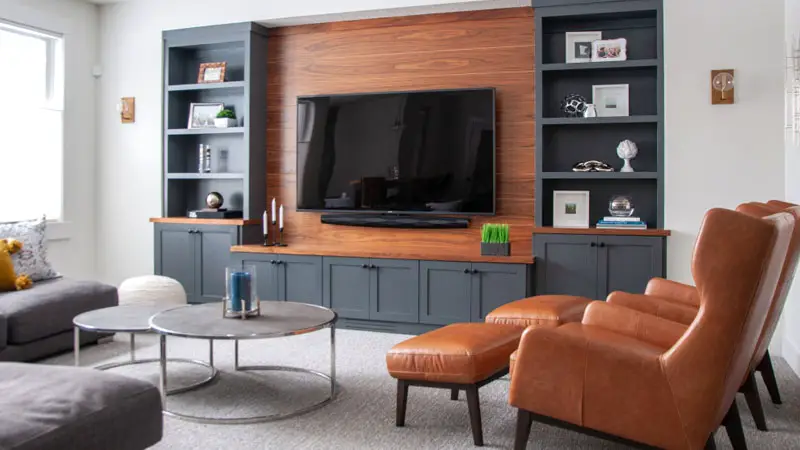 Don't try and hide your TV, instead make it stand out! This incredible design makes the wall and television a work of art.
15. Beautiful Display
Exhibit an array of beautiful objects in a one-of-a-kind art display around your TV. Not only does this allow for you to show off things you love, but adds color and dimension on an otherwise flat wall.
16. Go Glam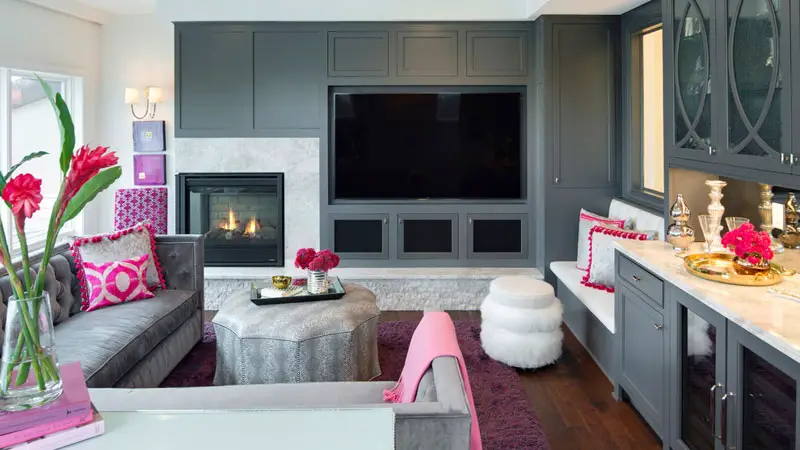 A swanky retreat boasts a large flat-screen TV, corner fireplace, and bar area. Flirty details make this room feel fun rather than stuffy.
17. Calm Retreat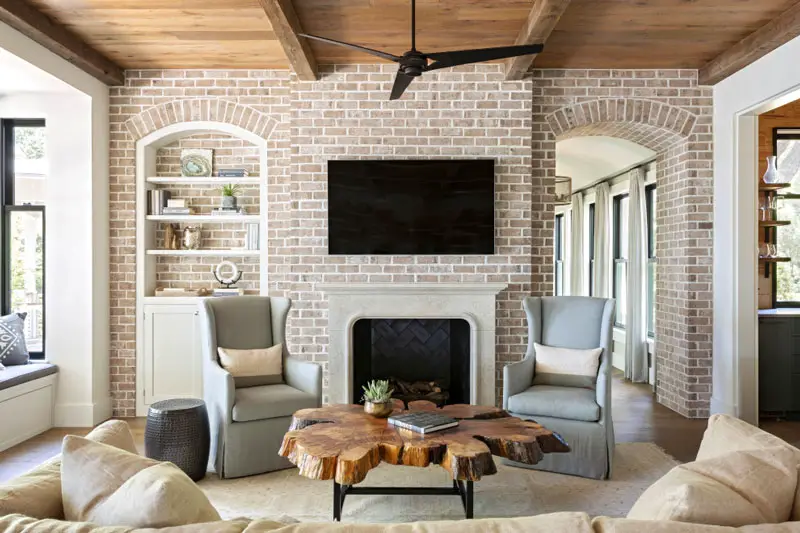 Soothing tones and weathered wood make this the perfect place to sit back and watch a show. Black accents on the coffee table and ceiling fan help tie in the dark TV.
Read Also: Proper Height to Mount a Bedroom TV
18. Framed
Even a rustic hideaway needs a TV. This charming design frames out a space above the mantle to house the device.
19. In the Red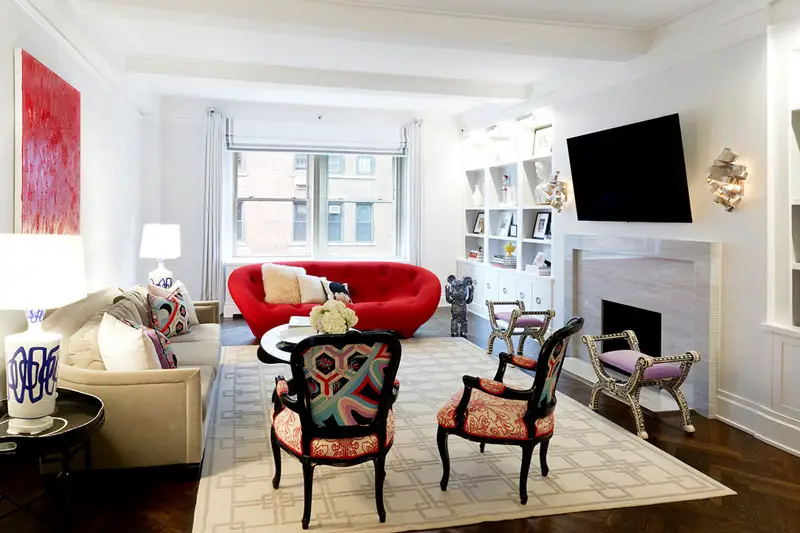 An extra bold living room maximizes space with lots of seating options.
20. Spanish Bungalow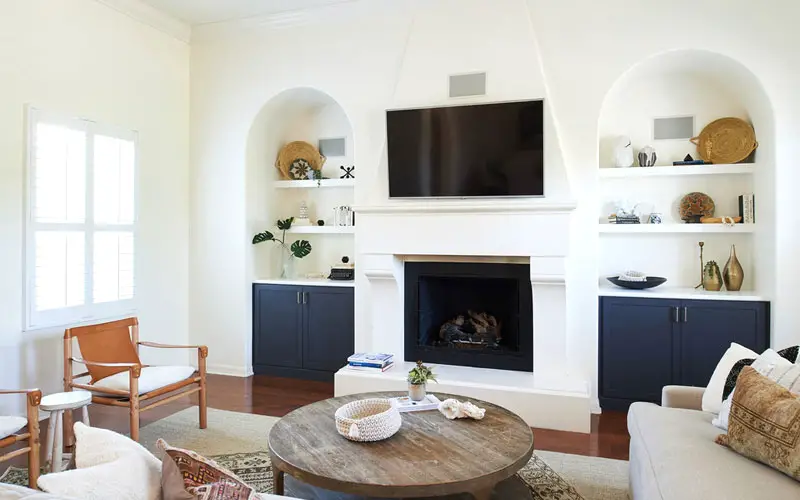 These impeccable arched built-ins get a modern face-lift with blue doors. The Spanish-style fireplace looks great with the TV mounted above, and still retains it's vintage flair.
21. Deep Blue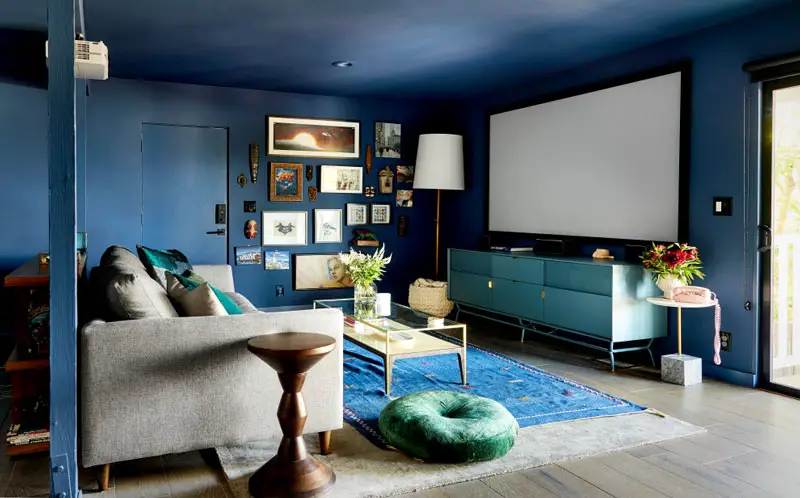 We all love watching a good film in a dark room, but no one wants to paint their family room black. Check out this dynamic room with deep blue walls and ceiling, perfect for the ultimate movie-viewing experience.
22. Southwest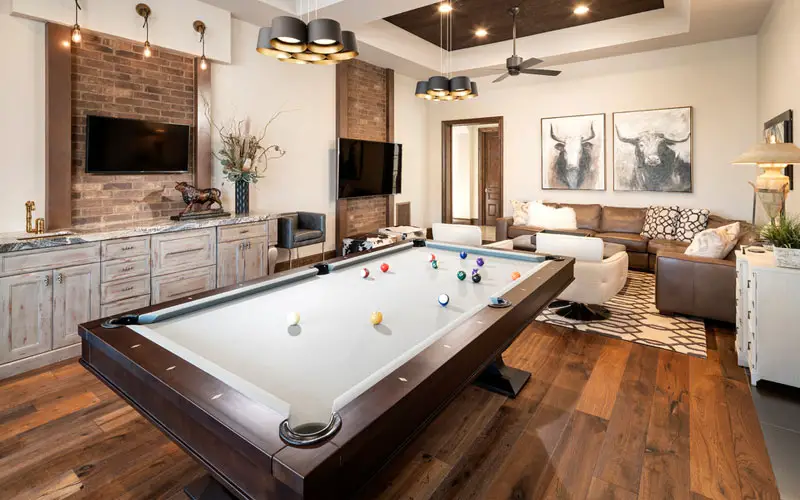 Can you have too many TVs? This unrivaled game room's answer is an emphatic "no!". The ultimate gathering place has space for games, relaxing, and plenty of TV-watching.
23. Old World Charm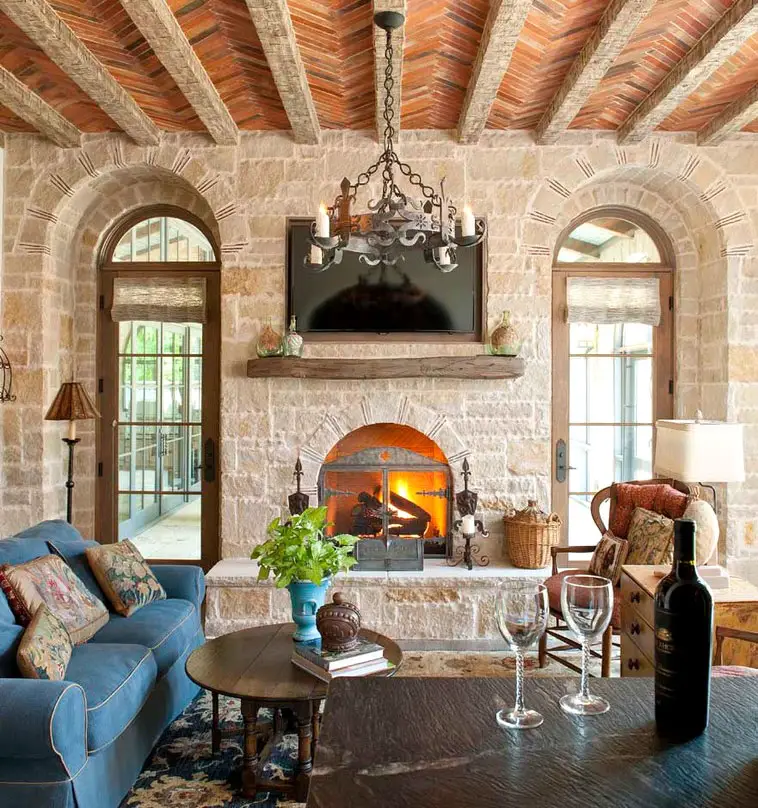 Feeling like you just stepped into the European countryside, this exquisite room pairs old-world details with modern entertainment. Notice the reclaimed wood detail around the television matches that of the rustic mantle.
24. Ultimate Hangout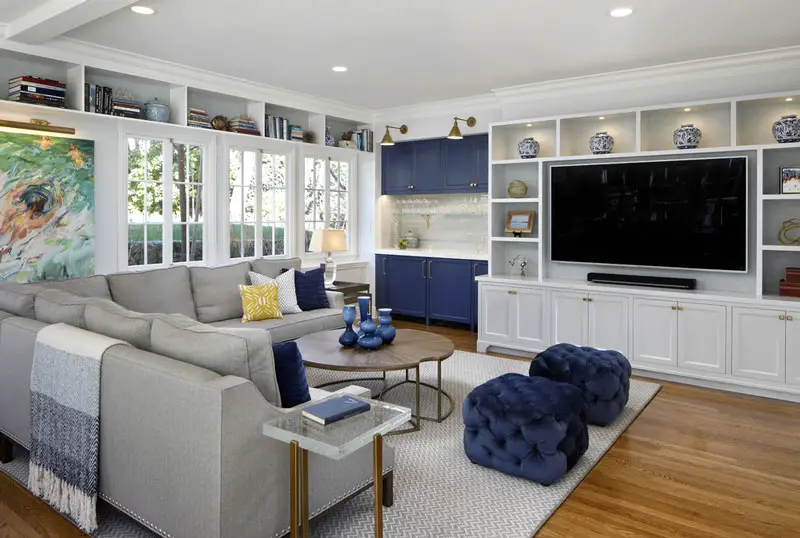 An extra large flat-screen shares a home with a bar and tons of soft and stylish seating. Perfect for hosting the ultimate viewing party, it pairs luxury and comfortability.
25. Little Gem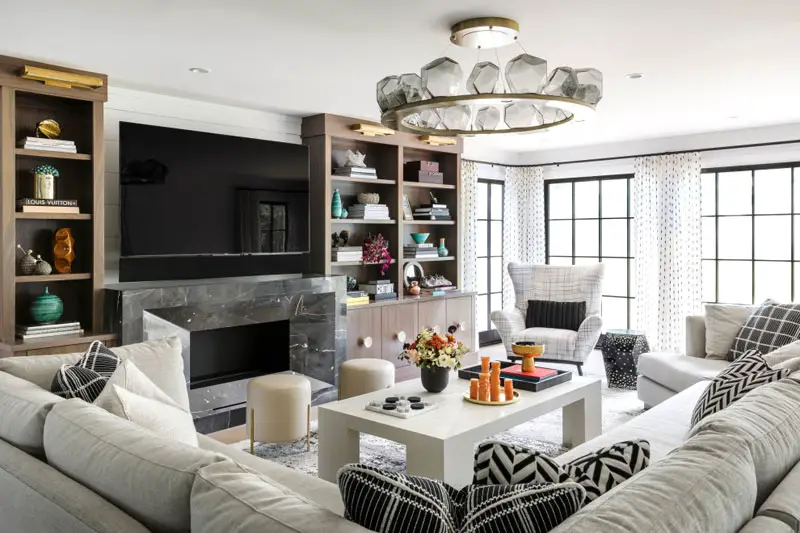 A magnificent crystal-inspired light fixture is the main attraction in this black and white contemporary family room.
26. Serene Sitting Area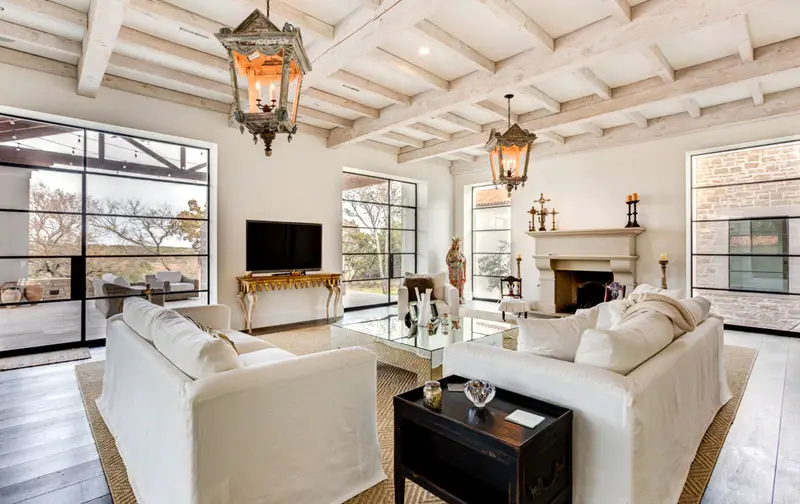 Orienting one couch toward the fabulous fireplace and the other to the TV allows this room to have multiple uses depending on the activity of the moment.
27. Built-in Functionality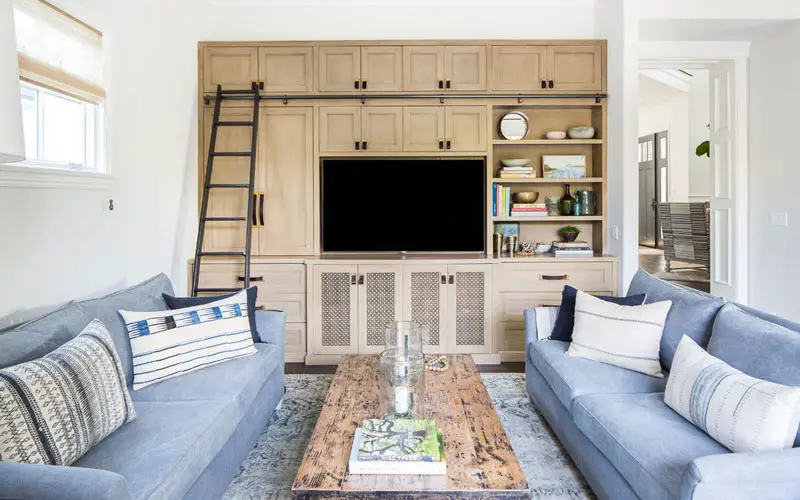 Make the most of your TV wall with floor-to-ceiling built-ins. A metal library ladder adds interest and function.
28.  In Living Color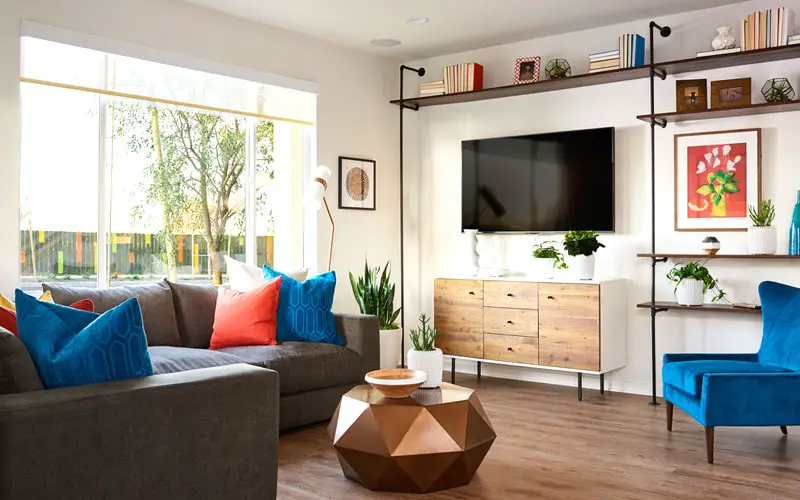 Color doesn't have to make your living room feel crazy. This bright design pairs primary colors with light and airy details that feel peaceful and serene.
29. Ocean Tones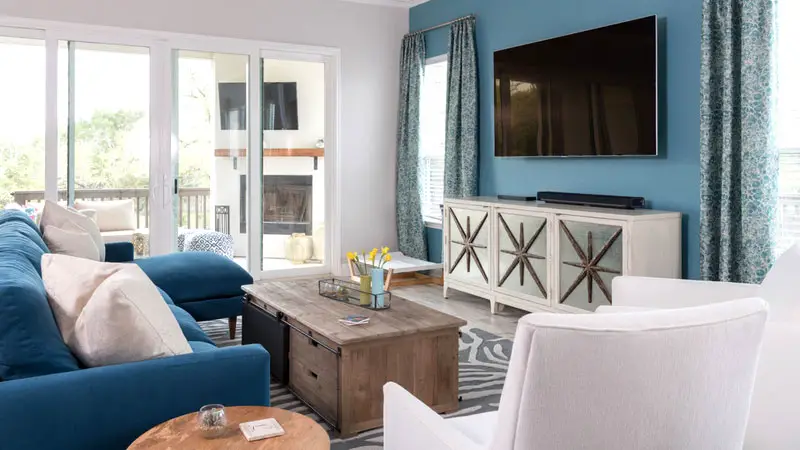 A deep teal accent wall highlights the TV and dramatic console table below. The matching blue couch sits on the opposite side of the room, balancing the strong wall color.
30. Disappearing Act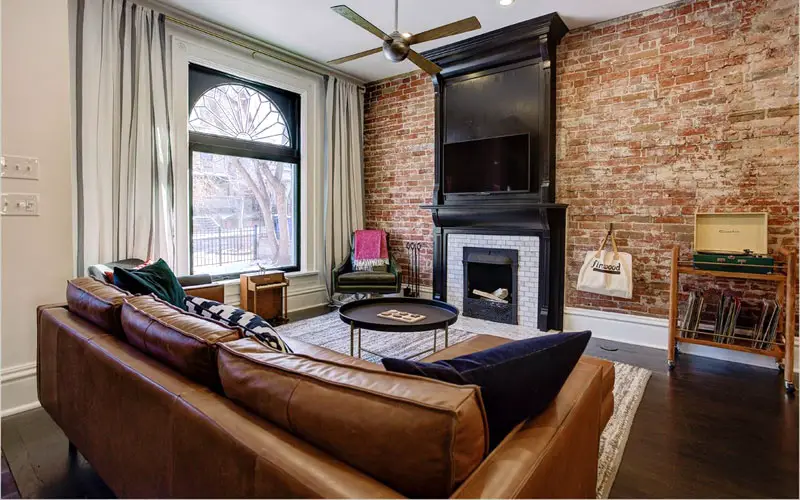 This Victorian Era home keeps its luxurious charm while camouflaging the TV. Painting the architectural element behind the television black makes it practically disappear.
31. Soothing Blue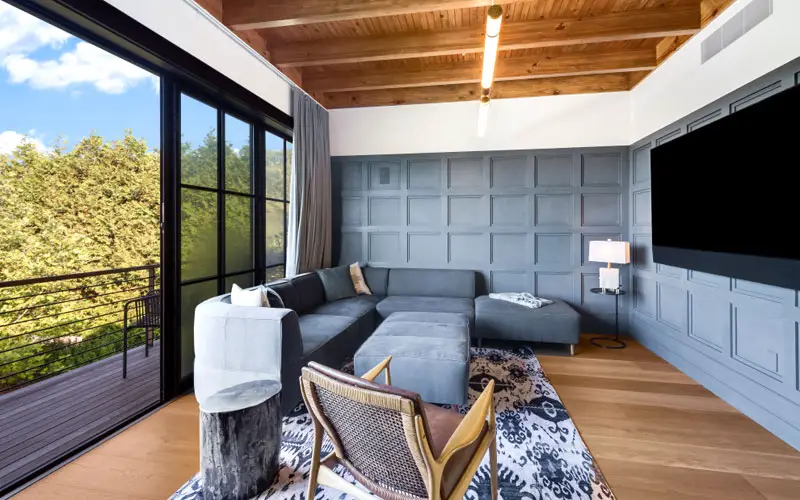 Sink into your surroundings with a monochromatic and soothing tone for your walls and furnishings.
32. Pretty Wallpaper
Not ready to wallpaper your whole room? Opt for a trendy design to accentuate your bookshelves, and even place it behind your TV!
33. Inviting Family Space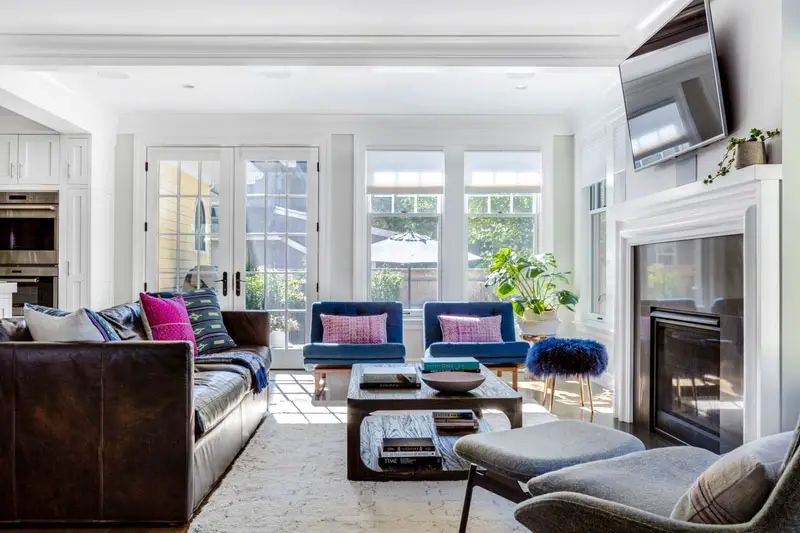 Make your family room family-friendly with all the right elements. Fun colors and cozy textures embrace all the corners of this room, inviting family and friends to gather together for plenty of good times.
34. Around the Table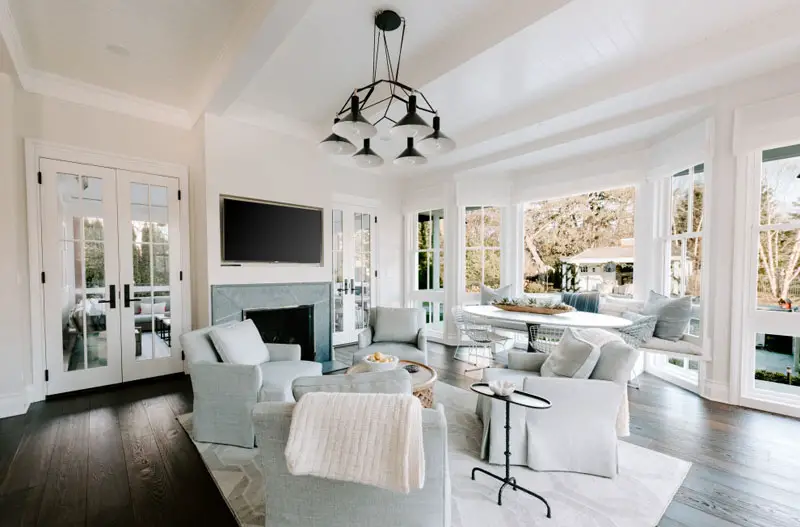 A wall-mounted TV is joined with an unexpected seating arrangement of four chairs as well as a built-in dining nook. This beautiful design shows that media rooms don't need couches in order to be captivating viewing spaces.
35. Cozy Neutrals
A black and cream family room is modern yet homey with traditional patterns as well as a white brick fireplace. Industrial and leather accents add character and warmth to the neutral color scheme.
See Also: How to Hide Electrical Cords in a Living Room
36. Curved Appeal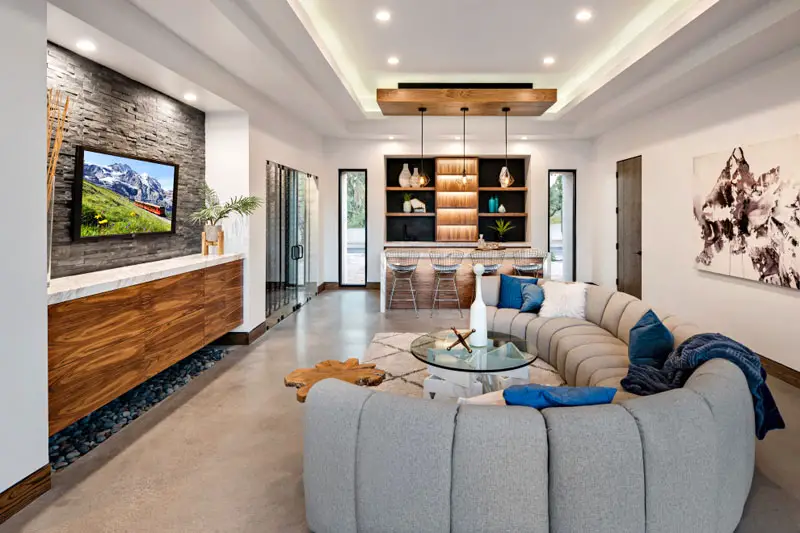 Love to entertain? This one-of-a-kind couch is the perfect lounge area for your friends to sit back and relax, while the bar area makes serving everyone a breeze.
Need more ideas? Check out: 48 Inspiring Family Room Ideas