Updated on January 3, 2022
Whether your family has grown or you are moving into a smaller space, a traditional bunk bed is a popular option. But what if want something different than a regular old bunk bed? Fortunately, bed bunk alternatives are good options.
There are plenty of alternative bunk bed styles available that will help to maximize the space, allowing more floor space for playing with toys or for getting ready before school. In addition to saving floor space, there are bunk beds that have built-in storage, some have desks on the bottom level and a bed on top, and there are even models with stairs.
No matter what your family's needs are, there are plenty of alternatives to the summer camp style bunk you're used to.
5 Alternatives to Bunk Beds
It can be hard to find a bunk bed alternative that each kid will love, but there are some styles that are awesome enough that kids of all ages would love. We've found a few fantastic options that have enough space for one, two, three, and four kids!
1. Loft For One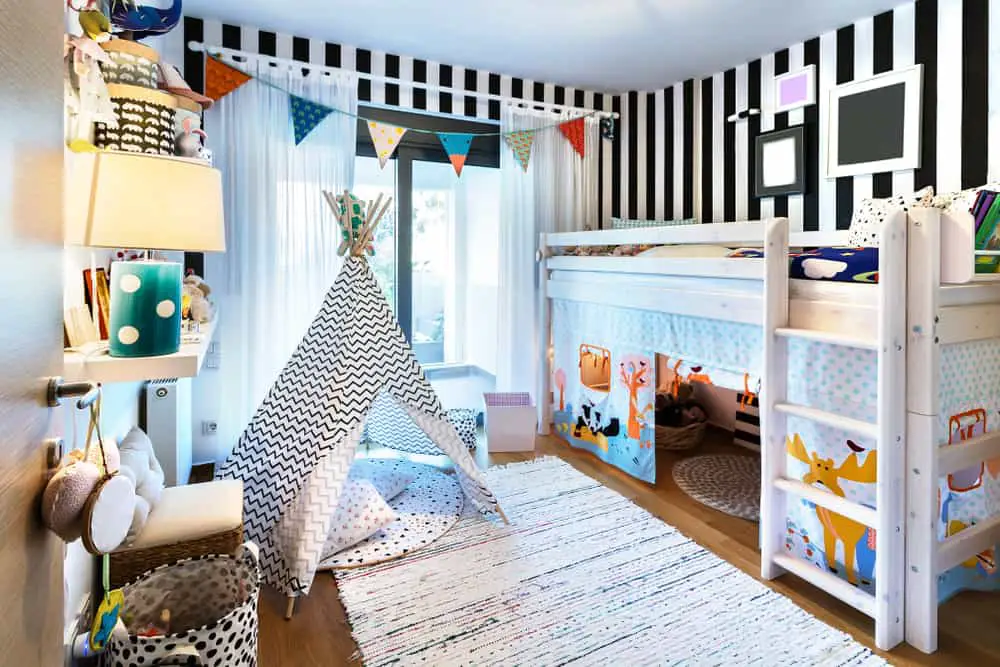 The perfect choice for one child, the loft-style bunk bed is a style many young people love. While this one is in the room of a small child, this style can be modified to accommodate for kids of all ages. This style of bed can be used in a single kid's room or you can set up two of them for siblings that share a room that is big enough.
If you have two teens or kids with a larger age gap that have to share a room, loft beds are a fantastic choice because they allow each child to have their own personal space. They can go under the bed and set up their area however they want.
Add a desk, some lights, a bean bag chair, or even a small tv. For an even more personal and private area, you can put a curtain around the bed as well.
While these can be used in a room that two or more kids share, be sure to measure the room and assess whether or not this would be an adequate use of the space. There should be enough room for each kid to move around and navigate the room, as well as plenty of space for them to change their clothes.
Pros:
A fun way to give your kid their own little clubhouse
When used in a room for two kids, it allows each kid to have their own space and mimics the feel of having their own room
Easy DIY project you can do with help from your kids
Cons:
Not the best choice for a small room two kids are sharing
2. Double Bunk With Privacy Curtains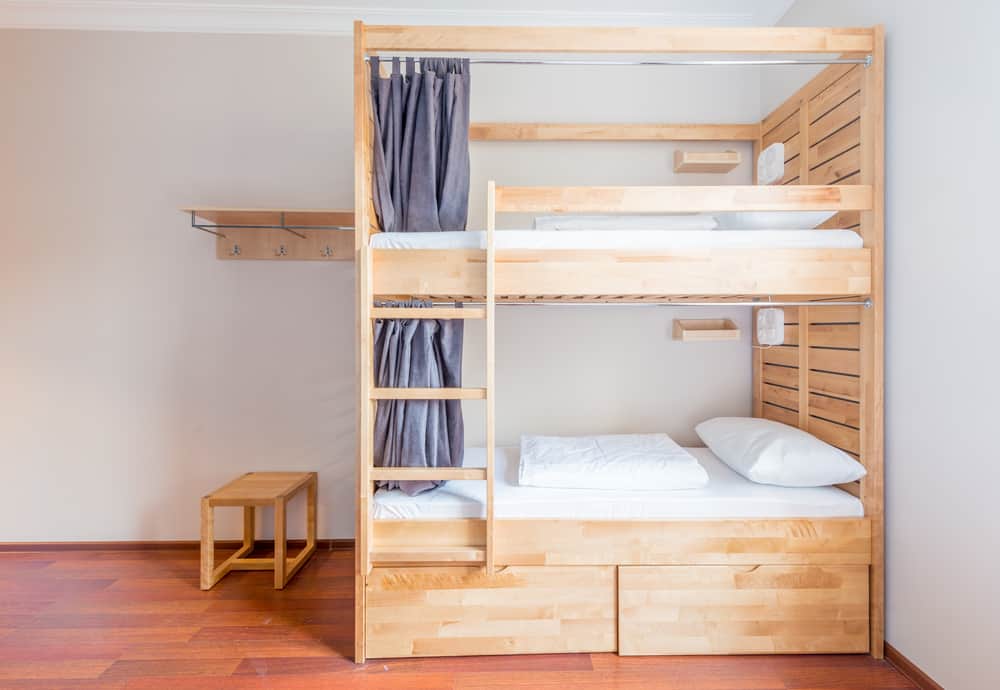 This style is pretty similar to a traditional bunk bed but it does have a couple of design features that make it a bit different than what you're used to.
Ideal for older kids and those that share a room that isn't big enough for added furniture for storage, this bed features slat-style walls at the head and foot of the beds, a curtain for each bunk, and it even has two roomy drawers underneath the bottom bunk. With a built-in ladder, this is a nice, compact alternative bunk bed that would work well in any kids' room.
This is another bunk bed that would be super easy to build yourself. You can even use a combination of wood from the lumber yard and pallets to cut costs and increase the character. Depending on the room it is going in and the personality of the kids, you can either leave it with the natural wood look or you can paint it to match the room.
If you need to pack more than two kids into one room and have enough space, you can put a couple of these beds in there are really get the most out of the space. This style of bunk bed is perfect for really small homes or for the extra room all of the grandkids bunk in when they come to visit.
Pros:
Has built-in storage under the bottom bunk so you don't need to put a dresser in the room
Each bunk has a privacy curtain as well as slat walls at the head and foot
Compact enough for a single to go in a small bedroom or multiples can go in a larger room
Cons:
To properly utilize the drawers, the room needs to be big enough to open them completely
3. Playground Inspired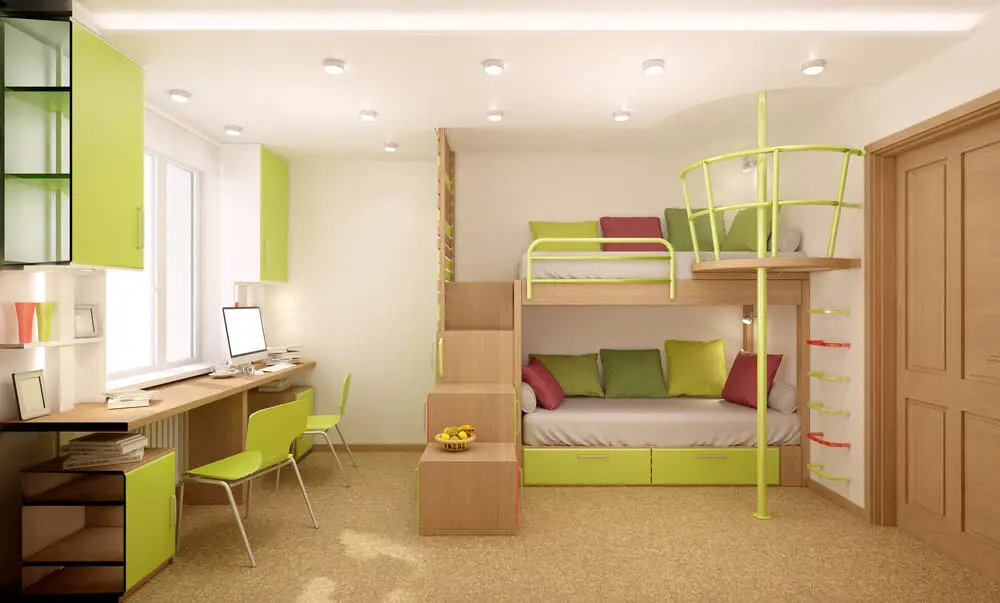 Great for two kids that love to play, this bunk bed mimics elements you'd see on the playground. It has a tower with a pole to slide down, as well as a fun ladder on the wall. The bed can be accessed via the wall ladder or the stairs that are built-in. Whether your kids are in a small room or a large one, they'll get years of play and sleep out of this fun bed.
In addition to being a fun piece of furniture your kids can play on, this bed is practical as well. There's the sleeping aspect of course, but there is also storage that is built-in.
Underneath the bottom bunk, there are two drawers that can be used for clothes, books, movies, toys, or anything else your kids need to store under the bed. You can even add extra storage by turning the staircase in drawers or cabinets.
This bunk bed is going to be a favorite design feature of your home for a long time. If your kids have friends over to play or for a sleepover, they'll have lots of fun playing on the playground inspired bunk bed. With the tower, they can pretend to be pirates on a ship or countless other imaginary play games they can think of.
Pros:
Has two options for accessing the top bunk – the stairs and the ladder
Tower perch is fun to use in several play and pretend situations
Has built-in storage drawers underneath the bottom bunk
Cons:
Tower makes this a harder DIY project to achieve
4. Hidden Third Bed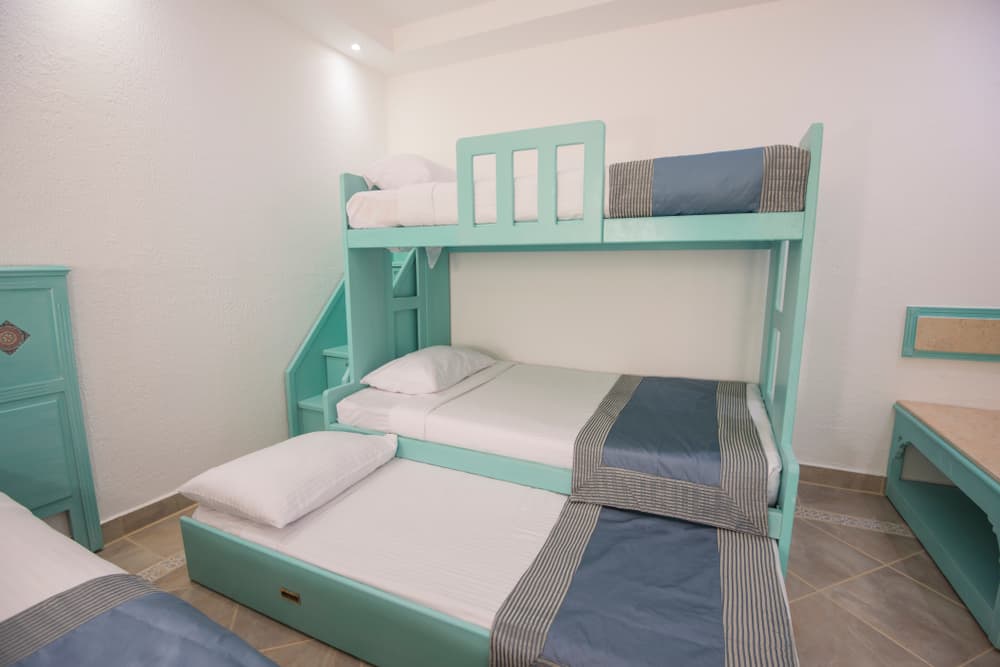 If you have a large family and need to have three kids in one room, you may think your options for a cool alternative bunk bed are limited. While you aren't going to find as many bunk beds for three kids sold at a store, you can build one yourself easily! A bed modeled after this one would be a great use of the space in your kids' room.
This style of bunk bed is perfect for families that have several kids and are low on space. This bed has two bunks and a hidden trundle bed underneath the bottom bunk. The third bed makes this bed ideal for a room that is shared by three kids on a regular basis.
It would be a good choice for families that have a third child that is over on the weekends or for kids that have sleepovers often. No matter what the situation, this is a great option for those that need an alternative to the traditional double bunk bed.
One of the coolest features this bed offers is that the top bunk is accessed by stairs rather than via a ladder. If you have younger kids and are concerned about their safety on a ladder, going with stairs would be a great way to increase the safety of this bed.
Pros:
Has a hidden trundle bed so it can fit at least 3 people
Stairs are a safer option than a ladder
Storage can be added to the stairs
Cons:
The floor has to be totally cleared for the third bed to come out
5. Built-In Bunk Beds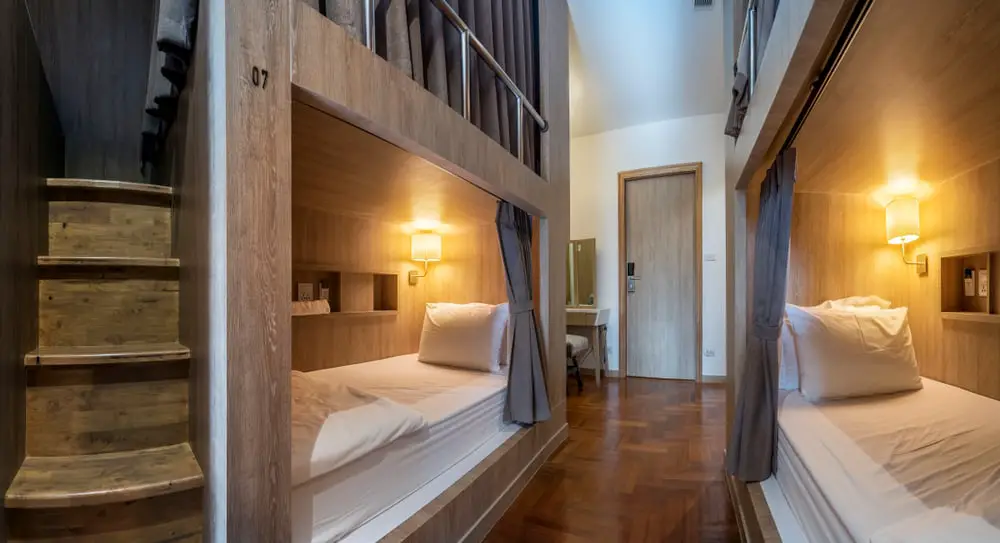 Are you looking for an option for more than two or three kids? This set up gives a spot for four people to sleep, whether you have four kids that need to share a bedroom or this is for a spare room for your grandkids to sleep in, going with an arrangement like this is a fantastic choice if you are low on space and need to pack several kids into one space.
This set up is great for small bedrooms but it can also be utilized if you are renovating a camper or RV as well. Four compact bunks with curtains, shelves, a light, and guard rails will ensure each person has their own private and safe space to sleep in. The upper bunks are accessed via a set of nice, sturdy stairs.
Pros:
Great for up to 4 kids to each have their own space
Upper bunks have guard rail and are accessed via stairs
Each bunk has a light, shelf, and curtains
Cons:
Does not have any added storage space
How to Choose the Right Bunk Bed or Alternative
Bunk beds are a fantastic choice for a variety of reasons. One of the best things about them is that they allow you to have two beds but only take up the floor space of one. This comes in handy when you have siblings that need to share a room.
They're great for rooms of all sizes but where they really shine is in smaller spaces. Whether you plan to purchase a bed, build one from scratch, or modify one from the store, there are a few things to take into account before settling on a design.
Ages of the Kids
If your kids are very young and closer in age, they will probably be just fine in a regular bunk bed if you are on a budget. For those that can spend a bit more, little kids would probably love the princess castle and clubhouse-style beds that are on the market. Make sure that bunk beds for little ones have adequate rails to prevent falls.
If you have kids that are at very different stages in life, such as one in high school and one in elementary, the older of the two may be resistant to the idea of bunk beds. In this case, you are going to find that some of these alternatives would be a great choice.
Older kids need their privacy, especially if there is a larger age gap between them and their younger siblings. You can find bunk beds that have curtains, which help give them their own space that is separate from the rest of the room.
How Many Kids You Have
Bunk beds come in single loft-style beds, the double bunk most people are familiar with, and even a triple bunk. In addition to the triple bunk, there are even double bunks with a trundle bed built-in for a third person.
When deciding on the right bed for your kids, think about how many kids are going to be in one room, the amount of space, and how many bunks you want.
Special Design Features
After assessing the ages, the number of kids, and the space that is available, decide what design features your kids will enjoy. As mentioned previously, there are a ton of styles that you can find.
Personalizing it to match the theme of their room or painting it so that it is their favorite colors is a great way to really make your kids' space feel special. Some additional design features are privacy curtains, a pull-out trundle bed, a bunk bed that has a futon for the bottom bunk, and stairs rather than a ladder.
Conclusion
All in all, there are several great bunk bed alternatives if you are looking for something that is different than the traditional double bunk you used at camp as a kid.
Whether you have one child or four, there are plenty of options that allow you to fit several kids in one space while still allowing them to have plenty of floor space they can use. Some beds use stairs to access higher bunks, others utilize ladders. No matter what you are looking for, there an option that is perfect for each family.