Updated on January 3, 2022
If you want to design your home from recycled containers, you are probably looking for container home design software ideas. Container home design software will allow you to visualize your container-made home. Read ahead to learn about the 6 best container home design software.
Container Home Design Software at a Glance
If you are in a rush, here are our picks for the 6 best design software:
6 Best Container Home Design Software
Here is the 6 best container home design software in more detail:
1. Live Home 3D
Live Home 3D is a great designing software that is useful for both beginners and professionals. It will allow you to import blueprints and set exact measurements.
One way the Live Home 3D stands out is because it is extremely logical and user-friendly. You begin by selecting the interior dimensions and adding walls. Then, you add door frames and furniture with a point-and-click design tool.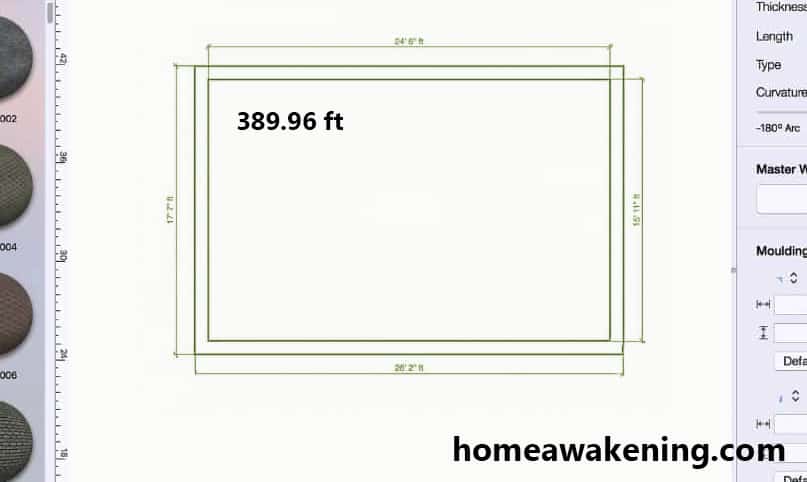 Live Home 3D's point-and-click design tools that allow nonprofessionals to master the software easily. Additionally, the drafting options are designed for beginners as well, so you don't need experience with CAD programs to use this software.
What makes this software stand out is that you can set exact measurements for your design. Exact measurements will allow you to see the exact proportions of your container home, which will allow you to design and construct more accurately.
There are several benefits of the Live Home 3D software. Notably, it is beginner-friendly due to its tutorial videos and easy-to-use design tools. At the same time, it offers professional-level design features such as exact measurements and furniture options.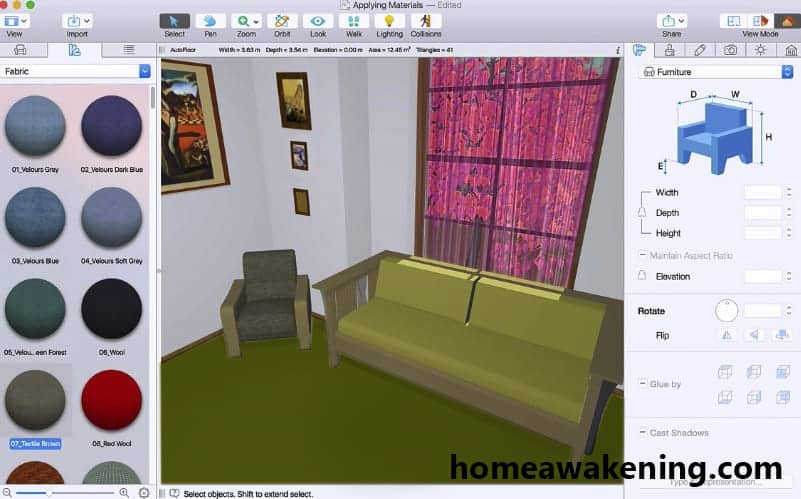 There are some downsides to Live Home 3D as well. For example, this software is not free. Instead, it costs $20 to access the full features. This software comes with limited customer support too. Since it does not have telephone support, you will need to rely on email and the video tutorials.
Features
Design rooms, apartments, or rooms with any complexity
Import and trace blueprint option
Draw from scratch option
Exact measurements
2D floor plan drafts
3D draft rendering
Add furniture
Color scheme selections
Roof addition option
2D, 3D, and split screen viewing options
3D walkthrough videos
Export screenshots
Video tutorials
Share on social media
Mac, Windows, iOS capabilities
30 days money back guarantee
Available in the following languages: English, German, French, Italian, Russian, Japanese, and Spanish
Pros
Video tutorials
Easy-to-use point-and-click design tools
Exact measurements
Compatible with both Windows and Mac
Cons
Costs $20 to get the full features
Limited customer service
Final Verdict
Overall, Live Home 3D is a great all-around option because it will allow you to create professional-level designs. Although this software costs money, it is beginner- and expert-friendly, which will let anyone to enjoy its benefits and create the best blueprints possible.
2. Sweet Home 3D
Sweet Home 3D is free, but not as easy-to-use as other container home software. The controls are not clearly labeled like some of the options, so you will probably need to play around with the features before sitting down to design your container home.
Designing your home is a bit more straight forward once you know the tool icons. For the most part, you will use a click-and-drag method when designing.
To start your design, click and drag until the rectangle has your preferred dimensions. Then, click the "create walls" button. You will click the start of the wall once and the end of the wall twice. You will create the floor the same way.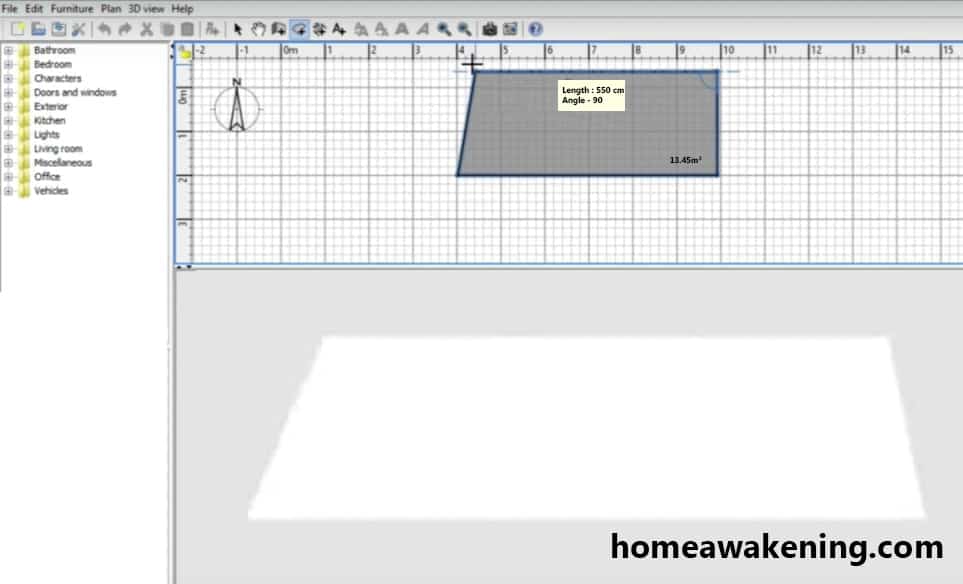 Sweet Home 3D also comes with customizable wall, floor, roof, and furniture pieces. This feature will allow you to make your blueprints look and feel like home.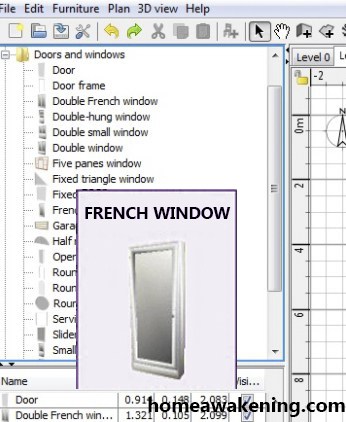 There are many reasons you would want to choose Sweet Home 3D over another container home software. Importantly, this feature is free and beginner-friendly and also comes with professional features like exact measurements.
Sweet Home 3D comes with some downfalls as well. Although the software is easy to use once it is learned, the tools are not labeled clearly, which can make using the software difficult at first. Additionally, this software only has limited options for interior design features like furniture and doors.
Features
Free
Split mode functionality
Exact measurements
3D rendering
Import home blueprints
Print and export data, images, videos, and 3D files
Shareable on Facebook
Sunlight function
Compatible with Windows, Mac, Linux, and Solaris
Available in 25 different languages
Pros
Free
Exact measurements
Easy-to-use tools
Cons
Navigation tools are not clearly labeled
Limited choices for interior design
Final Verdict
Sweet Home 3D may be difficult to use at first, but it is worth the time because it is free and comes with beginner-friendly tools and professional-grade features.
3. SketchUp
Sketchup is a 3D modeling software used by beginners and professionals alike. You can either get the free software called Sketchup or the paid version called Sketchup Pro. Sketchup Pro is a design software that is used by many architects.
Sketchup is different from the other design software because it starts in 3D instead of 2D. For the other 3D software, you normally start with 2D that is automatically rendered into 3D. It is also different because you can start entirely from scratch.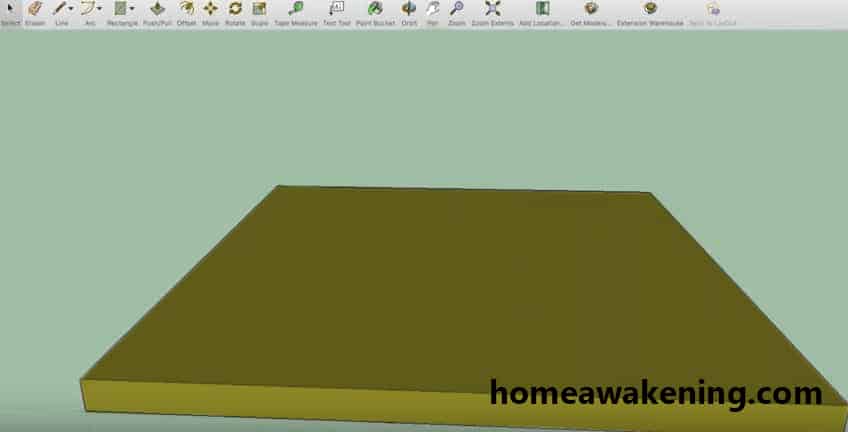 Starting from scratch can be much more difficult than starting from a selected base. How you will probably design your container home is with the pencil and push and pull functions. Once you get a hang of these functions, Sketchup will be easy even for those without CAD experience.
You will start off by drawing a rectangle as the basis of your container home. Use the push and pull function to create the 3D form and build the walls. Within the software is design guides like axis points and midpoints.
As for windows and doors, you use the same draw and push and pull functions as before on the base. Sketchup comes with a clone tool so you can replicate your favorite window or door multiple times on the container house.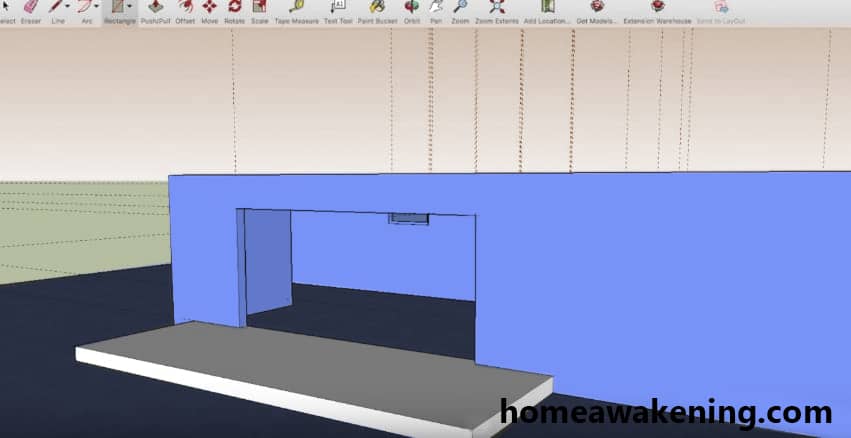 Sketchup comes with thousands of colors, textures, and objects too. To customize your blueprint, go to 3D Warehouse and search for the item you want. Once you find your desired item, use the material tool to change the appearance of the selected item.
There are many reasons to use Sketchup over other container home software. Notably, Sketchup has an intensive free option and a pro option. These two options both come with many features, which ensures you will get the features needed for your designs.
Additionally, Sketchup comes with the 3D Warehouse. This feature is the largest library of design options and guarantees that you will be able to customize the most complex of interior design features.
Sketchup comes with some pitfalls too. If you do not invest in the paid version, for example, you will not be able to import or export files. Even with the paid version though, you will not be able to share your design through any medium other than the 3D Warehouse.
Features
2D and 3D models
3D Warehouse
Animation
Exact measurements
Lighting effects
Import JPEGs, CAD plans, and PDFs
Export to PDFs, images, and CAD files
Autosave function
Compatible with Windows and Mac
Available in 10 languages
Pros
Free version
Pro version if desired
Professional level software
3D Warehouse
Video tutorials
Complex interior design functions
Cons
Free version does not allow the import or export of files
Not shareable via social media or email
Final Verdict
Sketchup is a great beginner and expert level container home design because it comes with expert-level features and countless customizable options. As long as you're comfortable with limited sharing options, Sketchup will certainly satisfy your container home designing needs.
4. Floorplanner
Floorplanner is a great software option for creating the floor plans and interior design for your container home. This will help you to visualize what the inside of your home will look like. Even better, Floorplanner is free with an online service.
Using Floorplanner to create the base-layout is easy and self-explanatory. Simply click, drag, and release items to change the interior layout. You can also draw out a room with your cursor to add containers or individual rooms.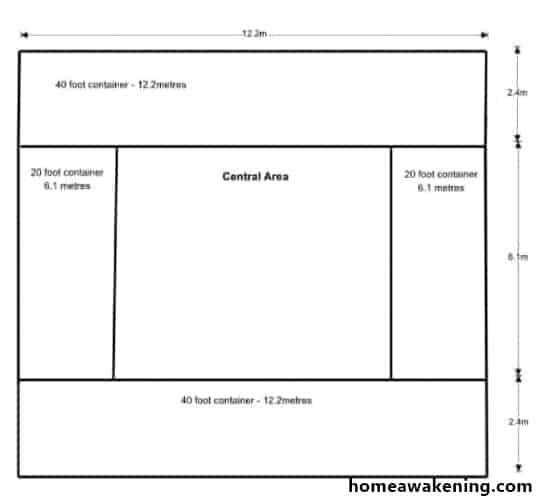 To create walls and doors, you will use icons listed in the software. The icons can be found in the object library. To insert a door, for instance, select your desired door icon, drag the icon to the preferred location, and release the icon to put it in place. You can do this with furniture too.
There are several reasons to choose Floorplanner. Most notably, Floorplanner has a free version, which will save you money. Additionally, Floorplanner is user-friendly and easy-to-use.
Floorplanner comes with some cons as well. If you want to create more than one-floor plan, Floorplanner is not for you. It only allows one-floor plan. This software also makes using exact measurements difficult. So, this software shouldn't be for you if you want exact dimensions.
In addition, Floorplanner does not come with a walkthrough function. Although the walkthrough function is not necessary for a container home design software, it makes visualizing the interior of your home much easier.
Features
Free version with an online service
Import JPG, PNG, or GIF files
Export image in picture or PDF formats
Share floorplans on social media platforms or email
Can view the floor plan from an inside, 3D perspective using Roomstyler
Pros
Free version
User-friendly
Cons
Allows only one-floor plan
Better for non-exact measurements
No walkthrough feature
Final Verdict
Floorplanner is a great free and user-friendly design software option, but it is not ideal for more serious or expert-level designs. Since it is not best for exact measurements and lacks a walkthrough feature, Floorplanner may be best for dabbling in container house design.
5. 3D ISBU Shipping Container Home Design Software
If you are nervous about using an online design software, you may want to use the 3D ISBU Shipping Container Home Design Software. This container home design software is extremely beginner friendly and comes with only the basic necessities.
The 3D ISBU Shipping Container Home Design Software includes View Mode, Color, Move, Rotate, Walk, Undo, and Redo. View Mode is the default mode for this software. It allows you to zoom-in and move around in the design. You can also use a Walk Mode, which will allow you to virtually walk in the container home.
The 3D ISBU Shipping Container Home Design Software comes with a free option. This option will only allow you to place containers next to each other. So, you will not be able to fully design your container home with the free option. The paid-version comes with more options for design, but you will not be able to design the interior.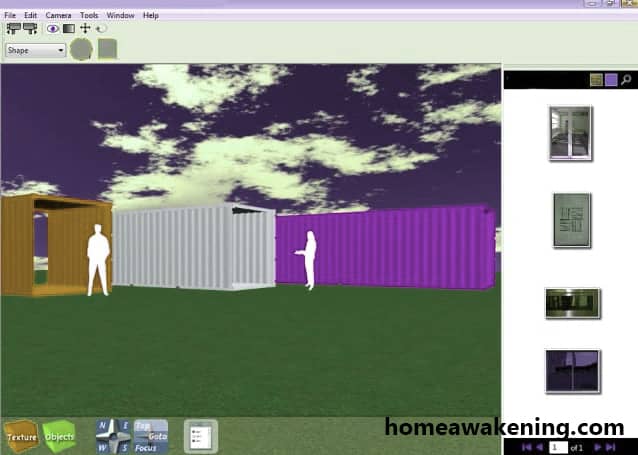 The main reason you would use this container home software is that it is easy-to-use and navigate. The tools are easy to find and utilize. Additionally, this service comes with a free option that will allow you to save money.
Although this software is beginner-friendly and free, there are a lot of downsides to this software. Most notably, the 3D ISBU Shipping Container Home Design Software will not allow you to design the interior of your home and comes with limited tools.
Additionally, the 3D ISBU Shipping Container Home Design Software is not available for MAC or phone download. It also requires a plug-in mouse and 3D graphics card, which may cost more than purchasing a better software altogether.
Key Features
Free to download
Allows imports of images
Compatible with windows
Requires a separate plug-in mouse and 3D graphics card
Pros
Free service
Easy-to-use tools
Cons
Not suitable for designing the interior of your container home
Limited tools
Not available for MAC
Requires a plug-in mouse and 3D graphics card
Final Verdict
As a whole, the 3D ISBU Shipping Container Home Design Software is free and easy-to-use but probably not your best option. There are plenty other free container home software programs that will provide you with more useable and enjoyable features.
6. packVol
The software packVol is a tool that can help you to optimize the space in your container. This software is a little different from the others in that it is not for designing your container home. Instead, it can help you to plan the best way to utilize the space within the container.
packVol is a tool that is often used by companies to reduce freight costs and wasted time from container set-up. It adapts easily to several load plans such as those in racks, trucks, pallets, railroad cars, or containers.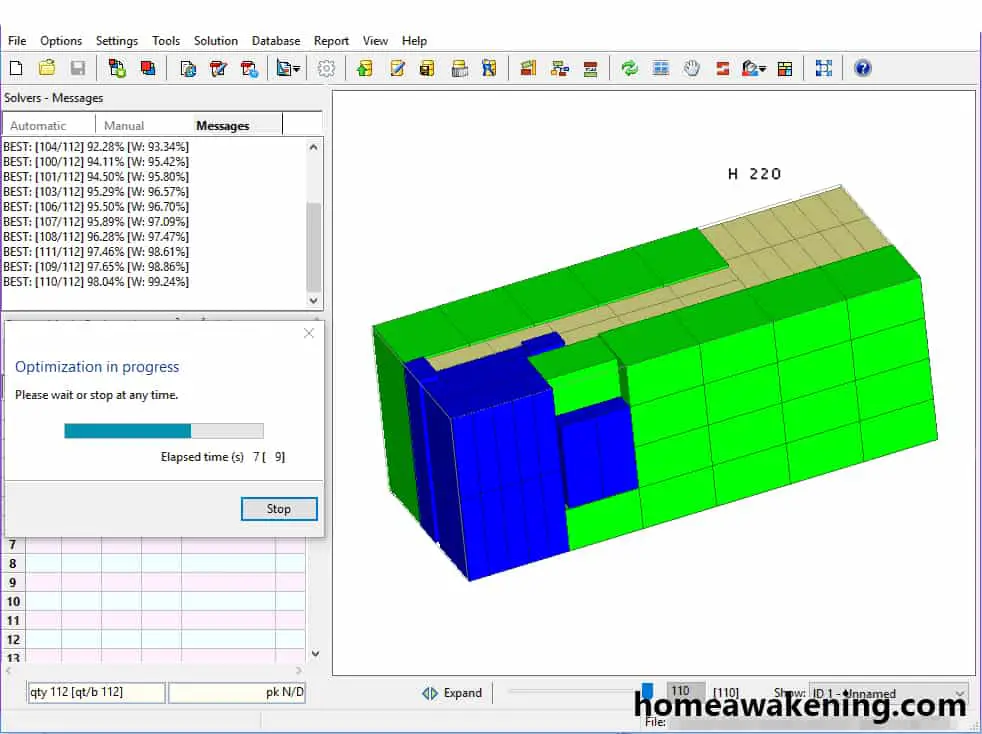 By using this tool for your container home, you can utilize the most space possible in your container house. Since container houses are smaller than traditional houses, knowing how to optimize the space you have is very important.
There are several reasons you may want to use packVol. Notably, it is extremely easy-to-use. It is not designed for architects and designers; instead it is designed for companies and business owners, making it straight forward to use.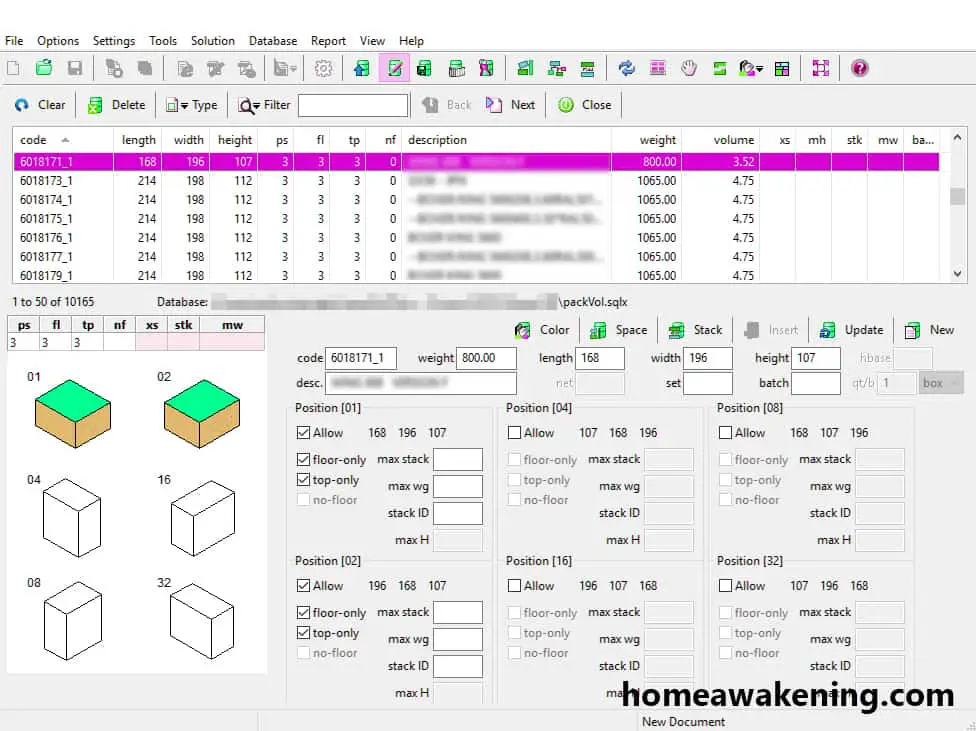 Another reason to use packVol is because it has multiple creation modes. You can either use the automatic mode or the manual mode that allows you to create the plan using functions like select, copy, paste, cut, undo, redo, zoom, and drag. It also comes with an internal database for storing information and plans.
One reason that you might not want packVol is because it is not suitable for designing the details of your container home. For example, you cannot add windows or exact furniture to the design. If you use this software, you will need an additional software for the specific designs.
Features
Compatible with Windows
3D graphics
Automatic or manual modes
Import and export different file types
Internal database
Analysis tool
Pros
Easy-to-use
Multiple modes
Internal database
Cons
Not suitable for internal design
Final Verdict
packVol is a great software for optimizing your space, but it will not help you design the specifics of your container home. This software should be used alongside another software so you can plan both space optimization and container features like windows and doors.
Conclusion
Knowing which container home design software to use is an important part of designing your container home because it will allow you to better visualize and create your home.
We selected the following as the 6 best container home design software: Live Home 3D,  Sweet Home 3D, Sketchup, Floorplanner, 3D ISBU Shipping Container Home Design Software, and packVol.
These software applications are applicable to several devices and include both free and paid-for options, which ensures that you will find a container home design software perfect for you and your home designing needs.