Updated on December 26, 2022
Are you considering a kitchen remodel and wondering what the average cost is? Well, look no further.
The average cost of a kitchen remodel is about $25,000, but a kitchen remodel can range from anywhere from a few dollars a square foot, on up to several thousand dollars per square foot, including appliance and labor cost.
So, at the very least you can expect to pay about $10,000 for a small DIY kitchen remodel project, given labor costs and materials. For the other end of cost, the final price is only limited by your budget as many high end remodels can easily get into 6-figure territory.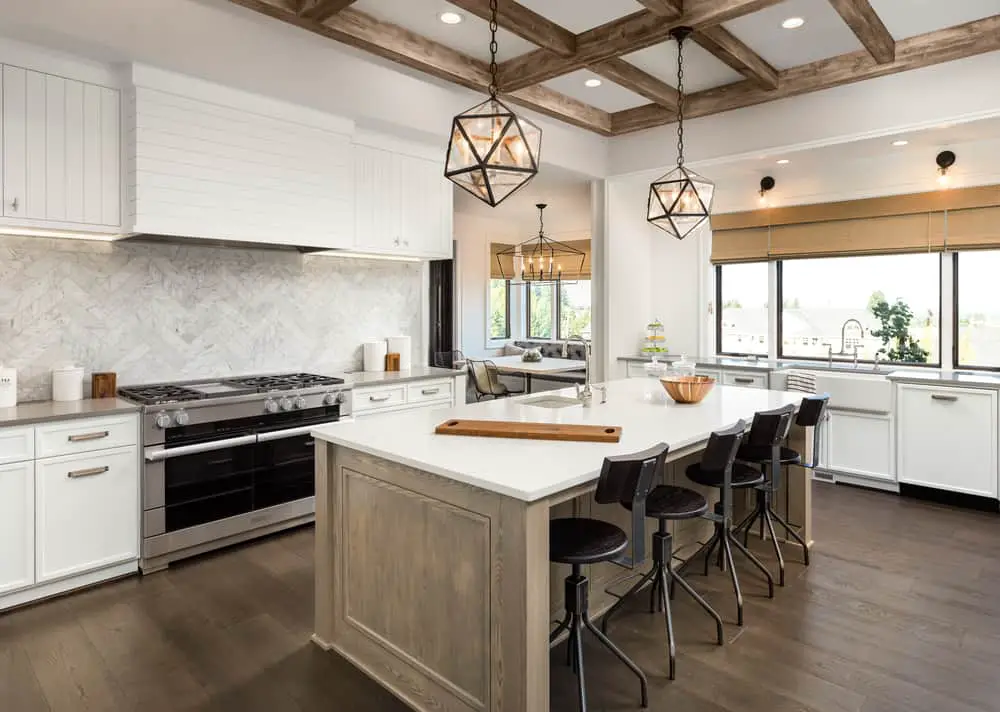 See Also: Cost to Remodel a Small Bathroom
Getting Started
Starting any remodeling project can seem like a daunting and cumbersome task — what with the budget, floor plan, and actual cost estimates.
Floor Space
Determine the size of your kitchen before you consult any cost guide. While a cost guide can be quite beneficial, it really only helps you if you know the size of your kitchen, because estimates vary greatly based upon kitchen space.
Use an App
There are several available applications online that provide a kitchen remodel cost estimator. All you need to do is input the amount of square feet in your kitchen and start selecting your desired layout changes and renovations, such as new cabinets, hardwood flooring, maybe a nice tile backsplash.
Kitchen Remodel
A kitchen remodel is a great way to get noticed if your house is on the market and should be a priority for anyone whose house is listed.
Kitchen Remodel Costs
Depending on the size, a kitchen remodel can get expensive very quickly. Per square foot, the average kitchen remodel costs anywhere from $50 – $275, it varies based on materials used, location, and the amount of customization desired.
Although some remodels can easily surpass the limits presented above, most of us aren't willing to or able to spend millions on a state-of-the-art kitchen in our chic cabin in Montana.
Budget
Determining your budget is the first step in getting started with any home improvement project, especially given the varying costs of materials used in the remodel.
Keep all these thoughts in mind when planning your budget and trying to figure out your ideal kitchen remodel.
Cabinets
Cabinetry is one of the most crucial aspects of a kitchen remodel and every house needs a custom style. Given the plethora of options available, it's worth taking a moment to familiarize yourself with the types of available kitchen cabinets.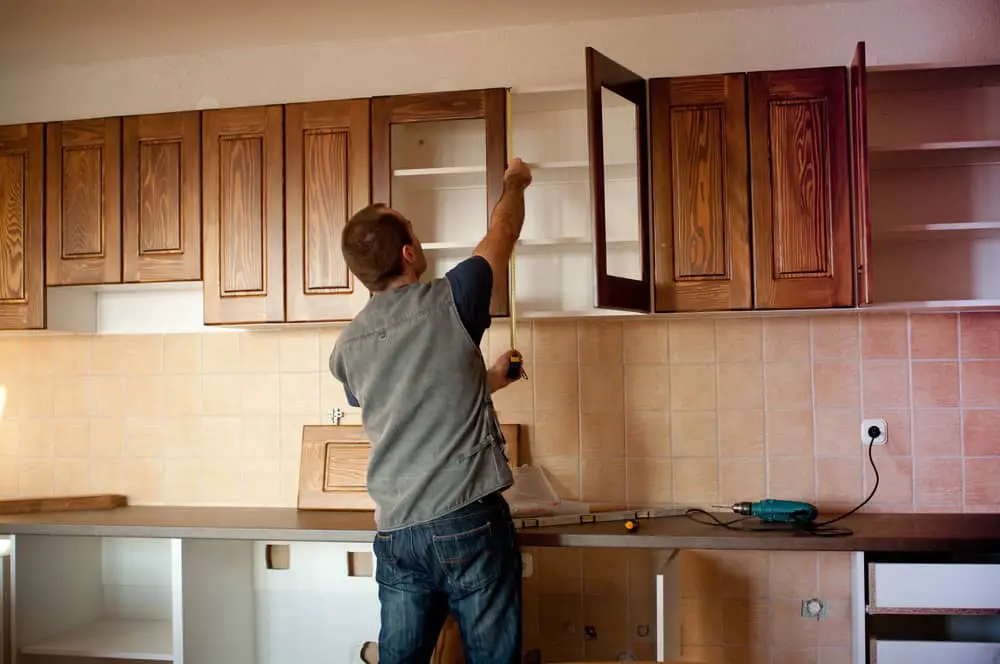 Types of Cabinets
There are a number of options to choose from, here are some of them:
Pre-fabricated
Refacing cabinets
Semi-custom
Custom cabinets
Countertops
Countertops are another expensive item in a kitchen remodel. Expect to pay anywhere from $700 on up to $8,000 for any countertops you have installed in your new kitchen project.
Even if it's a DIY install, countertops are a major factor in project costs.
Types of Countertops
There are several options available to you when considering upgrading your kitchen countertops, such as quartz, wood, stone, and ceramic.
Labor Costs
Homeowners can expect an average labor cost of 15% – 20% of the total cost for a kitchen remodel. As with most things, it varies based on location due to varying wages.
Although doing everything yourself can be a great way to save money, sometimes it's worth it to have a professional do the work, such as any wiring or plumbing that you're unsure of.
Location, Location
As with many things, location is critical when it comes to estimated costs. If you're living in the south, kitchen remodels are projected to be lower, whereas further north, kitchen remodeling projects on average cost more.
New Appliances
Although they may be as dependable as Old Faithful, consider investing in new kitchen appliances if you're doing a serious remodel with the intent to sell. After all, the high-efficiency models they sell today can pay for themselves in a few years with the energy and water savings.
Tips:
Look for bundle deals when buying multiple appliances, even if not advertised.
Salespeople work off commission one way or another, they want that sale.
Sinks
A crucial part of any remodel, installing a sink can really bring a new feel to a kitchen. The cost of a new sink installment can range anywhere from $300 – $1500+ it depends on your budget and whether or not you pay someone to install it for you.
There are so many wonderful design options available to you.
Tips:
Take the time to consider your needs, such as a dual sink, etc.
Consider a tile backsplash behind the sink, it's a great way to add some flair.
Several Reasons to Ignore Kitchen Remodel Cost
Given the great expense, you're probably wondering, why would I want to remodel a kitchen? The resale value on a kitchen remodel is about double what was invested, aside from that of the bathroom, it is one of the greatest investments you can make in a home.
Resale Value
The return rate of a kitchen remodel is one of the greatest investments homeowners can make, just check out any remodeling magazine to corroborate.
The real estate market is competitive and buyers are always looking for a home that stands out. Most people, unless they're flipping houses, don't want a project house.
What They Look For
New Appliances are always a good sign in a home for sale
New floors and cabinets
Updated wiring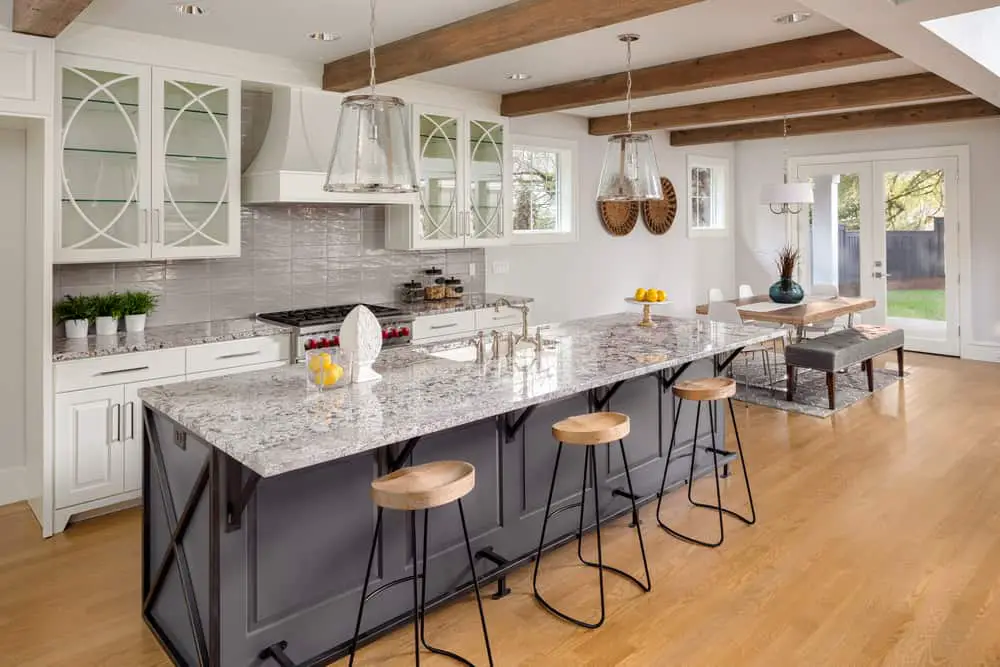 Value Report
When selling your home, include any renovations, especially kitchen or bathroom, since this will contribute greatly to the value of your home.
Think like a realtor when it comes to renovating your home, even if you're not on the market — you'll love your home more for it. After all, it's where most of us spend the majority of our time outside of work, why not enjoy it to the fullest.
How to Cut Back Kitchen Remodeling Costs
Given the average cost, you're probably wanting to know how to save money on kitchen renovations — who isn't? The cost alone of redoing your plumbing and electrical systems can be a major deterrent to most.
Materials Used
Creating a list of available materials to use for your kitchen renovations can help save on cost in the long-run. There are so many options to choose from when it comes to flooring, countertops, etc.
Granite
Linoleum
Wood
Tile
Quartz
Countertops
Aside from the walls, countertops are one of the first things noticed in a kitchen, it's important to decide exactly what you want and how it fits into your plans. Common materials used for countertops are:
Granite
Natural Stone
Wood
Quartz
Kitchen Island
Although they might seem like they're solely for a major remodel or high-end kitchen, kitchen islands can cost as little as $50 to acquire for your home. A kitchen island can range from less than $100 on up to $10,000+, depending on size, material, and any built-in cabinetry, etc.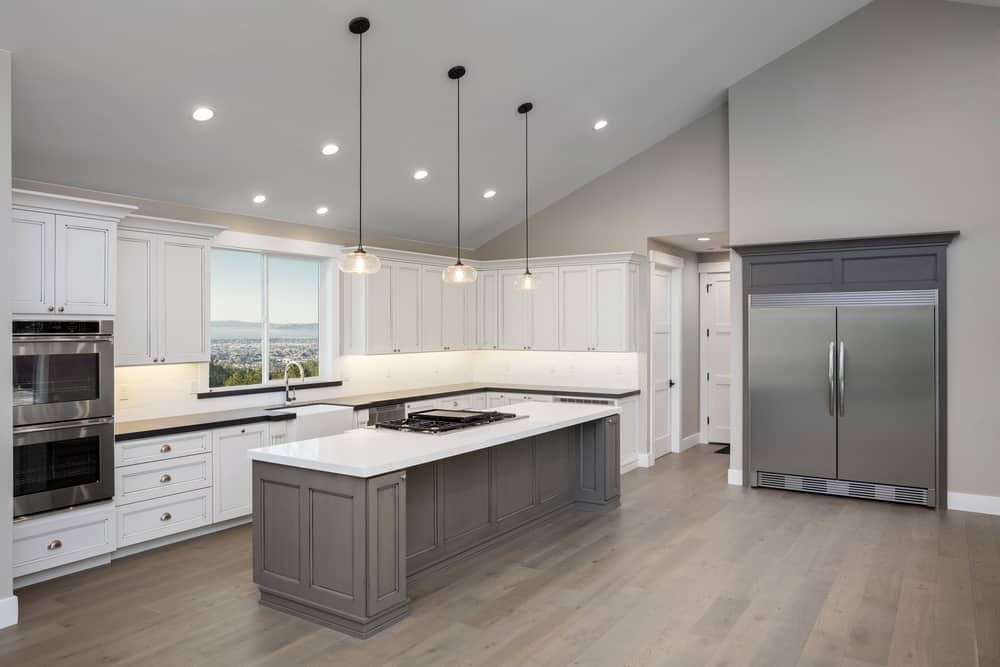 Floors
The floors of a kitchen can make or break your project plans for your remodel. Kitchen floors can be bright, open, and inviting, or sometimes dreary and Some of the materials used for floors are:
Linoleum – The cost per square foot can as low as $1.19
Hardwood – The cost per square foot can be as little as $7.19
Tile – The cost per square foot can run as cheap as $2.39
Budget Breakdown
Homeowners, whether prospective sellers or not, can really benefit from an in-depth analysis of estimated costs before moving forward with a remodeling project
Any major remodel, especially a major kitchen remodel, can quickly begin to cost more money than projected.
Follow these tips to remain within your budget regardless of kitchen size:
Consult fellow homeowners to get advice on any home remodels your considering.
Check out a remodeling magazine to get some ideas of what you want and its cost.
Come up with a floor plan for your project.
Make sure to consult several different home remodelers, you want quality service and value.
Stay on Budget
Although it's much easier said than done, maintain your projected costs as much as possible. What you expect to pay and what it actually costs are two different things.
Remember that a cost guide is a rough estimate of what it's actually going to cost. Depending on the size of the kitchen, your remodel could easily cost you thousands of more dollars than anticipated.
Labor Costs
No one is saying that all contractors can't be trusted, but make sure that they aren't overcharging you, it happens more often than you think.
There's a difference between taking a break here and there while working and taking hours off while still getting paid.
Get Multiple Estimates
Weigh your options when it comes to hiring a third-party to perform your home projects. Often times you can find a cheaper and equally as capable person, but don't sacrifice the quality for less quantity of cash paid on your end.
No one wants to hire a second team to finish or redo a job that could have been done right the first time.
Tip:
Check out apps and other online resources to find a contractor that works for you
Scrap or Sell
If you want to get a few dollars back from your kitchen remodel cost, consider scrapping or selling any unused appliances or metal leftover.
Although you won't get rich from it, it'll help put a few dollars in your pocket — which should be a must for many, considering the average cost of kitchen remodeling.
Kitchen Remodel Options
There are so many options available to choose from when it comes to a kitchen remodeling. What with the average cost of a kitchen remodel, it's important to know those options.
DIY Home Project
A new light fixture or two, maybe a chandelier, a few coats of paint, and some linoleum flooring – voila, you have yourself a kitchen renovation.
While it might not be your ideal kitchen, there's nothing wrong with sprucing up the place a bit. The average cost of kitchen remodeling is significantly lower when it's all done DIY.
Chef Kitchen Quality
The most expensive option for a new kitchen is making it a chef kitchen, which is about as high-end as it gets. Most people do not need to spend upwards of $60,000 to make this a reality, but if you must, know that you are undertaking a major kitchen endeavor worthy of the culinary gods and goddesses.
Semi-custom
While it's usually just cabinets that are semi-custom, you can always design a kitchen with some modified plumbing or electrical work.
Although this may increase the cost, a few custom light switches, fixtures, and sinks might be just what you're looking for.
Small Kitchens
If space is an option, consider increasing the amount of room available by removing some countertop space and adding a kitchen island that can also act as a dining room table. While not for some, it can be a useful way to create space in otherwise cramped quarters.
Eliminate the need for some furniture and save a few dollars in the process.
Low-End Kitchen Remodels
If your budget is less than $10,000, consider doing a little DIY home improvement project for your kitchen. Assuming you have little experience, this works best for a small kitchen and you can expect to pay within your budget.
Just because it's a low cost kitchen renovation doesn't mean that it has to look that way.
Study Up
Check out the DIY Network or some YouTube videos for insight into how best to approach a particular part of the remodel. Knowing the skill involved in completing a task can really help in determining if it's right for you.
This is also a great way to get an idea of kitchen remodel costs.
Cabinetry
Cabinets get expensive fast, consider refacing cabinets for a cheap and quick, new look to your kitchen.
If that doesn't work for you or it's not in the budget, consider using a fresh coat of paint to revive your cabinets or maybe adding some new handles to them.
Flooring
The price of flooring can quickly increase the estimated cost for any projects you have in mind. Consider a wholesaler to get your quality flooring at a great price, they're always less expensive.
There's no need to sacrifice quality materials due to a budget breakdown.

Kitchen Renovation Suggestions
Upgrade your sink.
Add a tile backsplash to the kitchen, such as behind the sink.
Paint the room to match or complement the flooring, etc.
Replace the kitchen cabinets, prefabricated is the cheapest option.
Invest in new flooring, consider a wholesaler.
Mid-Range Kitchen Remodels
The estimated project costs for a mid-range kitchen remodel is estimated to be between $15,000 – $30,000.
Cabinetry
If your budget is mid-range, consider investing in some semi-custom cabinets. Unless you absolutely must have them, there's no need to raise the cost of your kitchen renovation with customizing.
Countertops
Add the mid-range level, there are several options available to choose from when it comes to countertops. Consider things like how easy they're to clean and how durable they are when buying countertops.
You'll use them everyday, so make sure you actually want to look at them.
Floors
In the mid-range, you can afford to use almost any flooring you want, assuming your kitchen isn't several hundred square feet and you're not just set on oak wood.
Keep the cost in mind when choosing the right floors for you.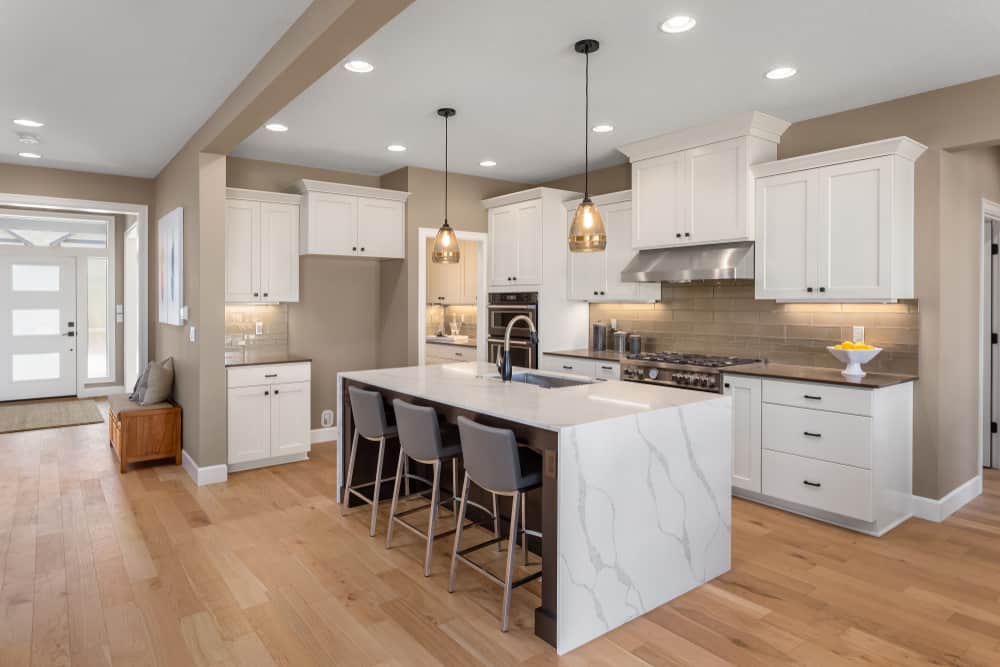 Kitchen Renovation Suggestions
When considering cabinetry, semi-custom is probably the best option for mid-range.
Kitchen appliances can get expensive fast, do you need chef-quality ovens?
Countertops get expensive quick, know how much you need.
High-End Kitchen Remodels
If the cost to remodel a kitchen isn't an issue, consider an exclusive kitchen renovation to satisfy your needs.
Custom Cabinets
Aside from any new appliances or upgrading plumbing and electrical, custom cabinets are one of the most expensive costs in a major remodel.
New Flooring
For those with a higher price range, hardwood flooring or tile is where it's at. Although they can both be cold to walk on first thing in the morning, there's nothing quite as pleasing to the eye in a kitchen.
Suggestions
If not cleaning the floors yourself, consider tile — it's likely to hold up the best.
Custom cabinets are where it's at, a must in any home that can afford them.
Kitchen Layout and Design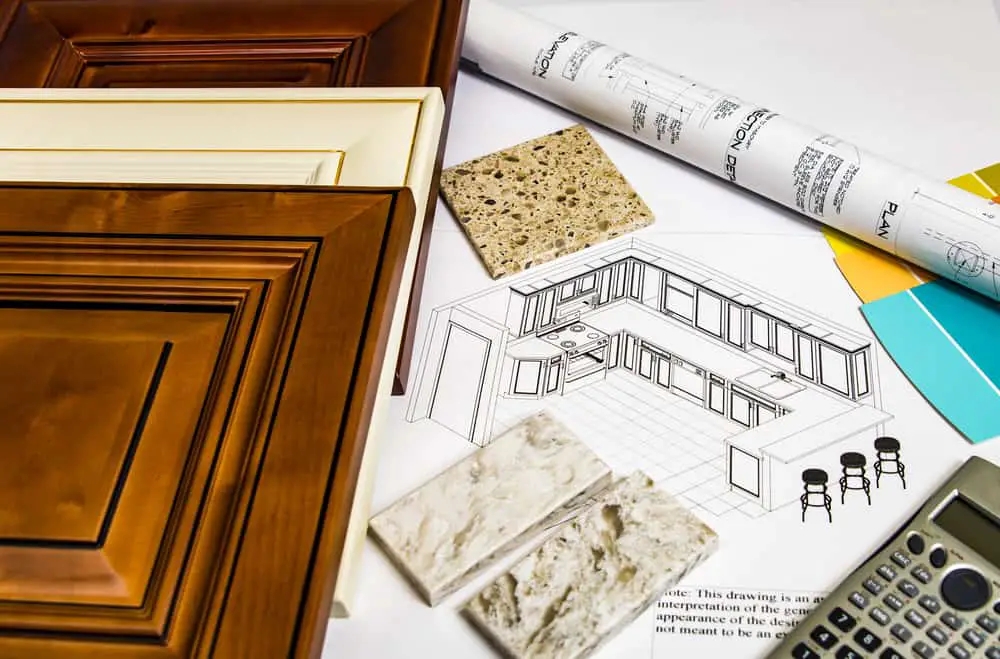 Determine what you want to do with the available space in your kitchen.
Do you want custom cabinets?
What type of countertops do you want?
Do you prefer hardwood flooring or tile?
Are new appliances something you're interested in?
These are the questions you need to ask yourself when planning out your kitchen remodel.
Kitchen Layout
Whether or not you choose to have a kitchen island and refacing cabinets is all a part of your kitchen layout, consider checking out a remodeling magazine to get some ideas.
Kitchen Design
While kitchens serve a general-purpose, some of us want and desire specific things in or from our kitchens. It could be a quality oven to perfectly bake your cookies for the holidays or a new fridge that has all the ice options.
Regardless of your desires, consider the design of your kitchen so your plans can come to fruition.
Be Willing to Compromise
Unless you have a near-endless budget, you must be willing to compromise a little on a few things, such as using semi-custom cabinets as opposed to fully custom ones. Kitchen remodel costs can quickly outpace that of your budget.
Inspect the Materials
If you're ever in doubt, check all of the materials being used to ensure that they meet your standards and are what you requested.
Sometimes people try to make easy money by claiming something is what it isn't.
High End Isn't Always the Way to Go
Just because it's expensive and looks nice, doesn't mean you have to have the best. Unless you're just showing off your wealth, limit yourself to what you actually need and use on a regular basis.
Kitchen remodels can quickly get out of hand when it comes to accumulated costs and actual budget.
Shop Around
If you're not doing the project yourself, don't just go with the first company that makes you an offer. Remember to shop around for the best estimate.
Custom Work
When it comes to customization, some craftspeople will have rights reserved for their custom work being done, such as for any proprietary information that they contribute. This includes techniques, logos, color blends, cabinets, and even countertops.
You'd be surprised at the amount of information that's proprietary nowadays.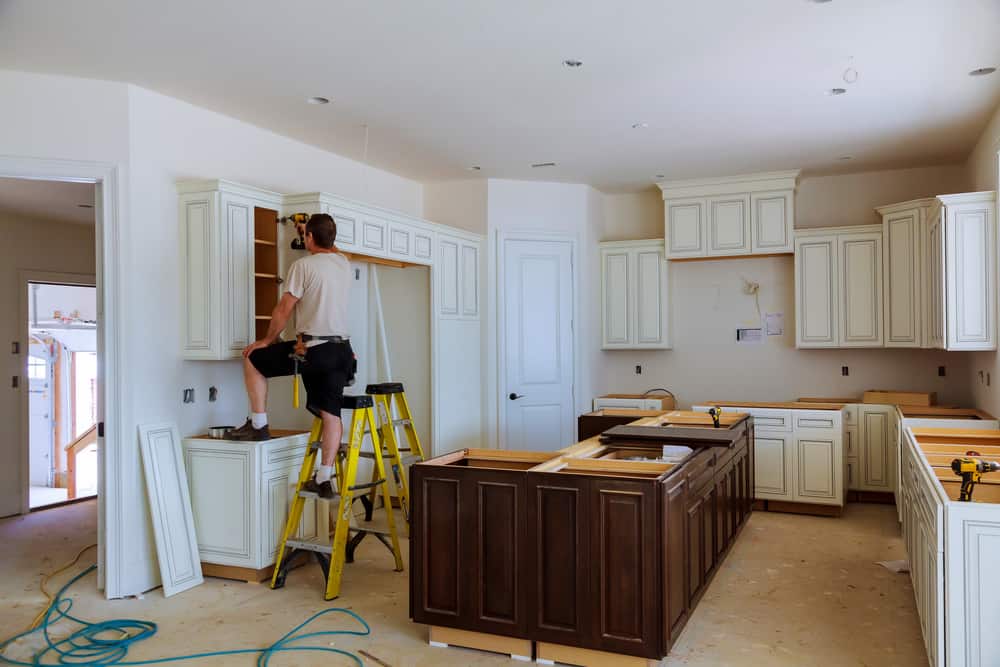 Evaluate the Work Done
Don't just trust someone blindly, evaluate the work to ensure it appears to be done properly. Even if your not an expert, you can tell when something doesn't seem right.
Remember that there's a difference between ensuring a job well done and being an overbearing nuisance. Be polite yet diligent when it comes to oversight.
Tip:
A friendly inquiry can go a long way with someone, oftentimes people want to demonstrate their ability.
Best Remodel Option For You
Knowing how much money you're willing to and able to spend is the first step. Next, you need to determine the type of kitchen you want that fits within your budget, whether it's a chef kitchen with all the bells and whistles or a modest remodel that provides just what you need.
Keep in Mind
Estimates are exactly that, be prepared to spend more than anticipated.
Kitchen remodelers are forced to work with the fluctuating costs of materials.
Remodels take time, so plan for a way to still eat while awaiting results
Determining the best course of action to take in a kitchen remodel can be one of the hardest projects that homeowners can face. Regardless of money or space, there's a kitchen remodel option that fits within your budget.