Updated on January 3, 2022
Sharing a bathroom with your kids has never been anyone's ideal situation. From a toddler's pile of bath toys to a teenager's much-too-long morning routine, it's important that kids have their own space to get ready each day. And, of course, it should never look boring!
A children's bathroom is a place where design can be bright, whimsical, and even a little funny. Because bathrooms are smaller than other rooms it is easier to play with color and pattern. Try an unusual wallpaper print or a vibrant vanity color.
Below are 32 kids' bathroom ideas that will delight your imagination. You won't regret making a splash in your next bathroom design!
See Also: 40 Creative Kids Room Ideas
Delightful Kids' Bathroom Design Ideas
1. Ahoy!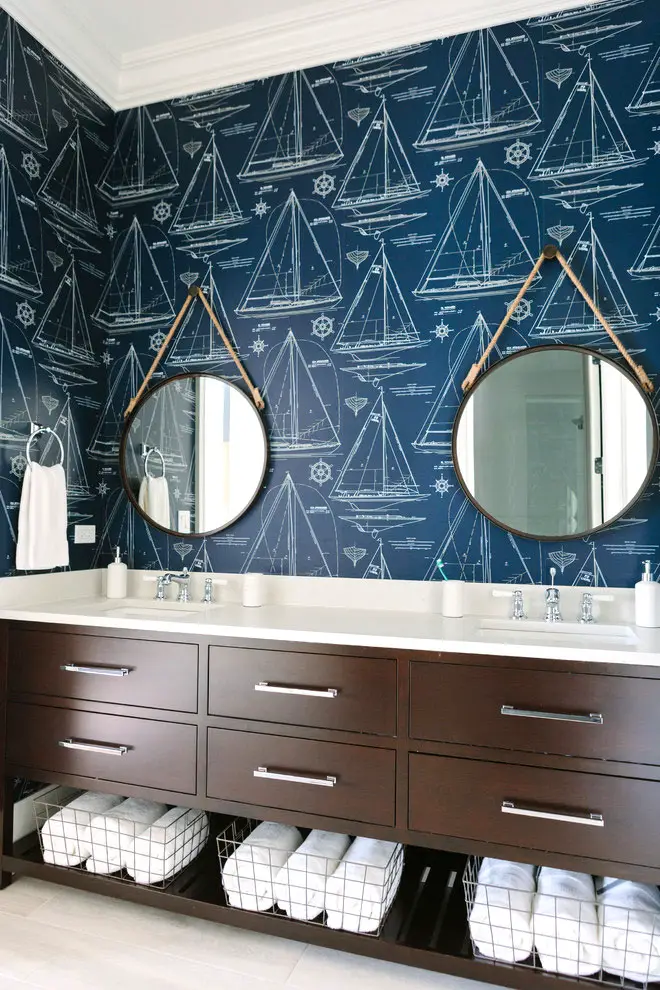 Balancing the line between playful and traditional, this nautical-inspired bathroom works well for kids and adults. Rope-accented mirrors are a subtle nod to the ship theme.
2. Pretty in Pink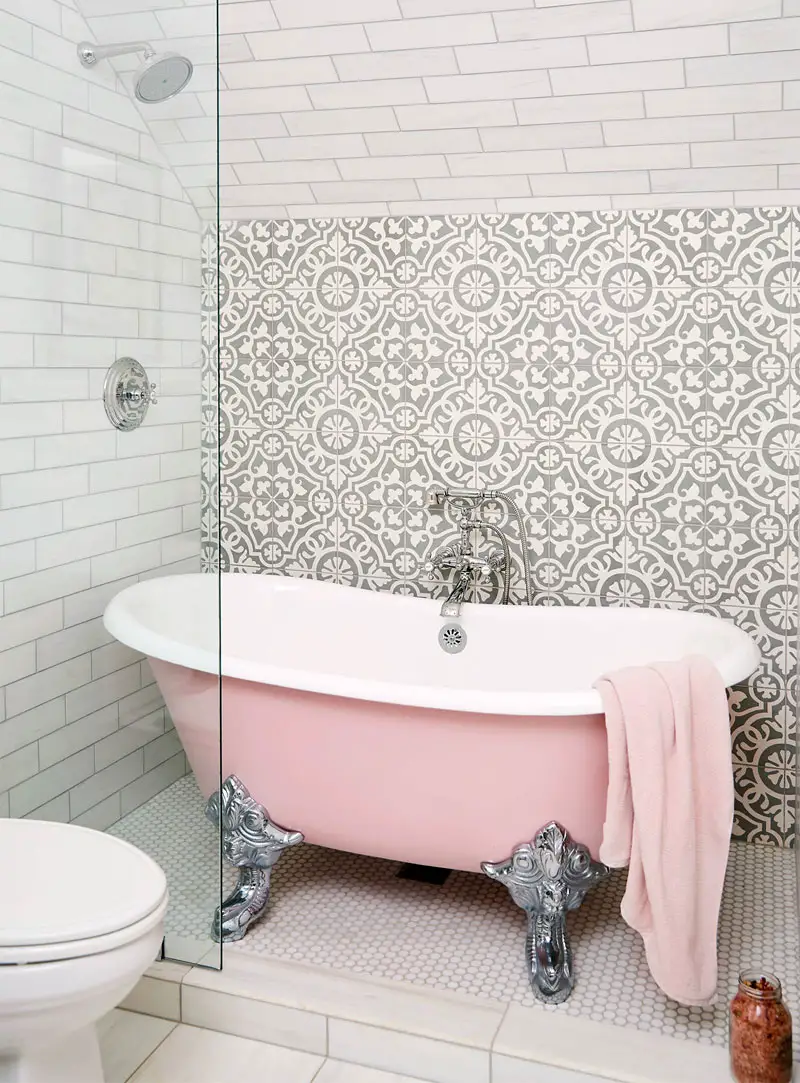 We all know that a clawfoot tub makes a statement, but how about one painted pink? Light gray accents and ornate silver fixtures add to the sweetness.
3. Bold Geometry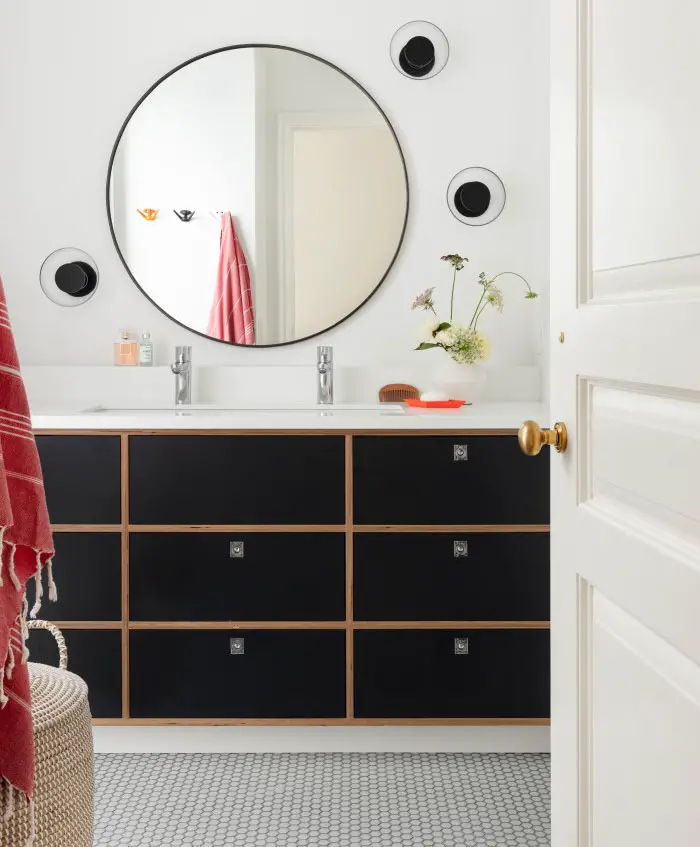 Bathrooms don't need to be colorful in order to be energetic. Pulling in strong shapes via the mirror and cabinets brings playfulness and excitement to this black and white bathroom.
4. Peachy Keen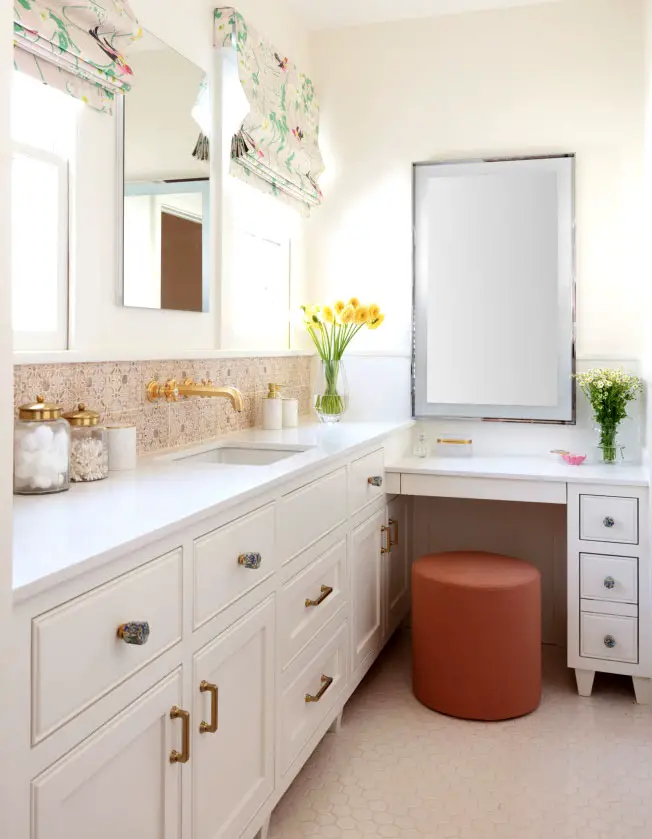 Soft pink tones that are more on the side of coral than cotton candy allow this delicate design to feel grown-up.
5.  Surprising Subway Design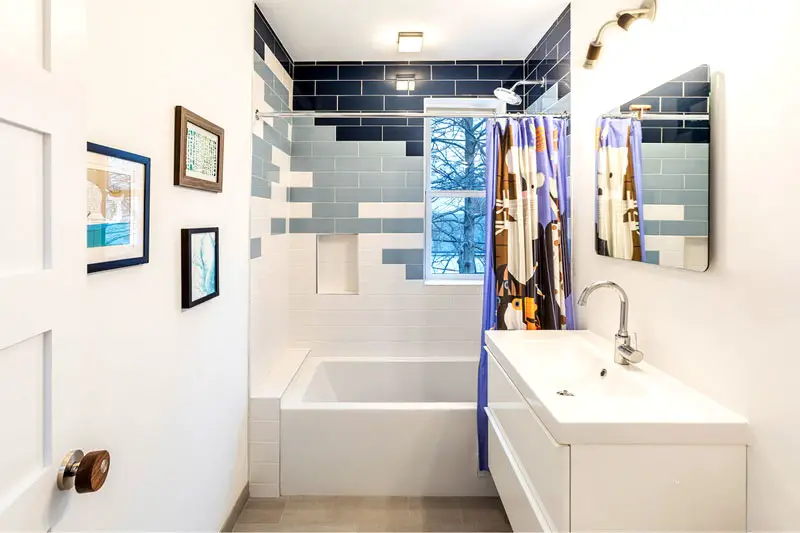 Take subway tile on a new route by combining similar colors in an asymmetrical design.
6. Playful Patterns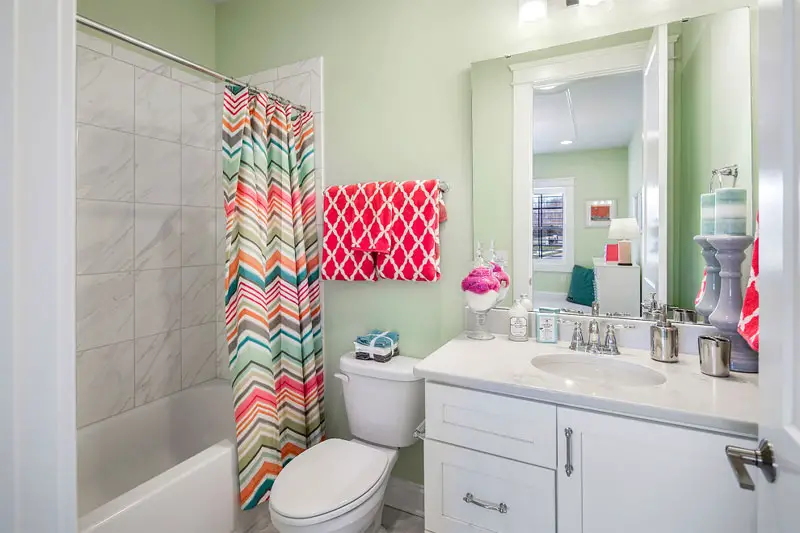 A simple bathroom makes a statement by combining bold patterns and bright colors. Light green walls are a gender-neutral backdrop that mix well with an array of tones.
See Also: 22 Best Bathroom Color Schemes
7. Gray Stripes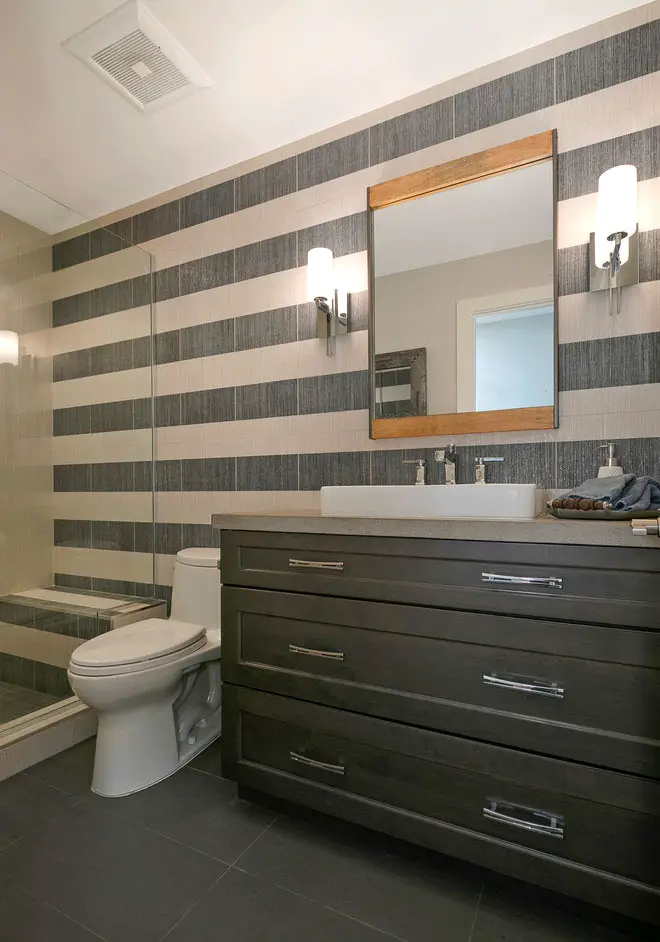 Modern yet mature, this gray and white bathroom feels just right for the teenager at home. Neutral tiles placed in a stripe pattern create an exciting focal wall.
8. Blushing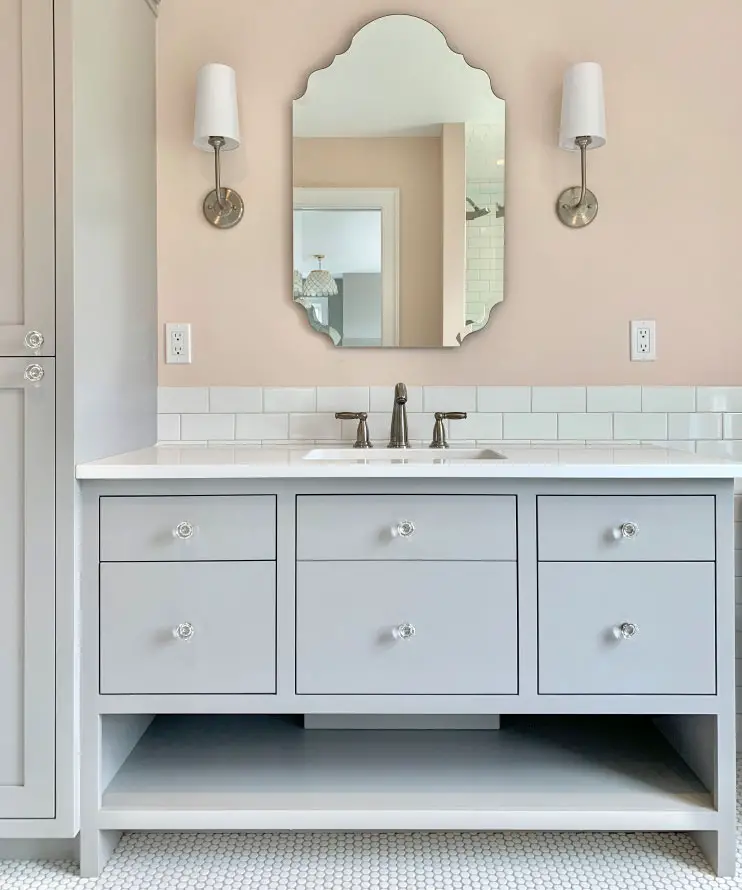 Feminine lines and blush pink walls make this charming bathroom sing. Timeless and simple, the white subway tiles go with any design style that may happen in the future.
9. Pop of Pattern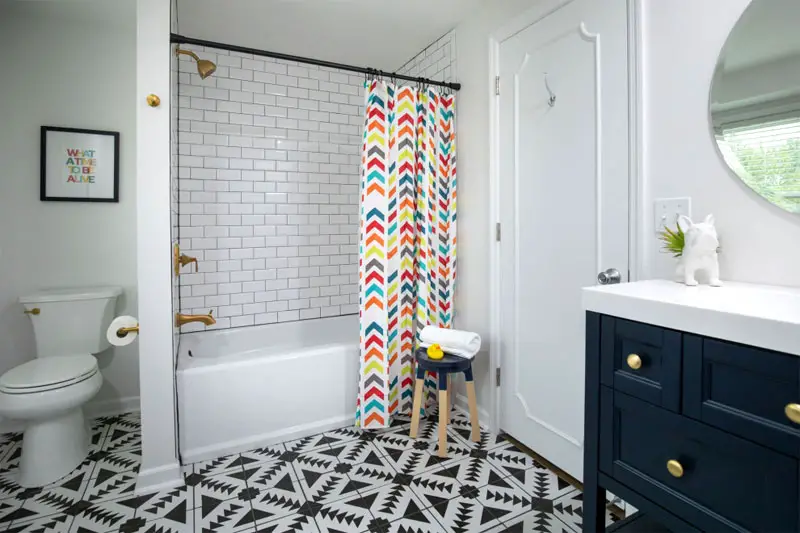 If you love pattern and color, go for it! Putting one bold pattern in black and white (like these floors) allows for other bright patterns to shine.
10. Little Boy Blue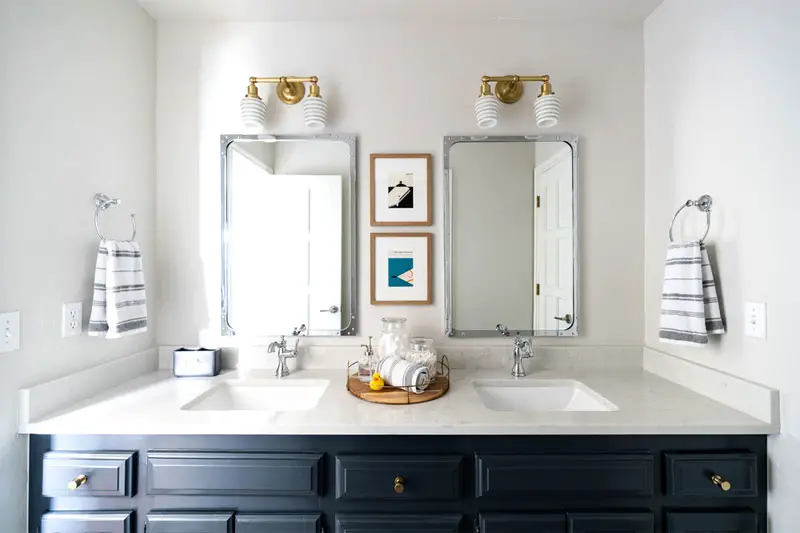 Dark blue cabinets ground this light and airy boys' bathroom. Mixing silver and brass fixtures is an unusual and striking design choice.
11. Plaid Floors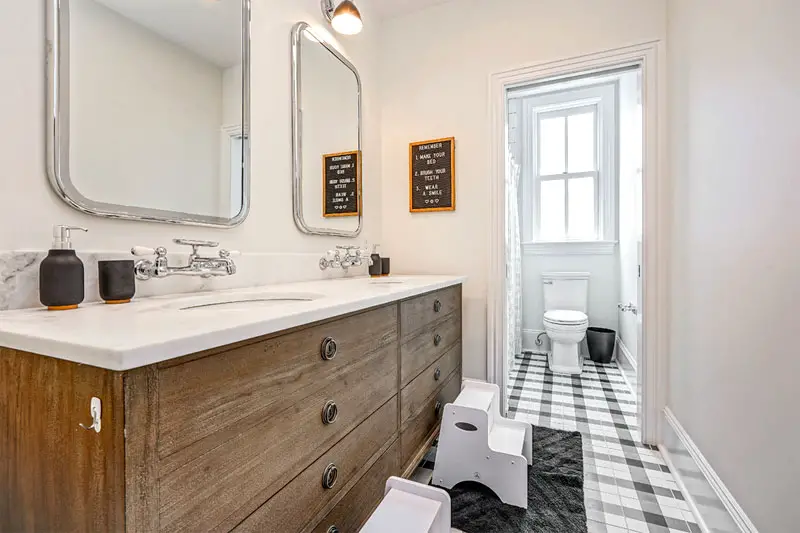 Black and white buffalo plaid floors are an exceptional detail in this kids' farmhouse bathroom. Anybody would be wearing a smile if they woke up to this powder room every day.
12. Bold & Bright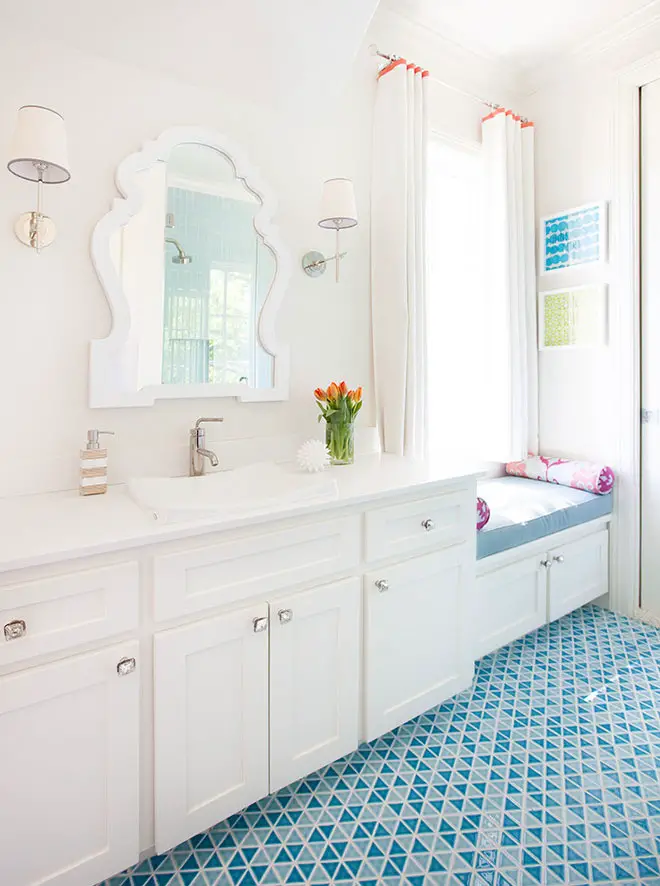 Aqua triangular tiles and matching window seat are the obvious standouts here, but between the orange-accented curtains and ornate mirror, there isn't a dull moment in this bright bathroom.
13. Cats and Dogs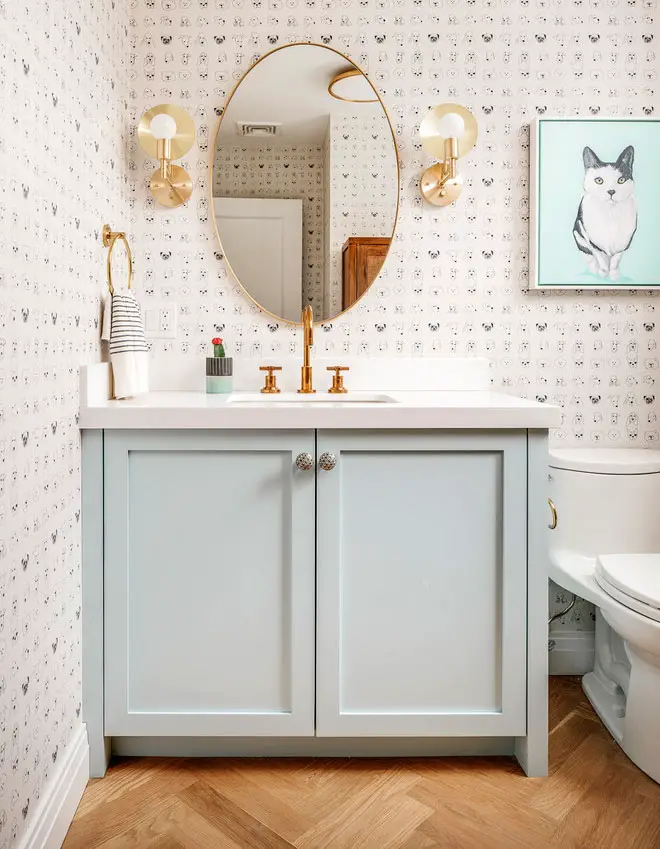 Of course, putting hundreds of dogs and a single cat in one bathroom could go horribly wrong, so it must be done with expert precision. This humorous design flawlessly combines kitschy wallpaper and stellar design.
14. Green and Gray
Recessed-paneled cabinets get a fresh topcoat in jade green. The geometric gray and white tiles are a cheery choice that don't distract from the colorful cabinetry.
15. Vibrant Accents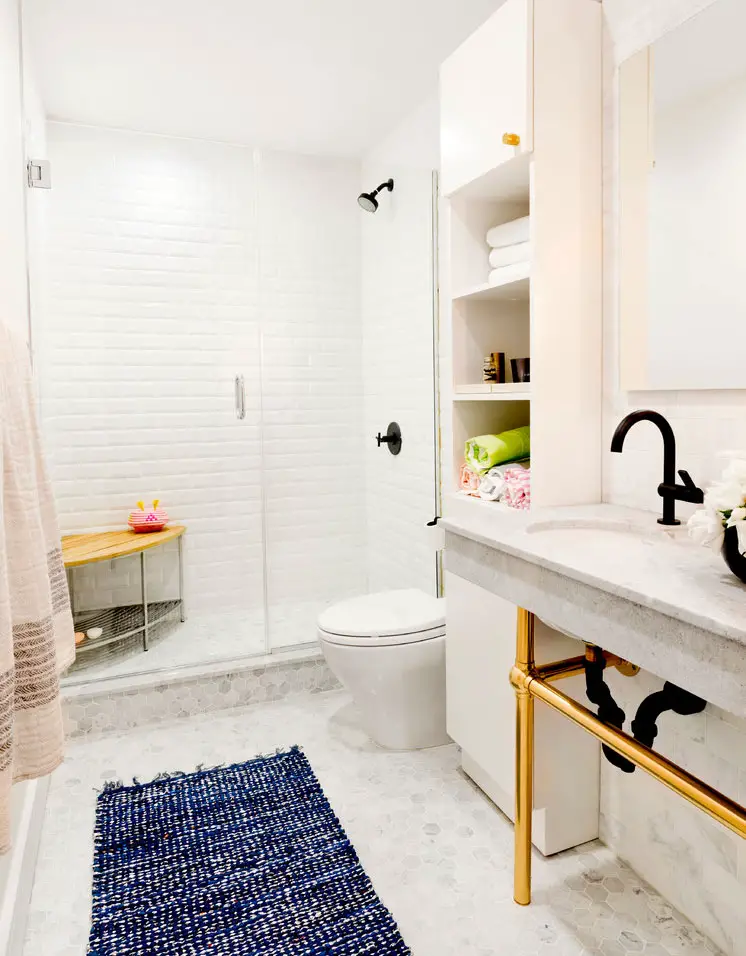 Luxurious marble countertops and sleek white finishes get a pop of liveliness with vibrant textiles.
16. Under the Sea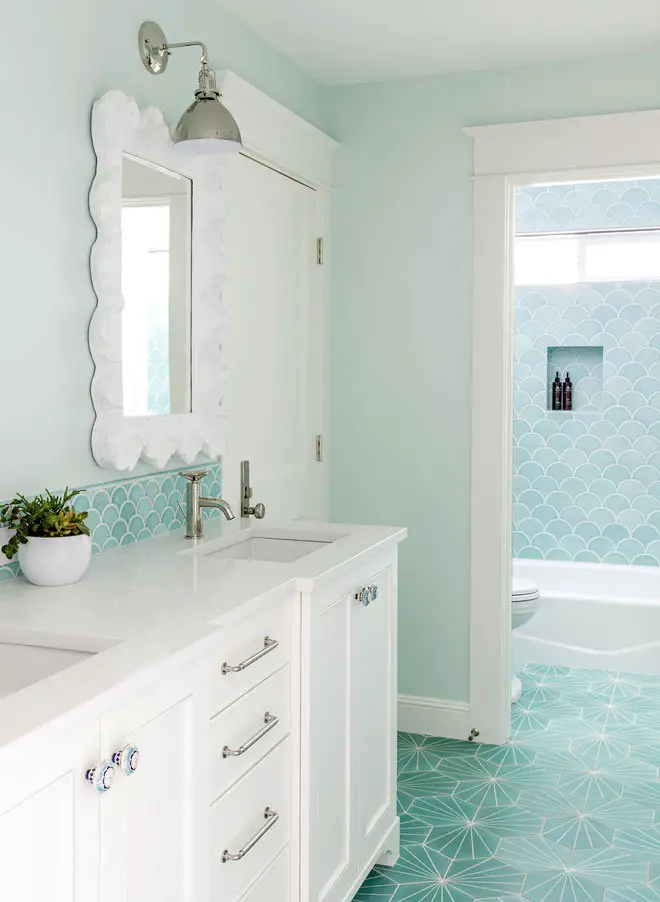 Every little mermaid would love a bathroom like this. Seaglass colored walls and fishscale tiles are enchanting details in this monochromatic design.
17. Chic Showstopper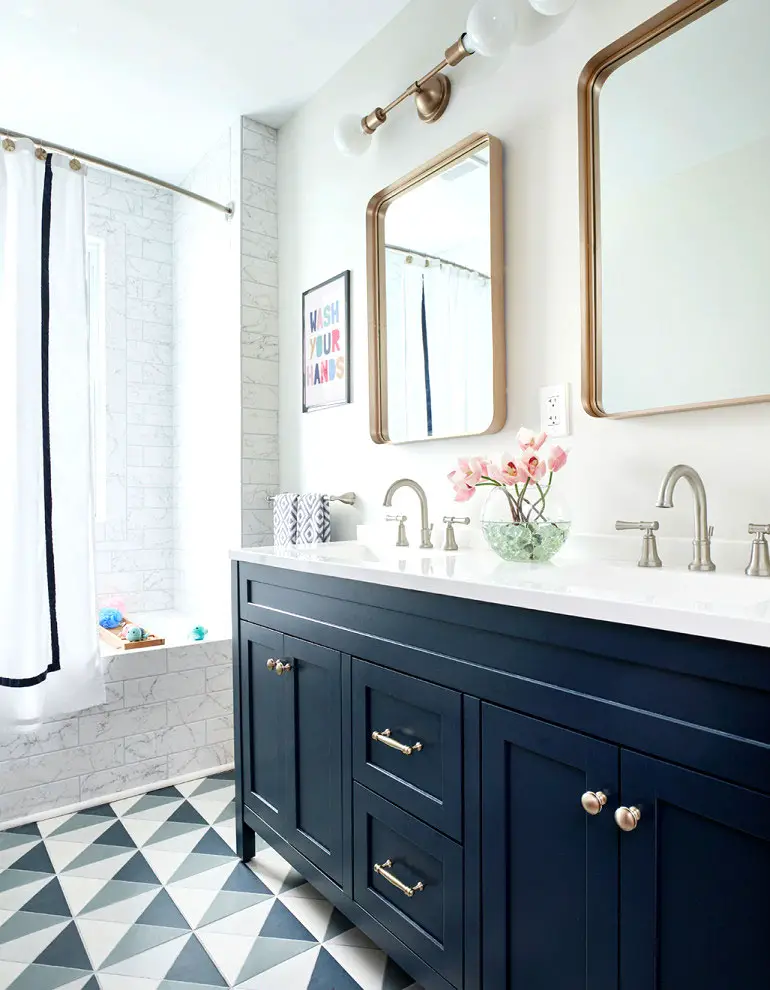 Deep tones and classic shapes allow this bathroom to transition smoothly from a kid's space to a contemporary, chic room with very little design overhaul.
18. Boho Bathroom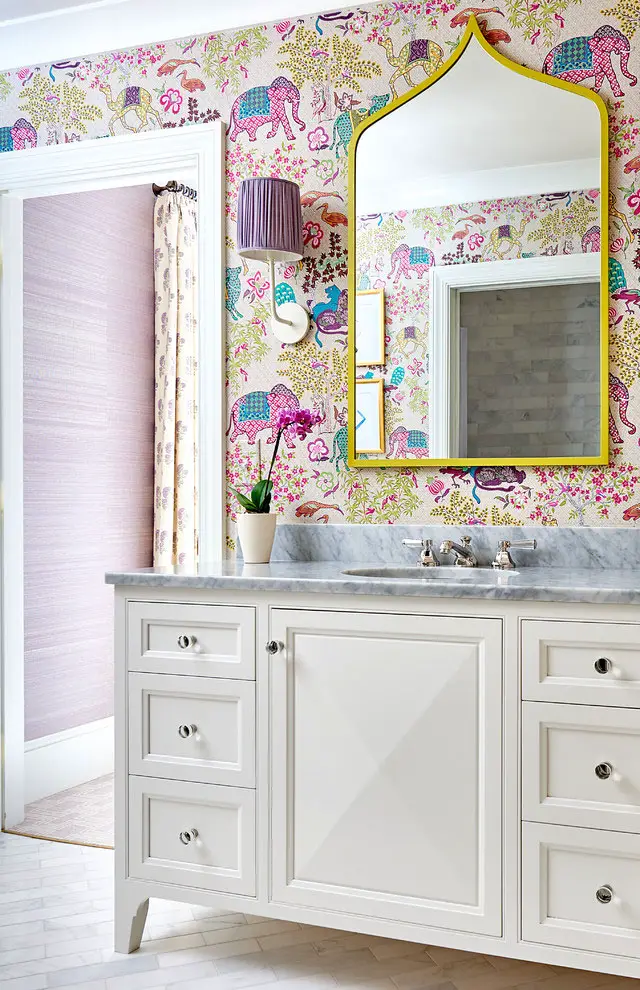 A globally-inspired print is the wow-factor for a dreamy bohemian bathroom.
19. Whale of a Time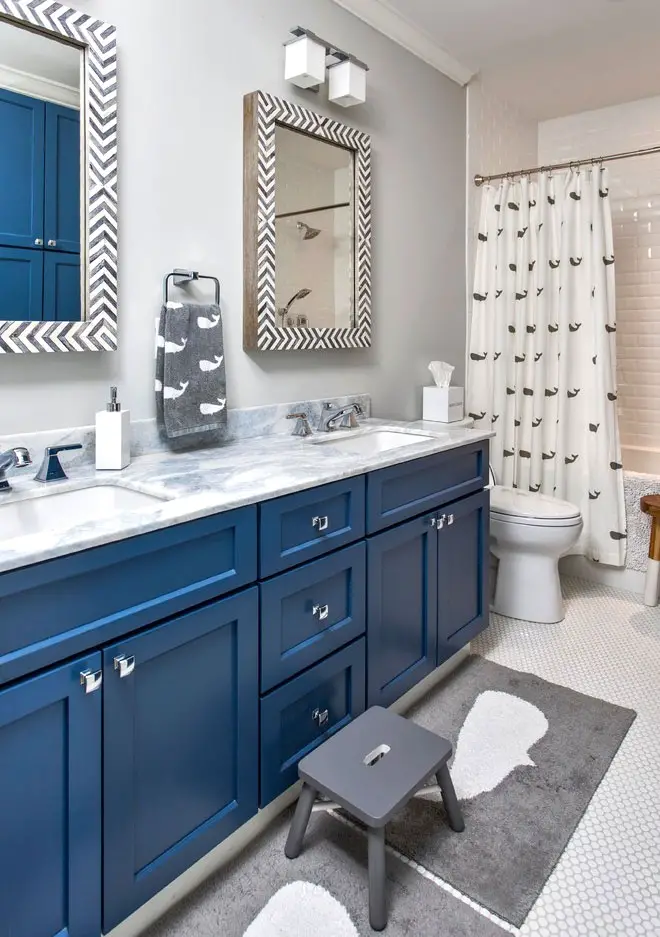 Bright blue shaker cabinets set the scene for this endearing oceanic bathroom. Dotting the landscape are whale-themed textiles, right down to the adorable bath mats.
20. Cute Cottage Bathroom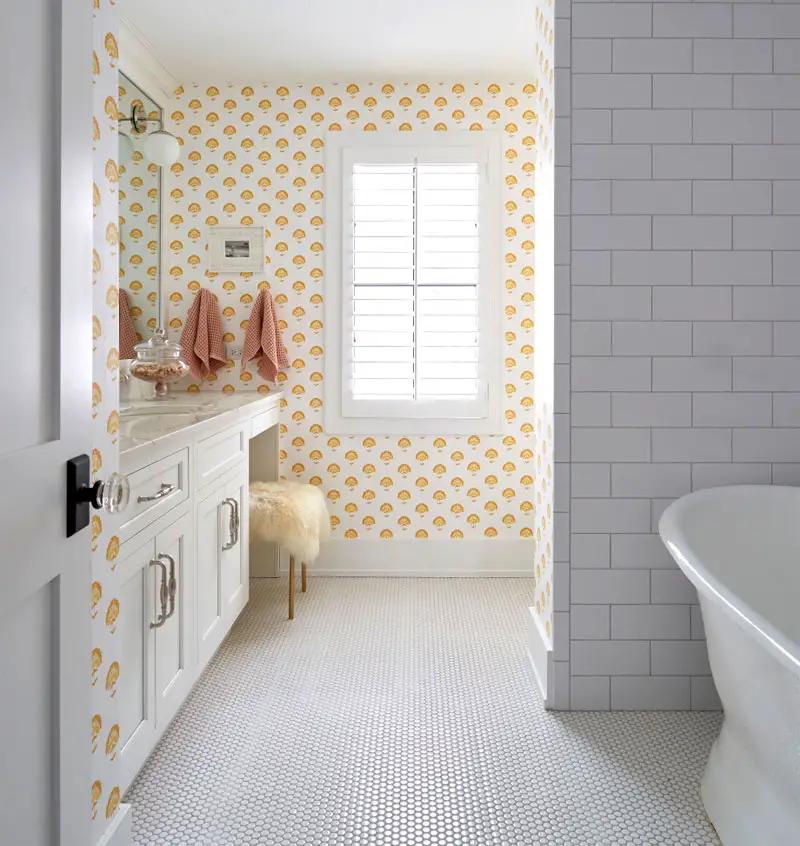 Bright and cozy, this bathroom is full of vintage charm. A small stool topped with sheepskin sits under the built-in vanity.
21. Plenty of Space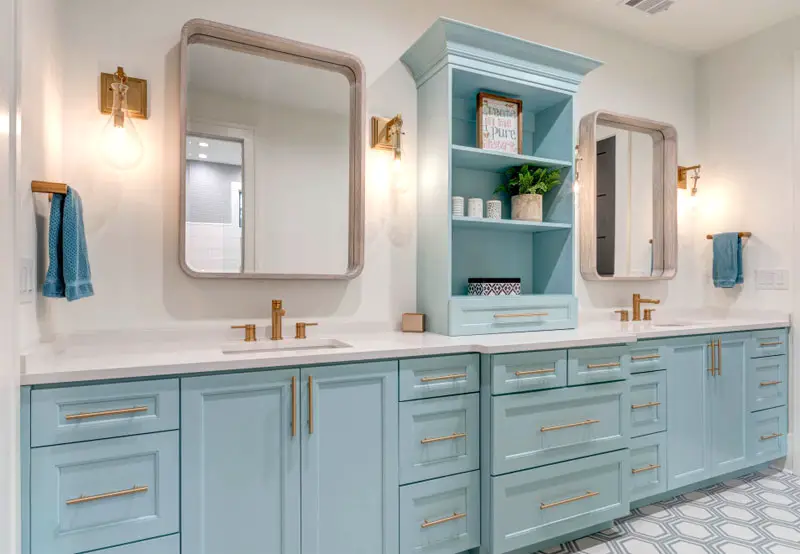 With plenty of storage space, this bathroom is ideal for a large family. Double sinks make sure that everyone can get their morning routine done on time.
Related: 18 Different Types of Bathroom Sinks
22. White All Around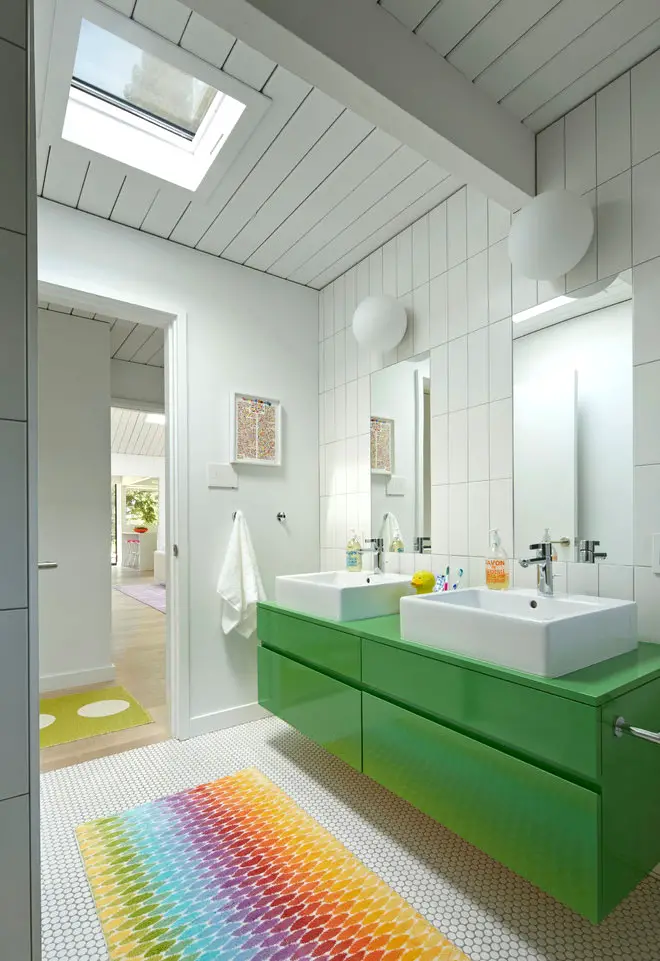 Three different white surfaces co-exist in this unique bathroom. A shiplap ceiling, large wall tiles, and penny rounds on the floor are each engaging in their own right.
23. Coral Cabinet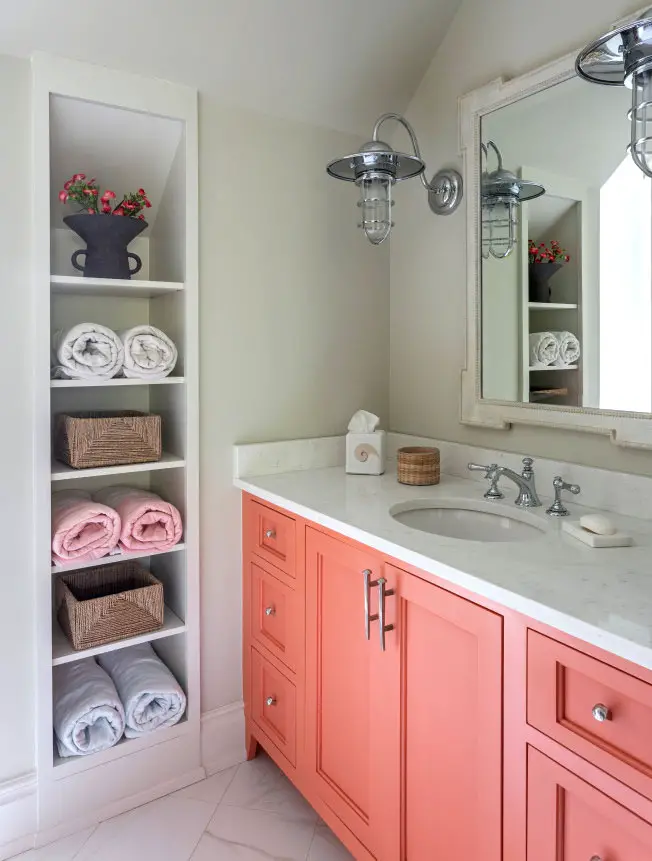 Sweet and simple, this design pairs silver industrial light fixtures with eye-catching cabinets. Painting existing cabinets is a budget-friendly way to dress up a bathroom.
24. Stunning Herringbone Walls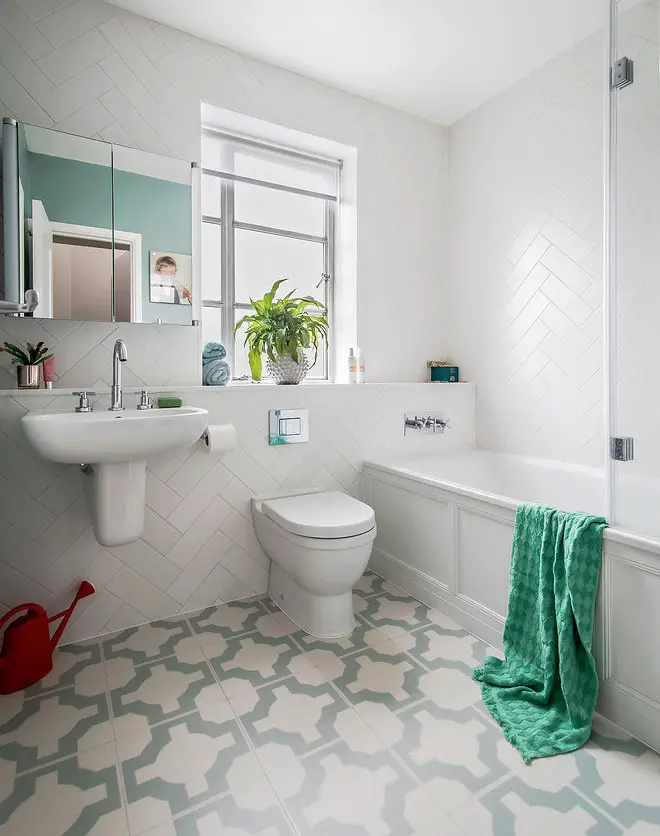 This calm and tranquil bathroom has very little color except for the soothing blue tone in the patterned floor tile. White tiles laid in a herringbone pattern across the walls reflect light throughout the room.
25. Fresh Flowers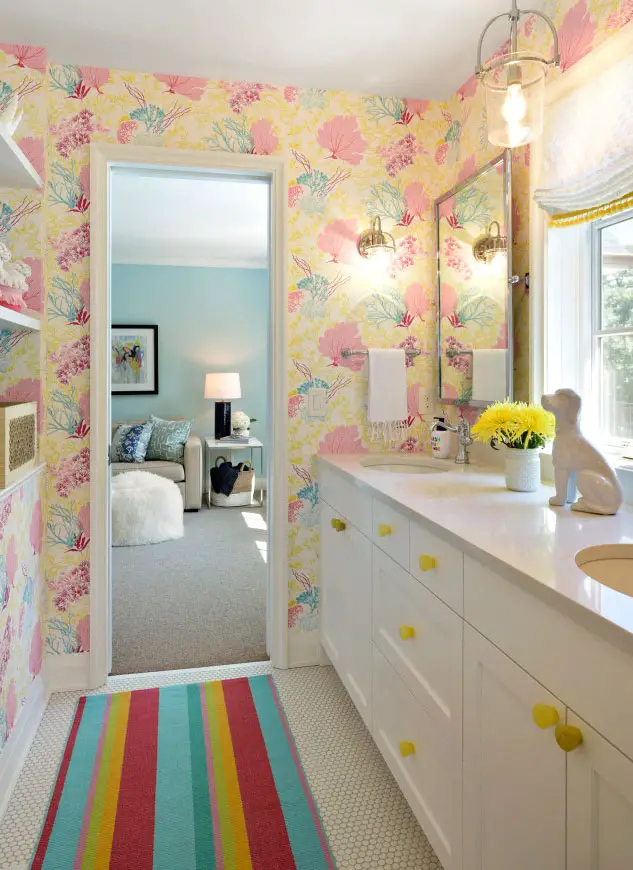 Yellow drawer pulls personalize the white cabinets while floral wallpaper brings the outdoors in. Did you notice the pom-poms on the curtains? Whimsical details abound in this delightful children's bathroom.
26.  The More the Merrier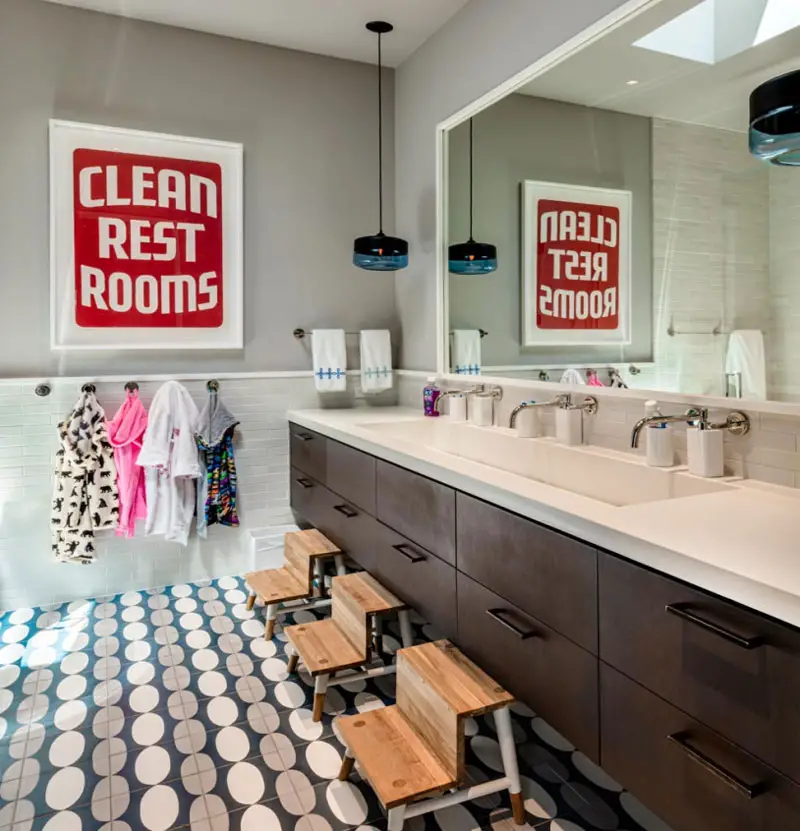 Whether you have triplets or just a lot of guests, plenty of bathroom space is a must. This trough sink allows the whole gang to get handwashing done in a flash.
27. Light Pastels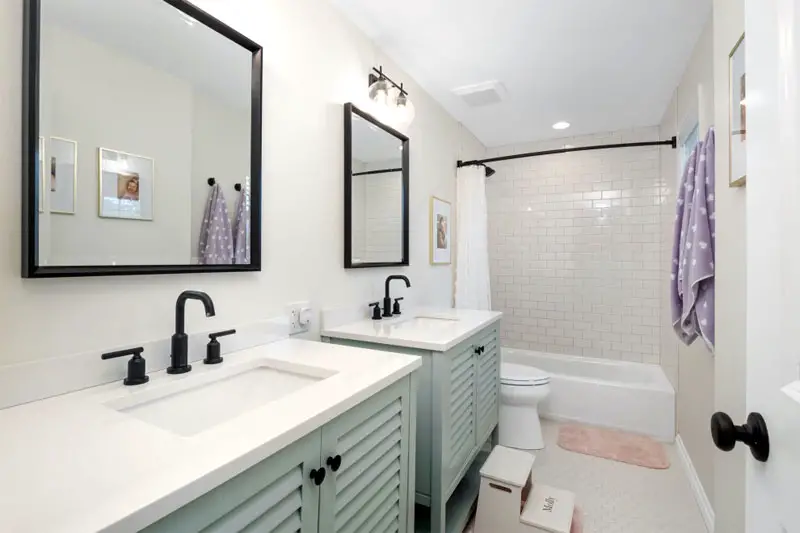 Not only are these beautiful vanities a delicate color, but the louvered doors add a lovely texture. This light and feminine room remains balanced with black accents.
28. Seeing Red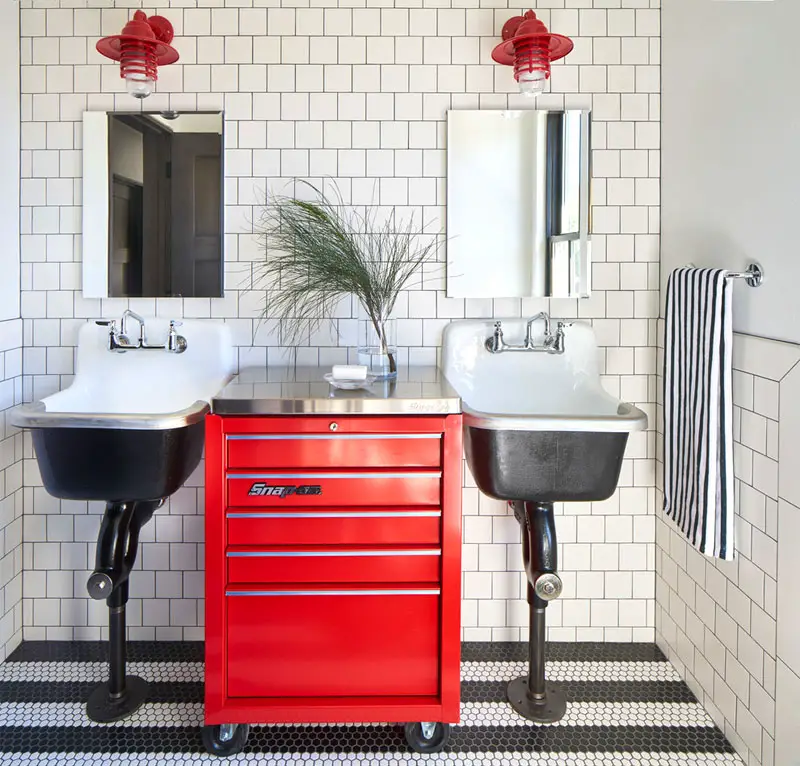 This bold bathroom uses industrial fixtures and a strong color. Placed between two identical pedestal sinks, a red rolling tool cart doubles as the main cabinet.
29. Curtain Call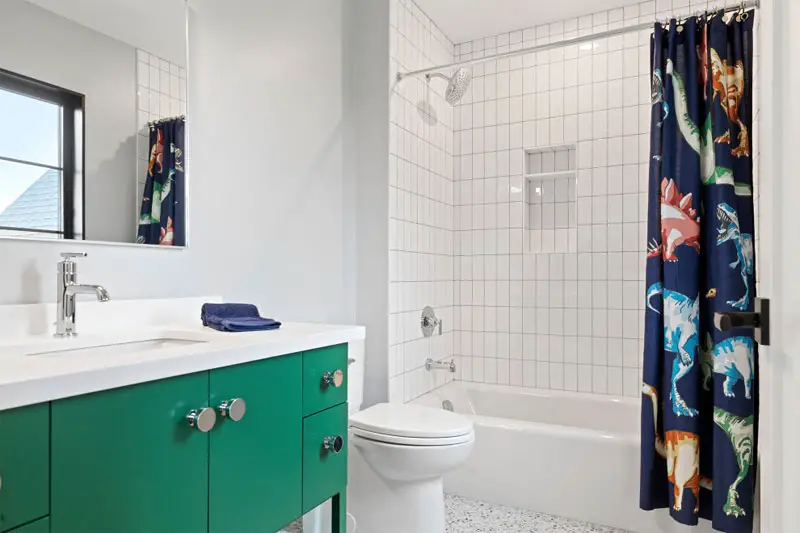 Updating a kids' bathroom can be as easy as changing a shower curtain.  Your kids aren't into dinosaurs anymore? No problem. A new shower curtain is a cheap and easy way to refresh your room as often as you want.
30. Eclectic Perfection
Embrace the imperfection by layering differing styles and patterns in the same room. Colors of similar intensity and white accents make this design make sense.
31. Daring Meets Darling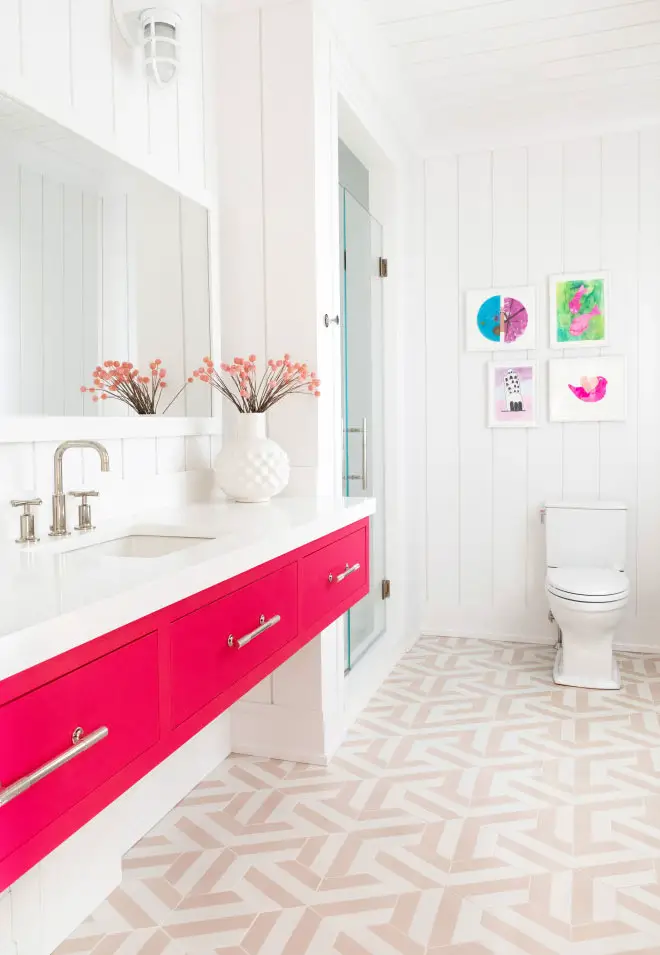 Modern and minimal meet in this stunning girls' bathroom. A floating vanity in a sublime bright pink sits against white shiplap walls, while blush pink vintage-inspired tiles grace the floor.
32. Bayside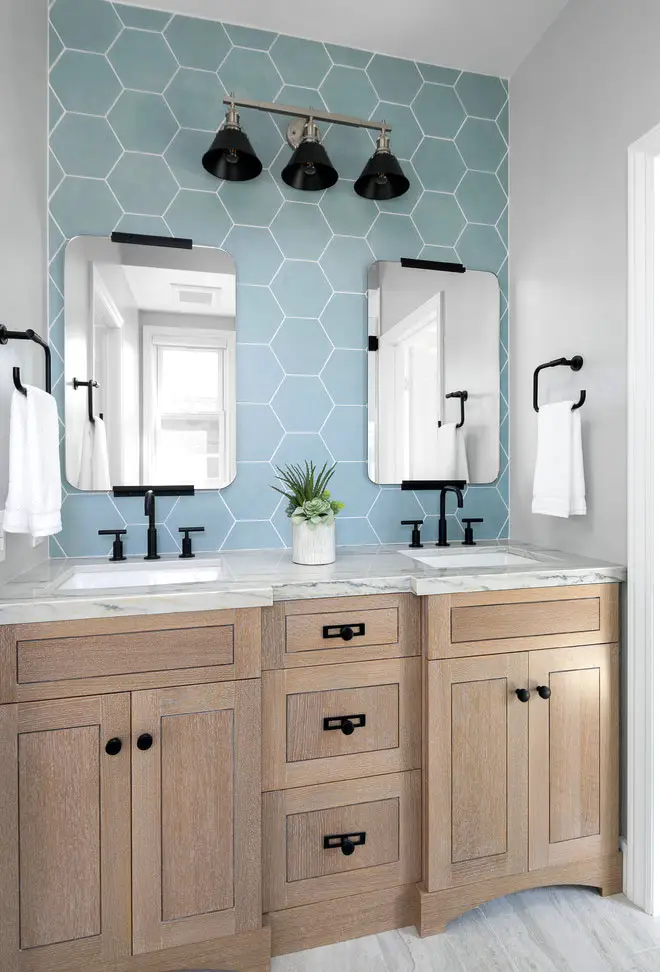 Calming beach-inspired designs are common for bathrooms, but the theme doesn't need to be obvious. This jack-and-jill bathroom gives a subtle nod to the ocean without being over-the-top, so is perfect for all ages and genders.