Updated on January 3, 2022
When it comes to designing the deck of your dreams, it's important to do some research on types of railings so you can ensure that you not only have the aesthetics you desire but also that the rail you go with will be the safest option for you and your family's needs.
Whether you want a rustic look, a nautical theme, or something modern and unique like glass panels, the type of guard rail you put on your deck can transform your space and bring everything together.
If you or those that frequent your home have kids, it would be a smart plan to go with a rail style that's going to keep the little ones safe. For those that are looking more for the style than for functionality, there are a few options such as glass panels, cables, and rope that look really interesting but give a lower level of security.
No matter what style and material you choose, you'll have the perfect deck for entertaining friends and family.
Read Also: 12 Gorgeous Multi Level Deck Ideas
8 Popular Railing Types
Regardless of your personal design preferences, you should have no problem finding the perfect style of rail for your outdoor space. Whether you're building a brand new deck or you're revamping an existing balcony, porch, or patio, there are countless style and material combinations, ensuring you can design the best rail for your home.
Some of these types of railings are easiest bought from a local big box store or specialty store, but a few of them can easily be made yourself. No matter what look you're trying to go for in your space, you can make or purchase just about any type of railing you can picture in your mind.
1. Rustic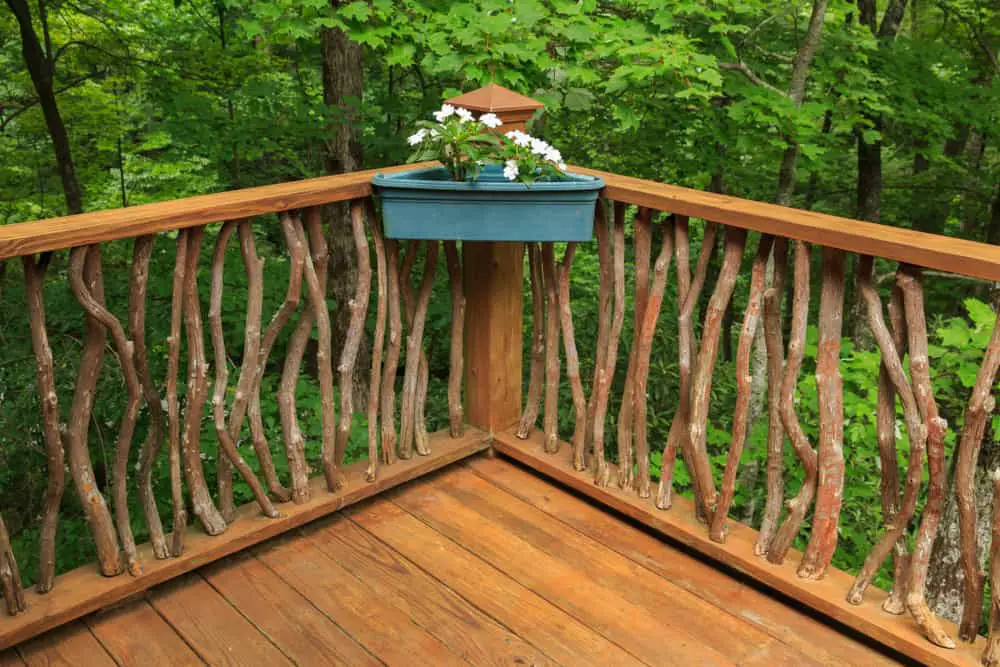 For those that love the look of rustic, country charm that comes from salvaged wood, a rail in this style would be an excellent choice. There are several ways you can incorporate this type of railing into your home, from outdoors on your deck or balconies to indoor lofts.
One of the coolest things about a rustic rail is that people that live in wooded areas can make it themselves with wood that they harvested on their own. Stained or unfinished, a natural wood rail is a fantastic choice for those looking for that rustic charm.
Pros
Can be made with purchased or harvest wood
Makes a beautiful railing whether it's just sanded and left natural, painted, or stained
Perfect for indoor and outdoor applications
Natural materials are healthier for your family and the environment
Cons
Unfinished wood may cause splinters, be sure to sand if it gets rough
More upkeep needed than other styles
The uneven surface may be harder to paint or stain
Approximate Cost
The cost of a rustic railing can vary greatly. If you are able to use branches and trees from your own property as well as salvaged wood, this could very well be nearly free, considering you already have the tools to make it.
All that you need, aside from the wood, are the screws and other hardware to assemble the railing plus your paint or stain.
If you end up purchasing the wood for this project, you could spend anywhere from $50 per piece up to $200 per piece. The cost depends on the type of wood you purchase as well as how detailed and pretty each piece is.
2. Turned Baluster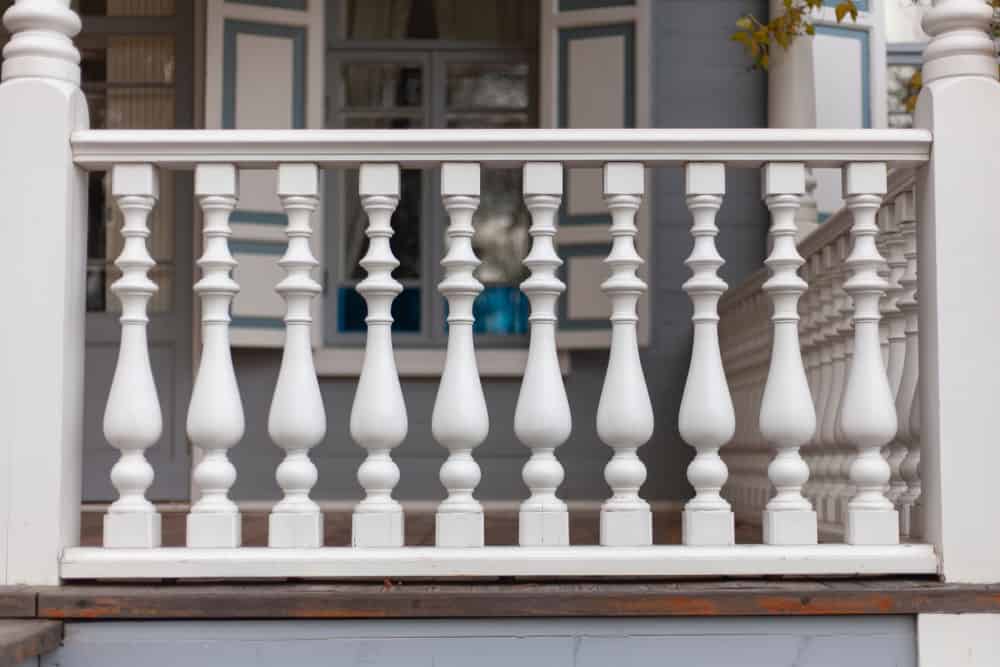 If you are into a more traditional look, it really doesn't get more traditional than the classic wooden turned baluster. This style of railing can be found in a wide range of architectural styles, from Victorian homes to craftsman style to small bungalows.
Because this style is so widely used, you can find the supplies to make a turned baluster railing for a really affordable price. Simple styles will be on the lower end of the price spectrum, while more detailed and ornate posts will be more expensive.
Turned balusters are most commonly white, however, they look great when painted any color.
Pros
Turned balusters come in designs to fit any budget
Can be used in more formal settings and in simpler homes as well
Beautiful when painted to fit any color scheme
Cons
May be more maintenance than you would want to deal with
Approximate Cost
Turned balusters are surprisingly affordable, considering how stylish and elegant they are. You can find the posts as low as $10 apiece.
Always be sure to take into account the size of the posts, how much of a gap you want between them, and how long of a railing you'll need so you can order the correct number of posts.
3. Stone Balusters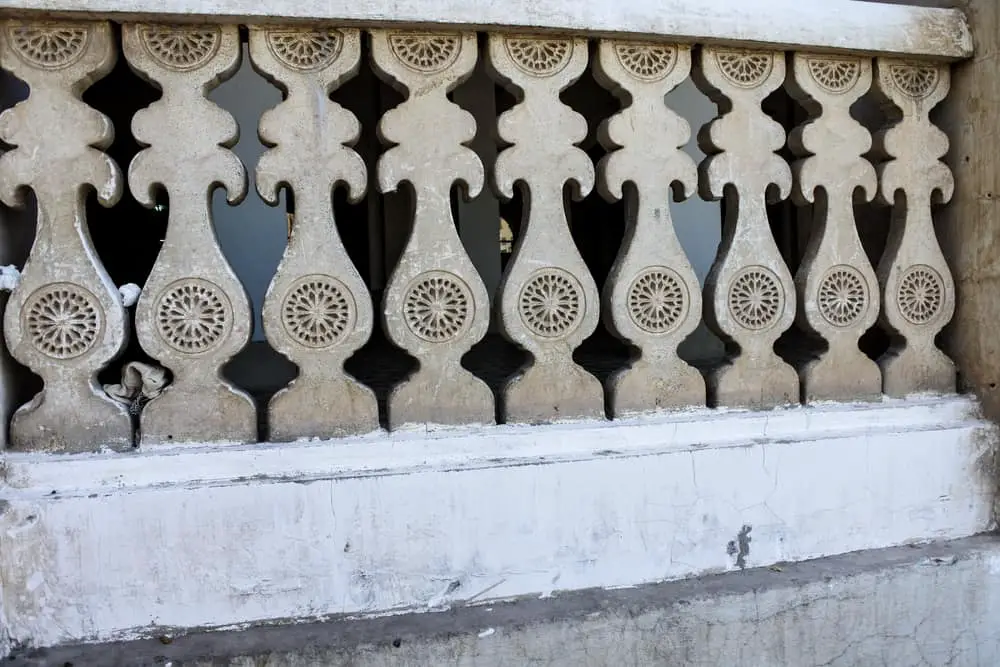 Stone balusters are similar to the turned style of baluster but rather than being made from wooden posts, these balusters are made from stone. These rails feature the same ornate design that repeats itself throughout each section.
These designs are carved into the stone and sometimes have additional details added.
Pros
Gives your home great personality
The unique and classic style of railing isn't seen often in modern homes
Cons
Can be expensive
Heavy material
Approximate Cost
The cost of adding stone balusters can vary greatly. If they are hand-carved stone, they will be more on the expensive side.
If you want a cheaper option that has the same look, you can get cement balusters instead that are poured into a mold rather than being carved by hand.
4. Rope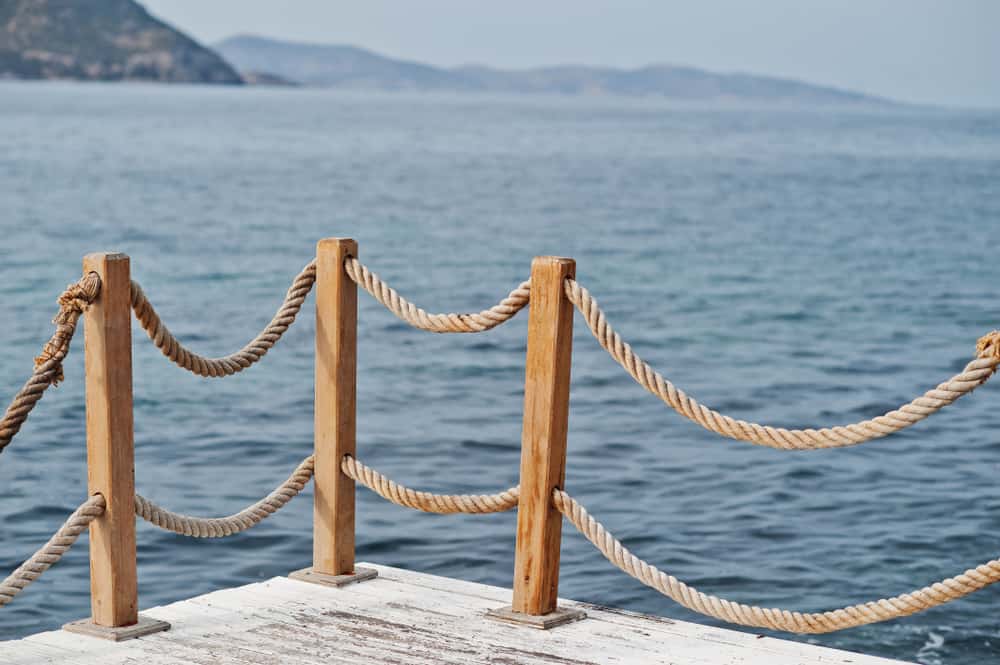 Rope fences are a great addition to your space if you are going for a nautical or fishing theme. These rails are often found on decks as well as piers and docks. Keep in mind that these are not the most secure option as far as safety goes, so keep a close eye on children, the elderly, and those that have a reputation for being accident-prone.
Rope railings are a great choice because they are an easy DIY project. If you're transforming your backyard into a beach getaway, you can easily add a rope railing or fence to add to the tropical or beachy vibe.
Pros
You can make a wood rail with either metal or wood posts
Rope can be found in a ton of materials and thickness
Cons
Rope will not last forever and may unravel or break
Approximate Cost
Rope railings can easily be one of the most affordable ways to go. All you need is the posts and some rope. Each panel of your gate or railing can be as low as just a few dollars, up to $150, depending on if you go the DIY route or not.
5. Cable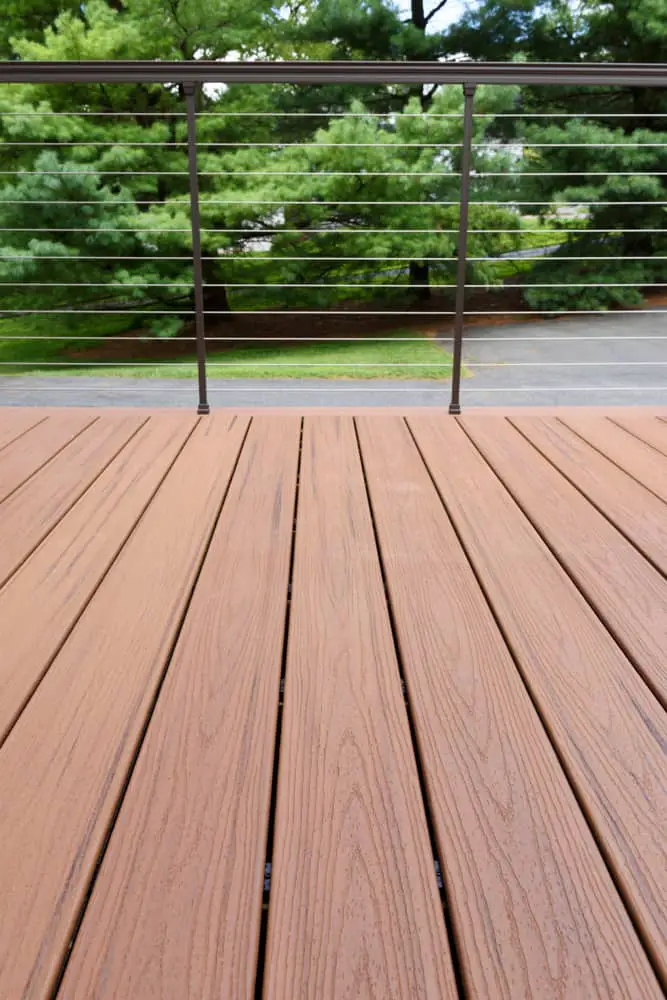 A cable railing uses a series of thin vertical metal posts with cables strung through them horizontally to create a fence/railing type structure.
Each cable could be an individual piece of wire or they can be made from several wires twisted or braided together. Some cable railings have 2 or 3 cables, others have 5 or more cables spaced out between the top and bottom of the railing.
Pros
Has a slim, minimalistic design that blends in without being invisible
Very sleek and stylish, perfect for modern houses
Cons
Cables are more susceptible to rust and corrosion
More expensive than wood
Approximate Cost
Depending on the quality of the fencing you're looking at, the price per panel can range from $50 to $100 in most circumstances. The price variation comes from differences in quality, cable type, as well as materials used.
6. Wrought Iron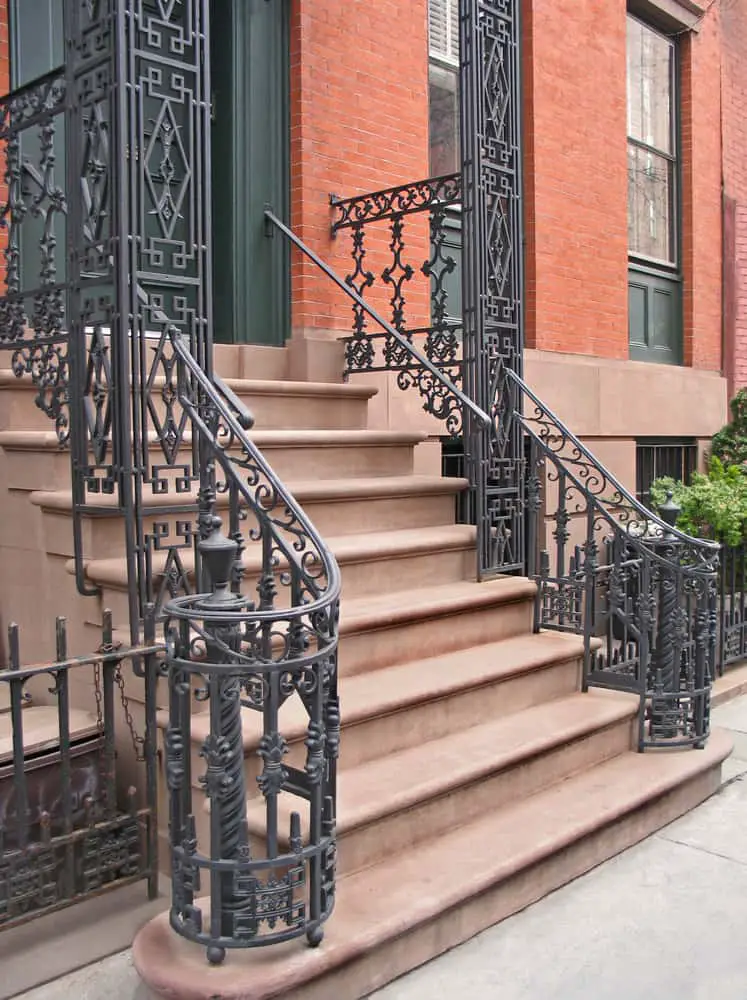 Wrought iron is a classic railing style that has been around since the 12th century. This type of railing can be used in just about any style of home!
They have been seen in Victorian homes as well as mid-century, English cottages, and even modern homes. Whether you want something more elaborate and ornate or you prefer a more refined and simple look, a wrought iron railing would look great on your porch or deck.
Pros
Great way to make your home look more elegant and fancy
You can paint them any color you prefer
Cons
Wrought iron does rust so be sure to clean and seal it regularly
Approximate Cost
The range of pricing for wrought iron rails does depend on how ornate the design is. When shopping for a new wrought iron rail, expect to spend anywhere from $200-$400 per panel. Custom designs will be more expensive and up to the designer's discretion.
Related: 27 Wrought Iron Fence Design Ideas
7. Glass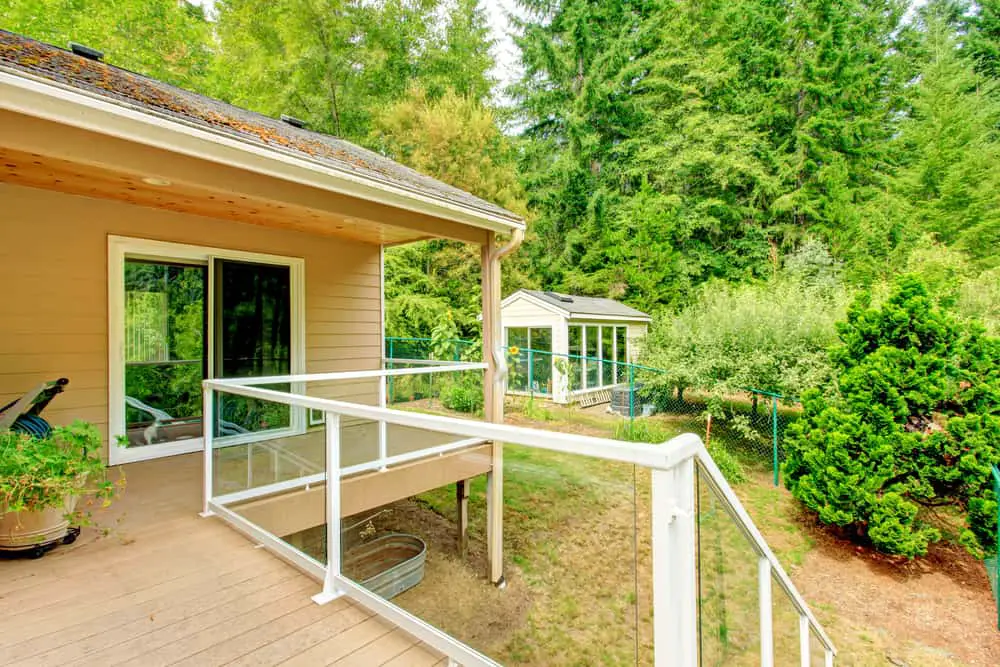 Glass railing panels on your deck or porch are a great option if you have a smaller space that you need to keep secured with a railing but you don't want to overwhelm with something too bulky.
If you live in a scenic area and love to sit out on the deck or on your balcony and watch the birds or just see what's going on in your surroundings, glass panels for your deck railing would be perfect. These transparent panels are perfect if you want a minimalistic, low-profile look.
Pros
Very versatile, glass can be plain, colored, frosted, or etched
Modern and minimalistic look
Cons
Glass panels require regular cleaning
Easily scratched
Some types can be dangerous
Approximate Cost
Glass railing panels can range from $100 to $200, depending on how simple or ornate you go. Materials used can affect the overall cost, as well.
8. Craftsman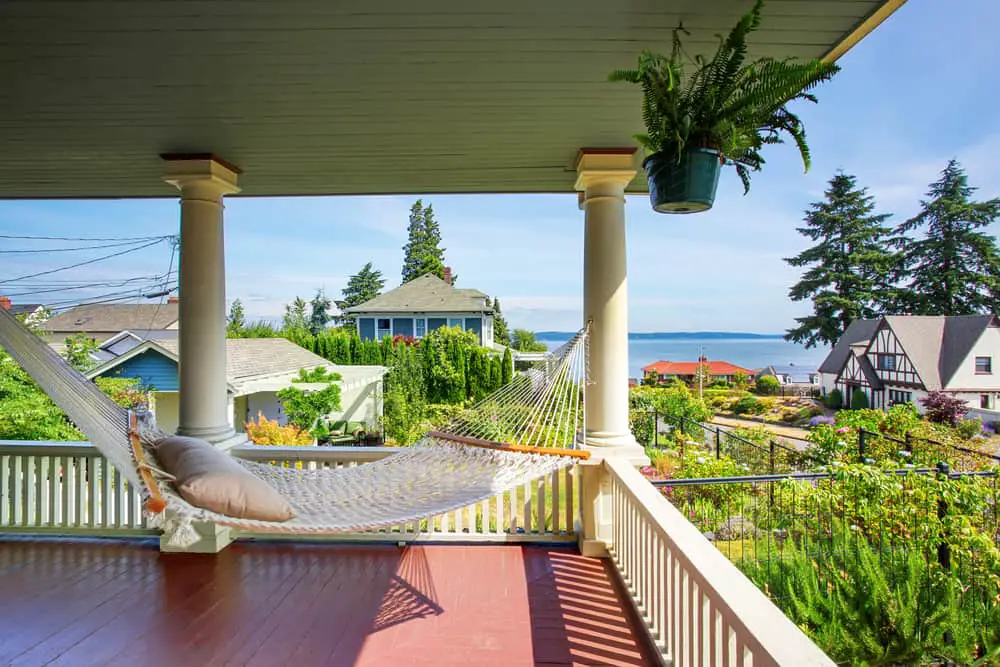 Whether you need a railing for an outdoor space or an indoor space, such as to keep people safe in a loft or at the top of a staircase, a craftsman style rail is a classic style that looks great in many applications.
One of the characteristics of a craftsman rail is that it has a series of vertical posts that are the same size and evenly spaced out.
Pros
The simple design allows other details of the home to be the focal point
Adds plenty of safety and security, as the posts are typically fairly close together
Cons
If the posts are too close, it can be hard to clean between them.
Approximate Cost
As with most rails, the style, material quality, and work involved to make the panels can impact the price. The craftsman style of railing varies from $100-$200 per panel.
Deck Railing Materials
You may be wondering, "what are deck railings made out of"? There are several common materials that are used for deck railing. From metals and woods to stone and glass, the possibilities are endless. Let's take a look at some of your options!
1. Steel
Steel is a great choice for railings due to the durability and resistance to water damage. Steel is great for humid environments, whether you live in an area with high humidity or you live on the coast.
Pros
Steel can be painted to match any color scheme
There are many coatings you can use to increase the water resistance
Cons
Extreme heat can weaken the metal
2. Wood
Wood is one of the most versatile and easy to use materials you can use to build a railing for your deck. Wood can be very affordable, especially if you are able to use salvaged wood or pallets.
Pros
Very versatile and can be customized but cutting it into many shapes and designs
It can be painted, stained, or simply sealed
Cons
Wood can become damaged by water over time
3. Stone
If you want an old-world look or something that has a medieval feel, stone rails are a great choice. They are very sturdy and will last for a long time.
Pros
Very sturdy
Won't break down quickly from water damage
Cons
4. Aluminum
If you're looking for something that's both lightweight and strong, aluminum is a fantastic choice. It goes well with many decor styles and it can stand up to a variety of weather conditions.
Pros
Rust-resistant
Very lightweight
Compliments other metals including stone and wood
Cons
The lighter color isn't ideal for people that want a dark railing
Other Design Elements
1. Vertical
Many people choose to go with a vertical style. With vertical styled railings, the posts of the rail are arranged so that they are vertical, or up and down. In most cases, the posts are spaced apart evenly.
Pros
Works well with both wood and metal
Has a uniform look
Cons
Can be hard to clean between posts if they are spaced too close together
2. Horizontal
Railings with horizontal pieces have slats, posts, or wires that run parallel to the ground. Horizontal railings give the deck the illusion of beings longer.
Pros
Has a very fence-like feel
Similar to a farm gate or fence
Cons
May be hard to get the pieces level and spaced properly
Conclusion
When it comes down to it, there are several very practical and stylish types of railings that you can use outside on your deck or balcony, or inside at the top of a staircase or at the edge of a loft. No matter where you need a railing, you are sure to find or build the one that fits your space perfectly.
Whether you're planning on building the railing yourself or you want to purchase pre-assembled panels that can be put up quickly, the possibilities are endless.
Our guide has a bit of everything, from various materials to styles of railings. Hopefully, we've inspired you to revamp your deck, porch, or patio with a more stylish (or safer) railing.