Updated on July 29, 2022
A vaulted ceiling can bring a dramatic, eye-catching scene to any room of the home. They rise up, cathedral like in appearance, giving the whole space an open and airy style.
When it comes to kitchens, we can't think of any better place to have a high, vaulted ceiling. Now, not all vaulted ceilings rise like a cathedral. There are different types of recesses that can be used, all creating a wonderful style. Often, vaulted ceilings will have exposed beams as part of their architecture, giving an even more striking look.
Below, we have gathered over 35 kitchens with vaulted ceilings for you to browse through. We know you will find a style that suits your design senses.
Vaulted Ceiling Kitchen Design Ideas
1. Wonderful Crossbeam Architecture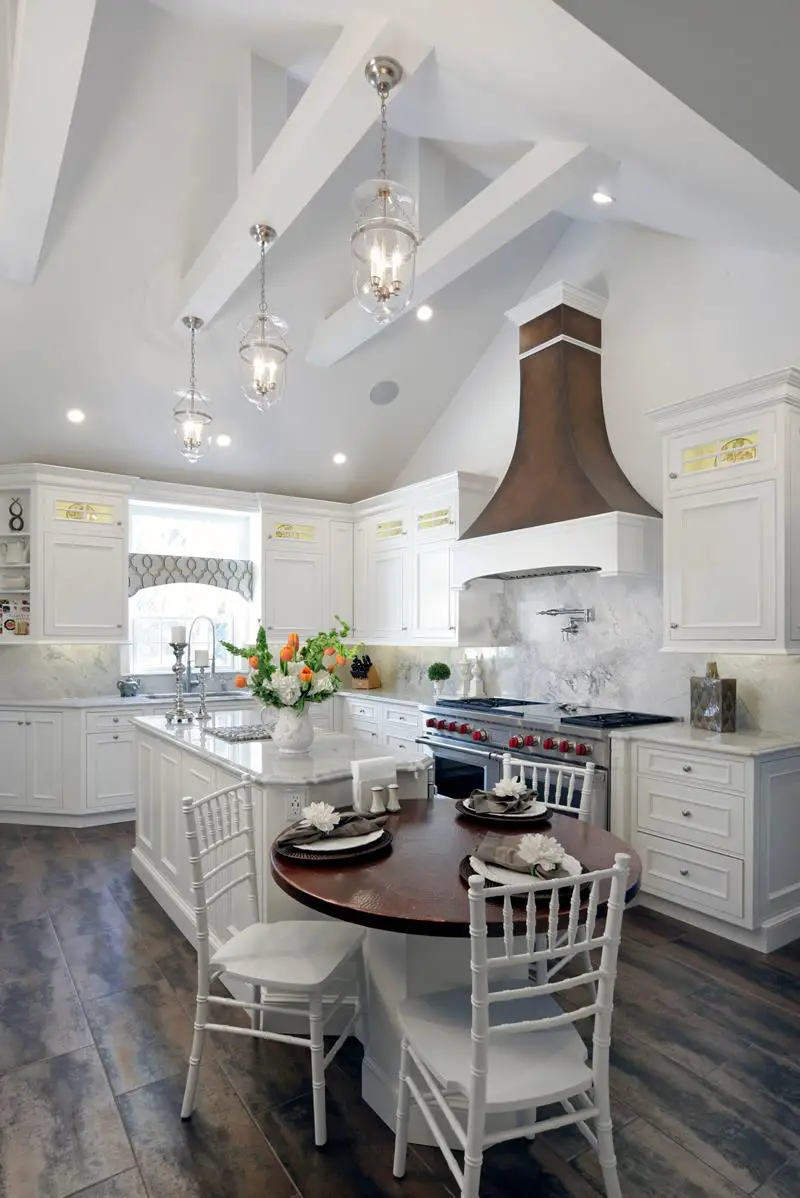 Photo by Aladdin Remodelers
We love how this ceiling seems to have these crossbeams seamlessly designed. They fit wonderfully with the traditional style of this kitchen and making them white was a great choice.
2. Perfect Skylight Style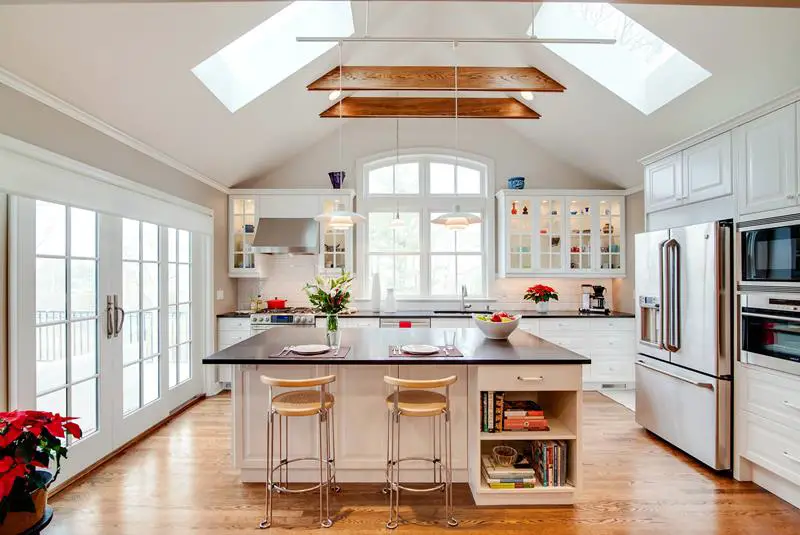 Photo by Sunrise Building & Remodeling Inc
These beams may be small, but they are just right for this space. Nestled between the two skylights, this whole kitchen is a blend of contemporary and traditional styles.
3. Hardwood Beam Contrast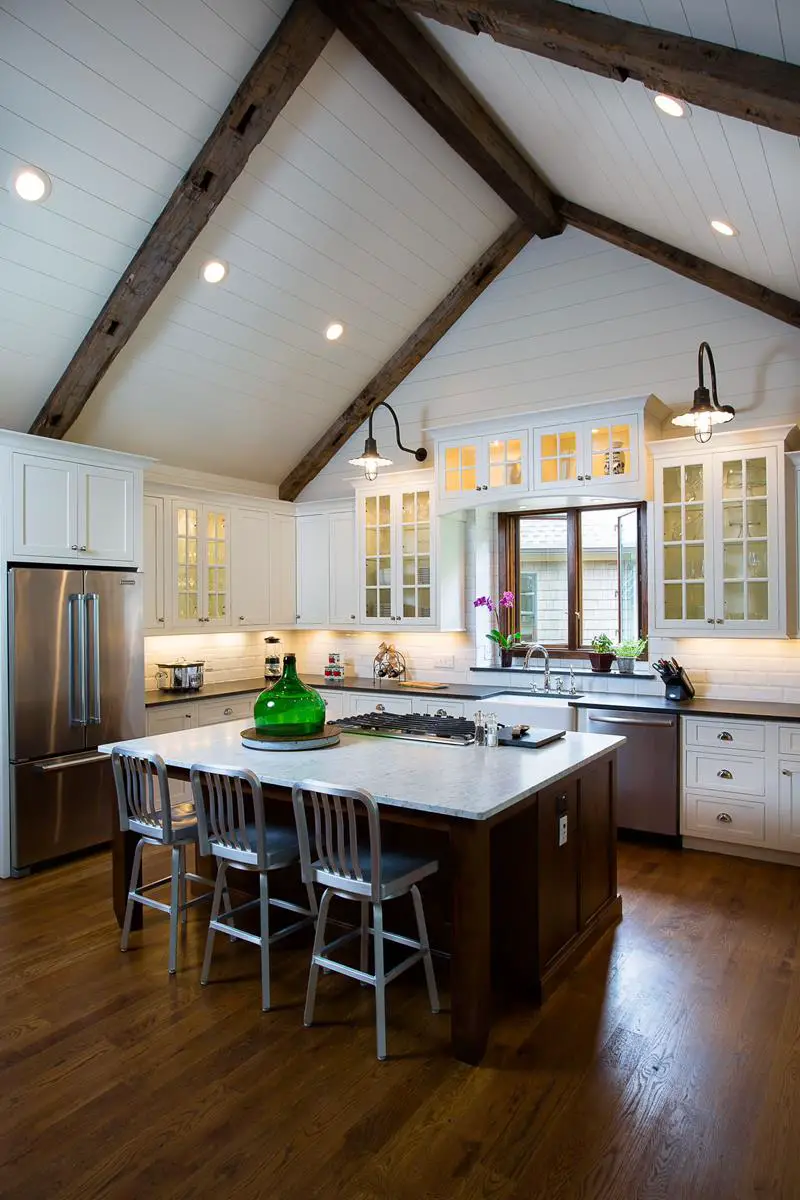 Photo by Insidesign
These rustic and weathered hardwood beams create a great contrast against the white ceiling. They also match the floor wonderfully.
4. Great Contemporary Angles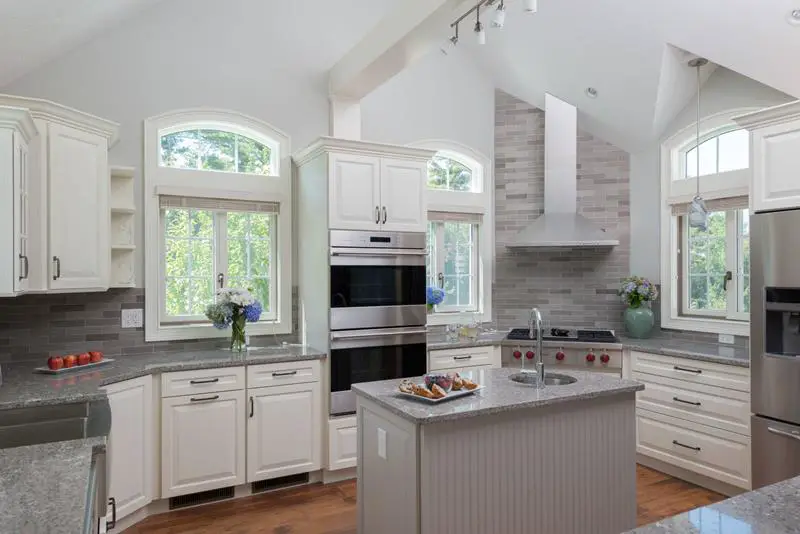 Photo by G. M. Roth Design Remodeling, Inc.
We love the angles of this kitchen and the beams fit right in. This space uses a contemporary architectural style and fantastic matching materials.
5. Cathedral Style Kitchen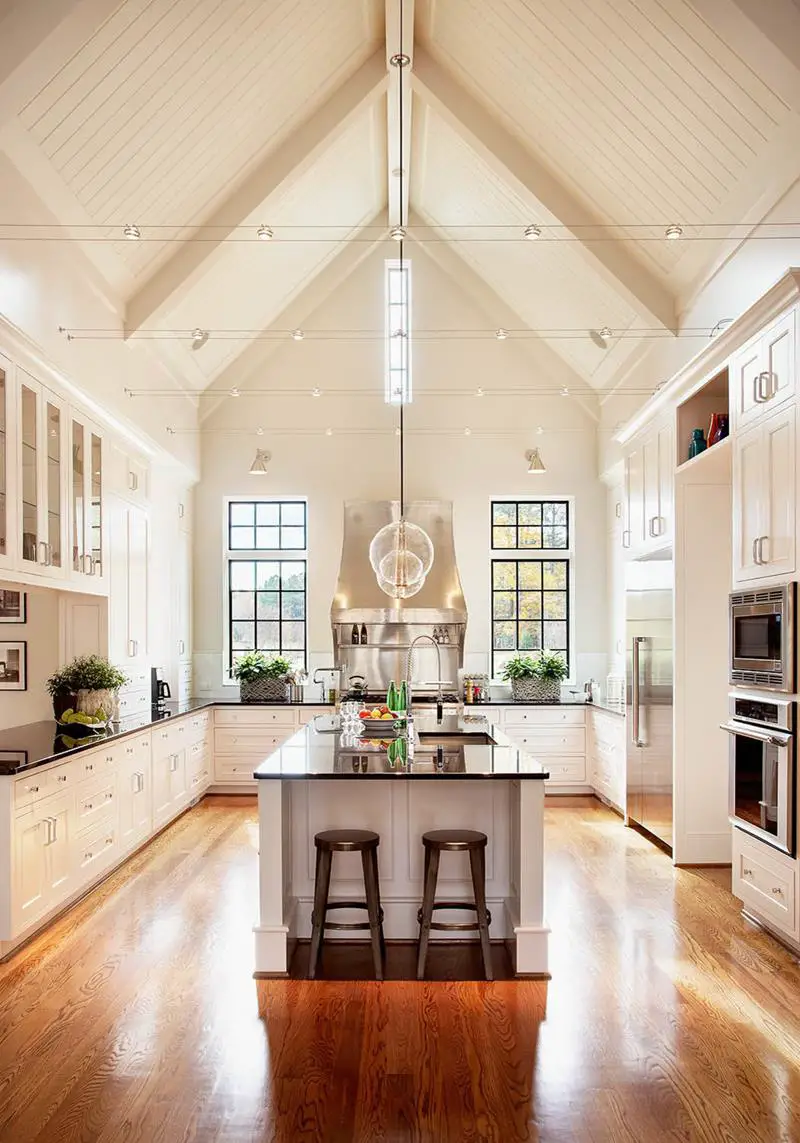 Photo by Rufty Custom Built Homes and Remodeling
One look at this kitchen and you know it is a magnificent space. The high ceiling take a cathedral style and makes it work perfectly with this traditional kitchen.
6. Charming Country Setting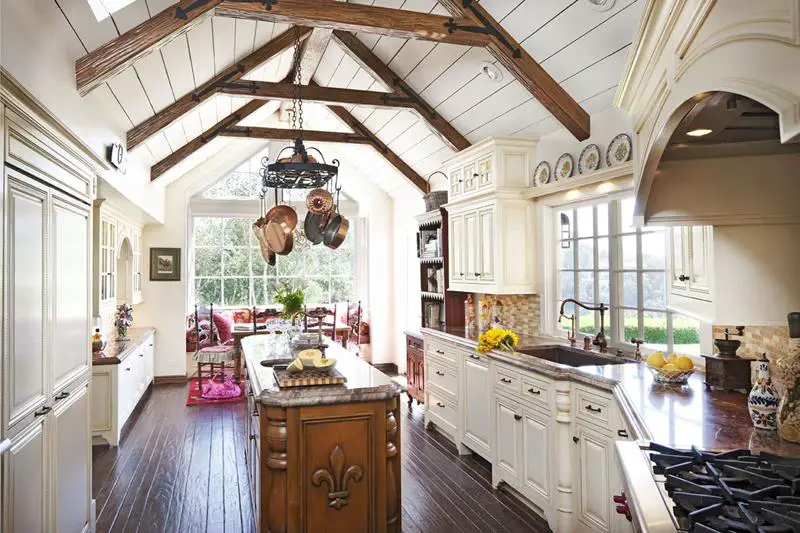 Photo by Joani Stewart-GeorgiMontana Ave. Interiors
This pitched ceiling has wonderful and charming hardwood beams that work so well with the overall country style of this kitchen.
7. Rustic European Curves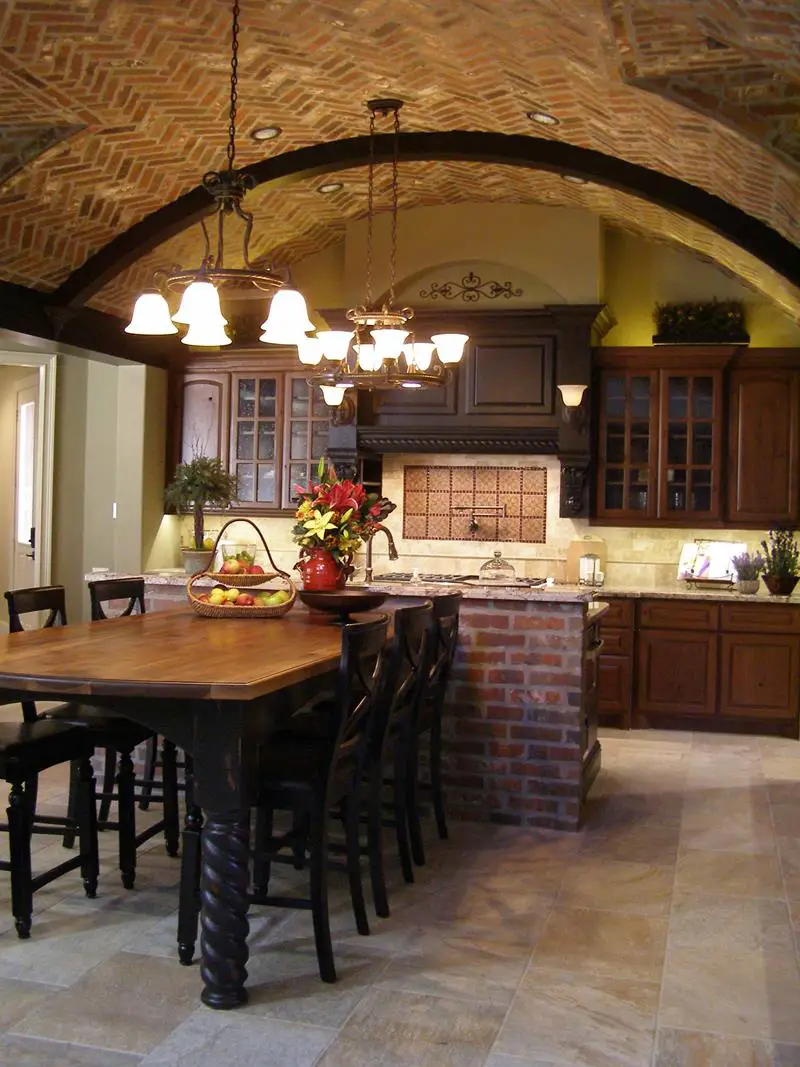 Photo by Cindy Aplanalp-Yates & Chairma Design Group
You will be thinking of a charming European style when you see this beautiful curved ceiling. The brick works so well with the overall design of this kitchen.
8. Magnificent and Open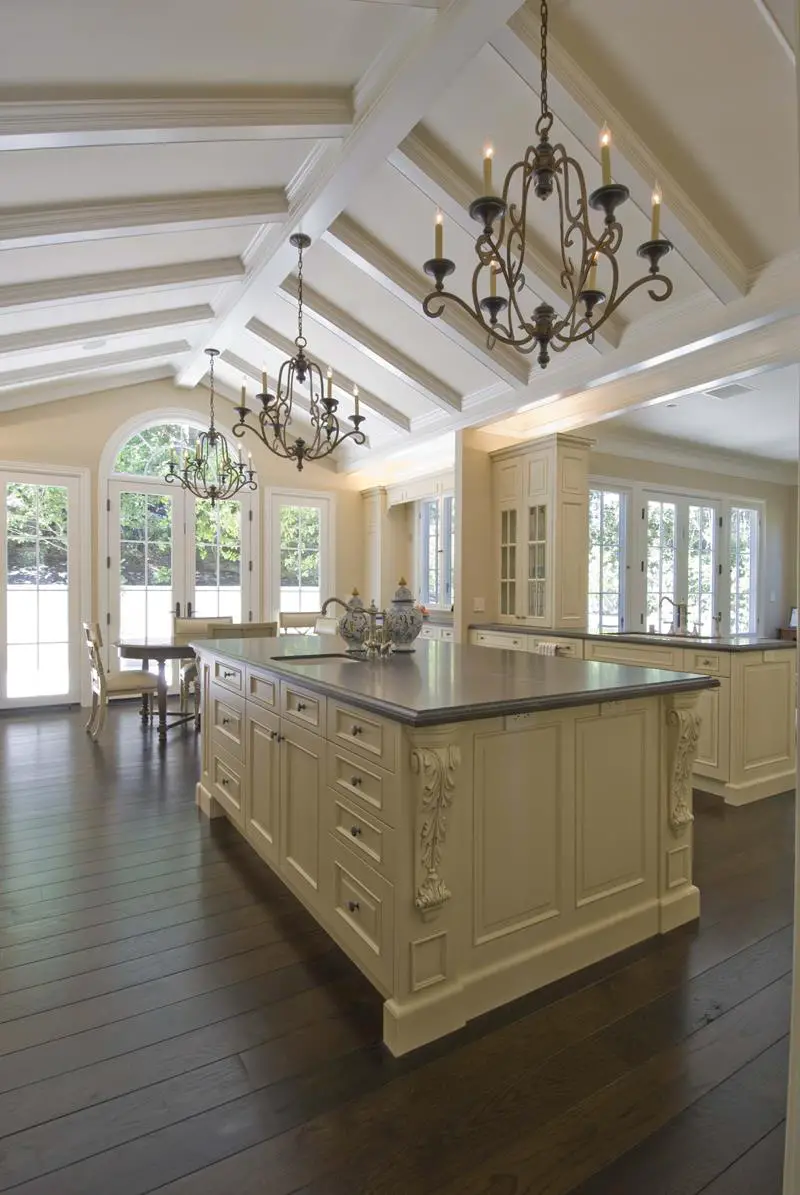 Photo by Canyon Construction
This high ceiling has three wonderful light fixtures hanging down, all with a slightly rustic sense. This large kitchen has an open and spacious feeling.
9. Wonderful Design Style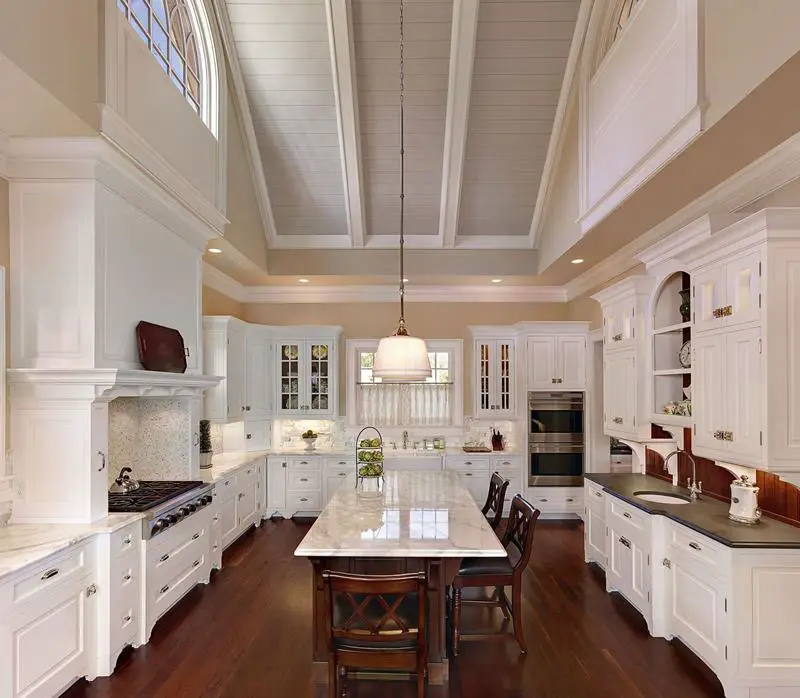 Photo by Christopher A Rose AIA, ASID
Thanks to this vaulted ceiling and high windows, the natural light pours into this kitchen. Notice how the ceiling is a light gray, making it contrast well with the walls.
10. High and Curved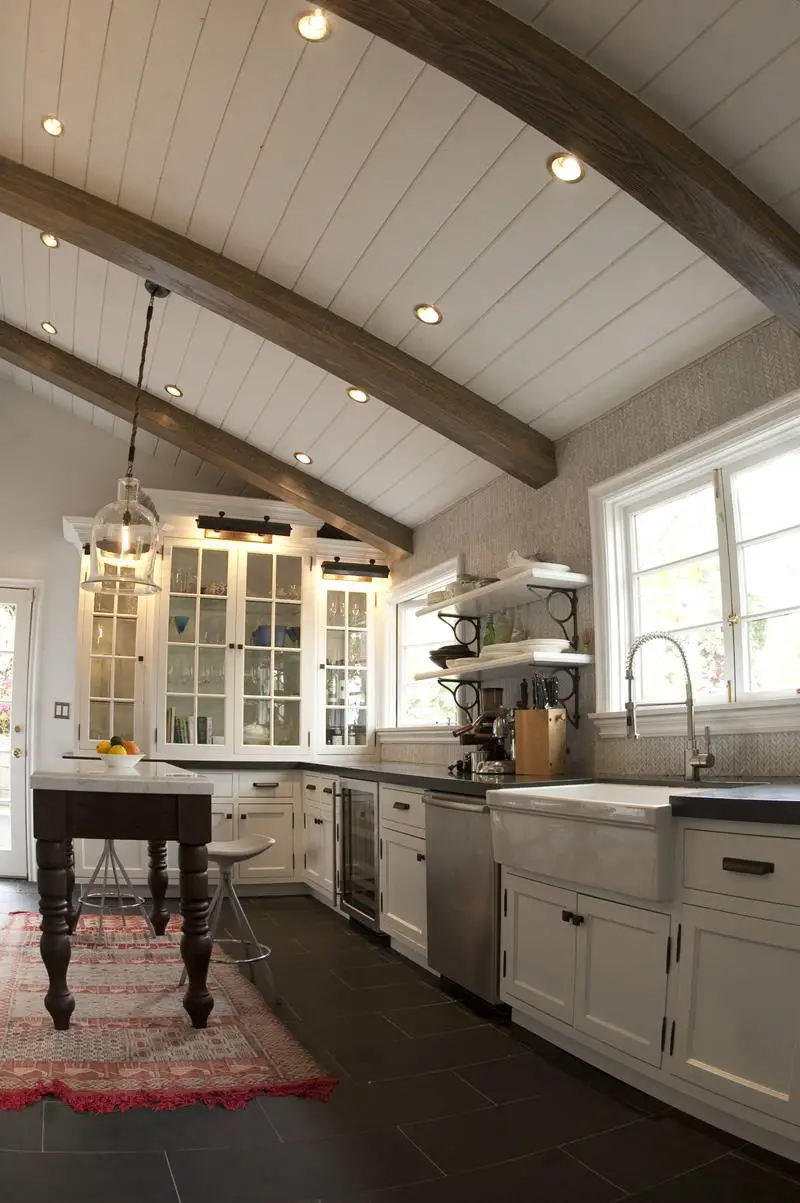 Photo by Avante Interiors
We love how this ceiling and the
hardwood beams
rise slowly and calmly, giving this kitchen a great country sense of style.
11. Modern Industrial Style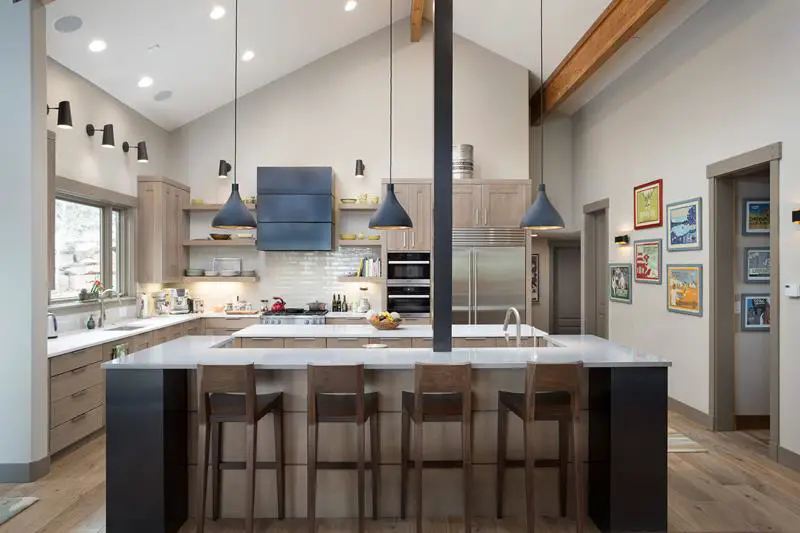 Photo by Peppertree Kitchen & Bath
We love that this ceiling doesn't have a symmetrical rise on either side. It gives this whole space a modern feel that works well with the industrial style.
12. Traditional Loft Space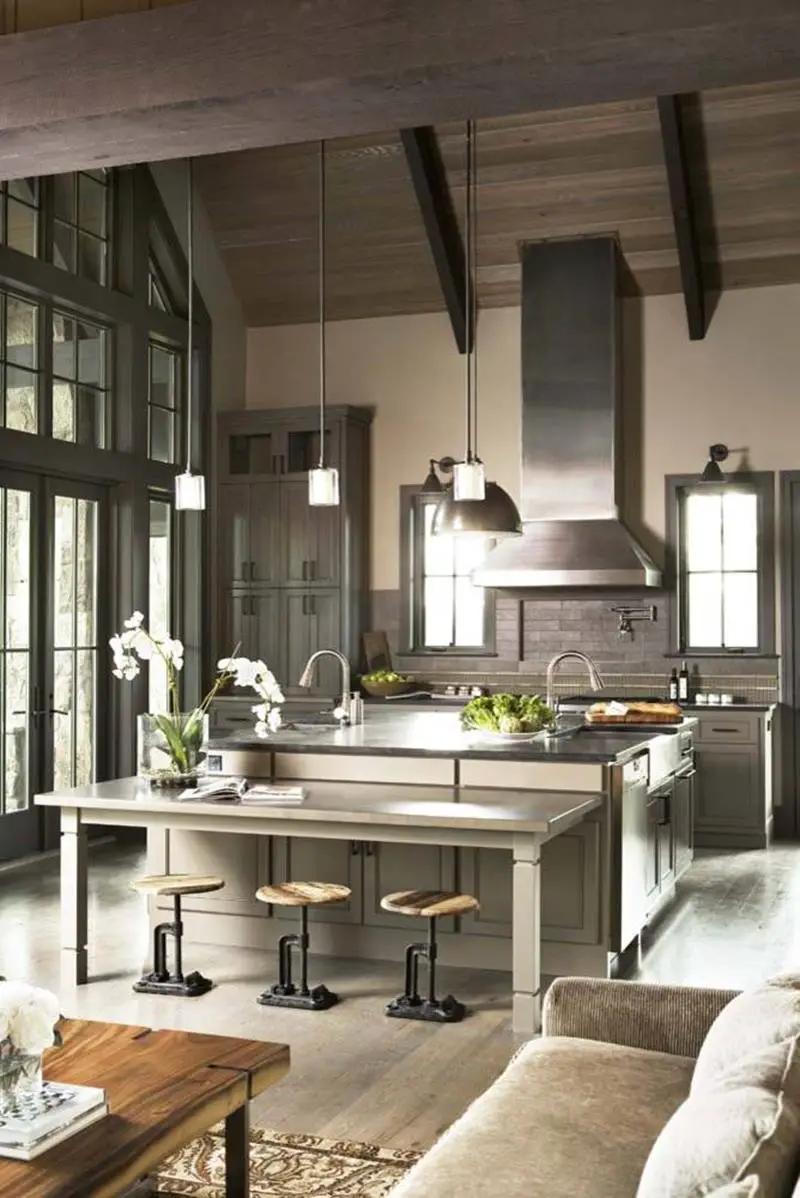 Photo by Linda McDougald Design | Postcard from Paris Home
This kitchen blends the best of many styles, and thanks to the high ceiling, has a wonderful open loft style.
13. Great Hardwood Use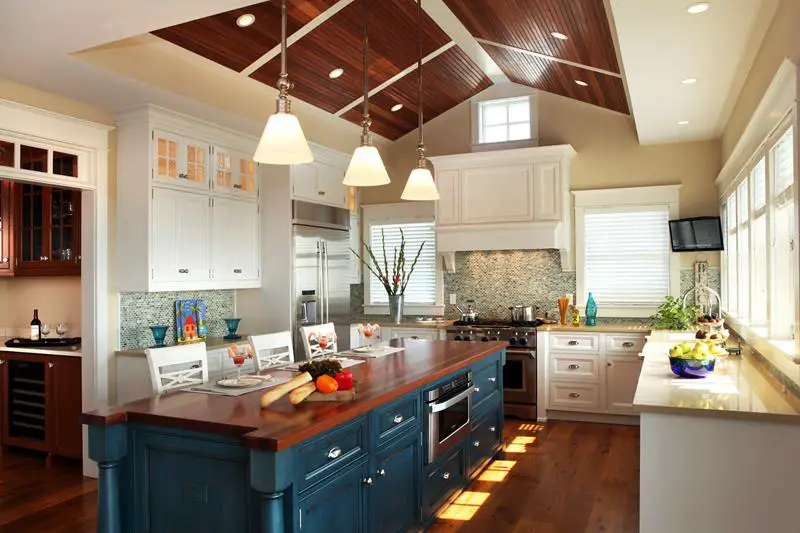 Photo by Asher Slaunwhite Architects
14. Durable Wood Ceiling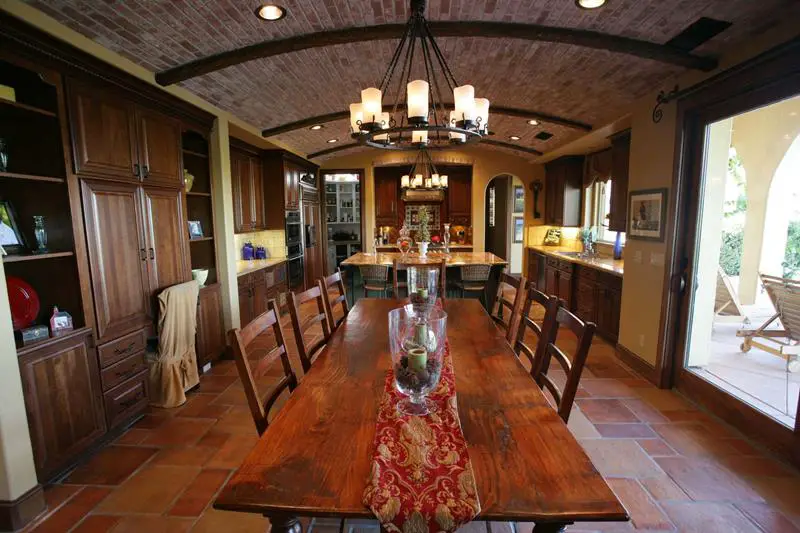 Photo by
Though this ceiling doesn't rise high, it certainly has a great style as it calmly curves. It will have you thinking of a European style.
15. Classy and Elegant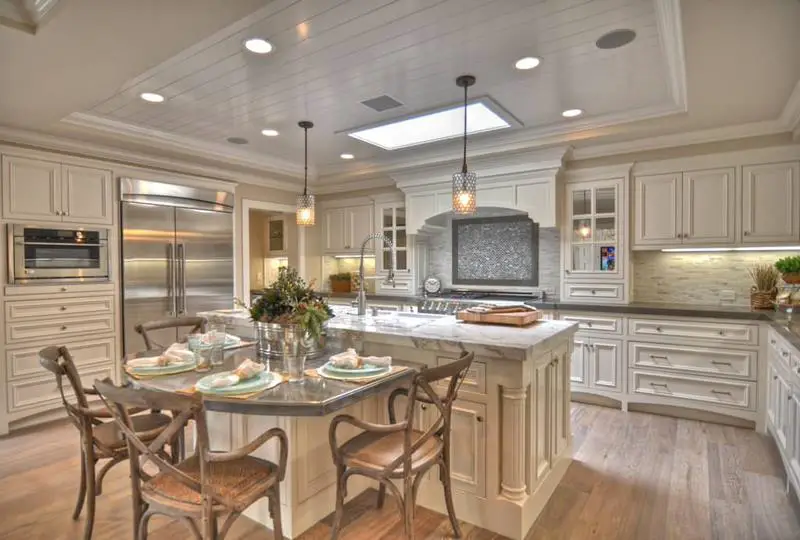 Photo by Spinnaker Development
The slight rise in this kitchen ceiling gives the whole space a great style. The wonderful skylight gives plenty of natural light to this space.
16. Traditional and Light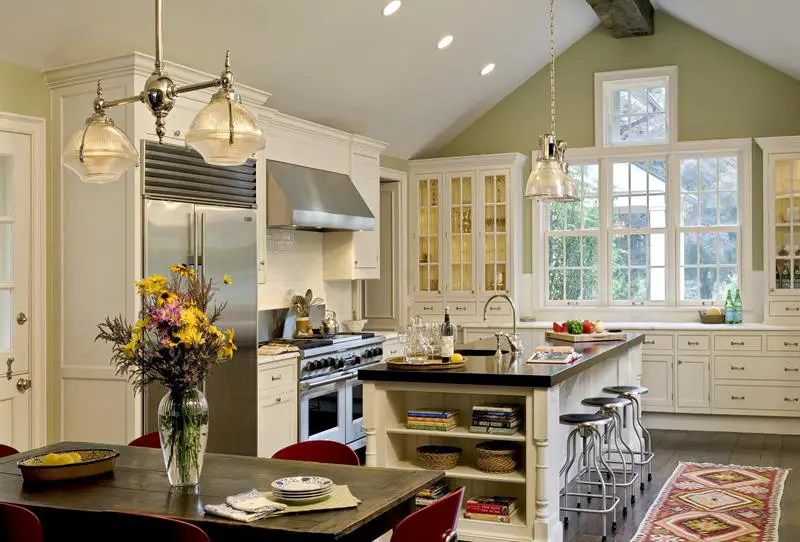 Photo by Crisp Architects
This vaulted ceiling rises into a large wooden beam that runs down the center of the whole space. We love the traditional style this kitchen offers.
17. Wonderful Hardwood All Around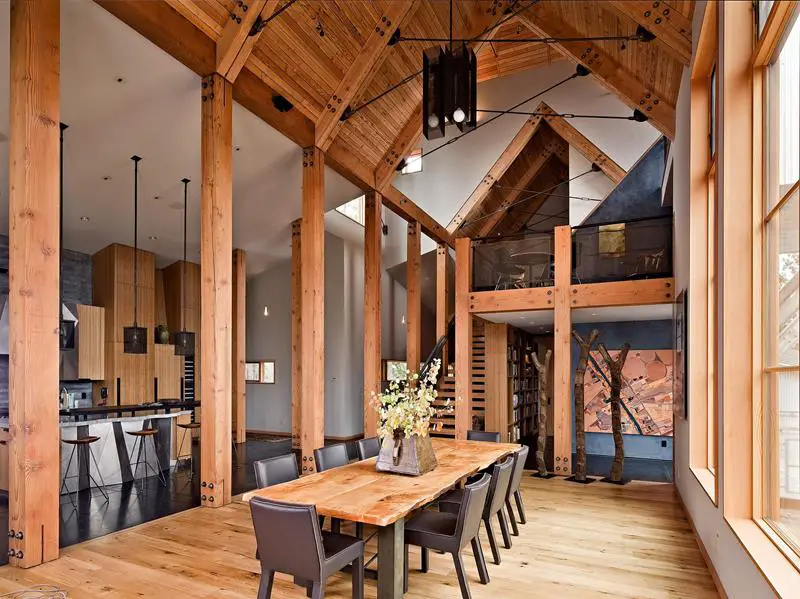 Photo by WA Design Architects
It is hard to overstate how well this hardwood cathedral style ceiling works for this space. It connects the whole house and has a fantastic look.
18. Crafted Beams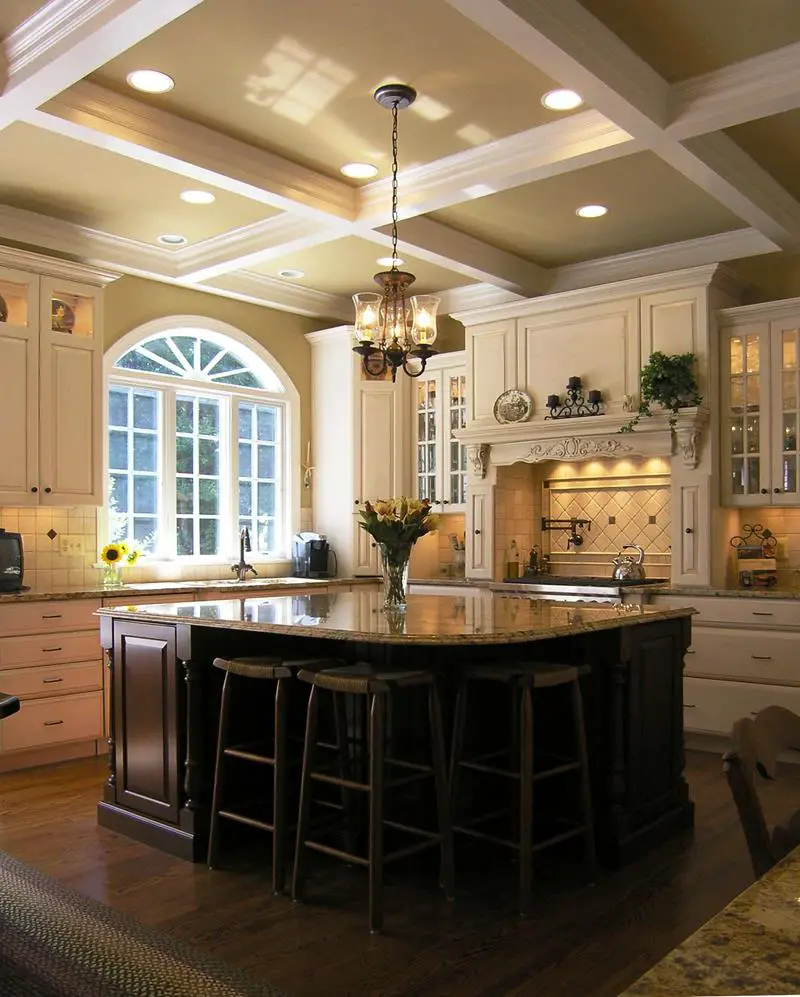 Photo by Cameo Kitchens, Inc.
We love how this ceiling has wonderfully crafted beams. The darker beige color blends perfectly with the light beams.
19. Sleek Functional Space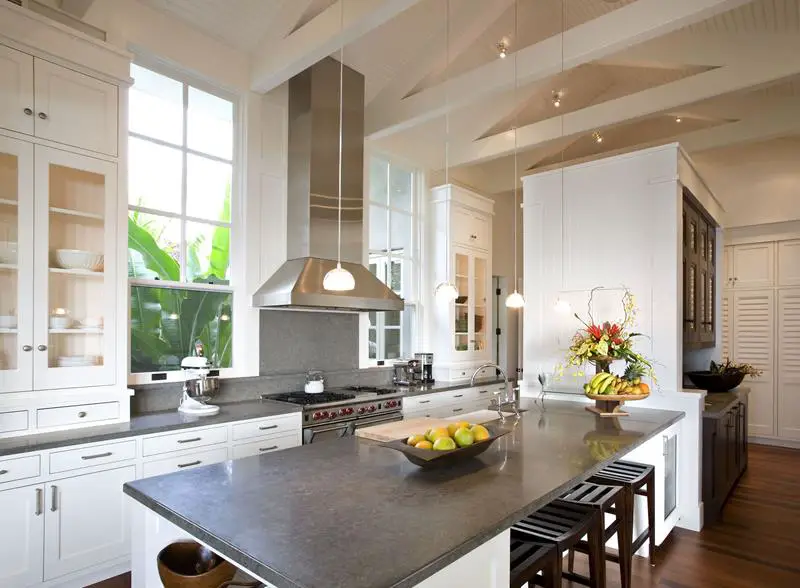 Photo by Sutton Suzuki Architects
This kitchen has a great open style thanks to the high ceiling. The cross beams add great style and work to bring together an industrial and traditional blend design.
20. Easy Country Style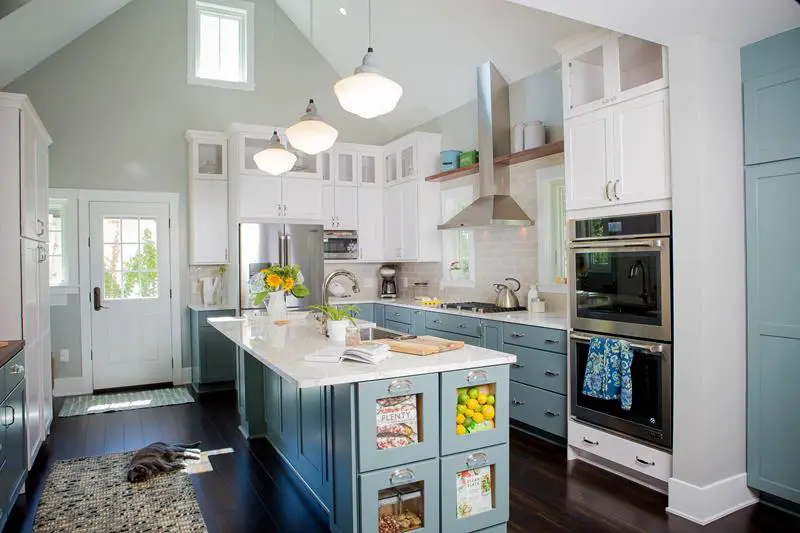 Photo by Shelton Design//Build
With a wonderful ceiling that rises up, this kitchen area has plenty of natural light thanks to the high window. We love the charming country design in this space.
See Also: 14 Different Types of Ceilings for Your Home Explained
21. Wonderful Ceiling Lighting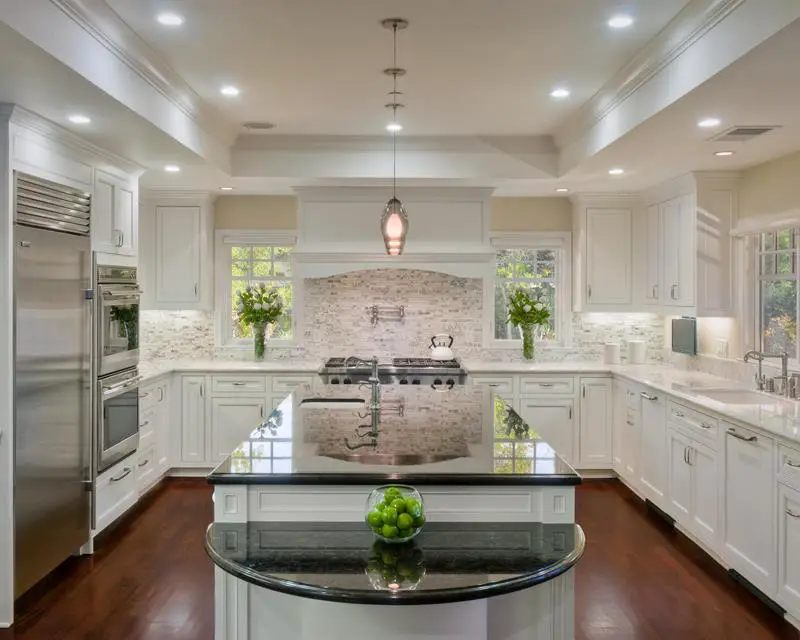 Photo by RKI Interior Design
With a recessed ceiling, this kitchen makes the whole space elegant with wonderful lighting.
22. Industrial Country Style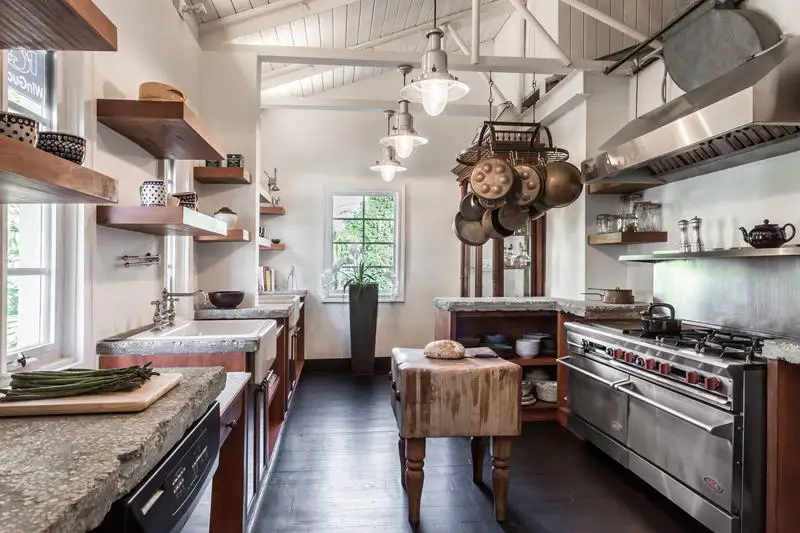 Photo by 2id Interiors
This pitched ceiling opens the whole space up for an industrial country design. We love how well this kitchen gives a weathered and functional feel.
23. Lined With Light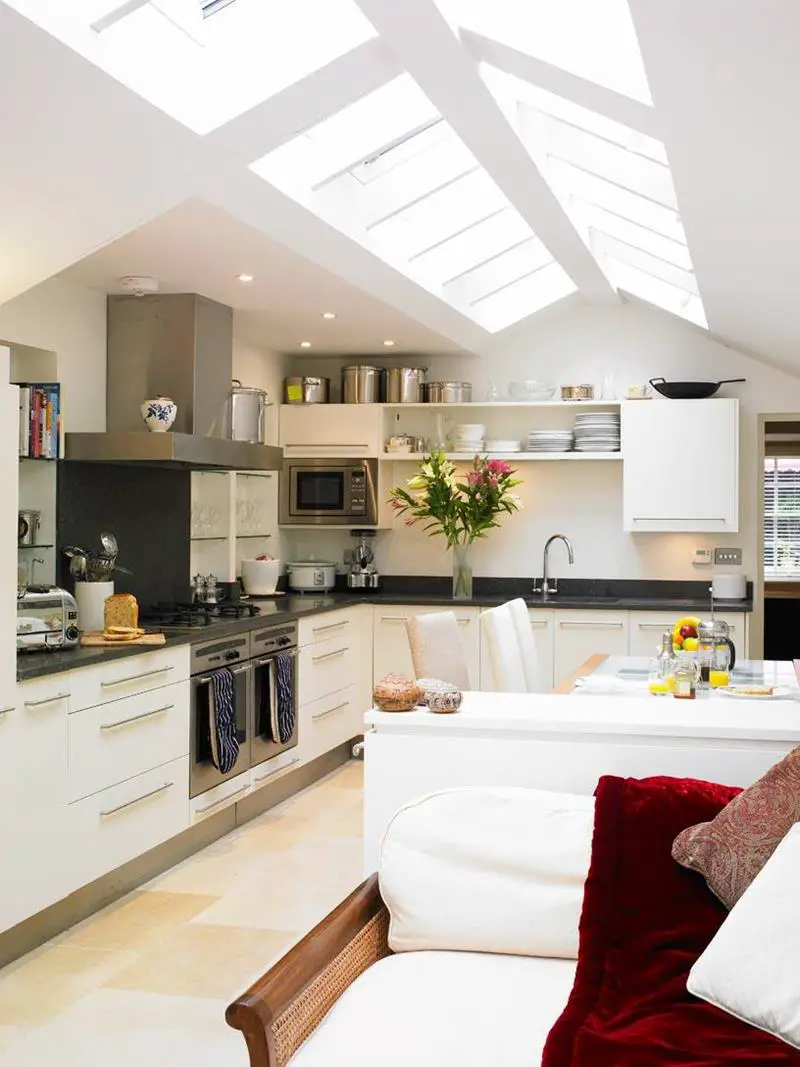 Photo by David ChurchillArchitectural Photographer
This cathedral ceiling rises to rows of skylights that let the the natural light shine in. This modern and sleek space is ready and welcoming.
24. White Beams and Ceiling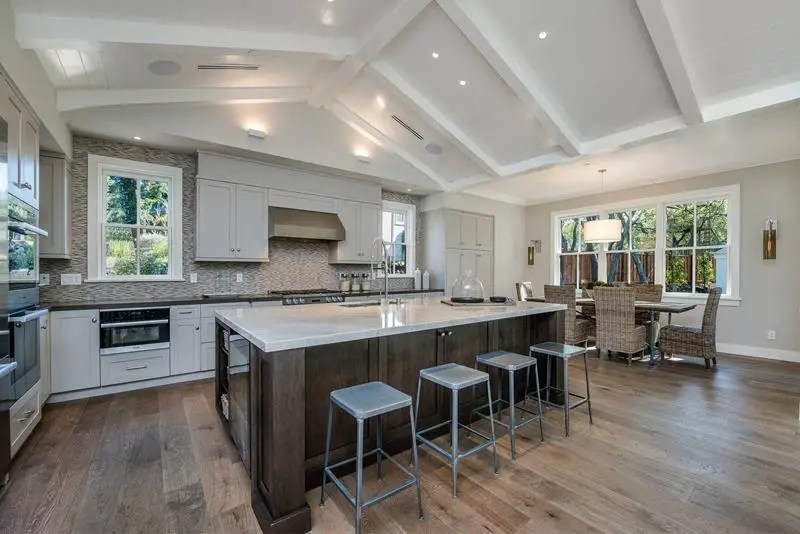 Photo by Bay Vista Development
25. Comfortable Modern Style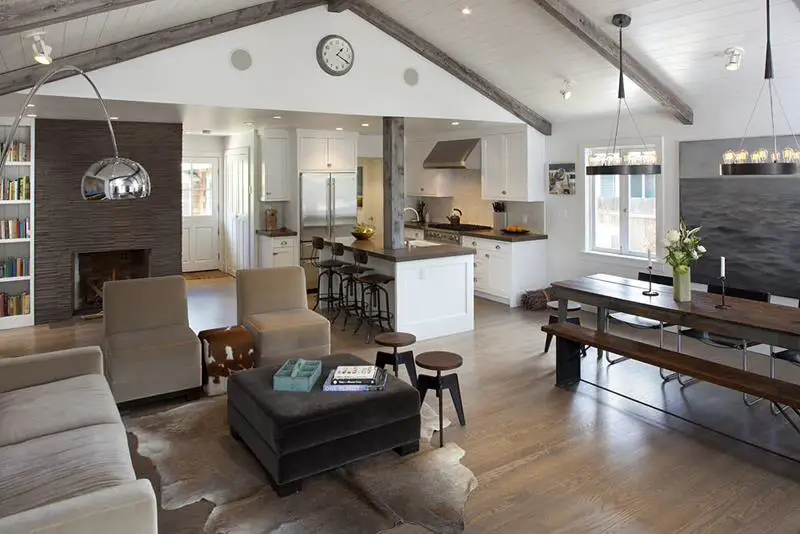 Photo by Artistic Designs for Living, Tineke Triggs
This living and dining room space has a wonderful vaulted ceiling that incorporates fantastic weathered hardwood beams.
26. Hardwood Contrasts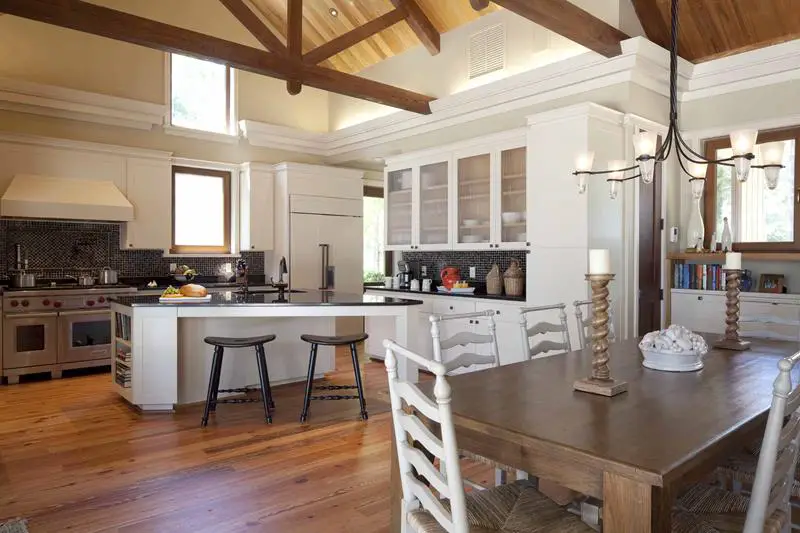 Photo by Frederick + Frederick Architects
This high hardwood ceiling also benefits from having great hardwood crossbeams. The style opens up this kitchen and dining area.
27. Calm and Charming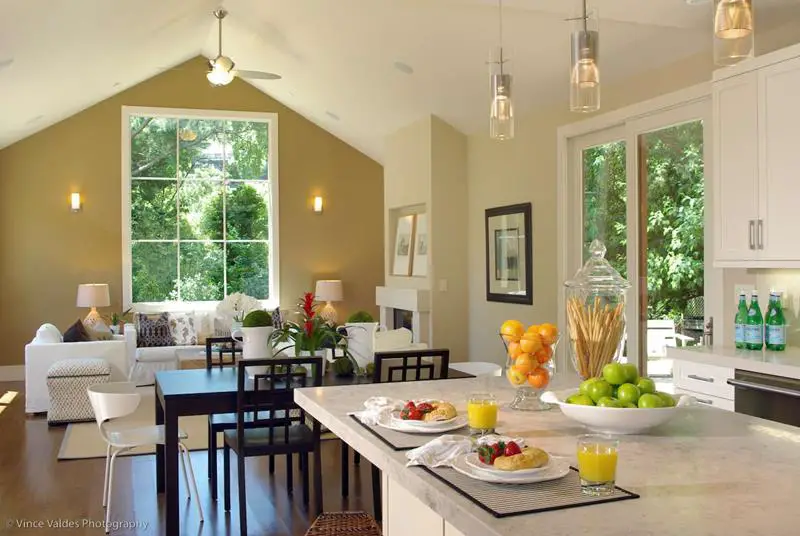 Photo by Lisa Benbow of LCB Interior Design
With three areas combined – the kitchen, dining, and living areas – this vaulted ceiling ties everything together.
28. Arched With Bricks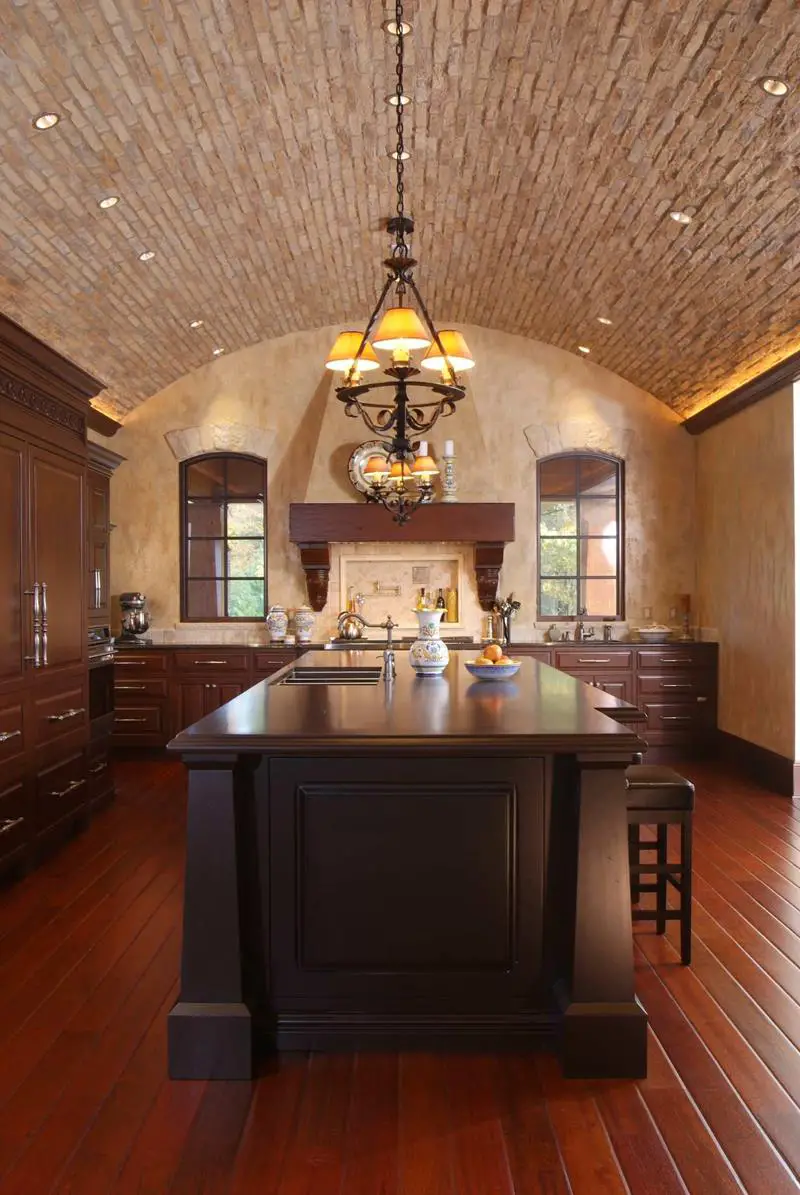 Photo by Visbeen Architects
We can't get over how well a curved ceiling looks when bricks are used. It gives a durable and rustic sense, something that is classic and timeless.
29. Luxury Cabin Style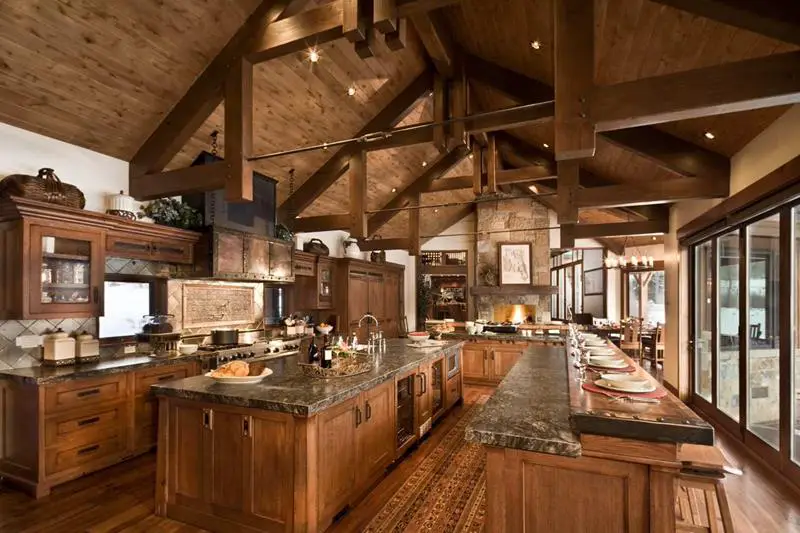 Photo by Phillips Development
The vaulted ceiling in this home is meant to take center stage. All hardwood with hardwood crossbeams, everything here is tied together wonderfully.
30. Wonderful Modern Trends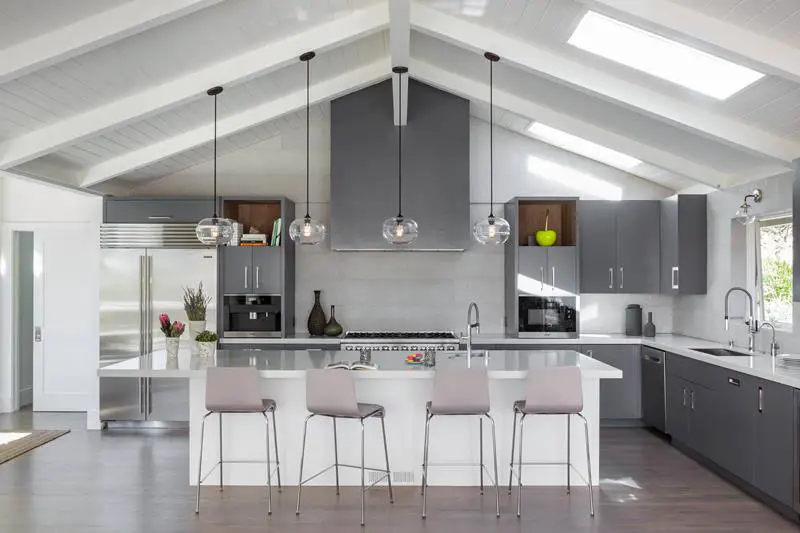 Photo by Ann Lowengart Interiors
31. Great Contemporary Flair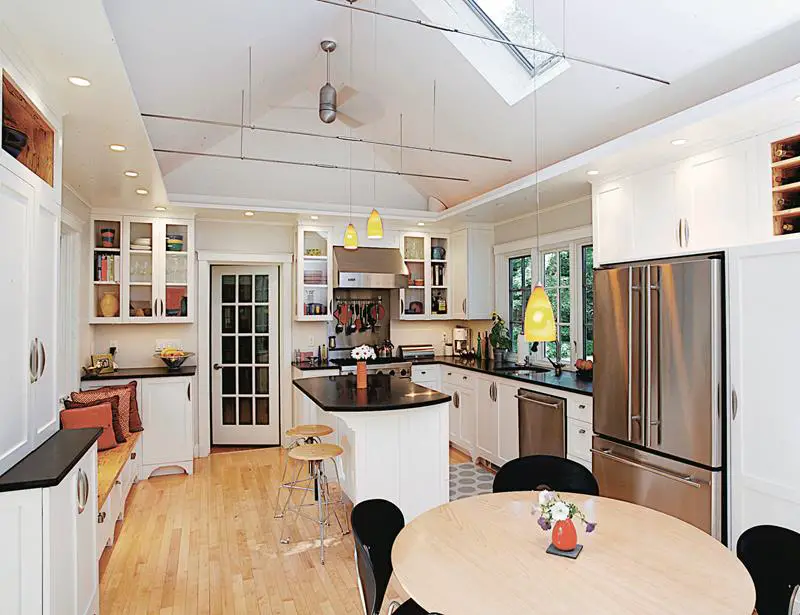 Photo by Mick Hales
At first glance, you may not think contemporary, but look closer. This high ceiling has great modern fixtures that sit over a great kitchen and dining space.
32. Light and Open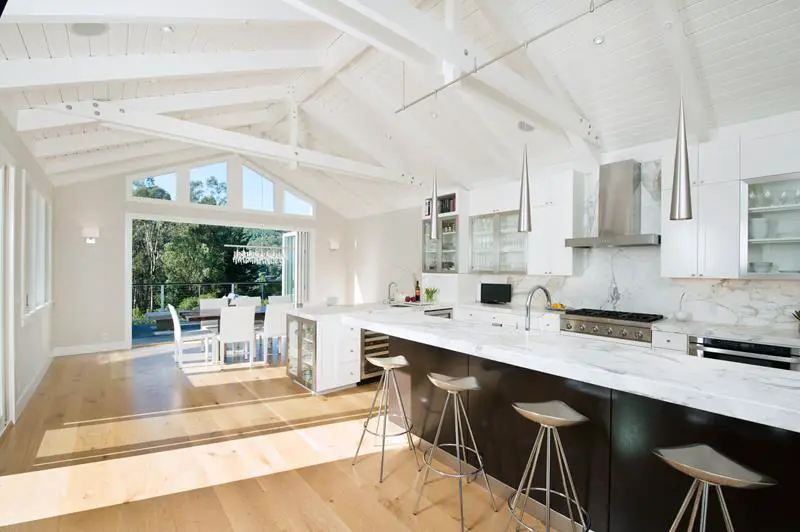 Photo by Hudson Street Design
Vaulted and featuring white crossbeams, this ceiling opens this space up. The whole area takes on a modern sense of style.
33. Natural Light Shines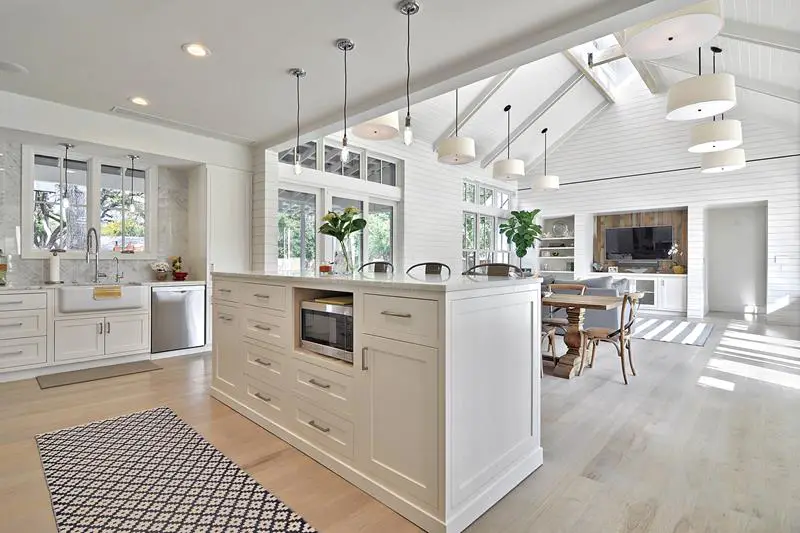 Photo by Redbud Custom Homes
We love how this lower ceiling in the kitchen space gives way to the vaulted ceiling over the dining and living room areas.
34. Amazing Architecture Style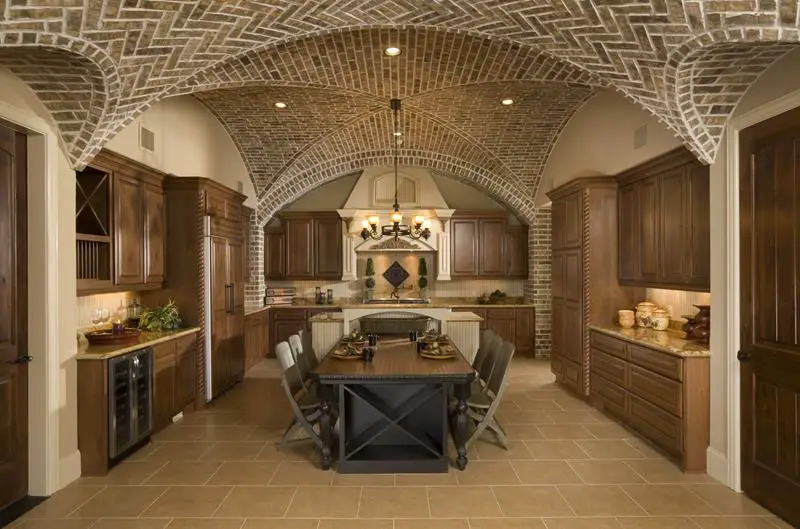 Photo by Morning Star Builders LTD
With beautiful brick architecture and a wonderful European sense of style, this kitchen area has a ceiling that is meant to amaze.
35. Perfect Angles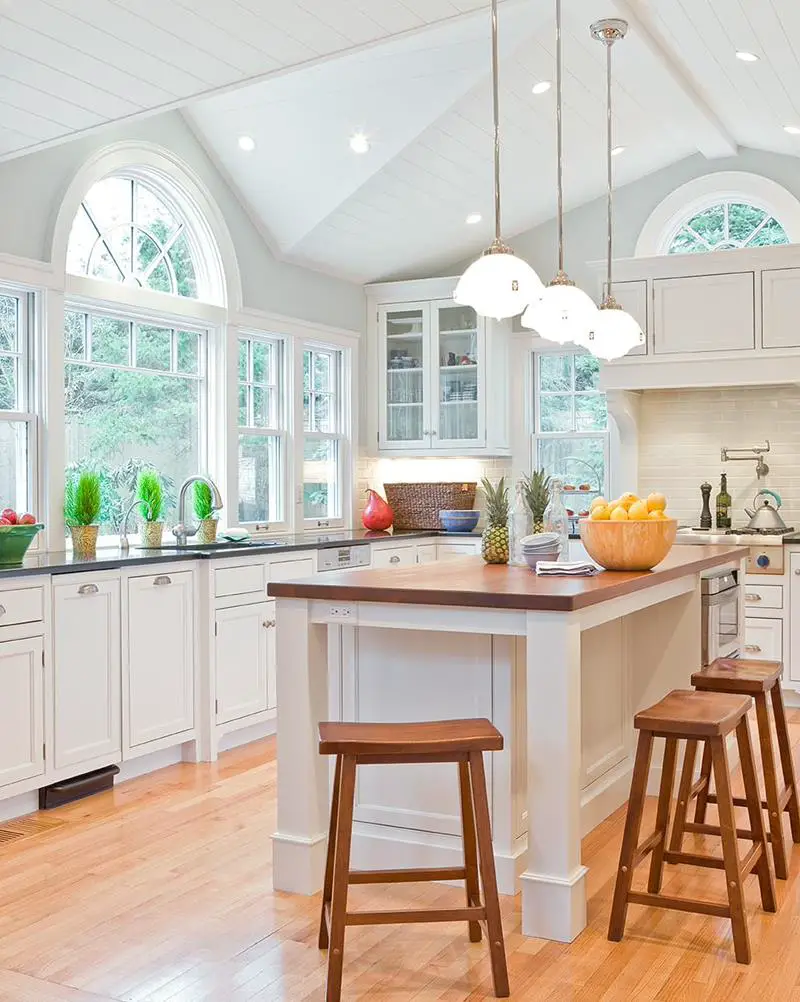 Photo by David Sharff Architect, P.C.
The angles of this kitchen ceiling give this traditional space a modern architectural flair. We love how much natural light shines into this space.
36. Light and dark Contrasts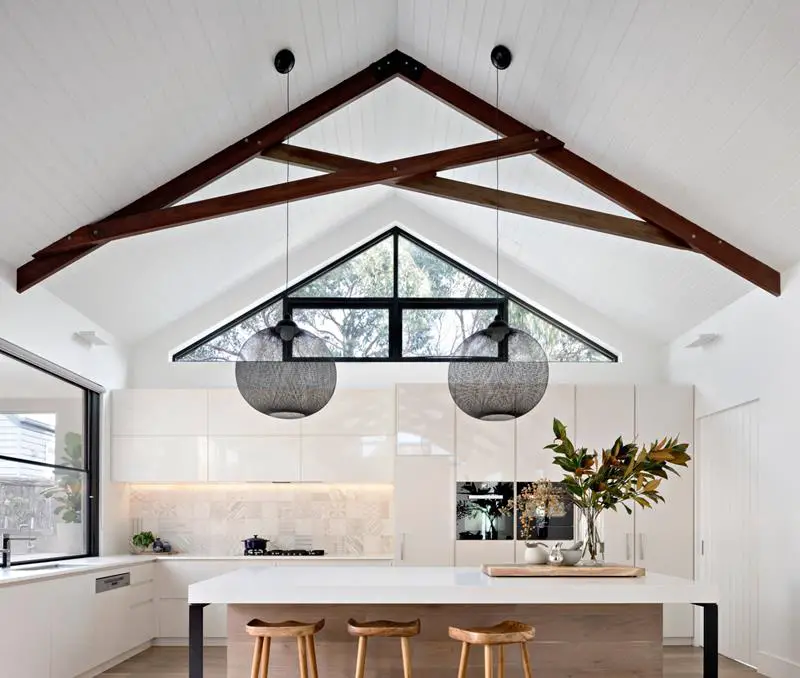 Photo by Minett Studio Architecture and Design
Nothing works better than a white ceiling with dark hardwood beams. The contrasts that are created are eye catching.
37. The Perfect Skylight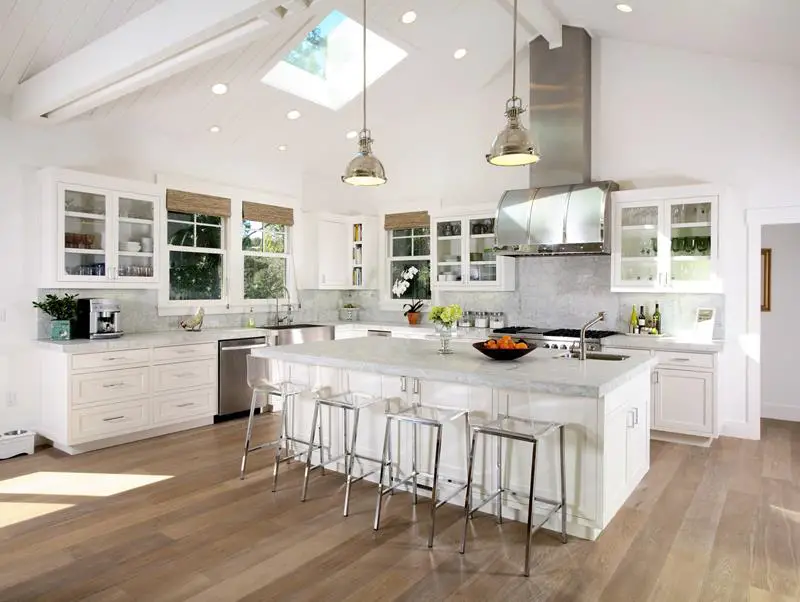 Photo by Precision Cabinets
This cathedral ceiling rises up to a great skylight. We love the modern industrial feel of this space, starting with the hanging light fixtures and going to the appliances.
38. A Contemporary Design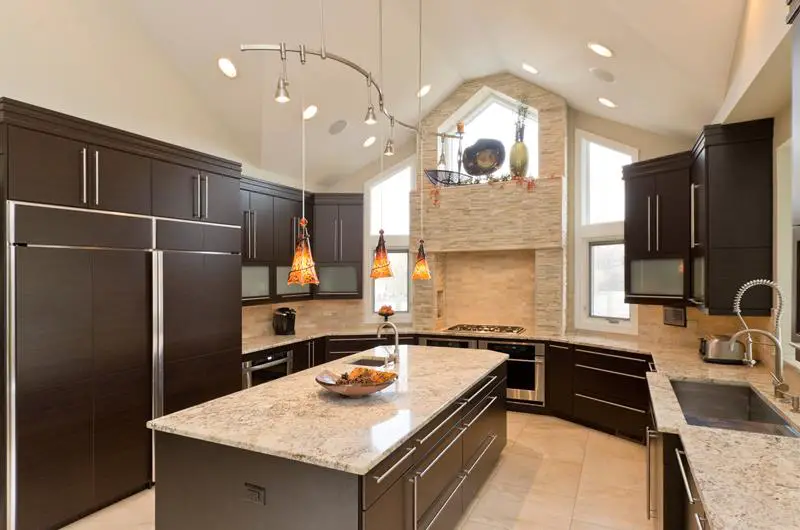 Photo by Bradford And Kent
This ceiling rises to a few different angles and it really helps to complete the contemporary sense of style for this room.
39. A Simple Country Design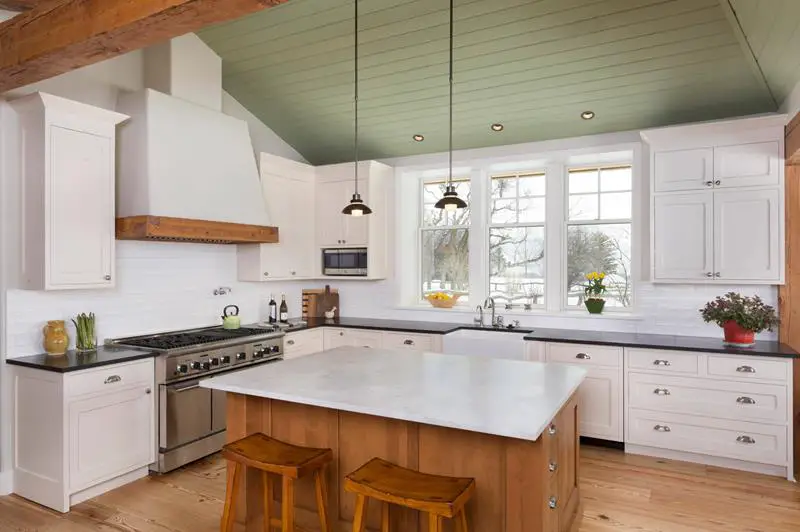 Photo by KM Design
This vaulted ceiling has a calm pitch and takes a great olive green color to blend with the hardwood of the space.
40. Easy Light and Dark Blend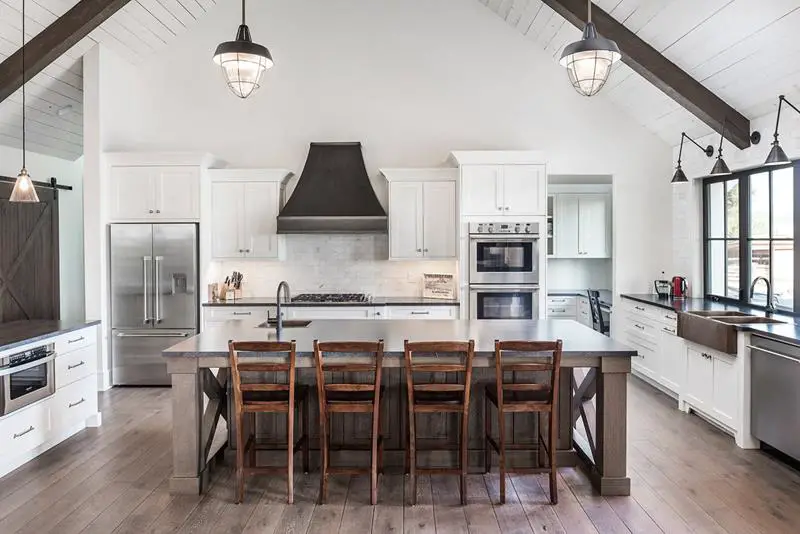 Photo by Alair Homes Chilliwack
The simple contrasts in this kitchen are continued with the ceiling as it takes a white wooden plank build and blends it with dark hardwood beams.
Don't Miss: 25+ Rooms with Exposed Beams on the Ceiling (Photo Gallery)