Updated on January 3, 2022
Are you looking to turn your bathroom into a steam bathroom? There are several ways to make this happen.
All you need is a steam generator and head and access to hot water to get started. If your budget is a little higher, then consider a soaking tub inside of your steam shower as well.
Tools and Supplies Needed
Before you begin creating your steam room, you'll need to gather the necessary supplies and tools to convert your bathroom.
Steam generator
Bathroom lights
A bench
A new door and shower curtain
Tile and/or wood
Caulk
Costs Involved in Making a Steam Shower
Creating a steam shower in your bathroom can be a costly endeavor, here's a cost breakdown to help you with your home project.
See Also: Average Cost to Remodel a Small Bathroom
Parts and Materials
At the least, you're going to need tile, a steam generator, a bench, a new shower door, a new shower curtain, and a way to operate the controls for light and moisture.
Things to Avoid in a Steam Room
Assuming you want to have the best possible steam room for your investment, here's a brief list of what shouldn't be involved.
Windows
Given the amount of energy involved in operating steam units, you want to avoid putting a window in the room. A window only creates an opening for heat and moisture to escape, you'd be surprised at the difference of excluding one inside of any saunas.
Avoid heat-dissipating inside of your shower and keep your steam generator operating efficiently by keeping your sauna window-free.
Getting Started on Your Steam Shower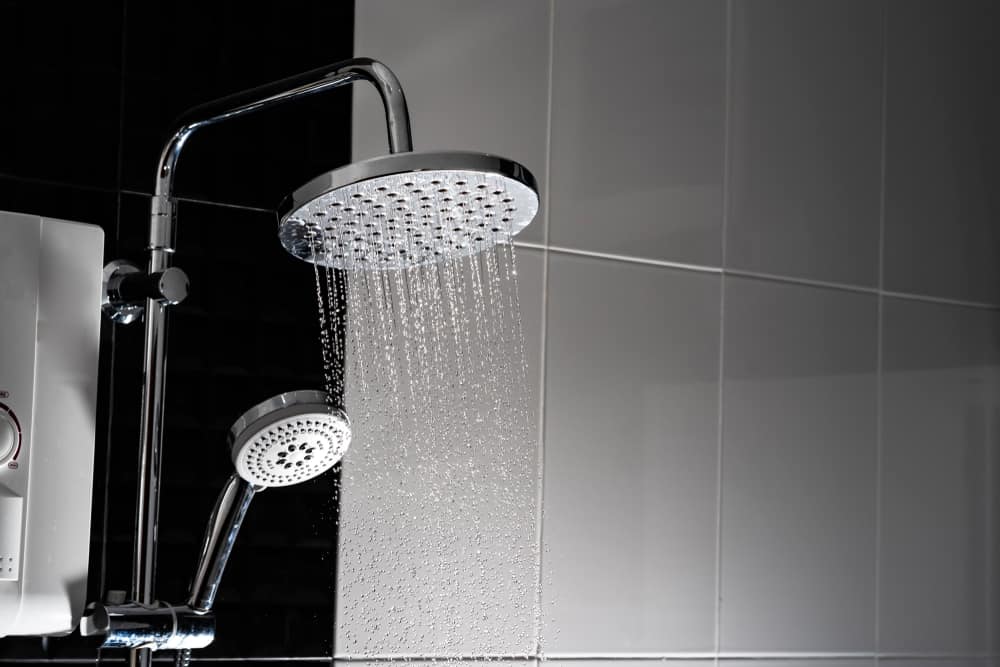 Before you begin making your bathroom into a steam room, separate or connected, you need to first complete a few steps.
Take Measurements of the Bathroom
Whether you depend on knocking out a few walls and expanding the space or you're making do with the dimensions provided, you need to know the measurements of the room. Measure and record the length, width, and height of the room.
Create a Budget
Calculate the bottom dollar for your home project and review it several times over. The cost of materials and labor fluctuates based on supply and demand.
Once your content with your budget and feel like everything is in place, it's time to move to the next step.
Plan Your Layout
Given that you probably don't want to stand while lounging in the sauna, you'll need to plan out your space to allow for a seat, maybe even multiple benches, the shape of the room, the location of the steam head, and any windows or bathroom lights you desire.
In order to optimize comfort and peace of mind, you'll want to weigh your choices and their benefits.
Other Essentials
Although you might not be thinking about it initially, choosing the right towel and washcloth is more serious than you might think.
There are many options to choose from when it comes to the towel and washcloth you use. Consider using a higher thread count for a greater experience in comfort. Even if they cost more, it's worth it for the pampering.
Making a Steam Room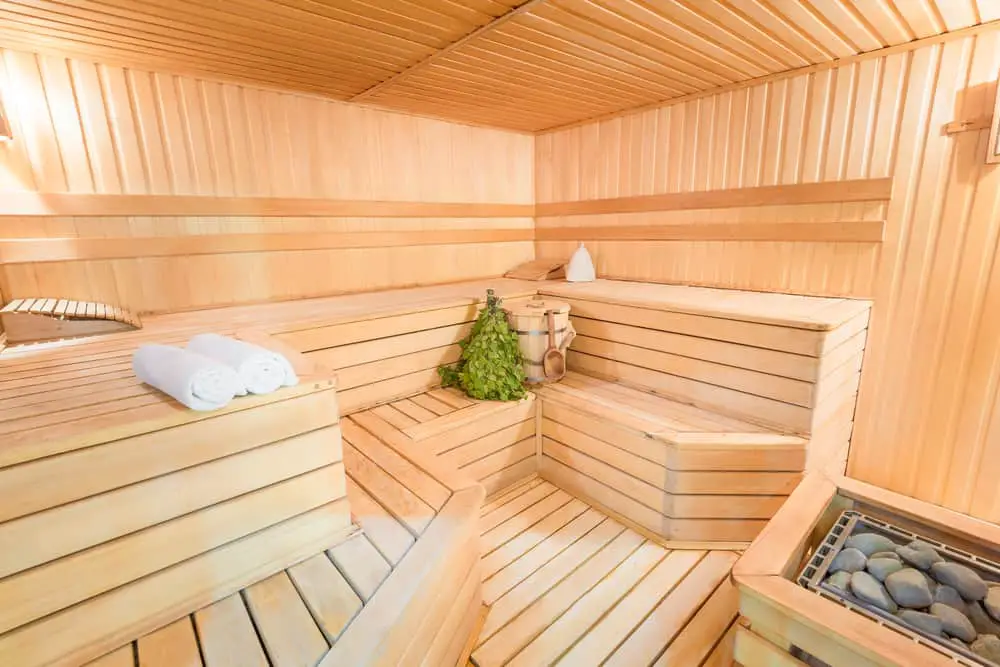 When designing a steam room you need to keep several things in mind, such as the type of shower head used, the bathroom door, the generator you use, controls for the settings, and the type of tub.
Choosing the Shower Curtain and Door
Although it might seem trivial, picking the right shower curtain and door to use can make a major difference when it comes to heat dissipation and steam build-up.
Heat rises and so does steam, so, for best results use a floor-to-ceiling shower door or curtain to contain the steam, heat, and moisture in your sauna.
A higher up-front investment in your curtain and shower door can increase the longevity of your steam generator.
Deciding on a Tub
For some, a steam shower and a regular shower are to be kept separate.
Picking Your Shower Head
Hot water is the key component in your steam shower, so it's important that the shower water and air quality are just right.
Related: How to Choose a Shower Head
Fragrance
For many, using aromatherapy oils and essential oils is a critical part of the comfort and experience. There are a variety of oils to choose from that each has their own unique properties.
Consider using eucalyptus for relaxation and sinus relief.
DIY Steam Rooms
If you like working with your hands, feeling the satisfaction of a job well done, and cutting down on costs, then you may want to do this yourself.
There's more than one way to accomplish a task.
Hire a Professional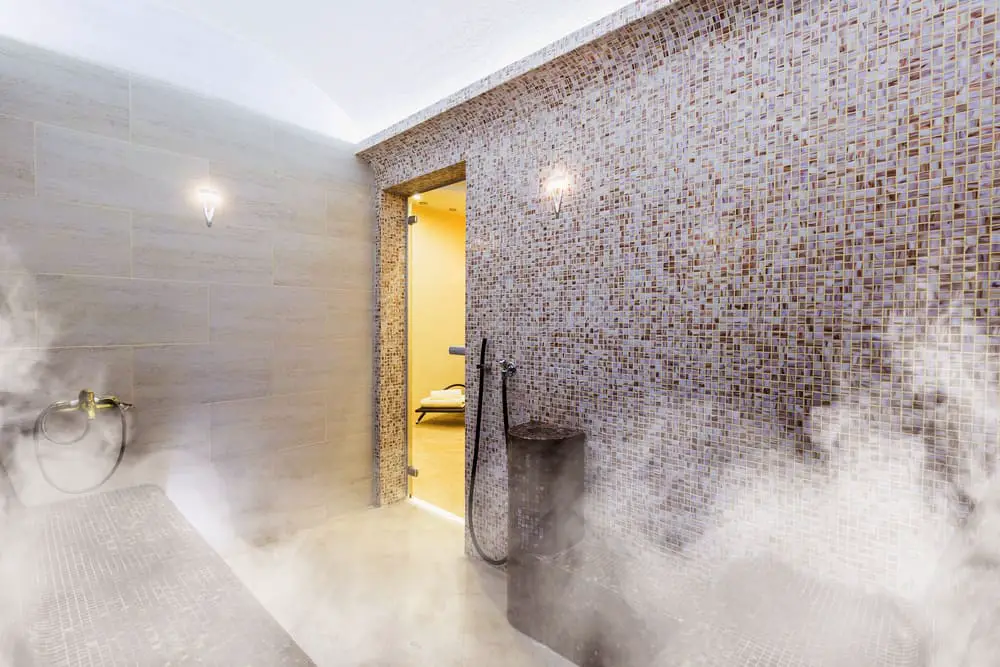 If the steps involved seem like too much and you want to make sure the job is done right, then hire a professional.
If you decide to opt-out of converting your bathroom into a sauna yourself, no big deal, a lot of people do.
More Resources
If you need more insight and information before you start building your own steam shower, then consider these.
Home Magazines and Websites
Editors spend a great deal of time delivering the best content to you on decorating and remodels. For more great tips, you can check out a site or two and allow cookies for more personalized results.
The prices can vary by place, so providing your location can really make a difference.
Tips For Building and Maintaining Steam Showers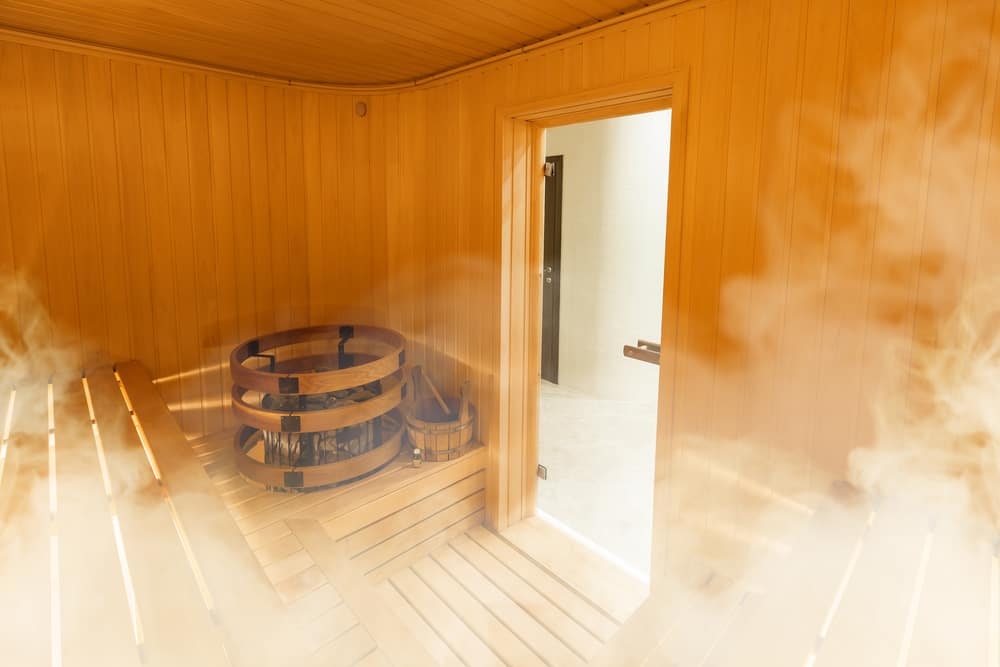 Remodeling a bathroom is a tremendous undertaking, here are a few tips to help keep you on track and make it a great experience.
Consider carefully where you want to place everything, such as your steam bench, the sidebar, and the light.
Ensure your shower head can produce the necessary hot water for adequate steam.
With a lot of moisture and steam comes mold and mildew, clean your steam shower on a regular basis. Cleaning tile grout or wood can be a cumbersome process if left unchecked.
Make sure you have a floor to ceiling curtain or door for your steam shower. This will help keep the steam and moisture contained within the room.
Instead of only having the access to a sauna through your gym membership, with a little bit of remodeling, you can easily turn your bathroom into a sauna and avoid any wait when it comes to cleansing your body of toxins.
Sweat it out in a good way.
When it comes to creating a steam shower, you have many options at your disposal. Regardless of the space available in your home, there exist a steam shower solution for you. Enjoy life to the fullest and install one in your house today.