Updated on January 3, 2022
So you have a pool, but you want to make it a spectacular area. There is an easy way to do that. Add a waterfall to the landscape!
By having a waterfall flowing into your pool, you can create a wonderful, relaxing ambiance that will be enjoyed by you and any guests you have over. You have so many options for pool waterfalls, as you will see in our examples below. We have over 25 pool waterfall examples that show you a wide range of possibilities. You will see many that take a natural stone look, from using smaller stones to large boulders. Some of the falls are calm, giving you a spa-like experience.
Having a pool water feature is a great way to boost the curb appeal of your pool area.
Pool Waterfall Ideas
1. Outdoor Spa Fall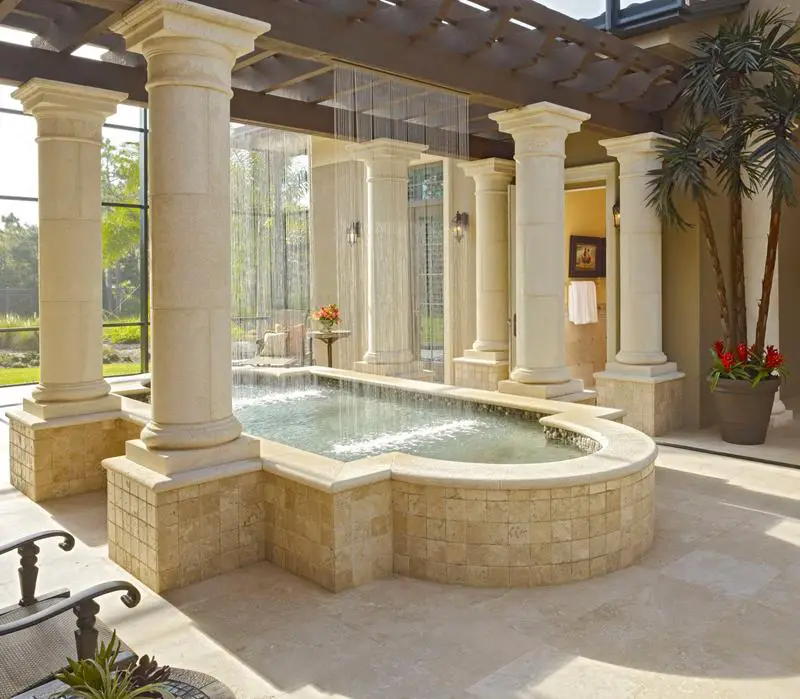 We love this amazing double fall. It creates a spa-like luxurious feel for this area, adding to the wonderful materials and grand columns.
2. A Natural Style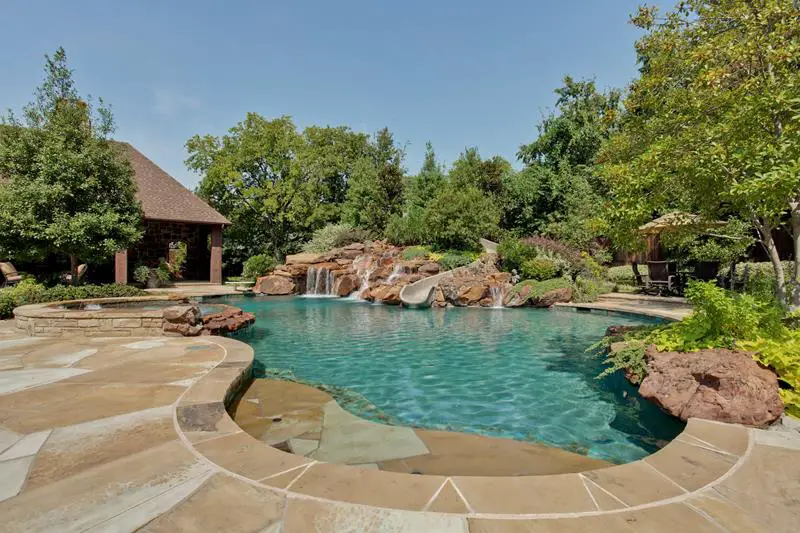 Photo by Rosewood Custom Builders
We love how this fall formation takes on a natural look and how well it incorporates the water slide. This will be a fun time for all.
3. A Taste of Grandeur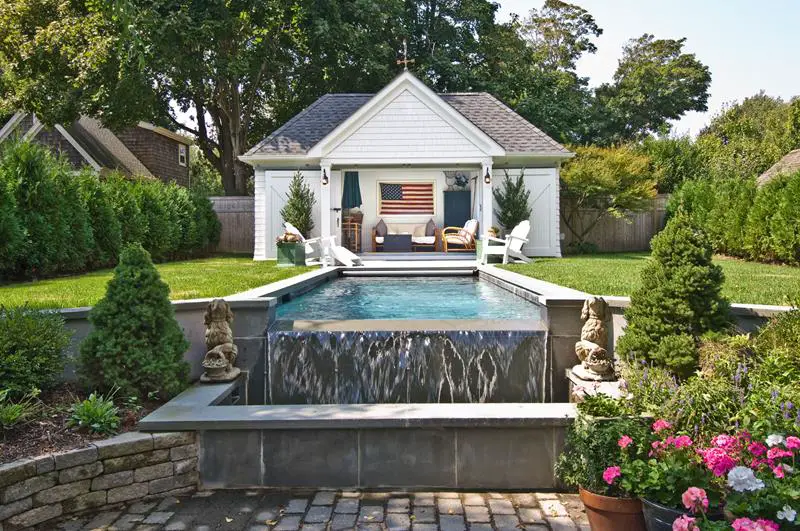 This fall sets up an infinity pool style, with the water calmly falling down at the end onto the lower patio area.
4. Natural Island Style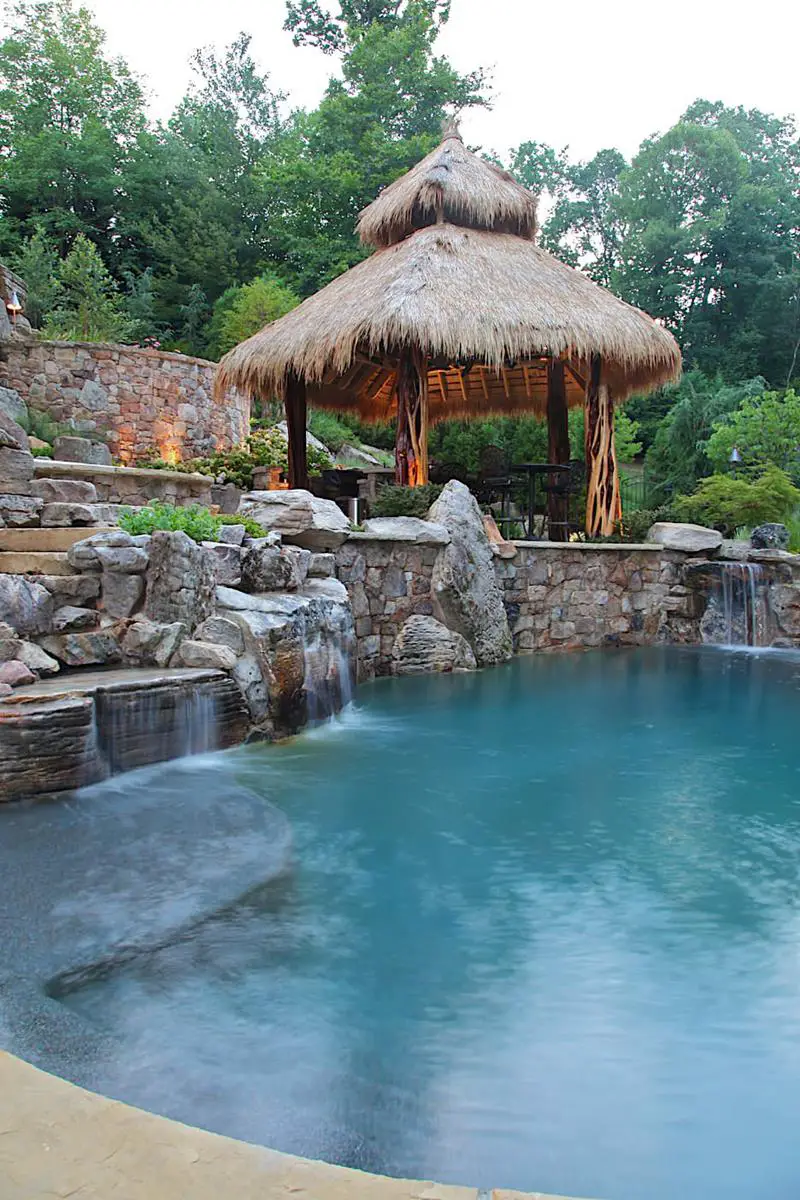 Photo by SURROUNDS Landscape Architecture + Construction
The overall look of this pool area gives off a great tropical vibe, and the small waterfalls all over blend right in. Falling from a natural looking space, this pool space it wonderful.
5. Multiple Natural Falls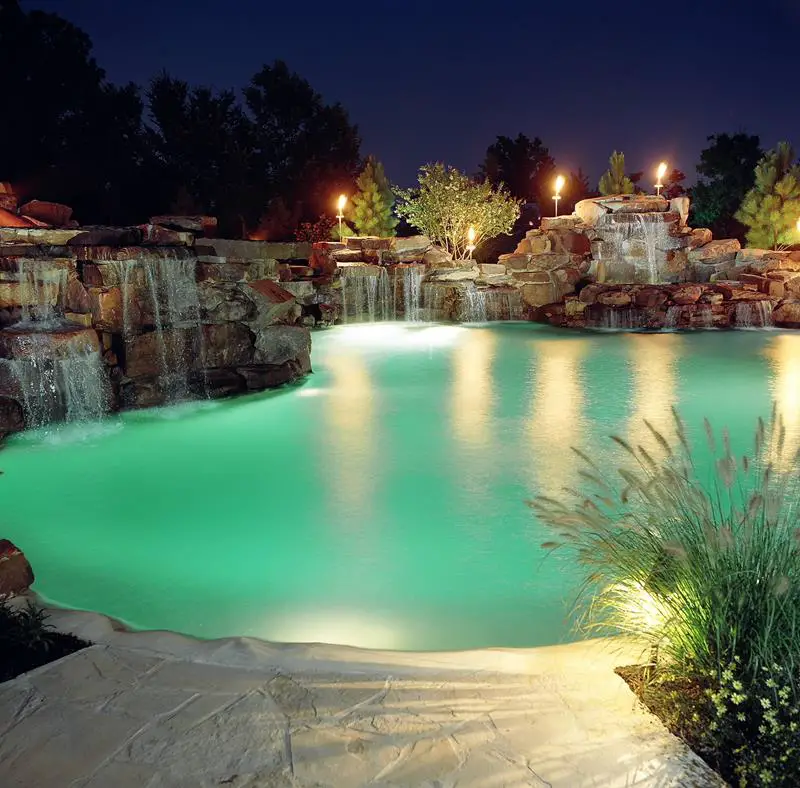 Photo by Atlantis Pools & Spas Inc.
The natural looking falls around this pool all take on varying heights, adding to the natural look and style.
6. Falls In Waves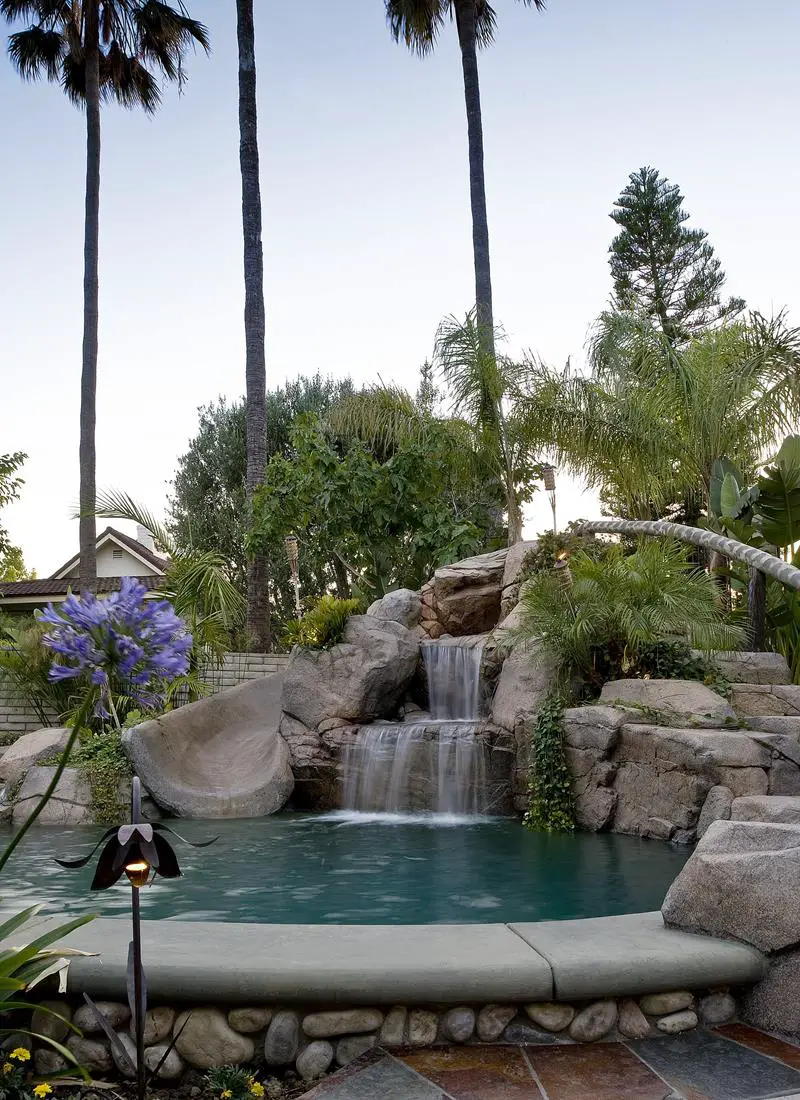 Photo by Steven Paul Whitsitt Photography
Inside of a natural fall alcove, we see a single smaller fall turn into a larger one before it splashes into the pool.
7. Tropical Adventure Style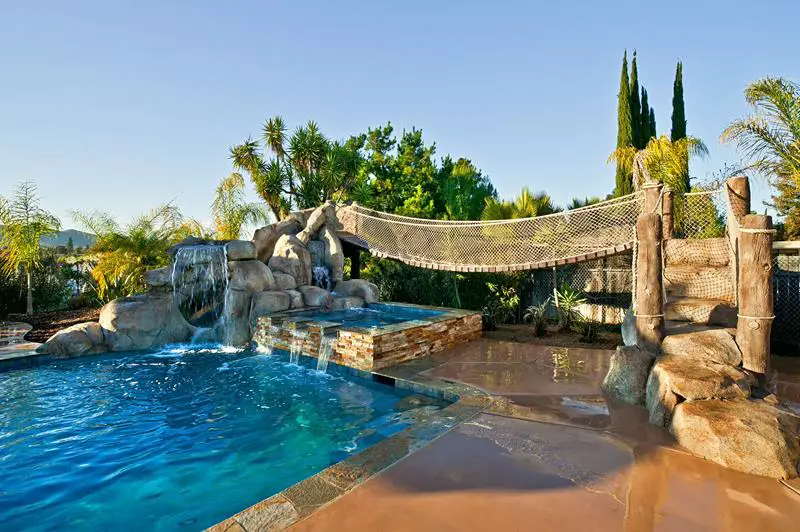 Photo by Distinguished Pools
Two types of falls here keep this space looking amazing. You have the three falls from the upper hot tub area as well as the one disguising the wonderful slide.
8. Lit With Elegance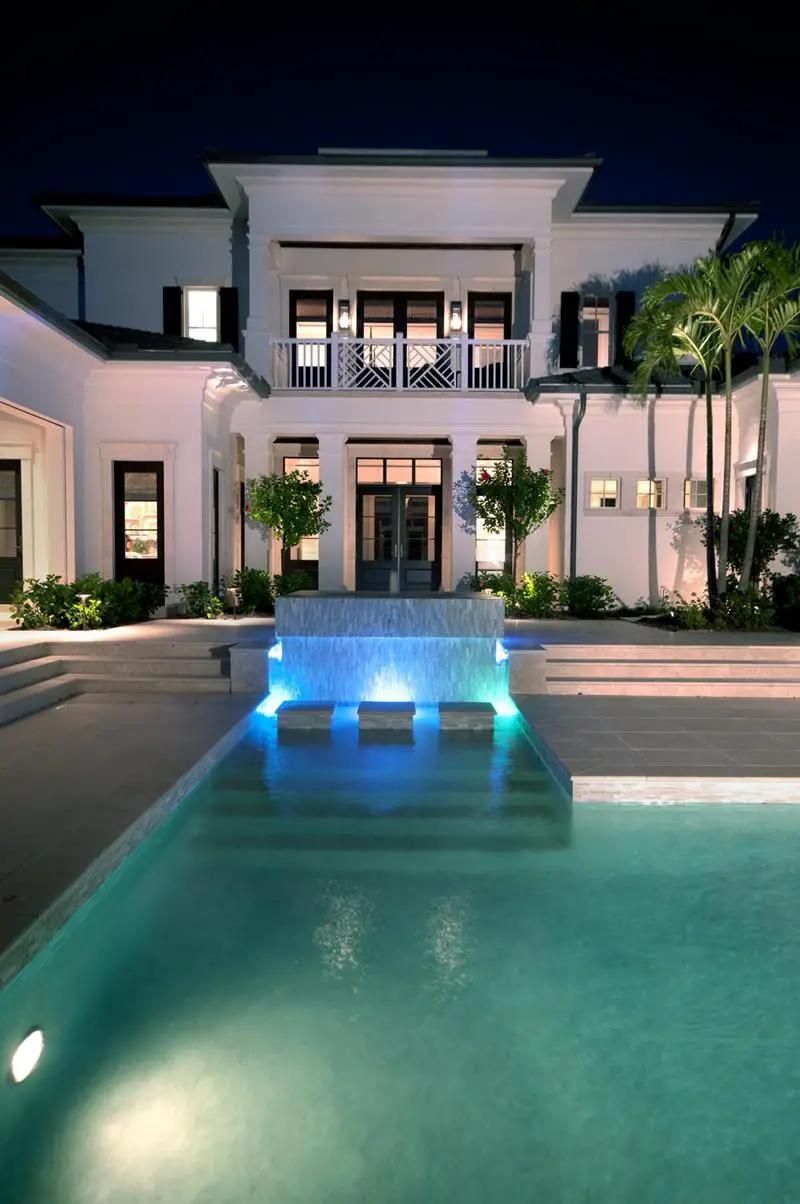 Photo by London Bay Homes
This wonderful fall spills over from the hot tub space and into the pool. Illuminated by elegant lighting, this whole space is luxurious.
9. Calm Rock Flow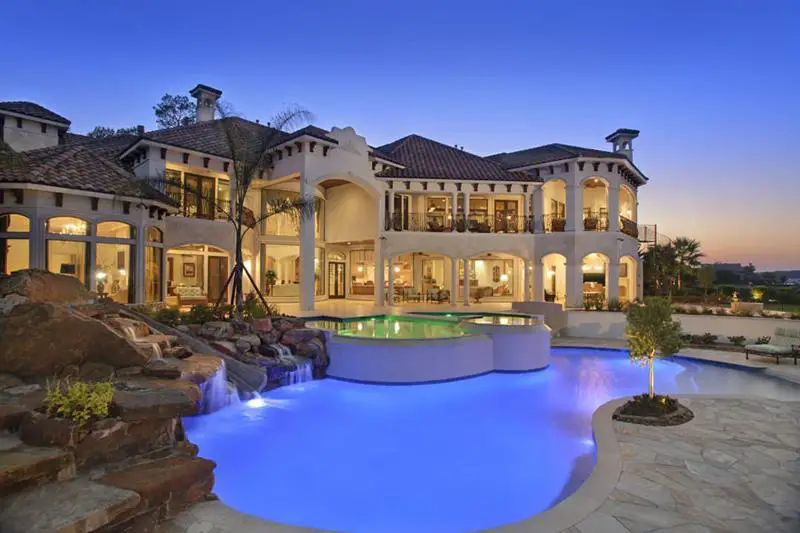 Photo by Gary Keith Jackson Design Inc
Around this curvy pool, made to look more like a natural pond, these falls pour in from some natural looking rock formations.
10. Rocky Mountain Falls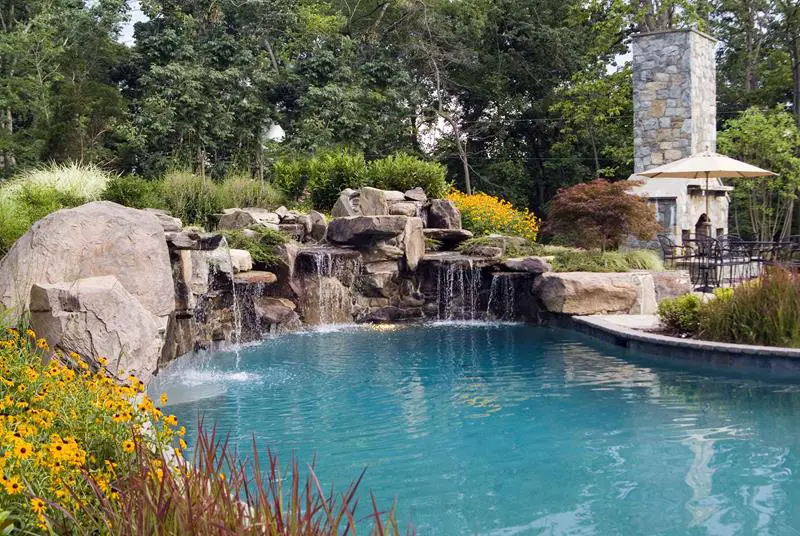 Photo by Michael Prokopchak, ASLA
We love how these falls pour down from rock formations that are meant to look like a natural mountain scene.
11. Stacked Stone Design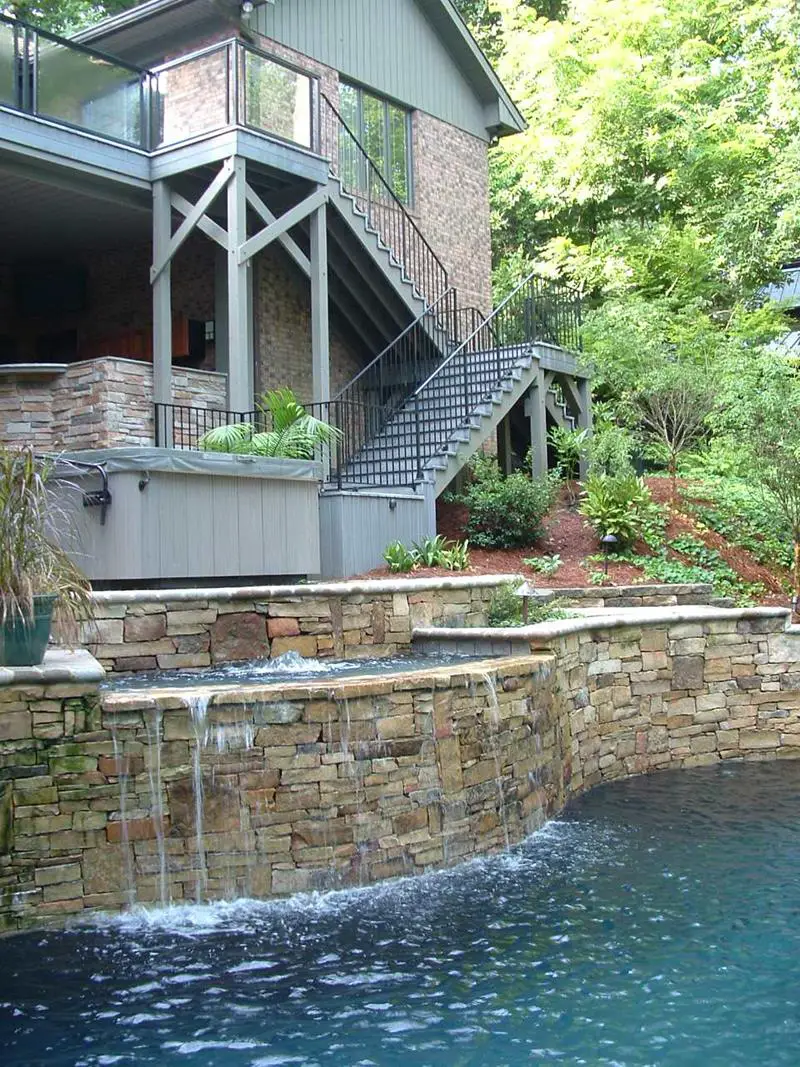 Photo by Arrington Landscape Architecture
With two great stacked stone walls around this pool, the waster pours calmly from the upper area to the lower.
12. Wonderful Large Boulders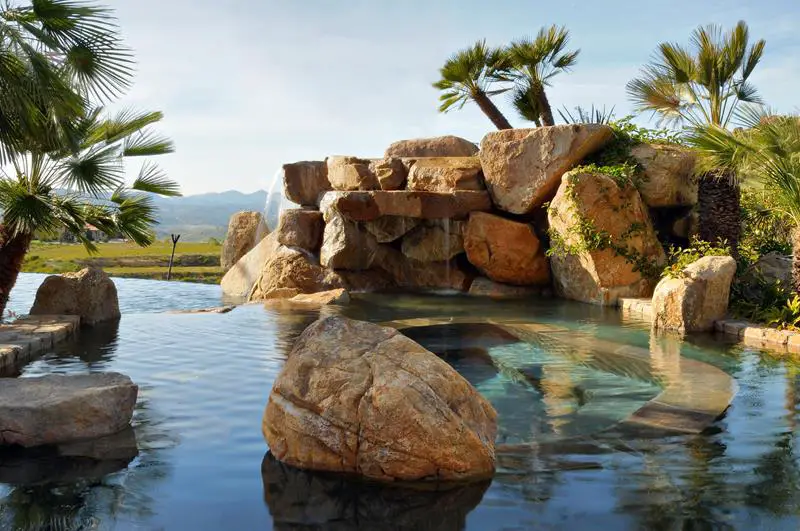 Photo by Elevation Architectural Studios
Like a scene from a Western oasis, this pool has falls that let the water glide down from the natural looking rocks.
13. Calming Cascade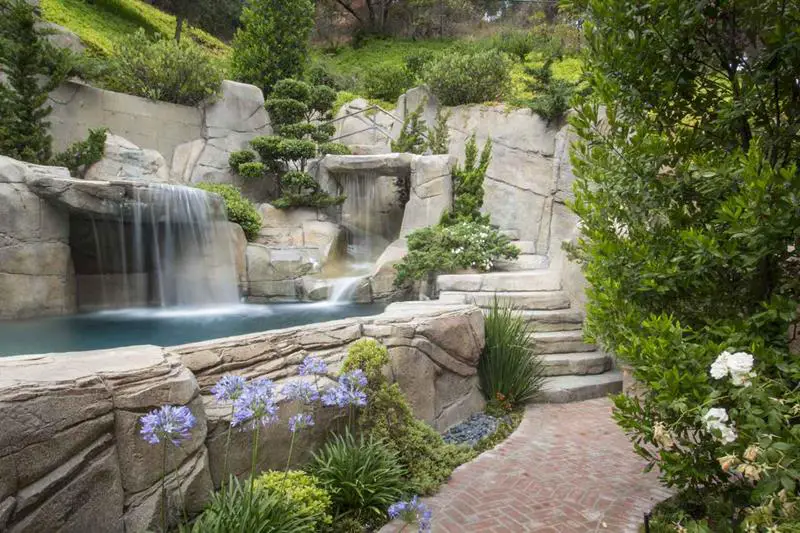 Photo by Andrea Calo
These double falls let the water pour down from the heights and into the pool. The whole area takes on a natural rock look that blends right in with the landscape.
See Also: 15+ Hot Tub Gazebo Designs and Ideas
14. Simple Rock Falls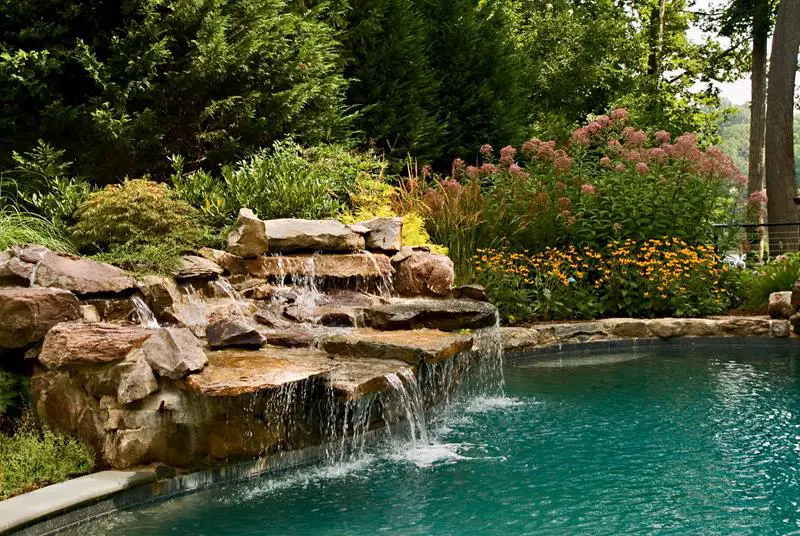 Photo by Michael Prokopchak, ASLA
This great waterfall area, with rocks that are stacked to give a natural look, lets the water pour into this asymmetrical pool.
15. Waterfalls and Slide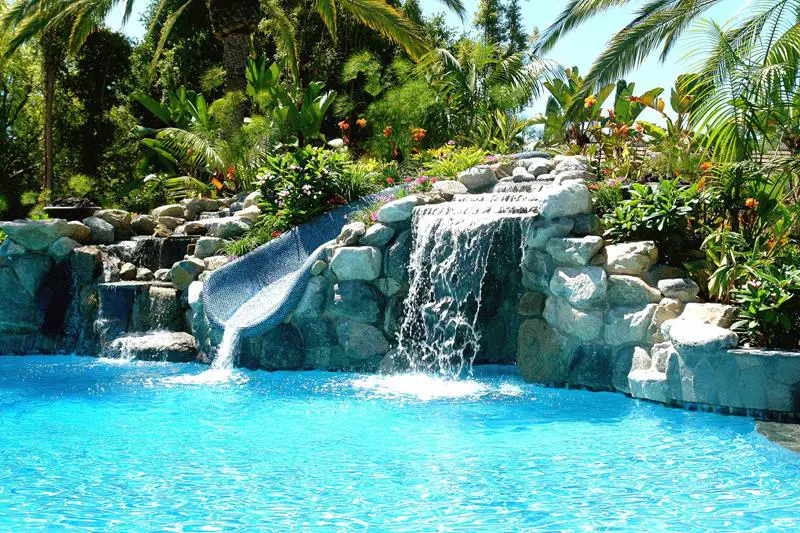 Photo by DeMaria Landtech, Inc.
This gorgeous pool has a water slide and a waterfall, both side by side to give you a great look. The water pours in as you slide down.
16. Landscape Blend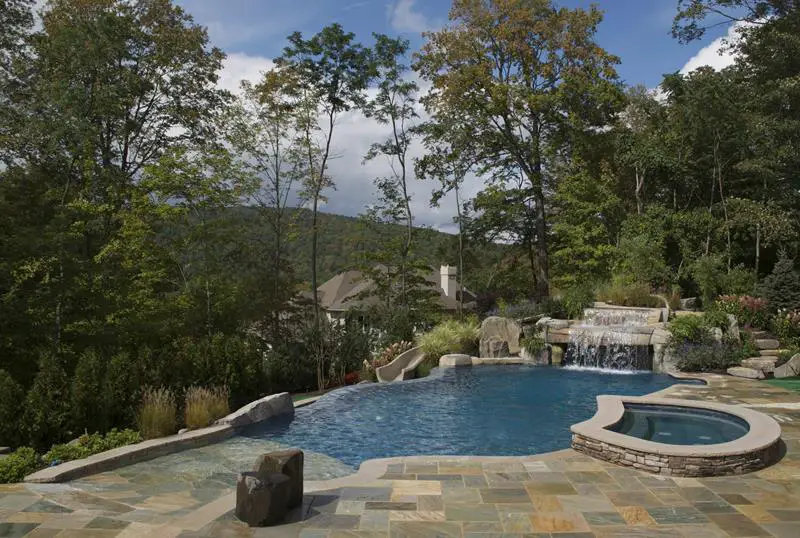 Photo by Cipriano Landscape Design & Custom Swimming Pools
This curvy pool area has a great water fall pouring into the upper level. You also have an infinity pool style, letting the water pour over the side.
17. Into the Cave
This waterfall, flanked by two wonderful gas-lit torches, pours over the mouth of this artificial cave. This is a pool made for the explorer in you.
18. Calm and Relaxing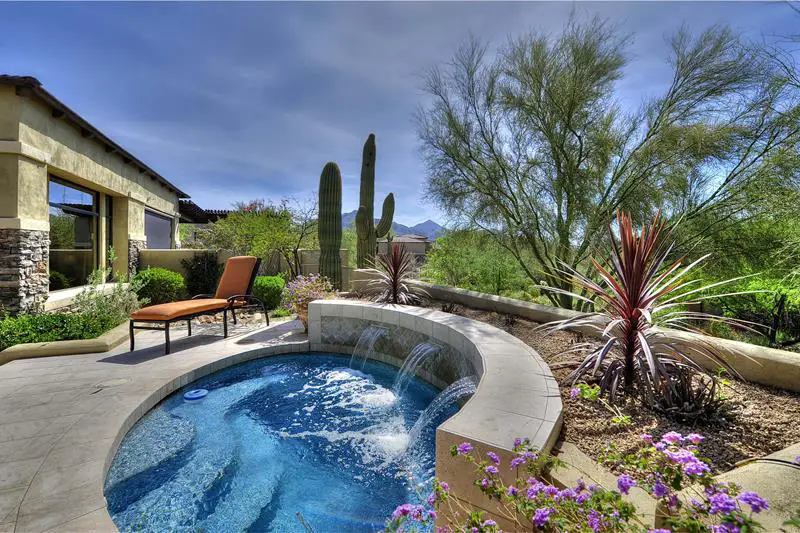 Photo by The Matheson Team RE/MAX Fine Properties
With three calm streams of water pouring into this small and luxurious space, you have an area to relax and be calm all day long.
19. Rock Water Flows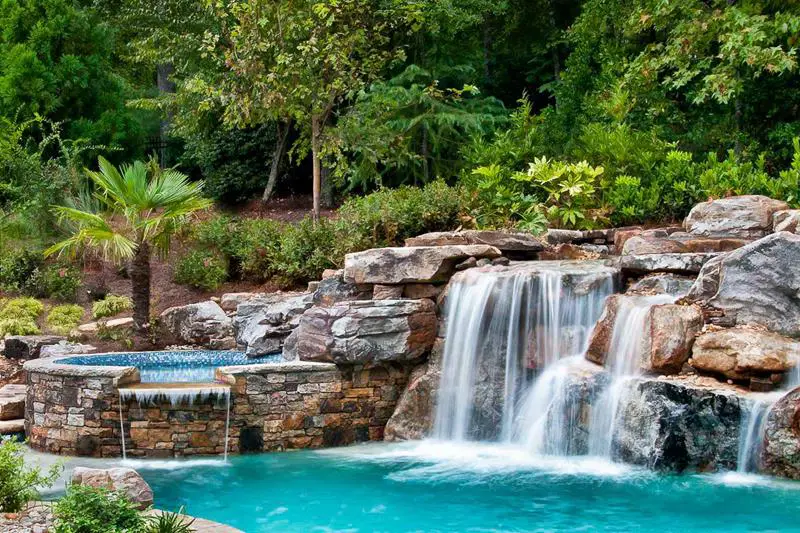 Photo by Selective Designs by Shane LeBlanc
The water falls from a rock formation made to look completely natural, gushing down into the pool for a wonderful effect. The water also flows over from the hot tub, giving a great look.
20. Water Gushed Over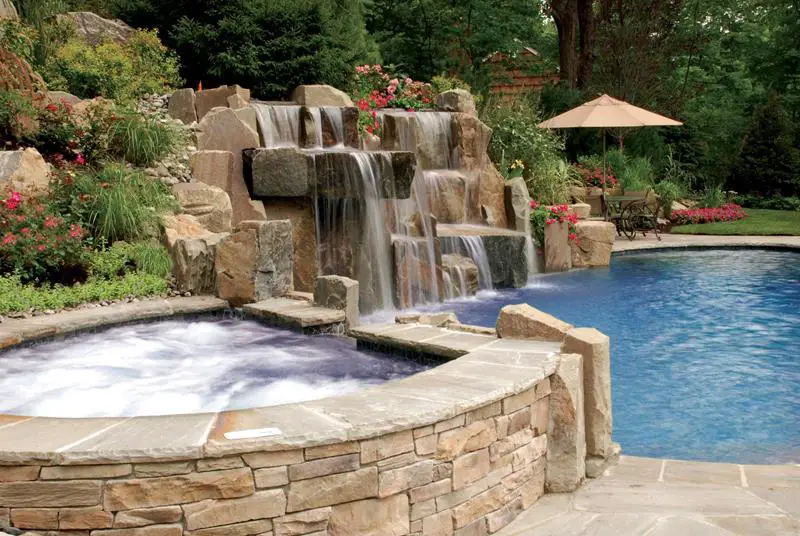 Photo by Cipriano Landscape Design & Custom Swimming Pools
These rocks are large stone all stacked at different angles to let the water pour over naturally. We love how well the stones fit in the overall design of this pool.
21. Simple Mountain Falls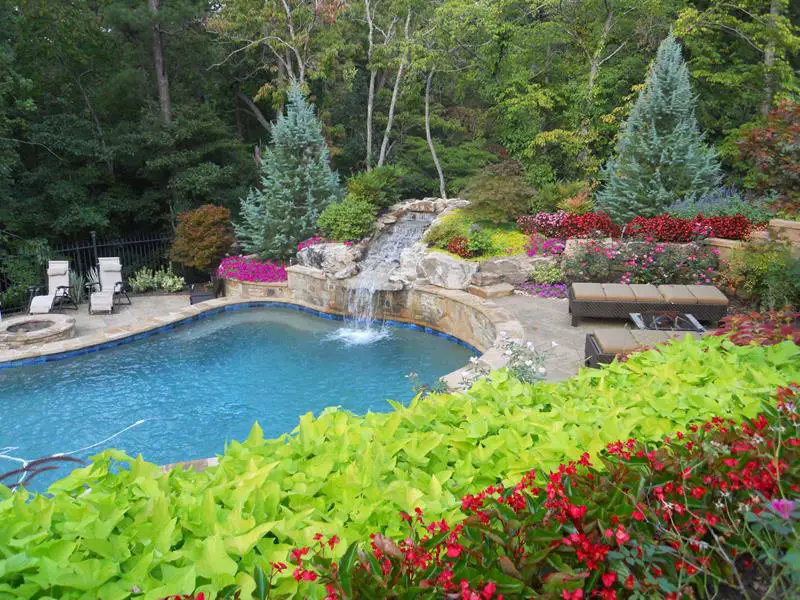 Photo by Atlantis Pools & Spas, LLC
This smaller waterfall takes on a calm mountain stream appearance, letting the water pour into this pool. Surrounded by wonderful landscape, this area is a peaceful space.
22. Triple Elegance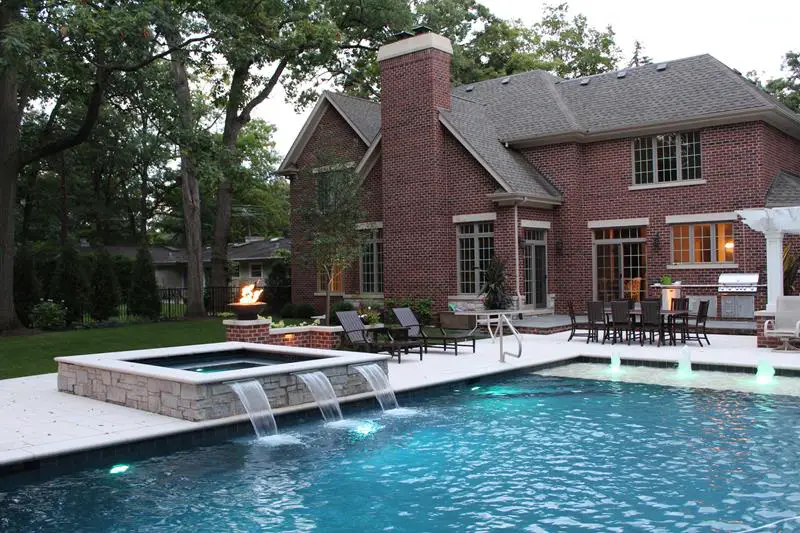 Photo by Downes Swimming Pool Company
These three simple fountains pour in from the elevated hot tub area and give a sense of elegance to this pool area. We love how calm and peaceful this space is.
23. Natural Landscape Falls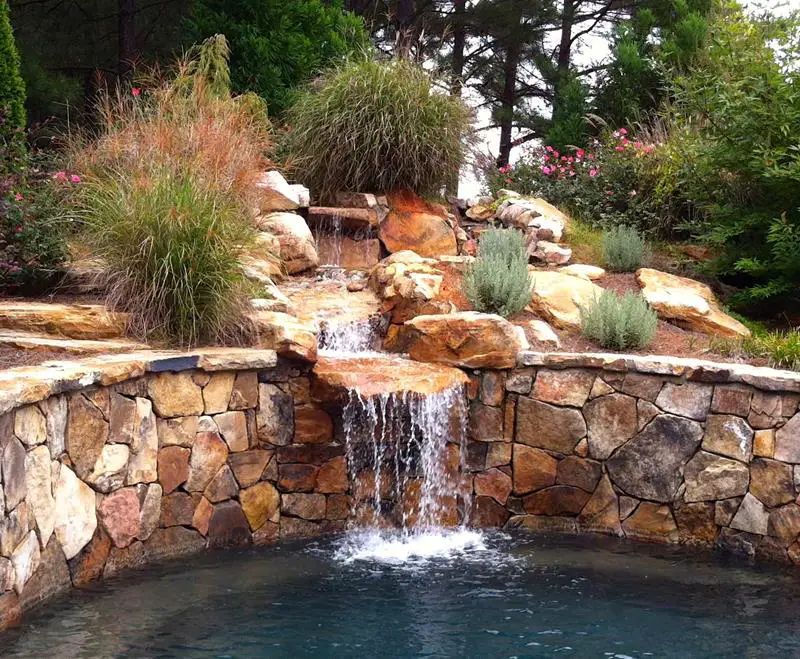 Photo by King Landscaping
The different sized stacked stones that make up this pool wall are matched by a wonderful natural in the stones that make up this waterfall. We love how this whole are matches with a rugged luxury.
24. Personal Luxury Space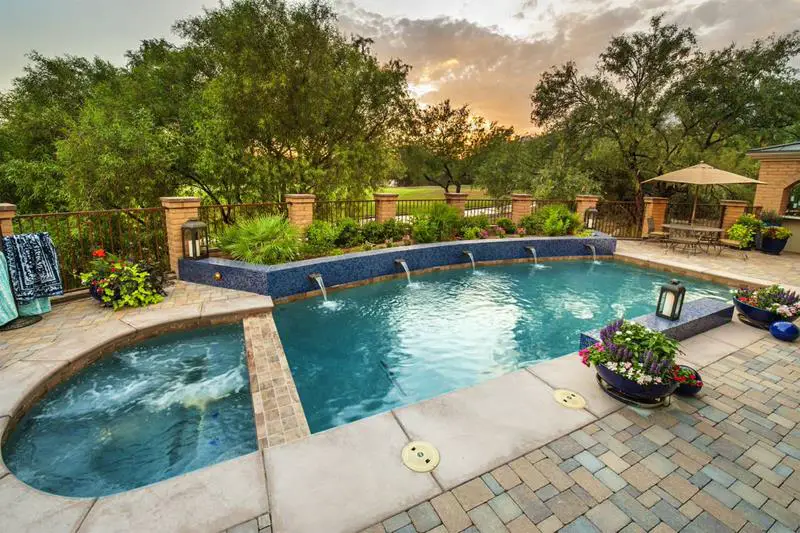 Photo by Pebble Tec Superior Quality Pool Finishes
The fountains let the water pour into this pool from a raised garden wall. We love that the wall is a darker color, contrasting with the whole space perfectly.
25. Big Boulder Splash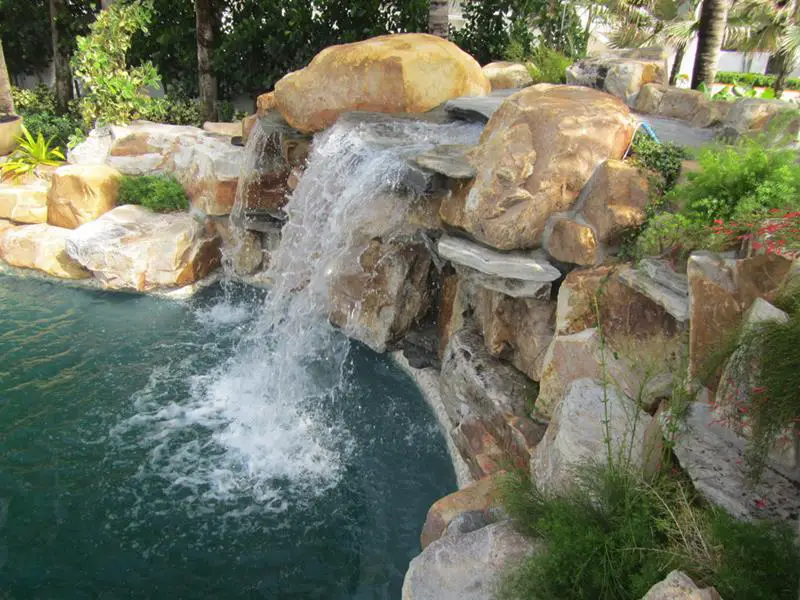 Photo by Waterfalls Fountains & Gardens
The water gushes over these natural looking boulders and into the pool below, giving off a natural mountain fall vibe.
26. Beautiful Landscape Design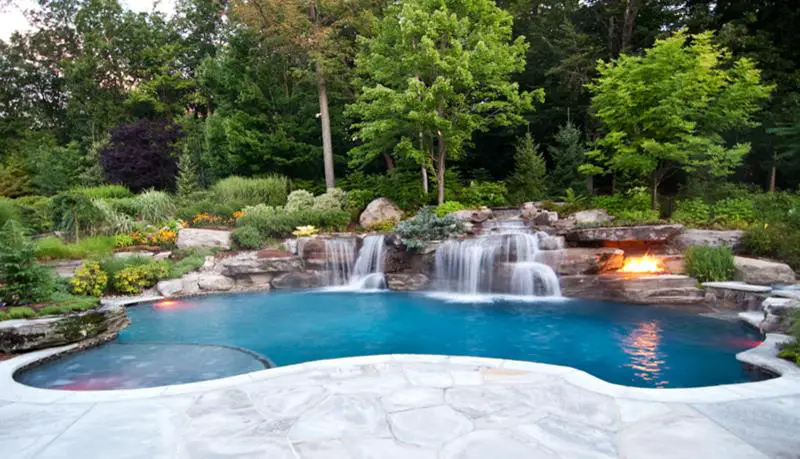 Photo by Cipriano Landscape Design & Custom Swimming Pools
The falls here are made to take on a natural look and that is what they do. The lighting around this pool area really enhances the overall elegance of this space.
Don't Miss: 20+ Small Inground Pools (Photo Gallery)