Updated on July 21, 2022
When you are designing your perfect bedroom, we know that you start from the ground up. Well, in this case, the floor up. That's where we want to help.
Choosing what kind of floor you want for your bedroom is important because all the other design decisions will be made around it. It's not like you can simply rearrange the floor if you aren't happy with it. You need to get it right the first time.
A hardwood floor for a bedroom is the perfect way to go. Whether you want a classically designed look or something more contemporary, hardwood floors are versatile in their shades and styles. Below, we have gathered over 40 master bedrooms with hardwood floors. Take a look and see if anything catches your eye.
Master Bedrooms With Hardwood Floors Ideas
Don't forget to pin these ideas and follow us on Pinterest @homeawakening
1. Beautiful Glow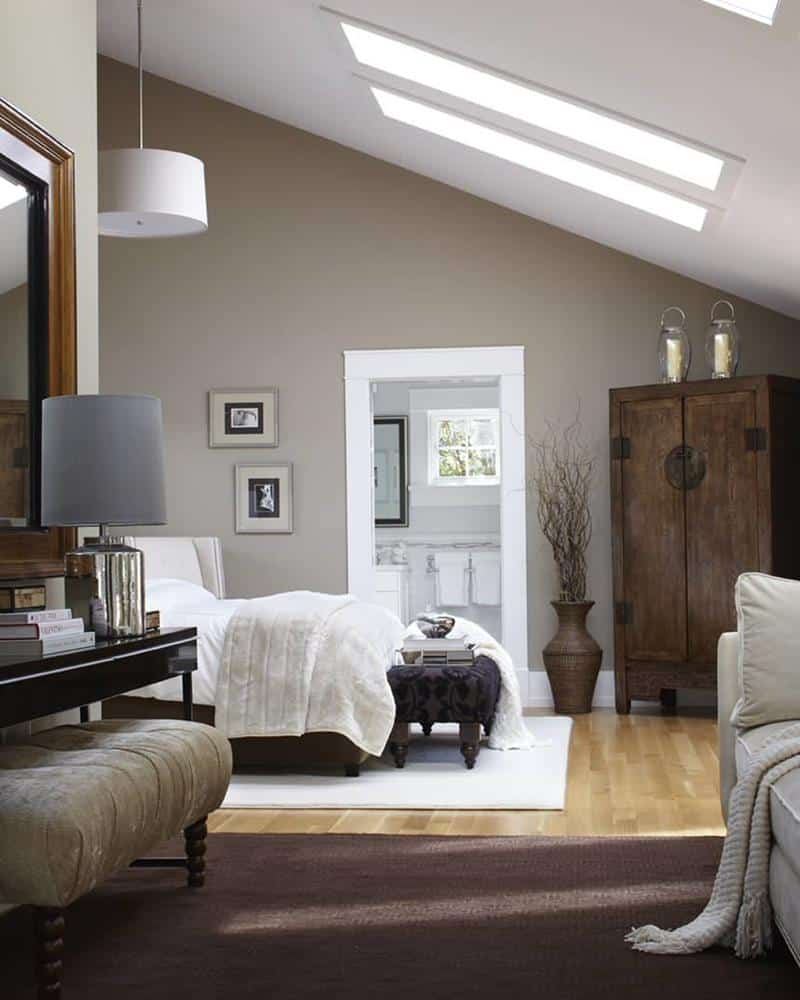 2. Contemporary Hardwood Use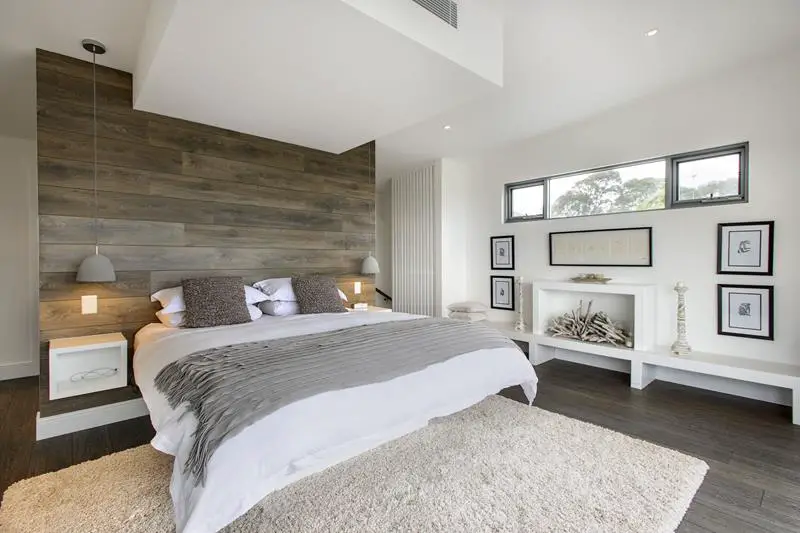 The headboard are behind this bed uses hardwood to match the floor, creating a beautiful balance to the room. The decor is light and simple, letting the room do the work.
3. Great Light and Dark Contrasts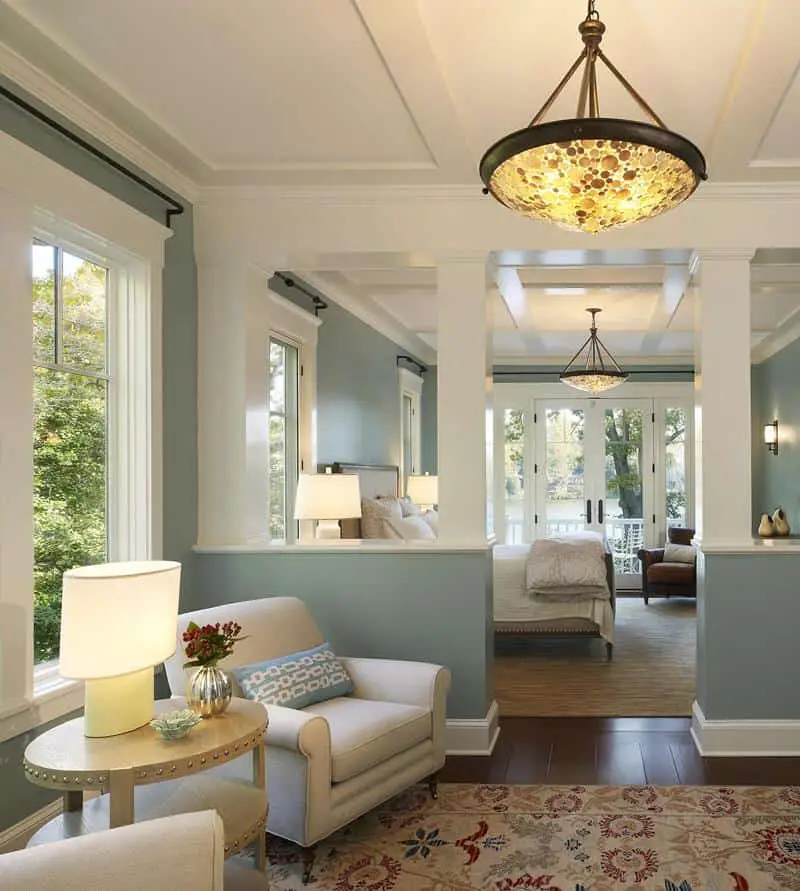 The darker hardwood floor blends well with the light blue walls and white trim. The open floor plan and many windows give this room a breath of air.
4. Bold Darker Hardwood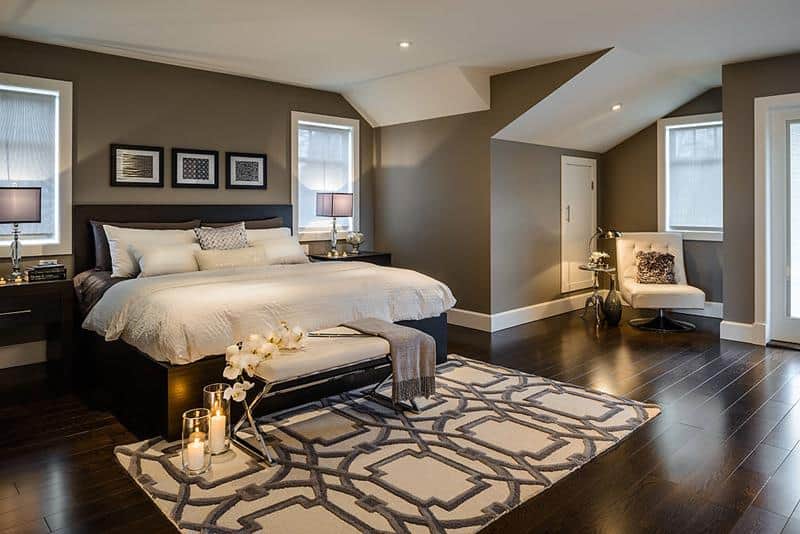 5. Herringbone Style

Go for darker walls to blend with a hardwood floor and you will love what you get. This herringbone style floor combines wonderfully with the patterns throughout the room.
6. Modern Connections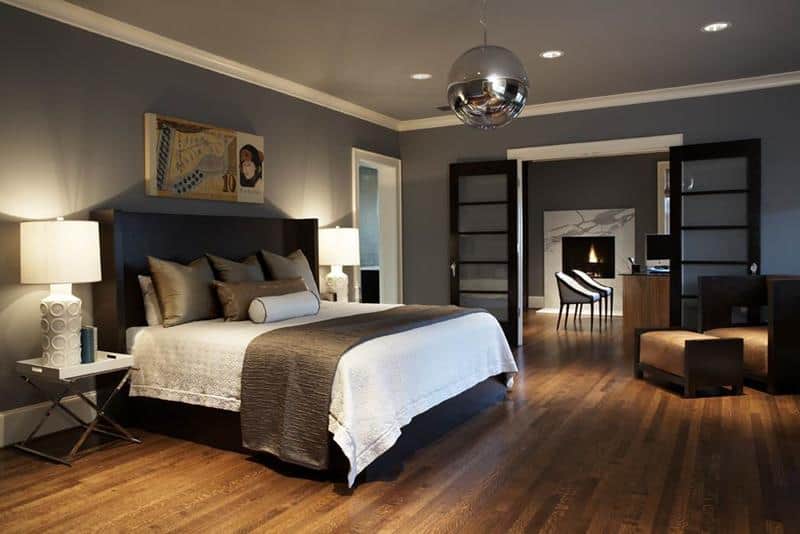 A room like this takes advantage of the beautiful hardwood floor to create a modern space that looks great in the lighting. The open floor plan and attached office is great.
7. Lighter Blends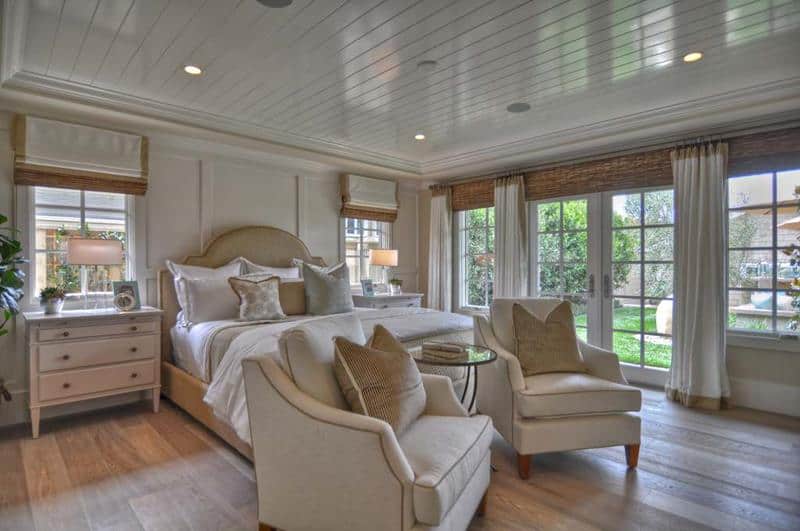 This lighter hardwood floor works well with the many windows around the room. The light walls and specialized shades give this space a beach feeling.
8. Comfortable Contrasts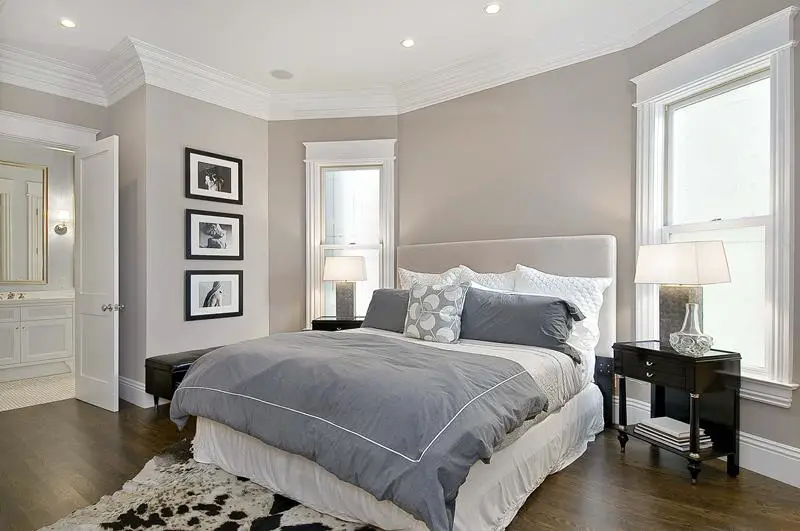 This room create a comfortable feeling thanks to the perfectly lit space. Taking advantage of the natural light, this room balances well with the hardwood floor and darker furniture.
9. Traditional Blending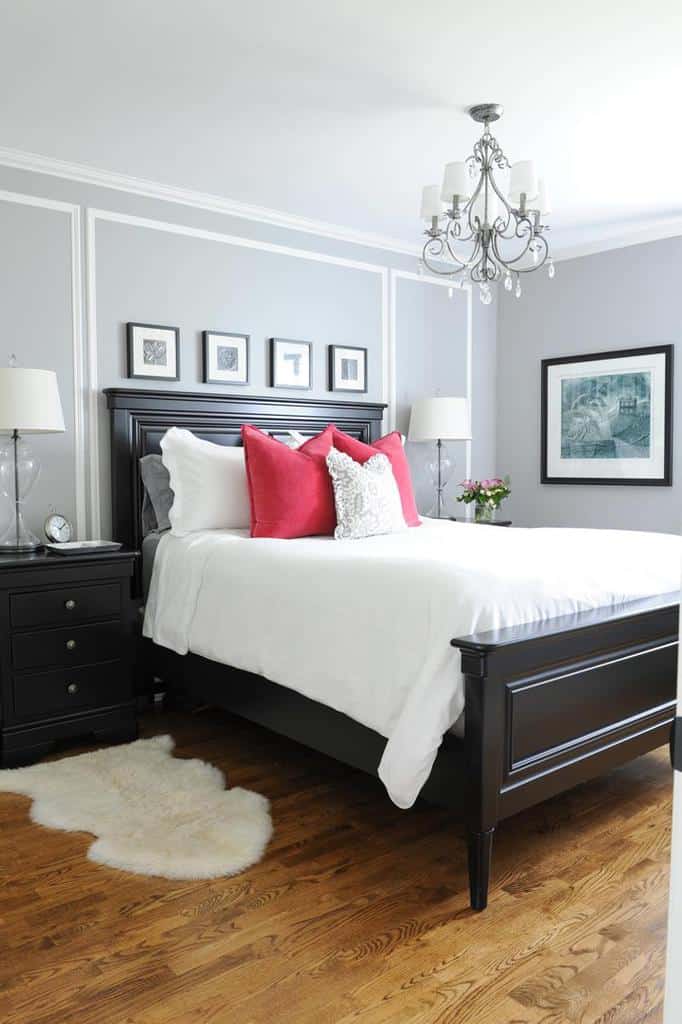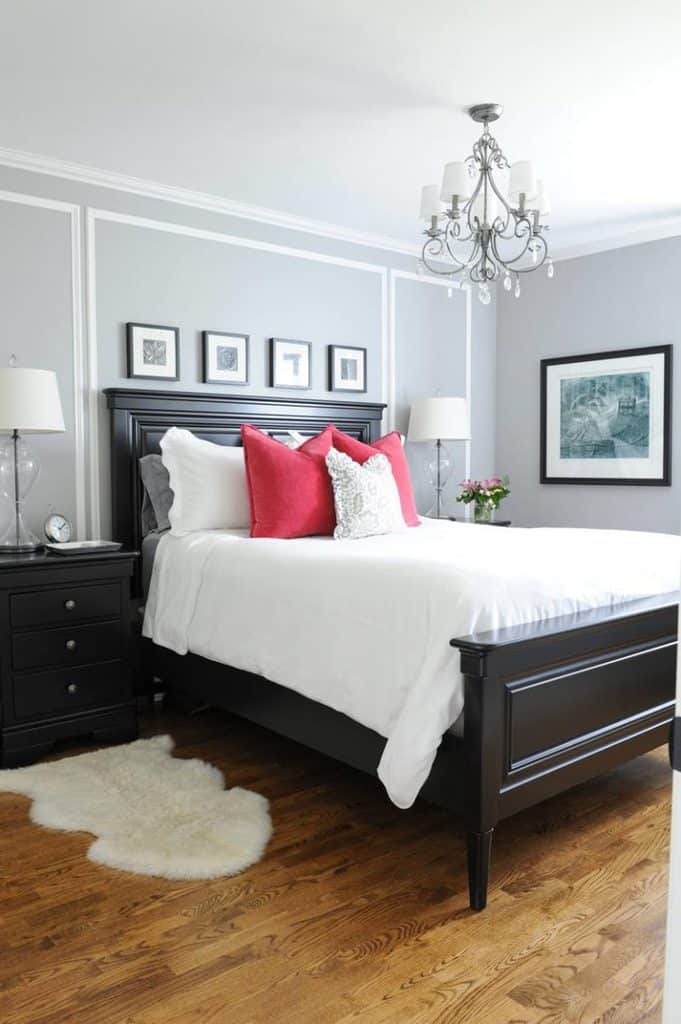 With a perfect blend of hardwood shades, from the floor to the furniture, this room creates a great and traditional style. The decor works well and keeps clutter to a minimum.
10. Faded Light Style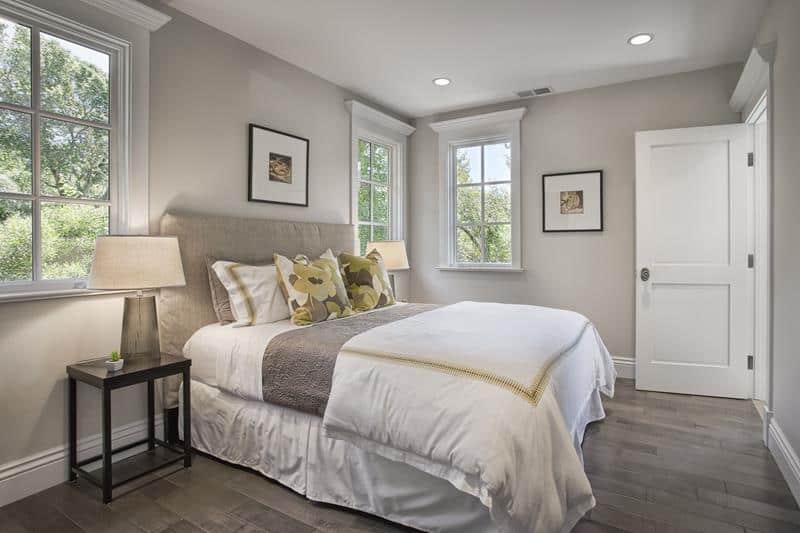 When you have light, almost ash colored, hardwood floors like this, you can really design a great space around it. The style is contemporary but also classic, giving you versatility.
11. Textured and Durable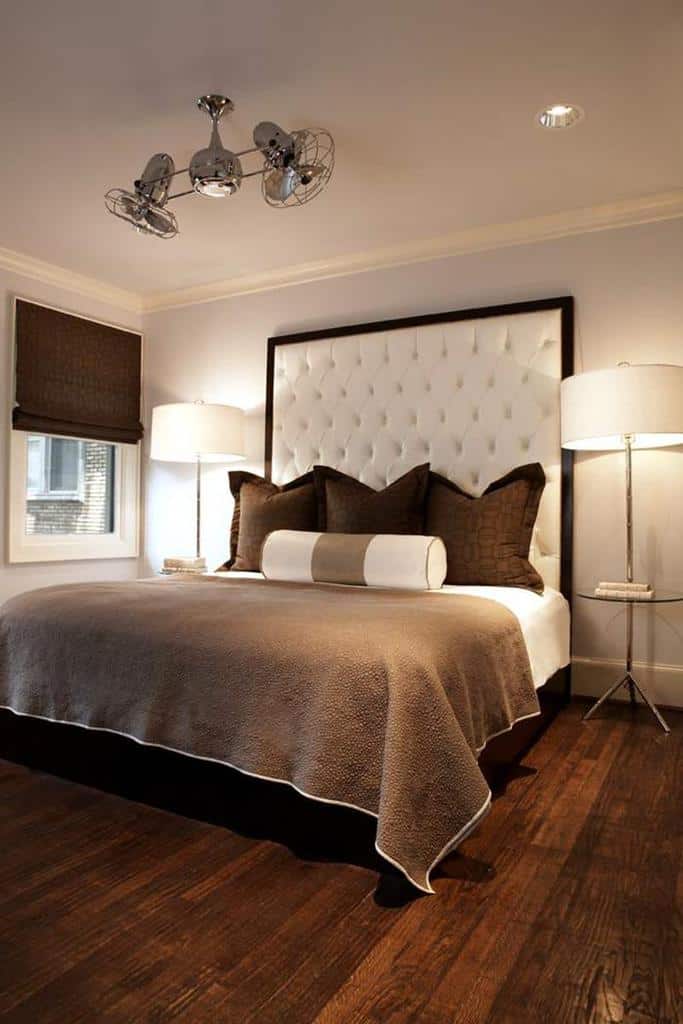 This hardwood floor is testament that these types of floors last forever. With a durable style and giving the room texture, this floor is matched perfectly with the colors around the room.
12. Grand Designs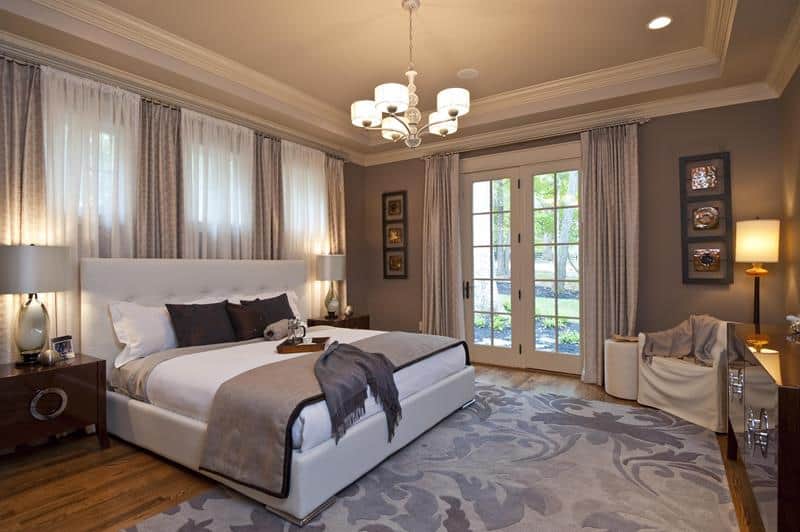 Looking around this room, you can see how well the furniture brings a luxurious style to the entire space. It blends perfectly with the hardwood floor and the decor.
13. Blue Blends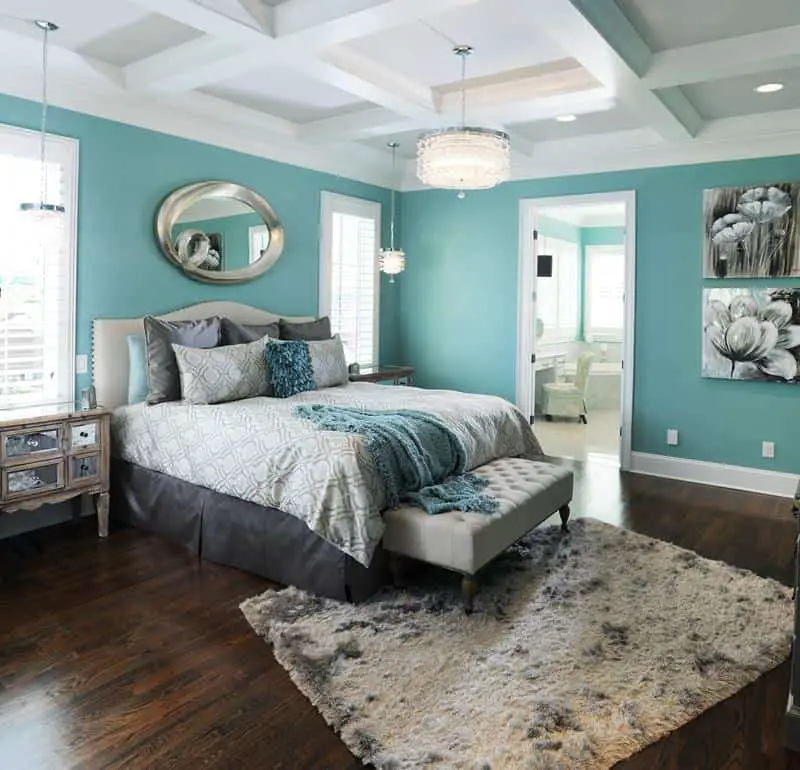 With a darker hardwood floor, you can really experiment with color. Here, this vibrant blue brings life to the room and creates a wonderful contrast with the floor.
14. Ash Shades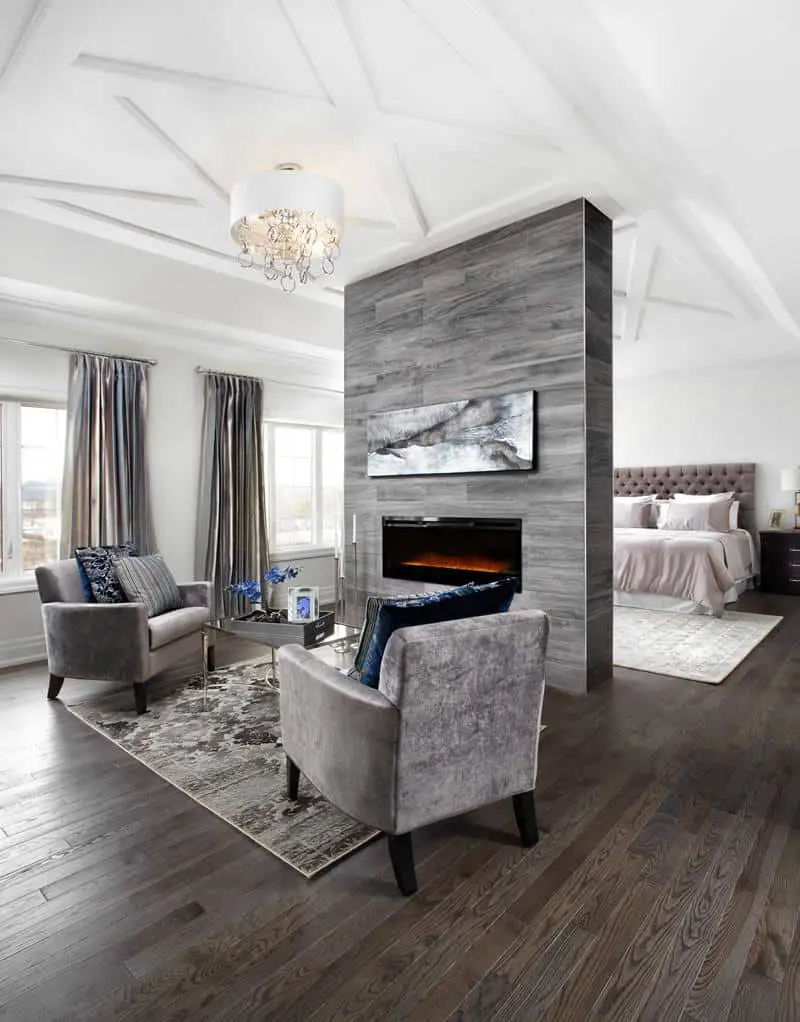 With a nearly ash colored hardwood floor, this room takes advantage of gray tones to make a warm and elegant space. This is a room to relax in.
15. Floor and Ceiling Team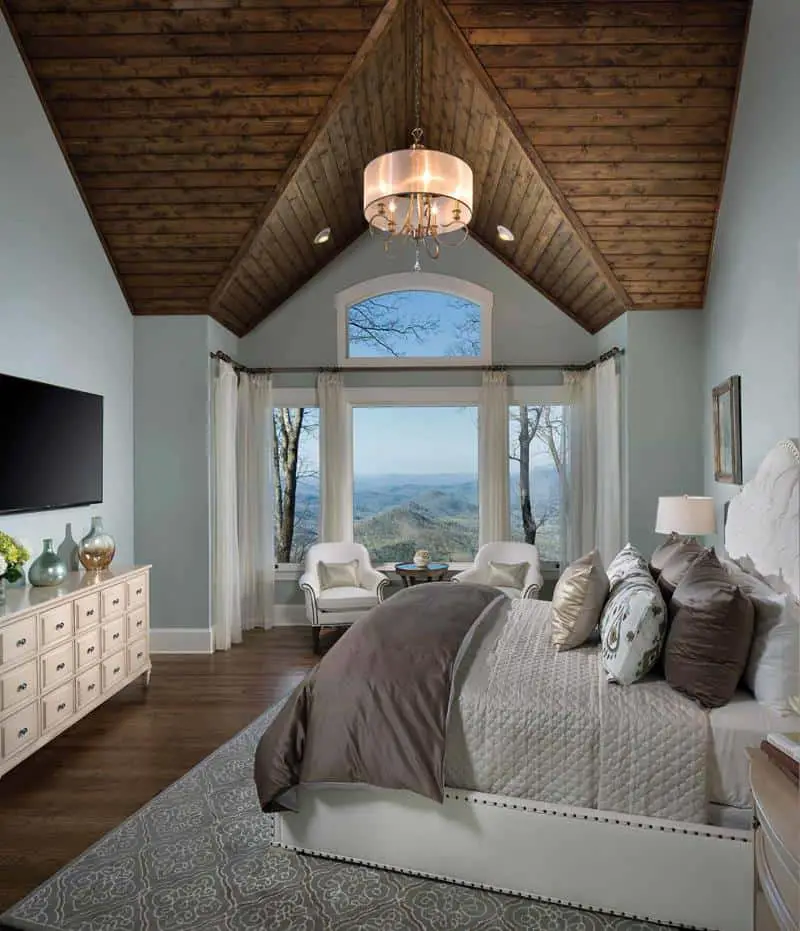 Double the hardwood, from the floor to the ceiling. This room is a fantastic example of how well you can balance a classic look with hardwood designs.
16. Lively Color Match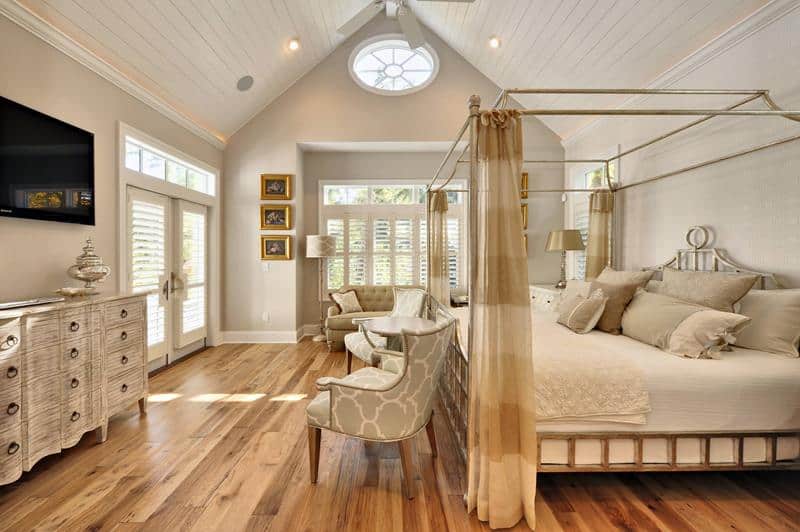 This hardwood floor has a vibrant shade that is matched perfectly by the color scheme of the room. From the furniture to the decor, everything here works together.
17. Classic and Durable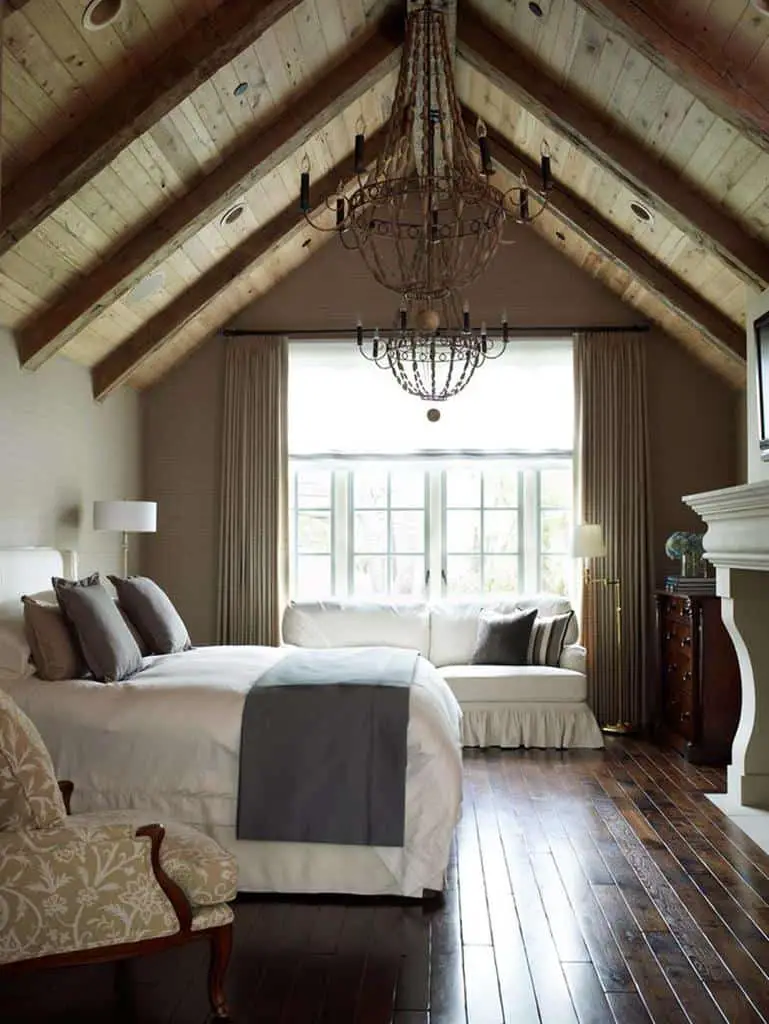 18.  Center of Attention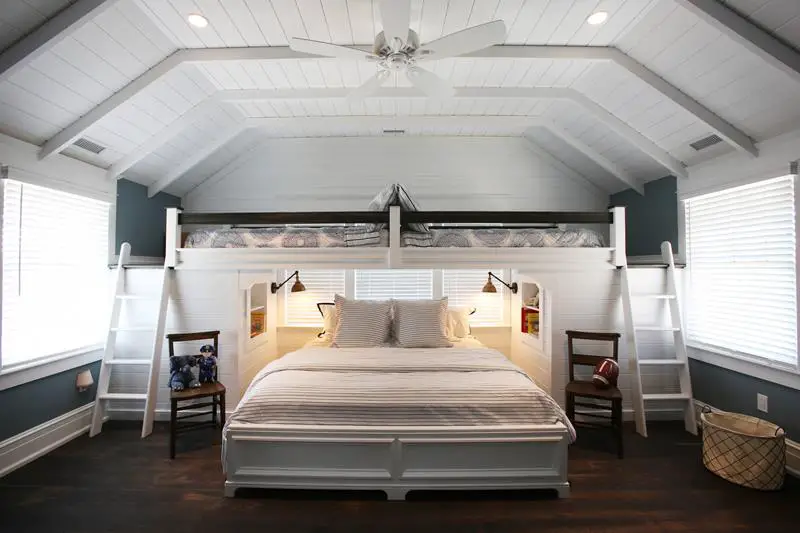 With a dark hardwood floor, this space uses light colors to really make everything stand out well. With plenty of room for everyone to sleep, this space is creative and fun.
19. Opened Up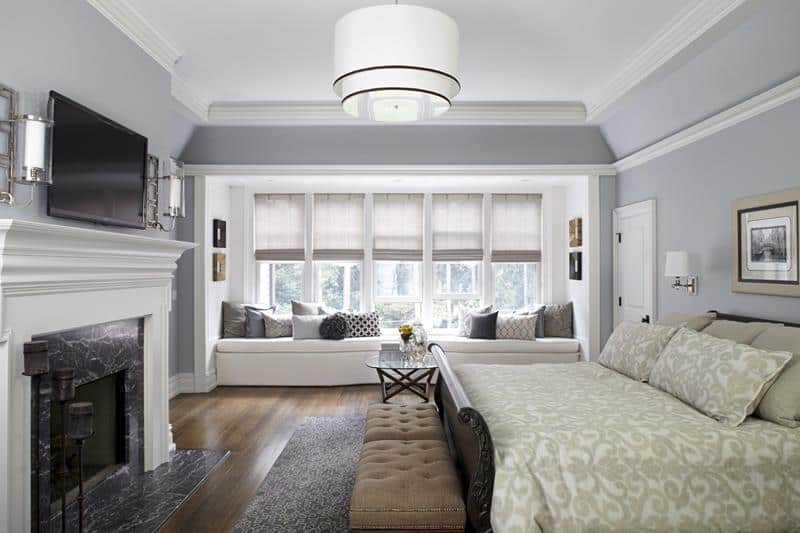 With bay windows like this, the natural light is allowed to shine in to show off an elegant space. the hardwood floor is matched by a light contemporary design.
20. Archway Center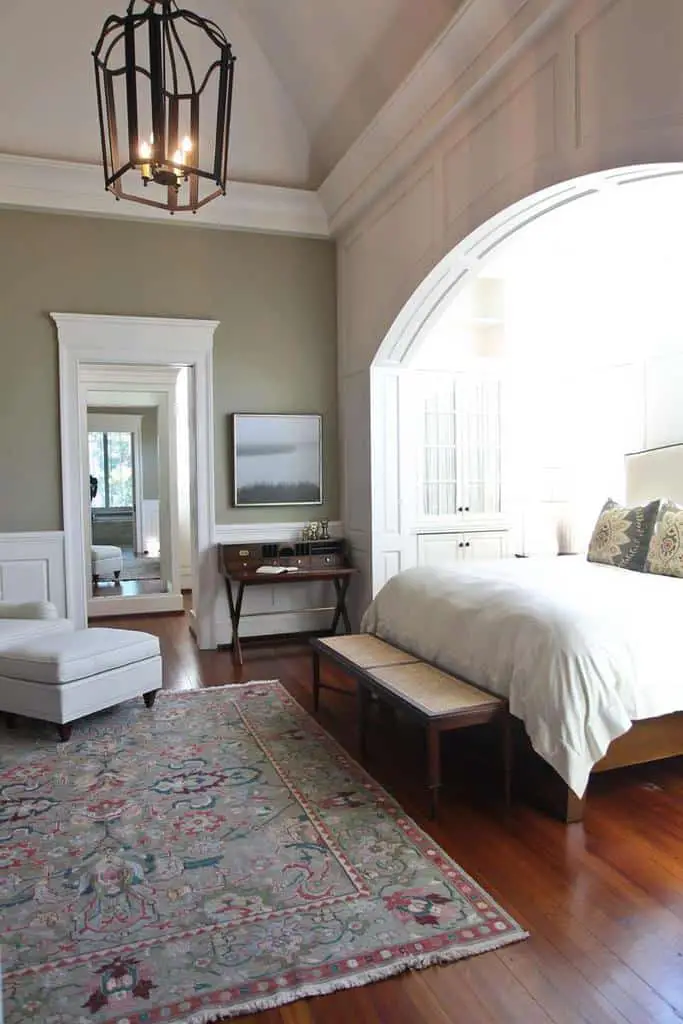 The bed is under s perfect archway and brilliantly lit and the hardwood floor stands as a testament to a classic style. The room has wonderful furniture and decor.
21. Warm and Beautiful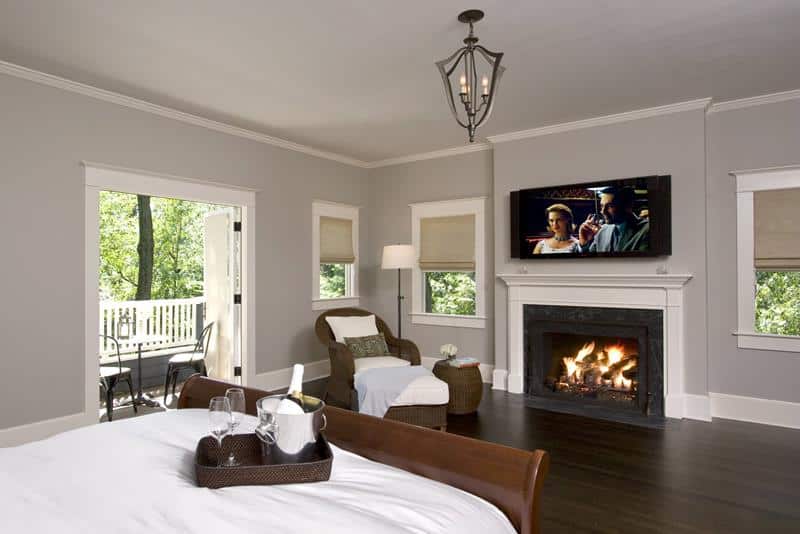 Light a fire and sit back. This is a relaxing space. With a great hardwood floor that is matched by light walls and an open floor plan, you will enjoy spending time in this room.
22. A Beach Idea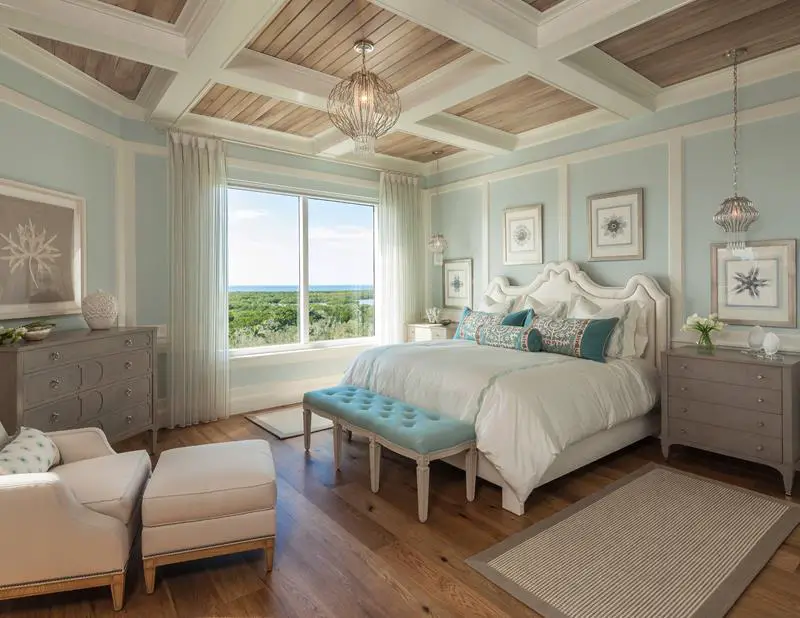 Lighter colors, some blue mixed in, and great decor. This room balances it all against the hardwood floor to give you a wonderful beach sense of style.
See Also: 20+ Bedrooms with a Sitting Area (Photo Gallery)
23. Rustic Luxury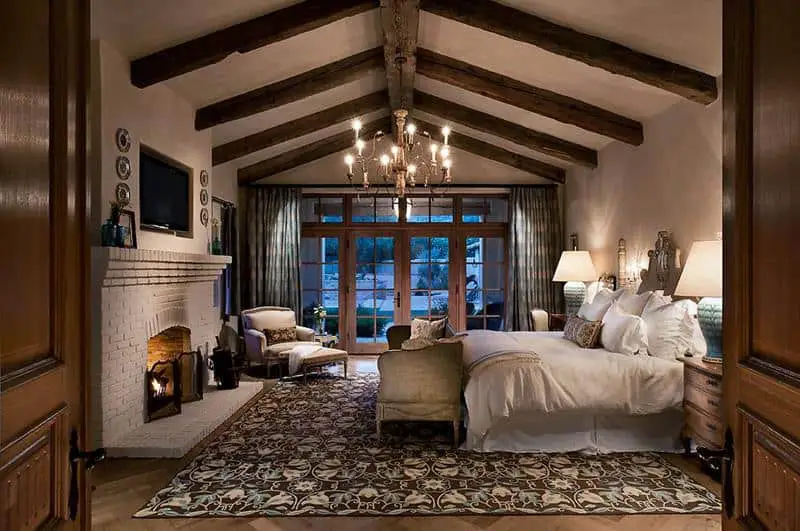 24. Perfect Balance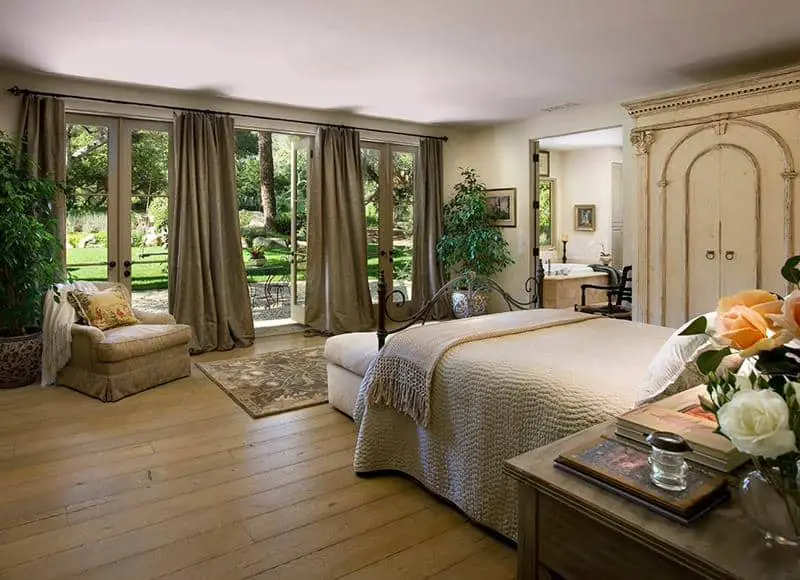 With a beautiful view to the outside, this hardwood floor is matched with classic furniture that stands the test of time. This is almost like a hidden getaway space.
25. Luxurious Escape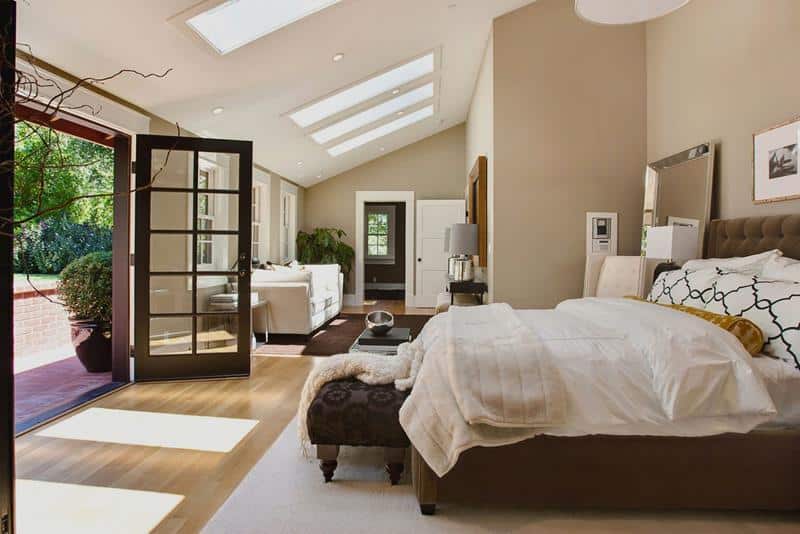 Brilliantly designed, this room takes advantage of the skylights and easy access to the outside to give you an open sense of style. With a great hardwood floor matched by beautiful furniture, this is a great room.
26. Brilliant Floor Plan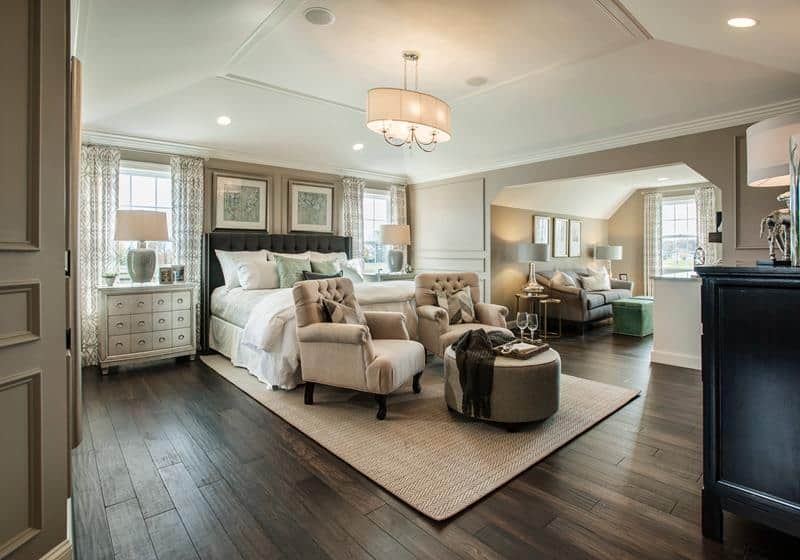 Hardwood floors are meant to last. They are durable, like this one. This floor offers you a perfect balance with the earth toned furniture.
27. Matching Beams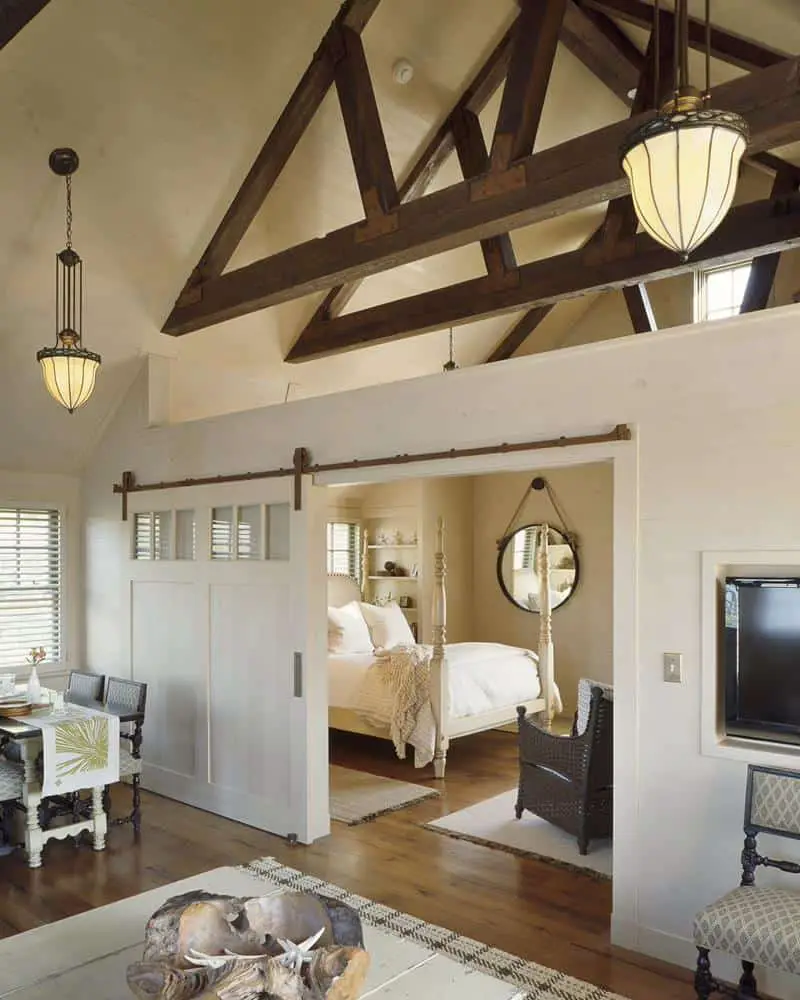 With a hardwood floor to match the overhead beams, you can create a space as brilliant as this. With a traditional style that is open to the rest of the house, you will love the romantic sense here.
28. Darker Pattern Combinations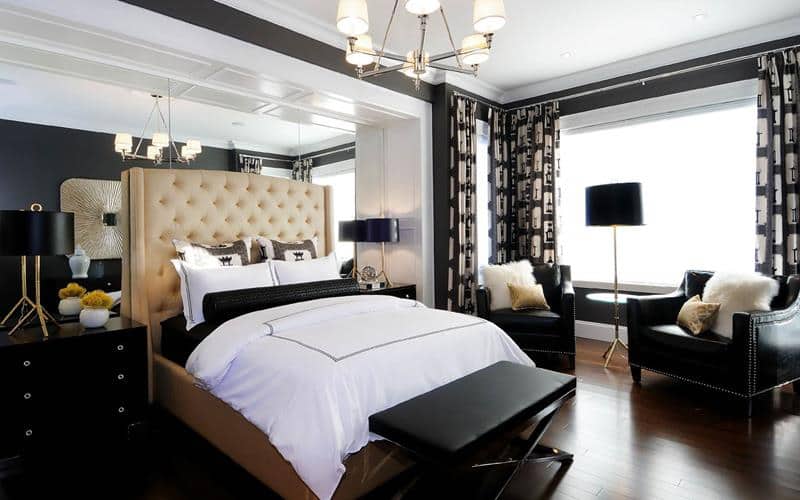 Take a darker hardwood floor and match it with bolder colors and patterns. This final look, like this one, is one of sophistication.
29. Match of Perfection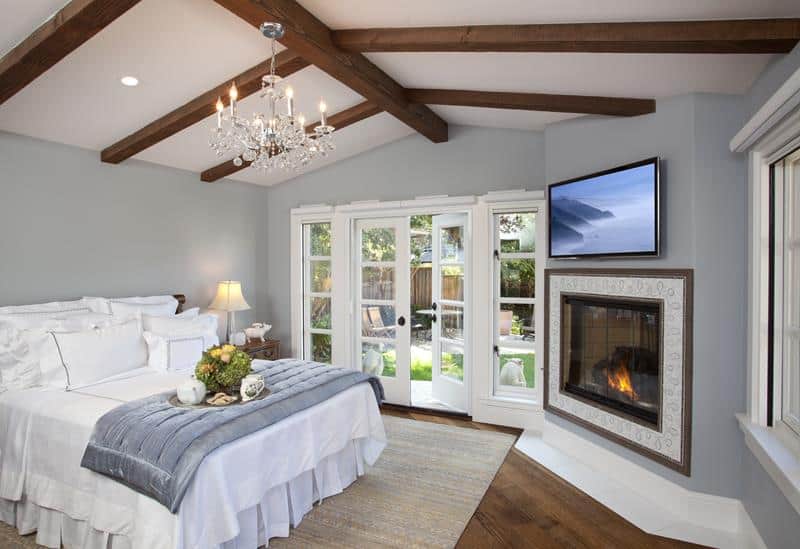 30. Traditional Grace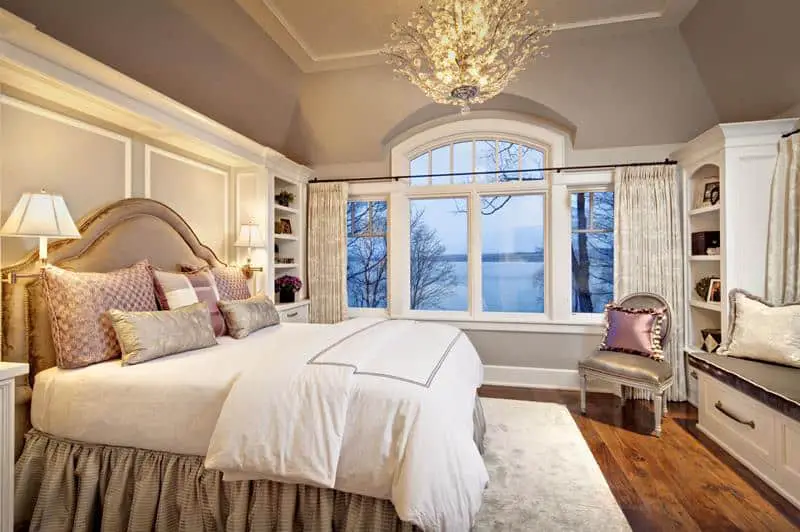 This room aims for a traditional luxury style and it works well. With a classic furniture style and beautiful decor, the hardwood floor works perfectly.
31. Light Hardwood Floor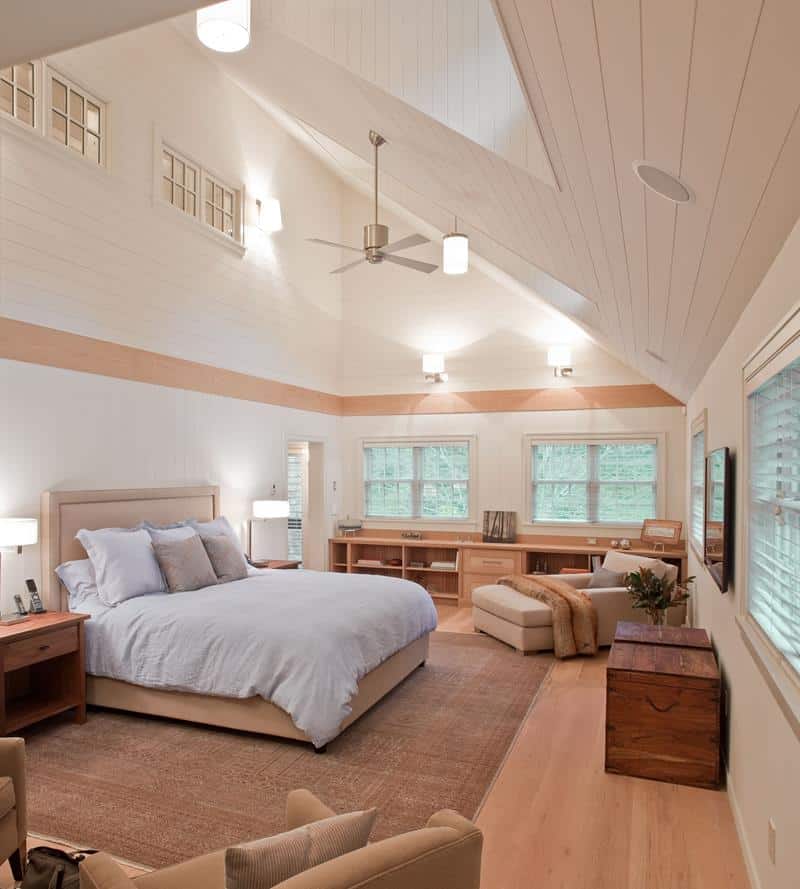 The high ceiling in this room is perfect for a lighter space. The hardwood and all of the furniture is matched wonderfully and works well with the many sources of light.
32. Matching the Texture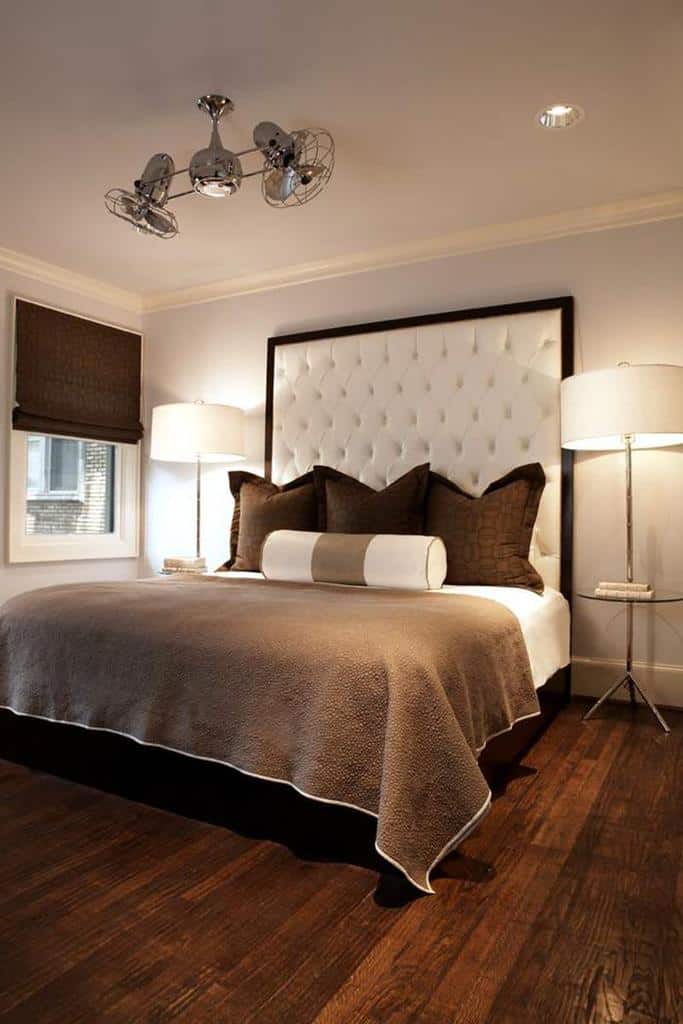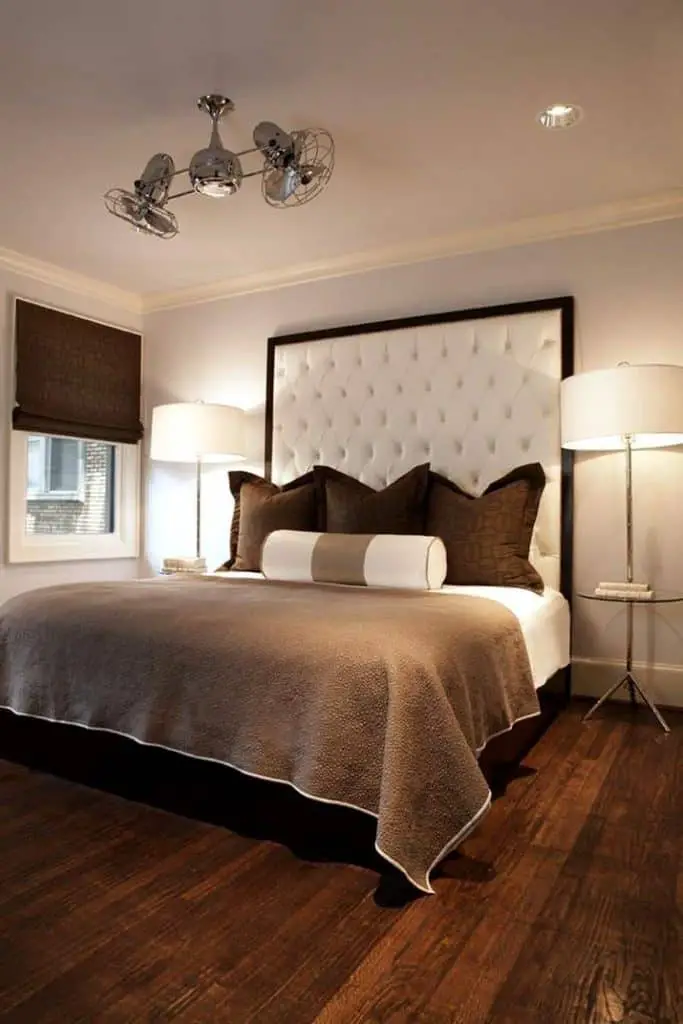 The floor is classic and durable. Matched with a great color scheme, you can fall in love with the simplicity of the whole design.
33. Calm and Collected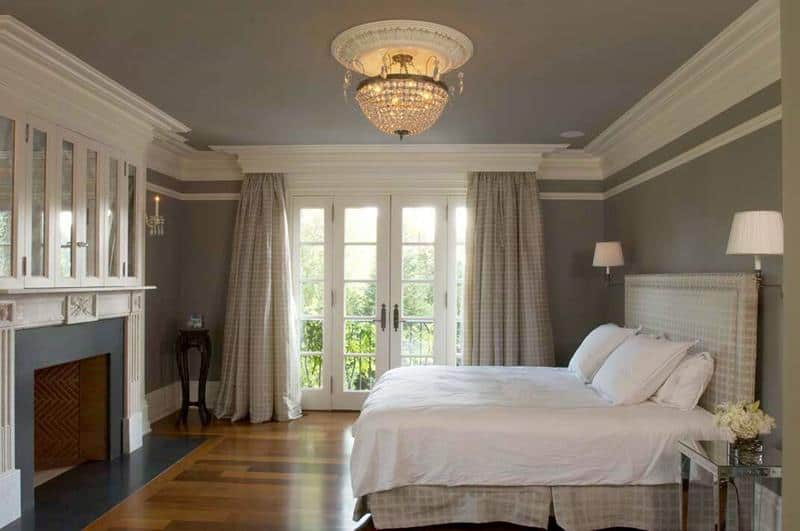 Welcome to a cozy room that takes notes from classic styles. The furniture and fireplace all work well with the hardwood floor in this room to give a comfortable space.
34. Earth Tone Inspired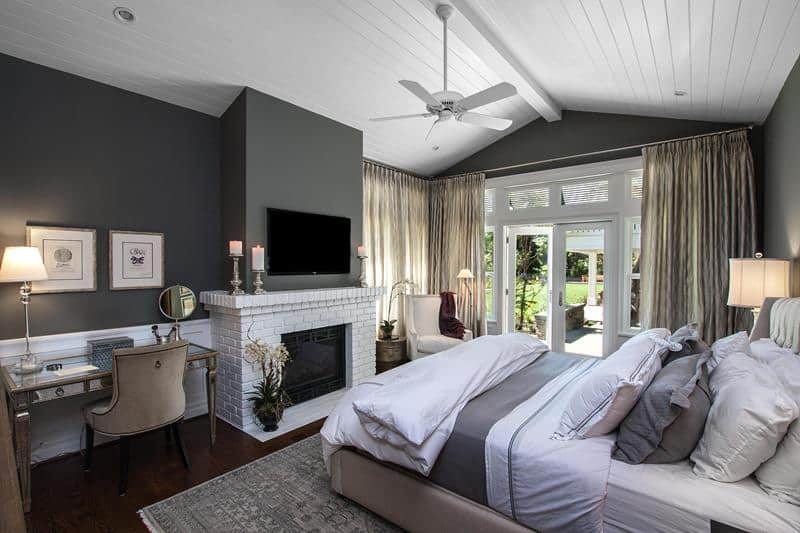 Earth tones come in many shades. Here, we see a gray clay inspired theme to blend perfectly with the darker hardwood floor.
35. Modern Beauty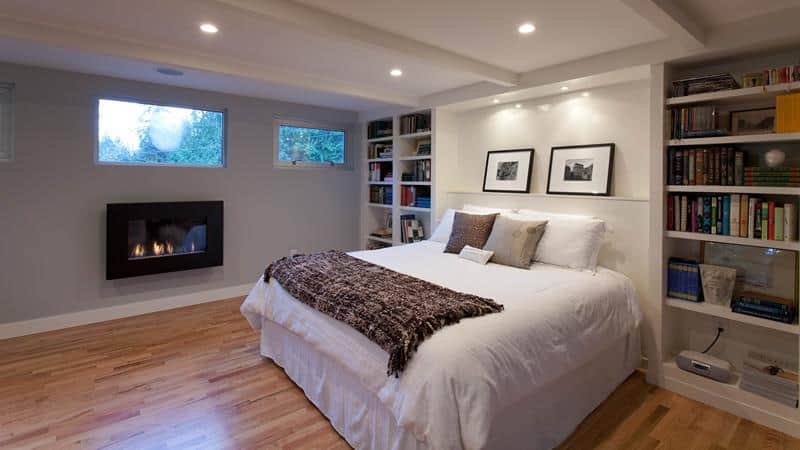 This room brings a sense of modernity thanks to the minimal decor and functional bookshelves. The hardwood floor is balanced well with the lighter colors.
36. Tradition Meets Contemporary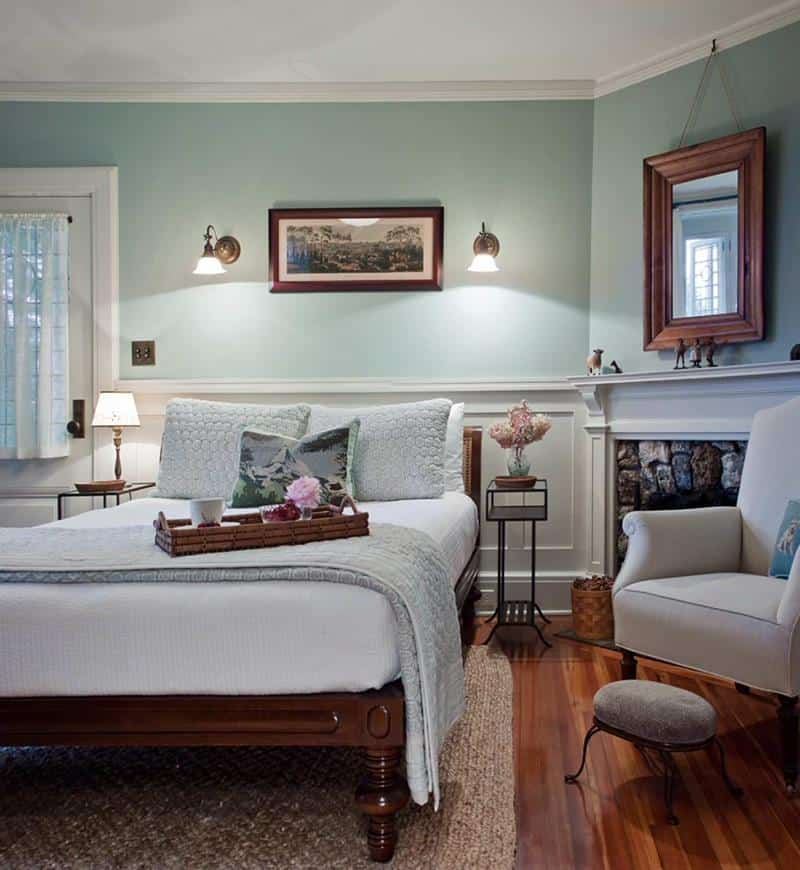 The furniture is elegant, giving a traditional sense of style. The light blue walls are a great match the hardwood floor, bringing a sense of warmth to the room.
37. Bucolic Feel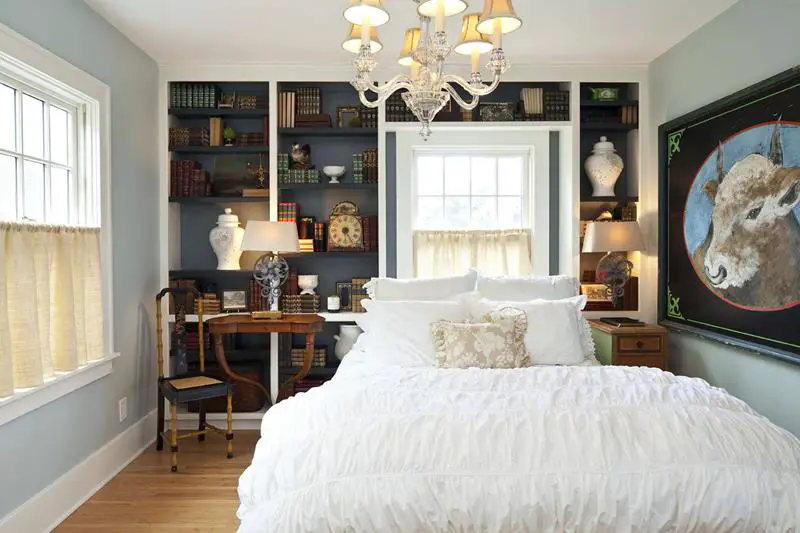 The shelves give you a functional and stylistic purpose and work well to give this room a somewhat bucolic sense of style.
38. Lively and Light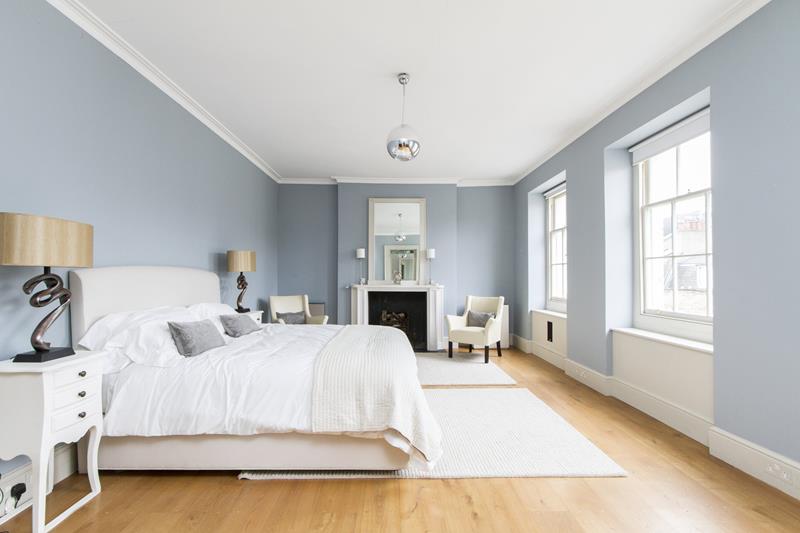 The lighter hardwood floor blends so well with the light blue walls and white fabrics. The natural light really does a great job in showing off the room.
39. Contemporary Decor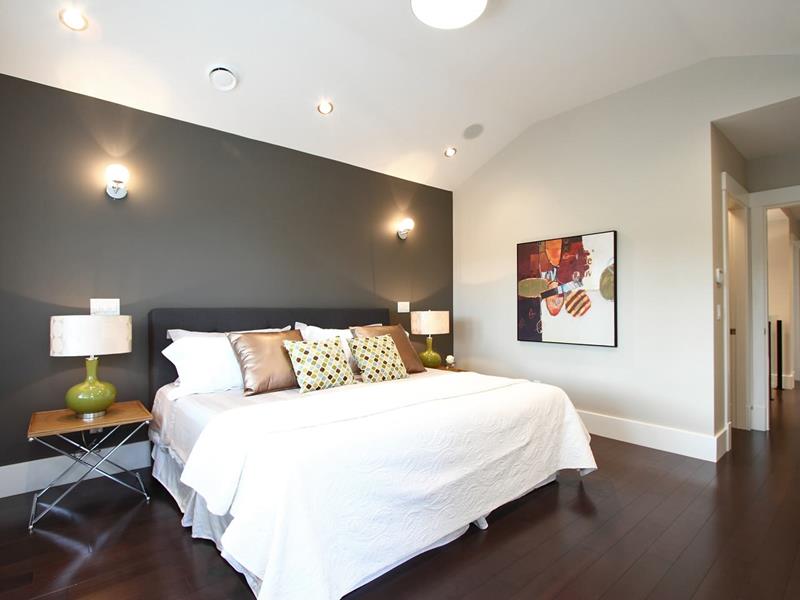 A darker hardwood floor matched well with the darker wall behind the bed gives this room a contemporary style that is easy to love.
40. Multiple Pattern Brilliance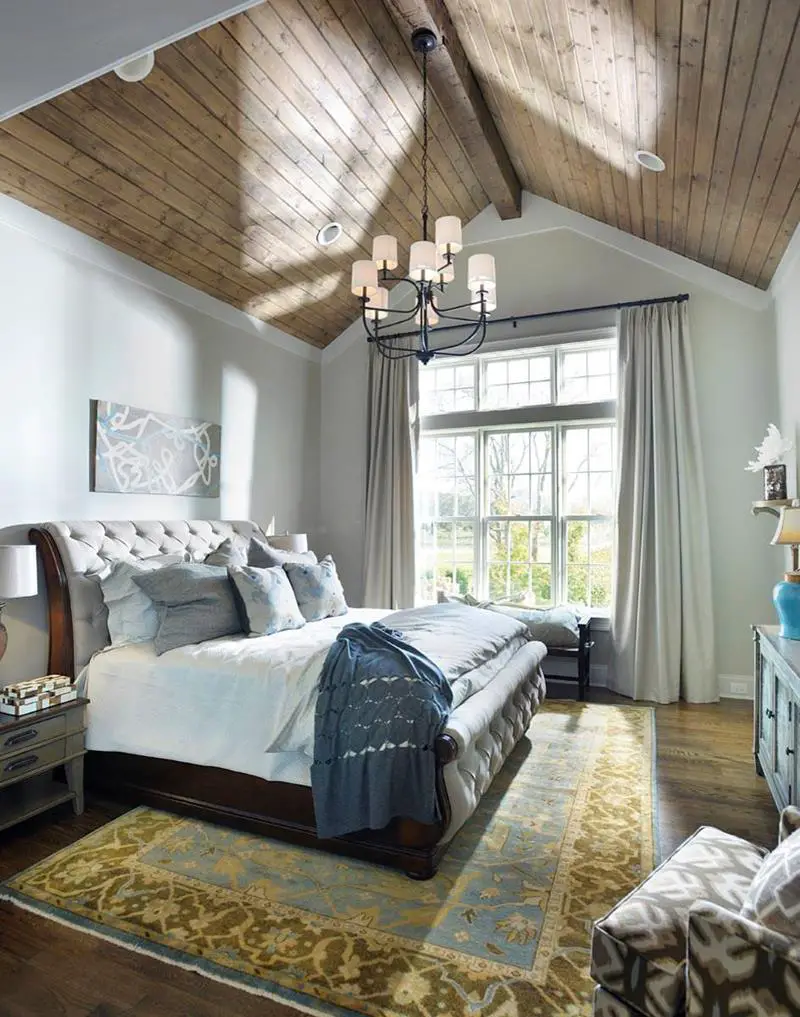 This grand hardwood bed matches the floor and ceiling perfectly. The patterns in this space bring a beautiful character to the whole roon.
41. Elegant Blend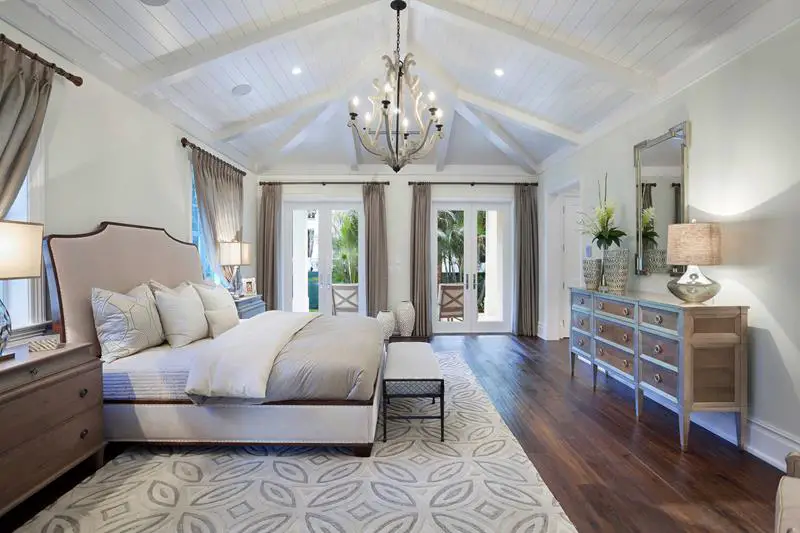 With a light style creating absolute elegance, this room uses wonderful patterns and natural light to show the whole space off.
42. Cozy and Calm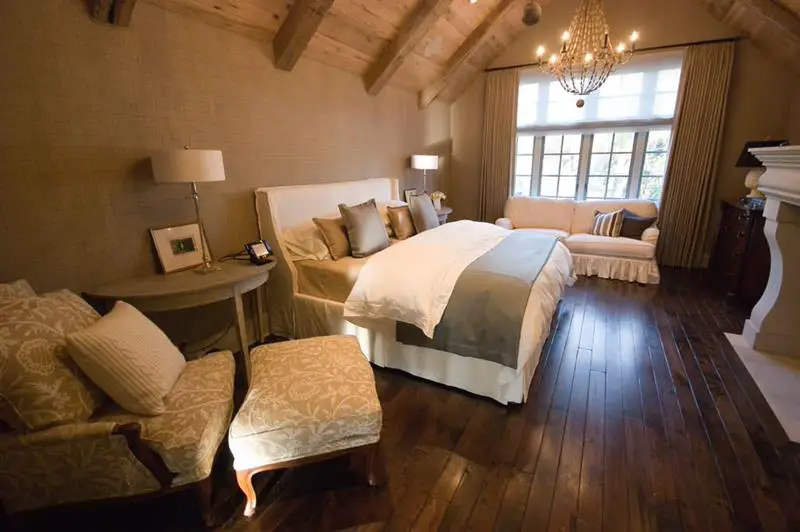 Like a mountain cabin with sophistication, this room is comfortable and calming. The lighting is perfect, showing off the hardwood floor and matching color scheme.
43. Brilliantly Lit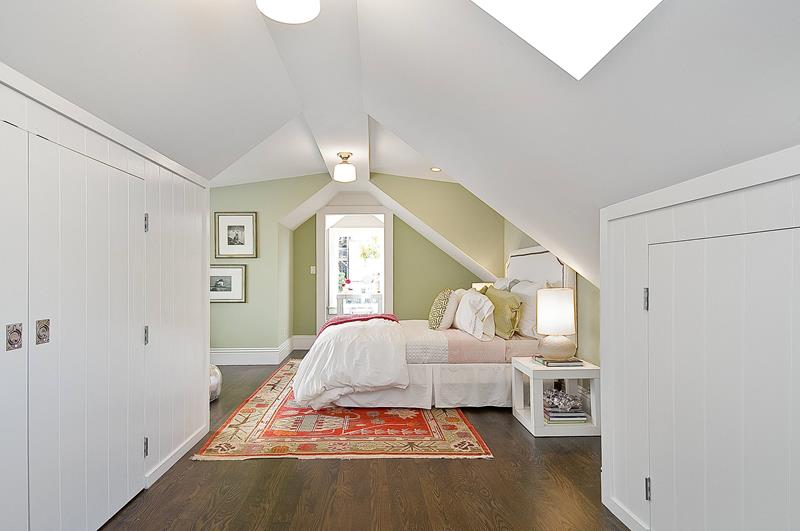 This modern space has been designed so well. The natural light shines in to show off the contrasts from the floor and light walls.
44. Relaxing Space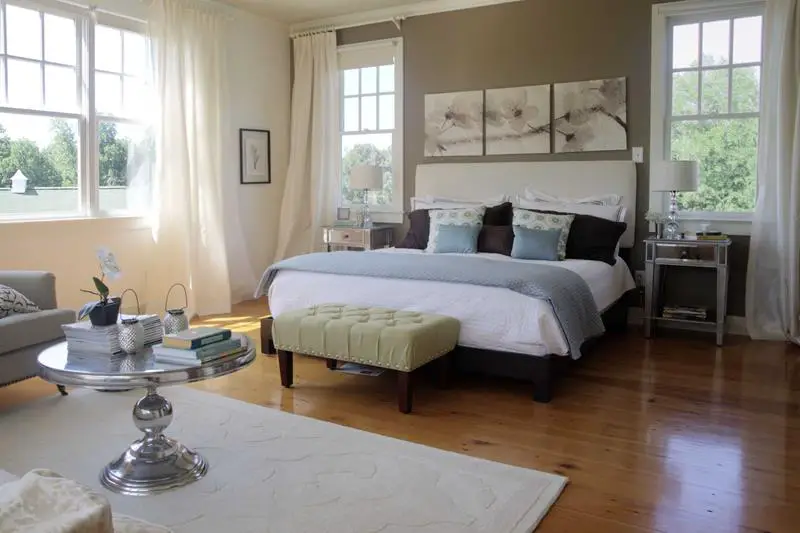 Sit and relax with a book and take in the natural light. The glossed hardwood floor brings the beauty that is matched by the art and decor.
45. Gray Tones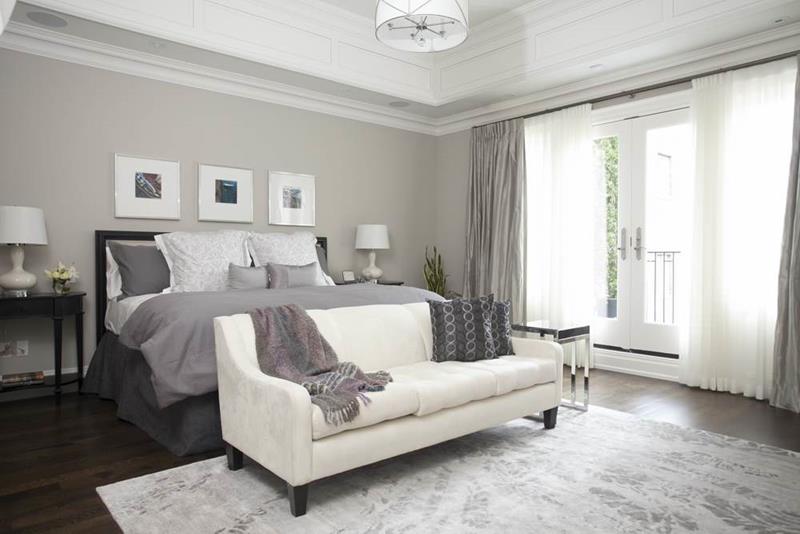 Sometimes a gray color scheme goes a long way when working with a darker hardwood floor. This room shows just how elegant it can look.
Don't Miss: 25+ Beautiful Bedrooms with Dark Furniture