Updated on January 3, 2022
Being able to have a place to relax outside is so important for many people. We know how comforting the fresh and and nice breeze can be after a long day. You may have though of adding a gazebo to your outdoor space. If you have, we want to help you come up with some ideas.
Not all gazebos are the same, as you will see below. Some are stand alone while others are attached to a deck or patio. Having a screened in gazebo is a great way to keep those pesky insects away from you.
Below, we have gathered more than 20 gazebos for you to look at. Some are the typical octagon shapes that you are used to seeing and others are square or rectangle. You will see a wide variety of colors and designs. We know that by the time you finish browsing our gallery, you will be ready to start designing your own gazebo.
Read Also: 17 Arbor Design Ideas
Screened Gazebo Ideas
1. Gazebo Rises Up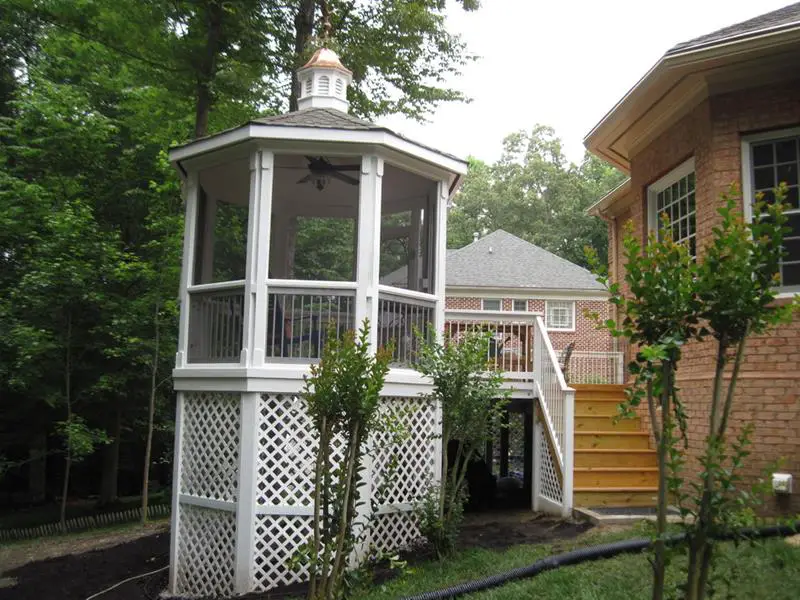 This screened in gazebo rises up to meet the deck on the outside of this house. We love that it is white, perfectly balancing with the brick of this home.
2. Attached to the Deck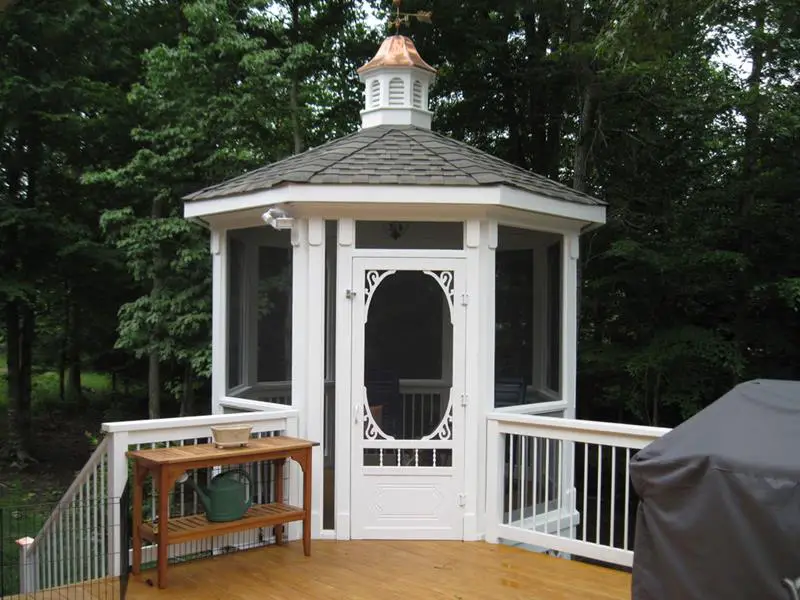 This gazebo is perfectly attached to he corner of this deck, proving that, even though it may not have been part of the original plans, you can still add a gazebo.
3. Large Beautiful Design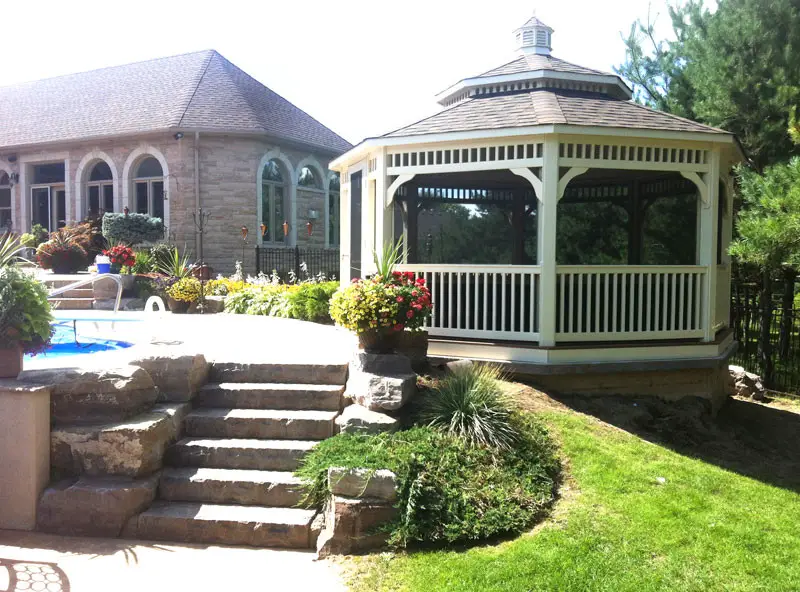 This gazebo is large and take a luxurious style to match the wonderful landscape around it. We love the shingle roof that gives it a durable style.
4. Hardwood Roof Style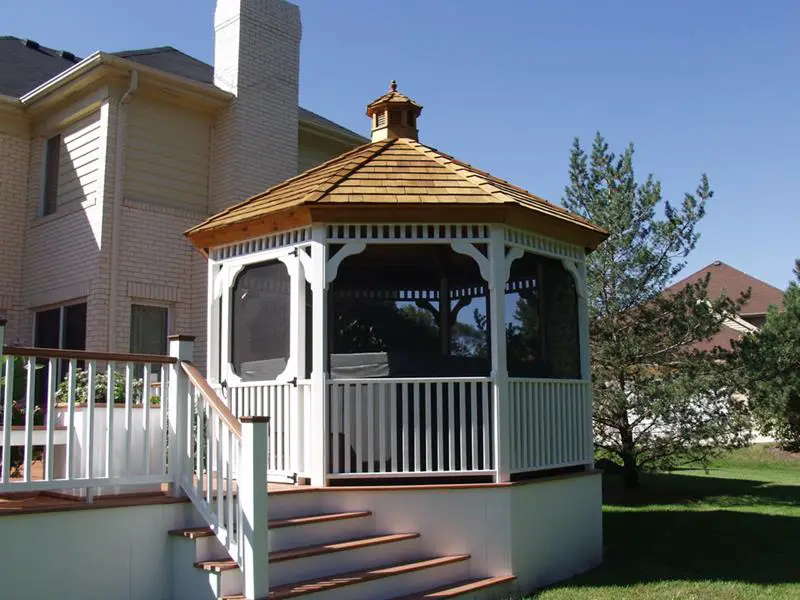 The wood shingle style of the roof of this gazebo makes the whole thing look amazing. Matched with the white structure, this space has a great appearance.
5. Minimal Asian Style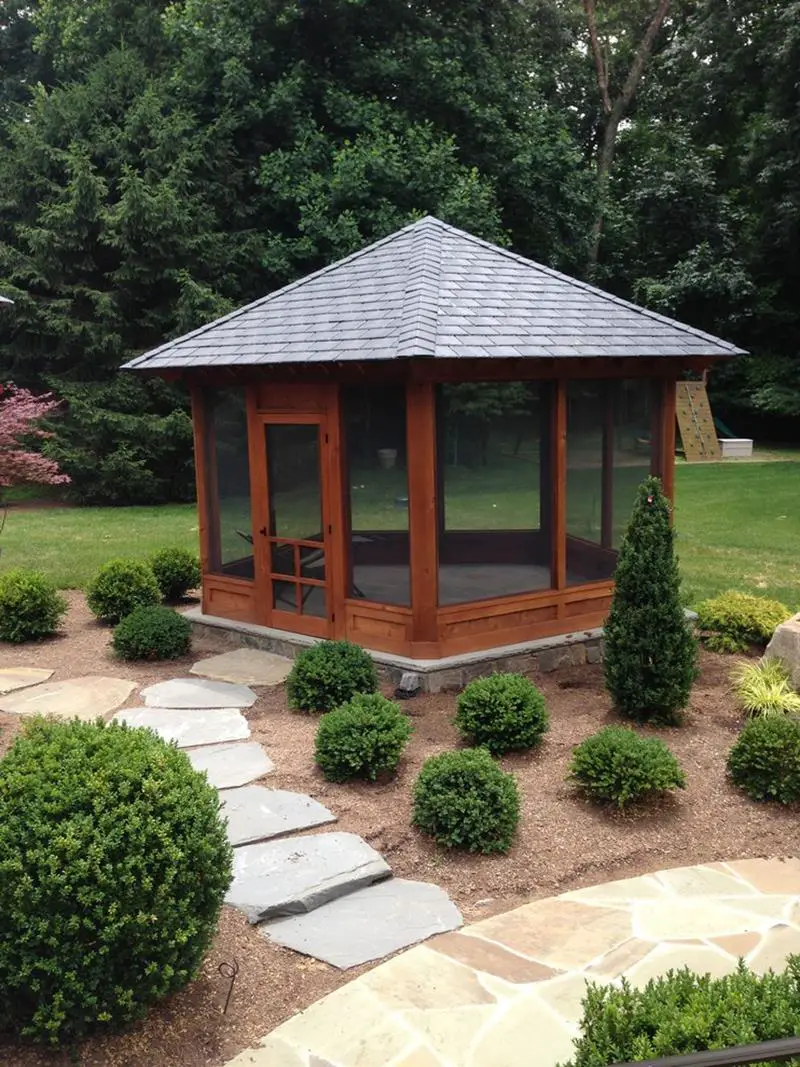 This gazebo takes an Asian minimal approach to the design and it blends perfectly with the surrounding landscape. We love the tone and simplicity of the whole space.
6. Darker Hardwood Style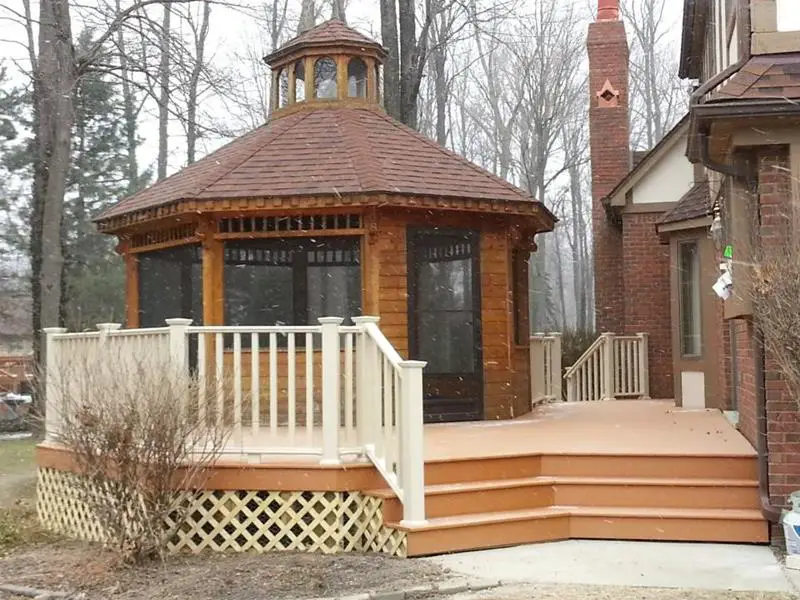 We love the darker hardwood style of this gazebo as well as the wood-toned shingles on the roof. Look at how well it matches the brick house.
7. Great White Design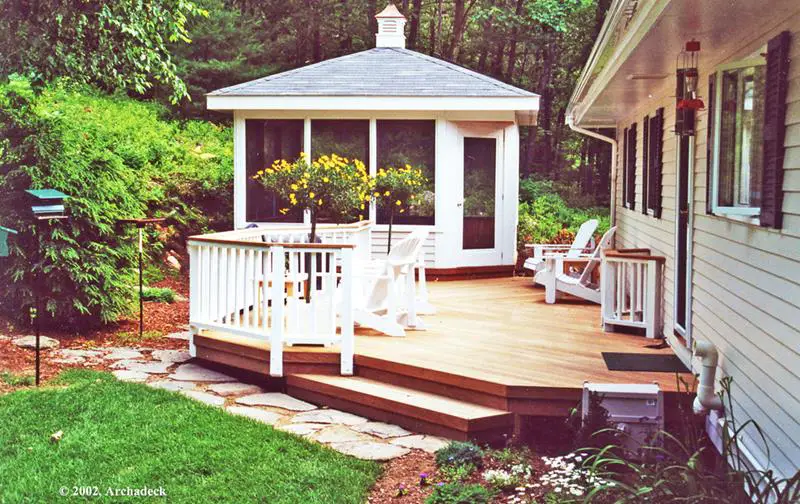 8. Simple Hardwood Design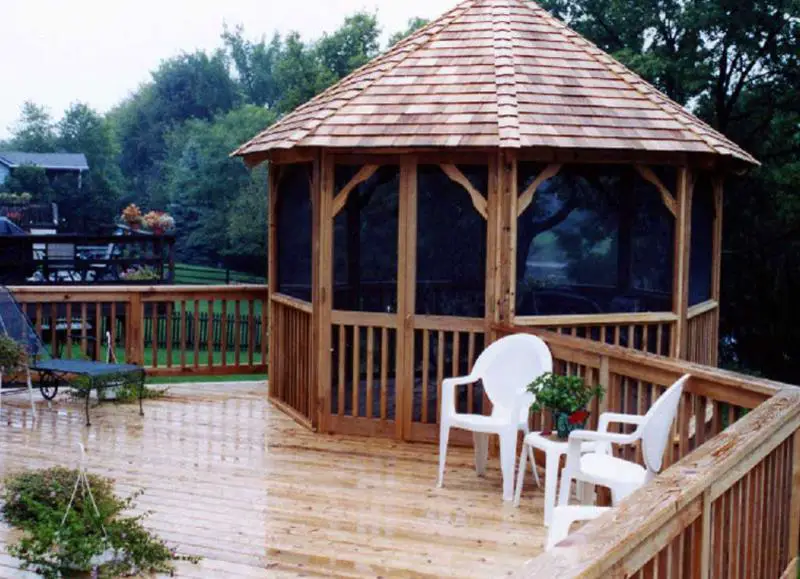 A gazebo that matches the deck perfectly, a space to get in out of the sun, and a long day. All of that is a perfect combination for a wonderful evening.
9. French Door Design
10. Beautiful Hardwood Design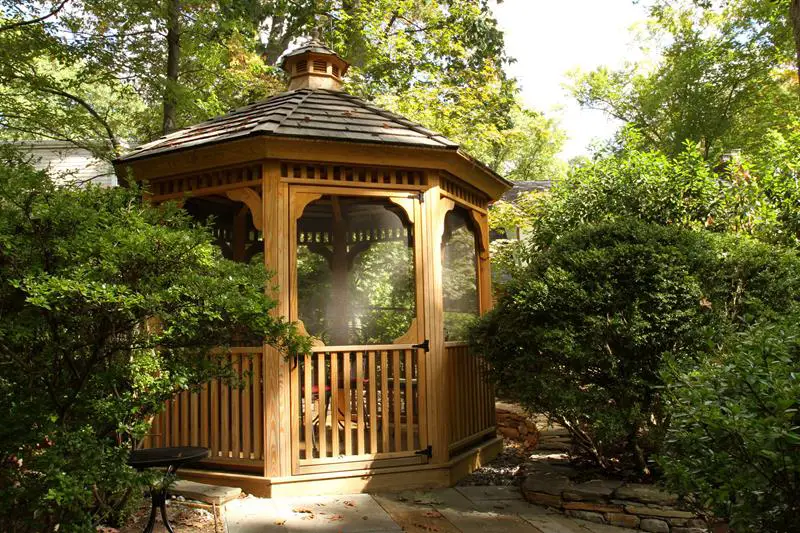 A gazebo should become part of the environment and this one does just that. We love how this hardwood style blends so well with the surrounding landscape.
11. All Part of the Deck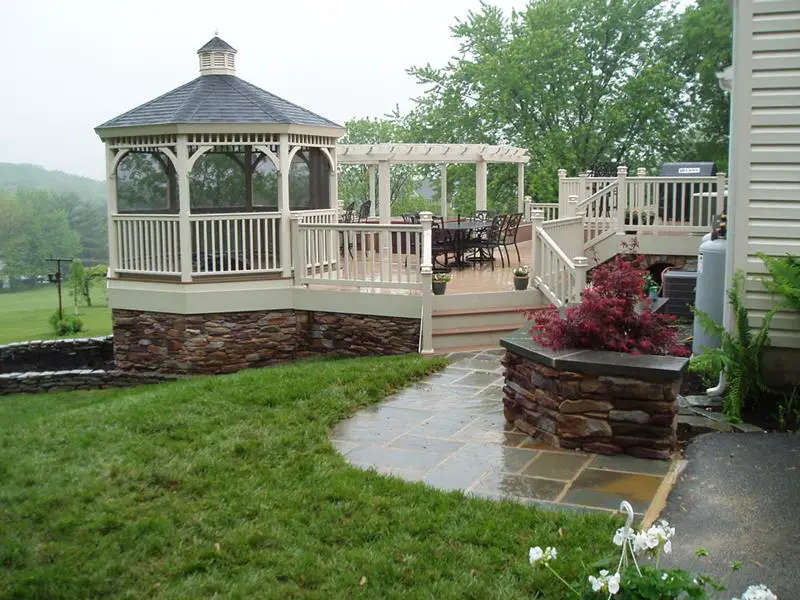 This deck and gazebo are simply amazing, stepping up in luxury to give you a great area to entertain family and friends. We love how the stone retaining walls and hardwood structures work together.
See Also: 12 Best Garden and Landscape Design Software Programs (Free and Paid)
12. A Square Design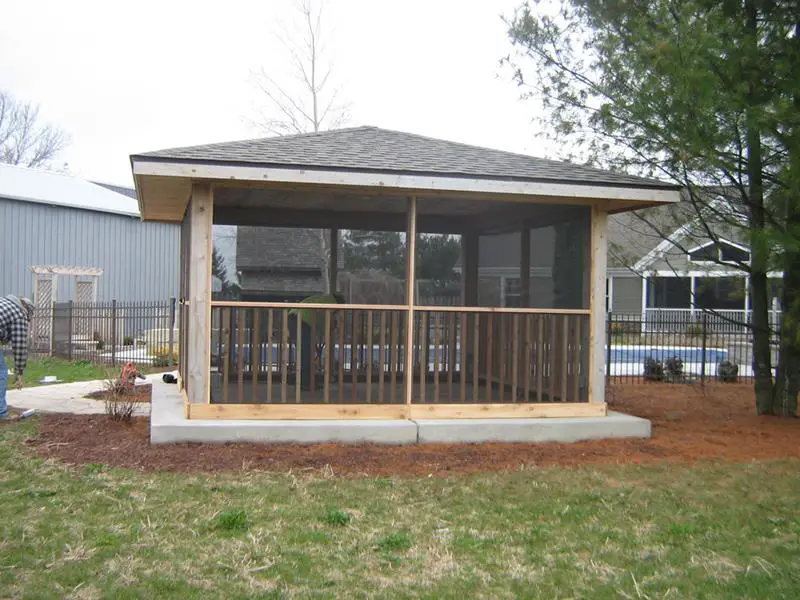 This gazebo takes a square design and makes it work. We love how much space you'll have inside to relax in the shade.
13. Over the Water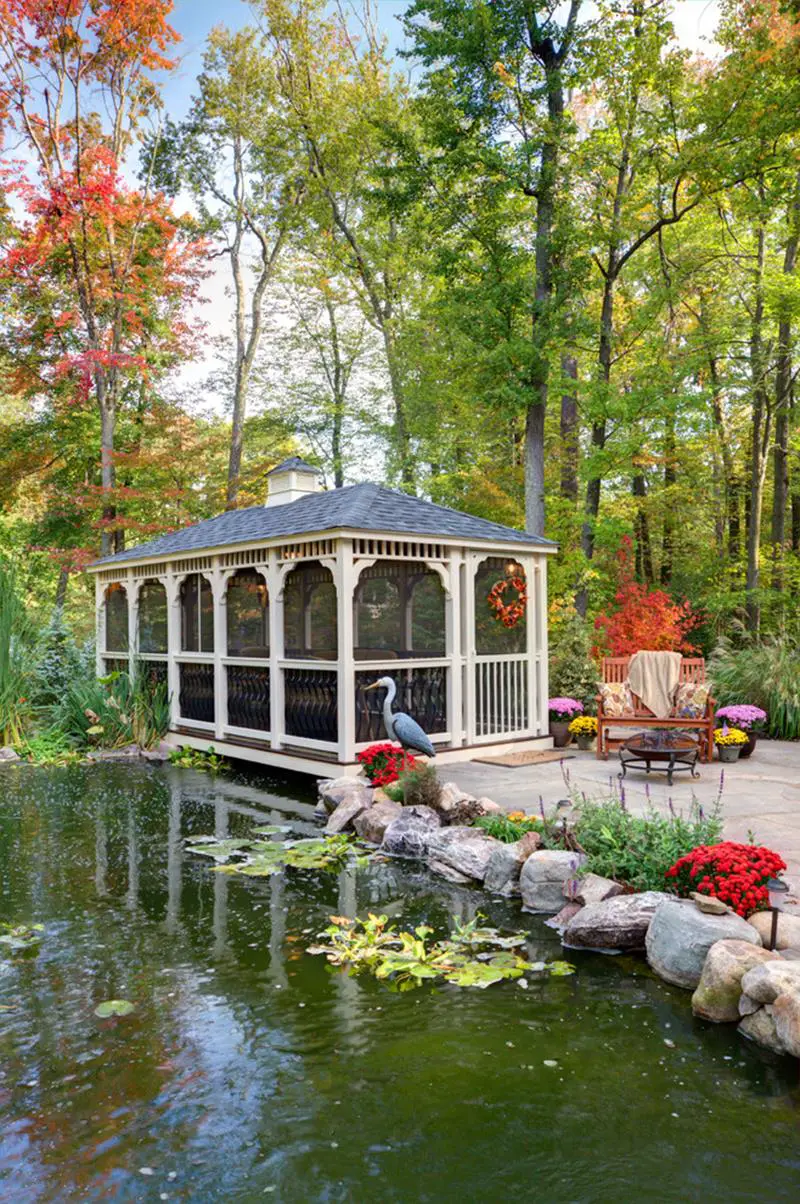 This rectangular gazebo was constructed over this pond, giving you such an amazing place to relax. We love how it blends seamlessly from the patio to the gazebo.
14. Surrounded By Beauty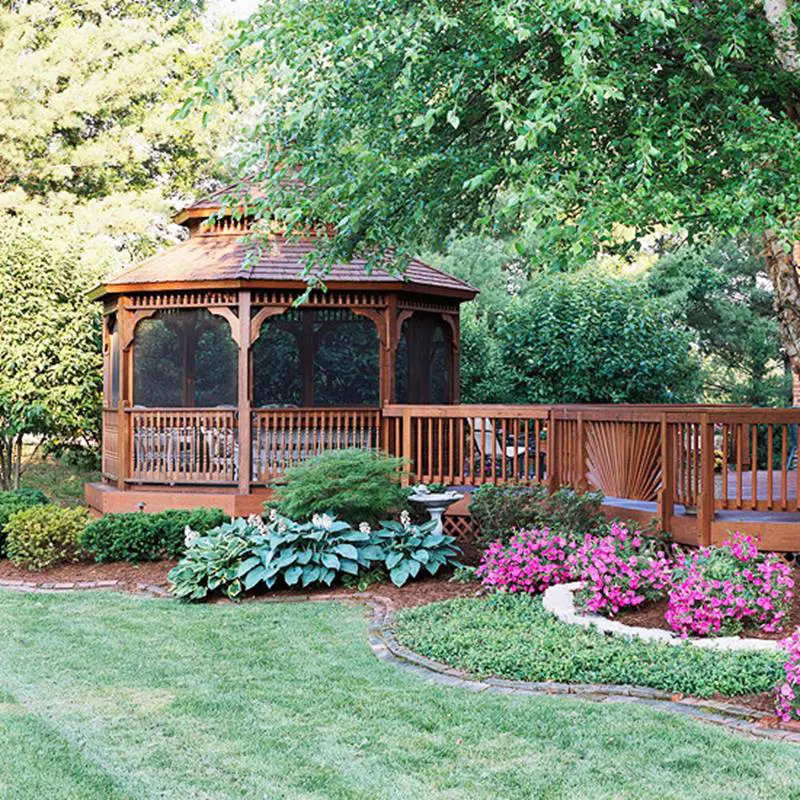 The darker hardwood construction of this gazebo and accompanying deck looks amazing and works so well with the amazing landscape around it.
15. All Screened and Open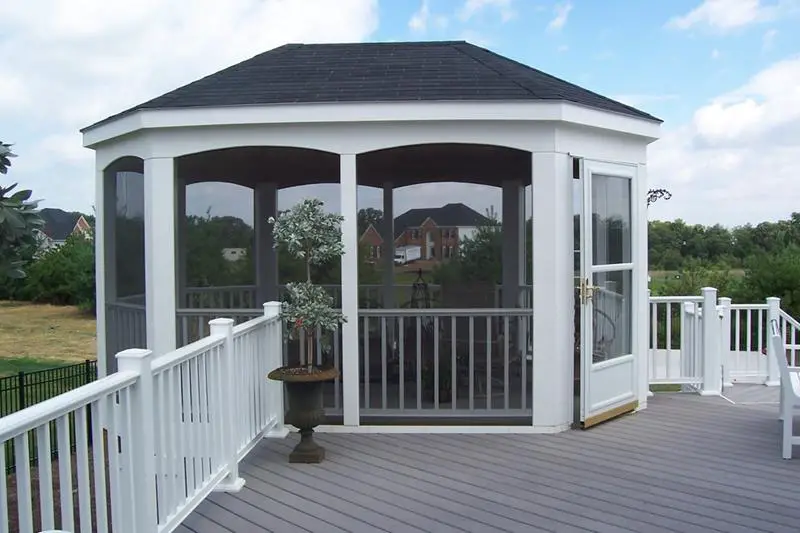 We love how much this gazebo is open to a view, with plenty of open space to look out of. The entrance is durable, with a great front door with glass.
16. Large and Luxurious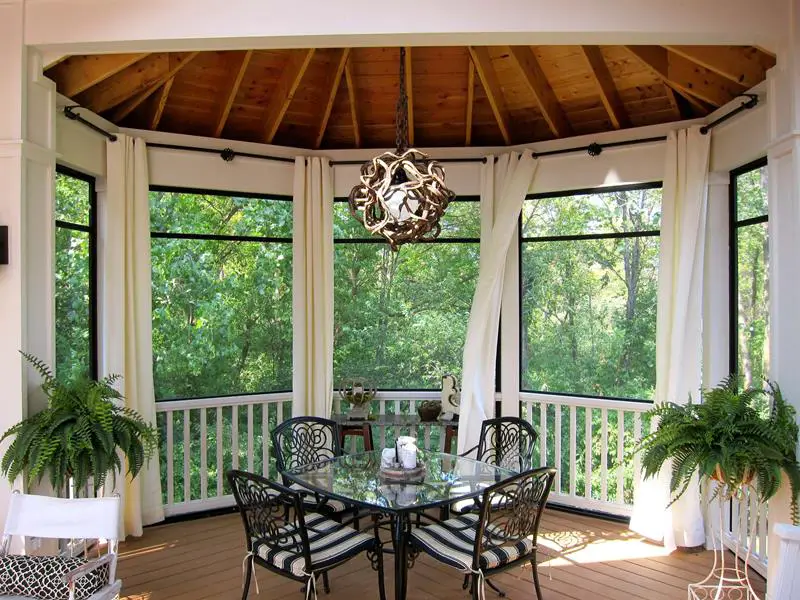 17. Simple Light Design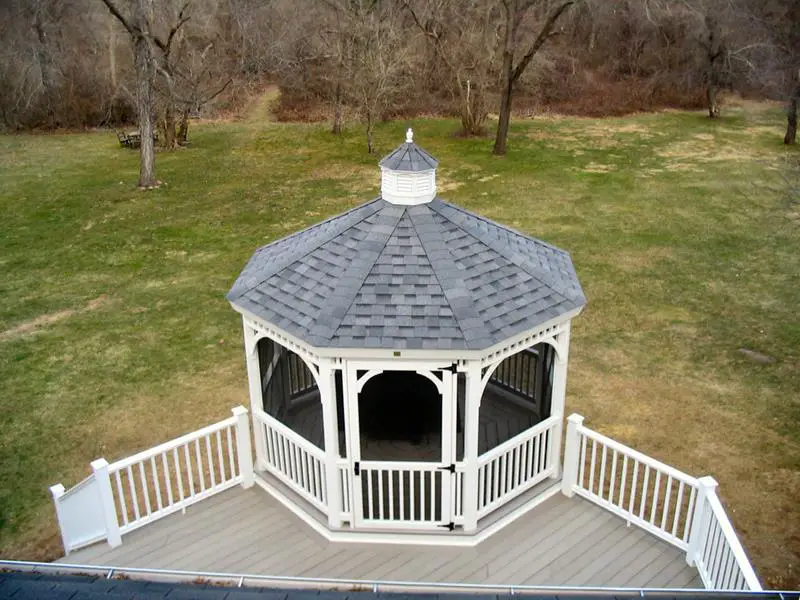 This gazebo sits at the corner of this deck and looks out over the yard, giving you a great area to relax in. It is a seamless fit with the overall construction.
18. Squared and Minimal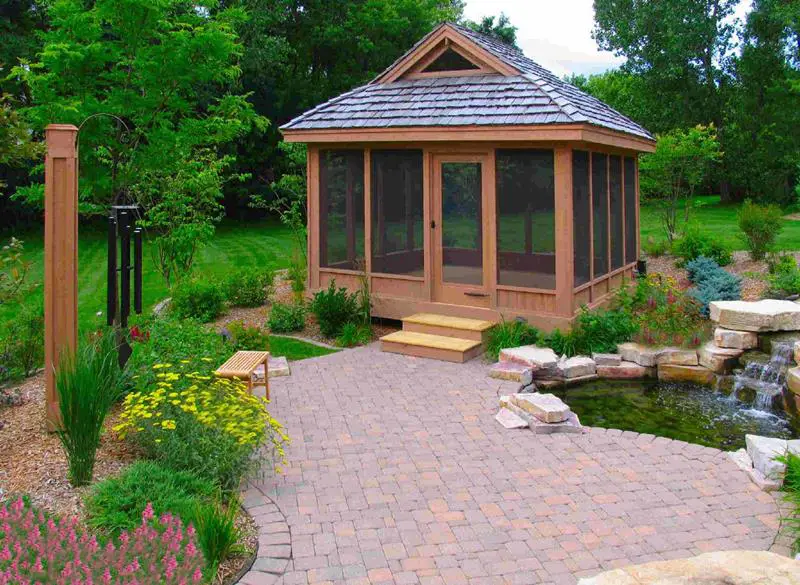 This square gazebo take a minimal approach to design that reminds us of Asian architecture. We love how well it works with the surrounding architecture.
19. Beautiful Deck Addition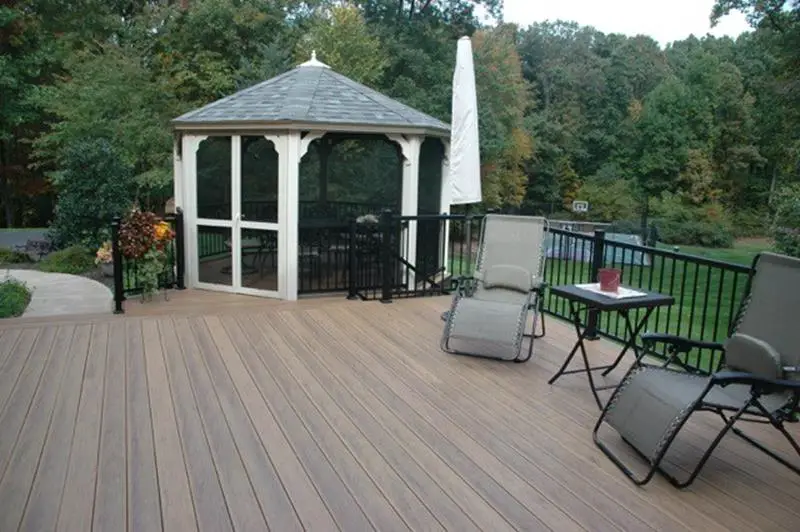 This gazebo has a structure doesn't take up much of your view. It is bare bones and beautiful, letting you look out every direction unobstructed.
20. Perfect Architectural Style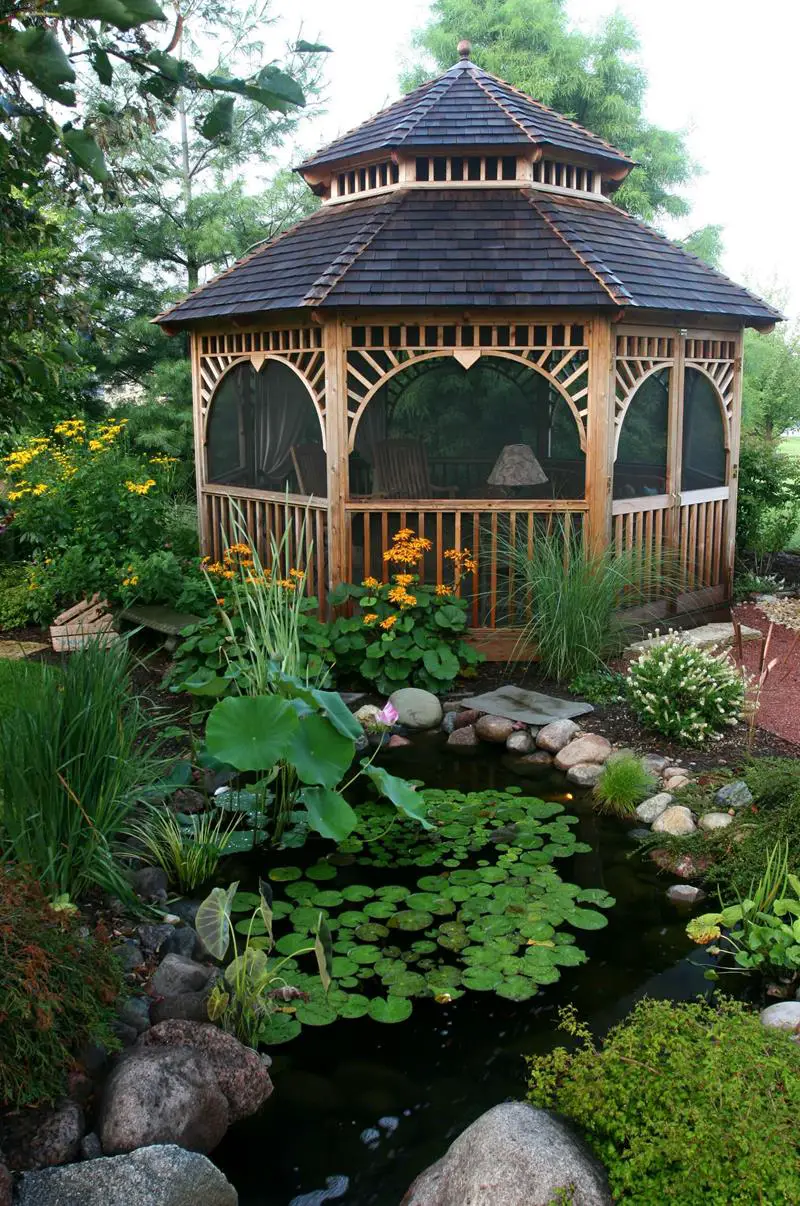 We love the design of this gazebo, with beautiful hardwood architecture at work here. The surrounding pond and landscape add to the majestic beauty.
21. Matches the Deck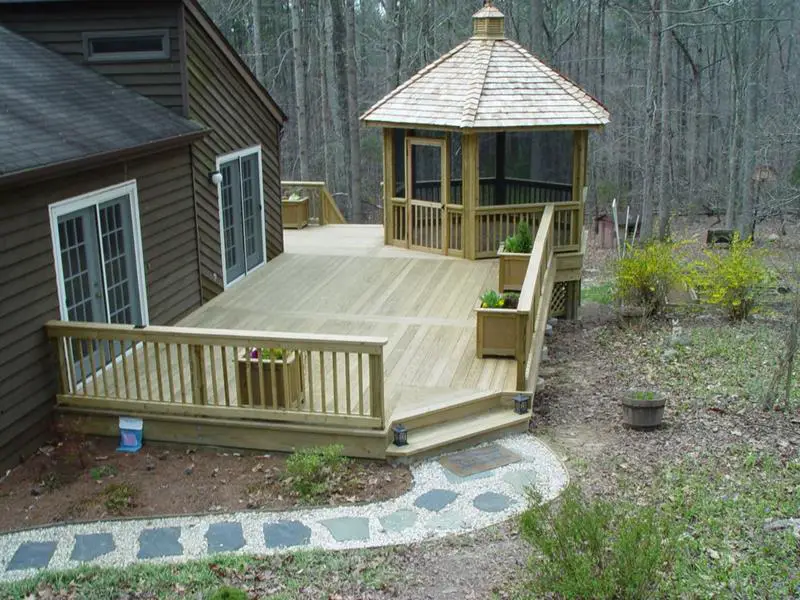 22. Part of the Landscape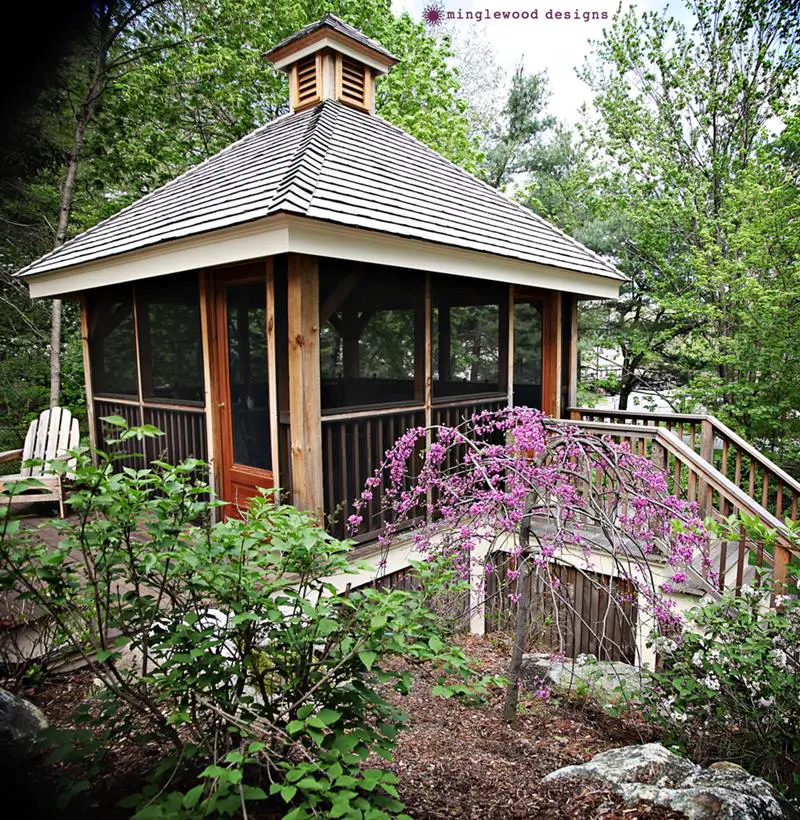 This square gazebo blends well with the landscape, using a great design to match the deck and plant life.
Don't Miss: 15+ Hot Tub Gazebo Designs and Ideas