Updated on January 3, 2022
Your fun and relaxation times don't have to be relegated to the indoors. Where would be the fun in that? We fully believe that that outside of your home can be just as inviting and enjoyable.
That's why we've gathered over 25 examples of how amazing covered decks can be. We have been blown away over the year with the creativity of these outdoor spaces. We love the wide variety because what works for some people won't work for others.
Below, you will see simple designs that won't call for a huge amount of time and money to build. You'll also see some luxurious examples, spaces that can host entire dinner parties. You'll see a range of architectural styles, so buckle up and be ready to take some notes!
Covered Deck Design Ideas
1. Complete Entertainment Space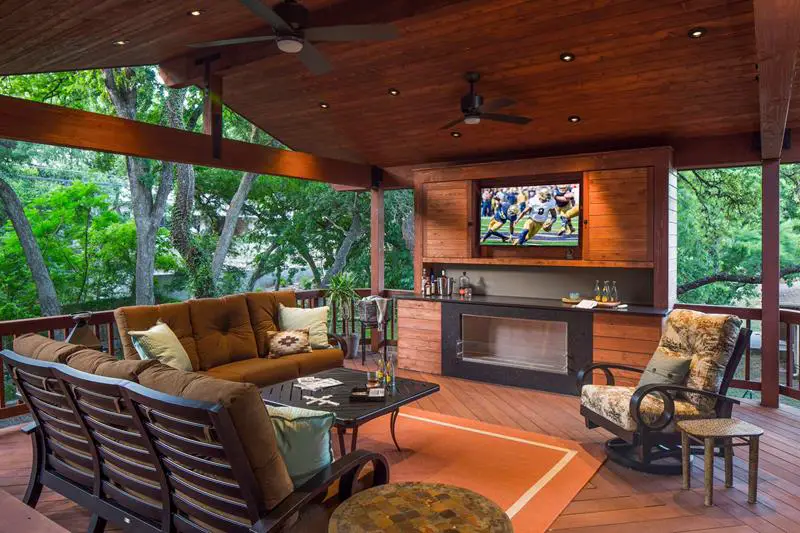 Grab some friends and family and come here to be entertained. This covered outdoor deck has it all, from a bar to a television. Comfortable seating – check.
2. A Modern Architecture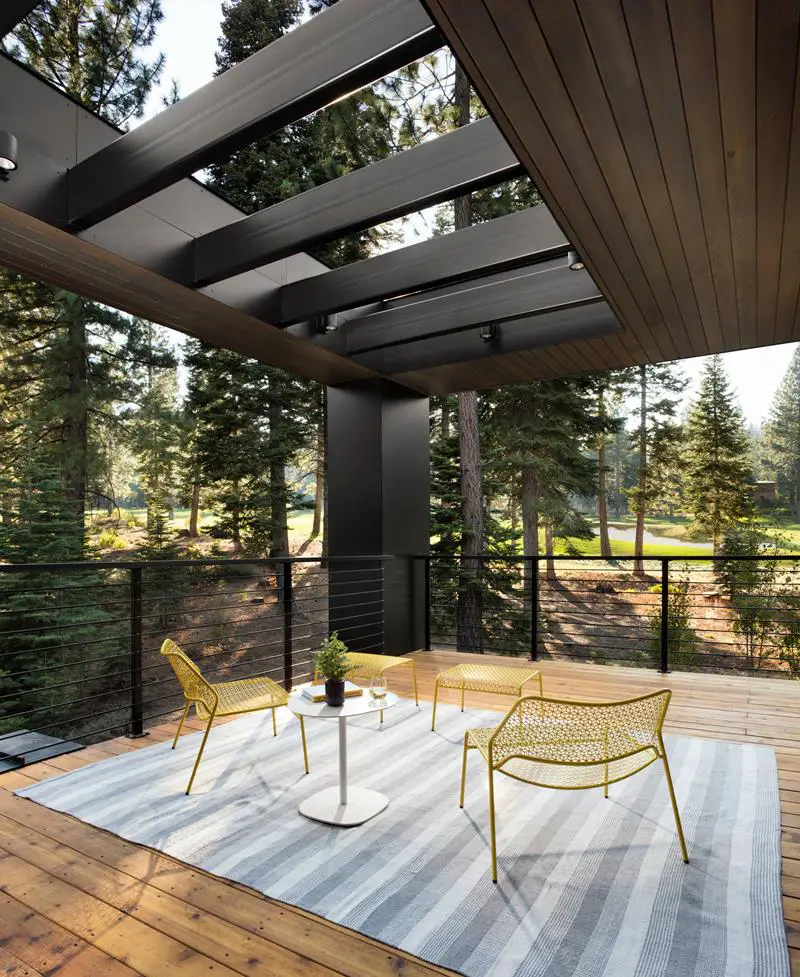 We love the modern approach to this design, incorporating both hardwood and metal in a beautiful architectural style.
3. A Calm and Simple Design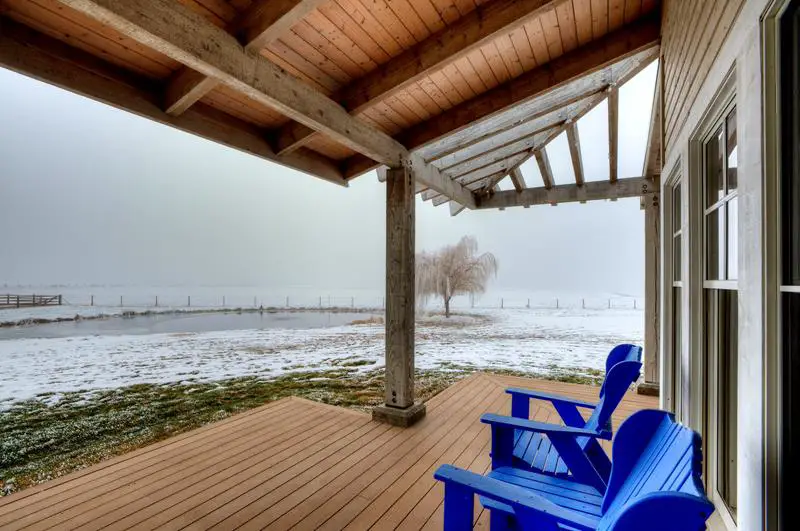 This great outdoor deck features a cover that simply slants down from the house, giving you a wonderful place to relax out of the elements.
4. Outdoor Eating Space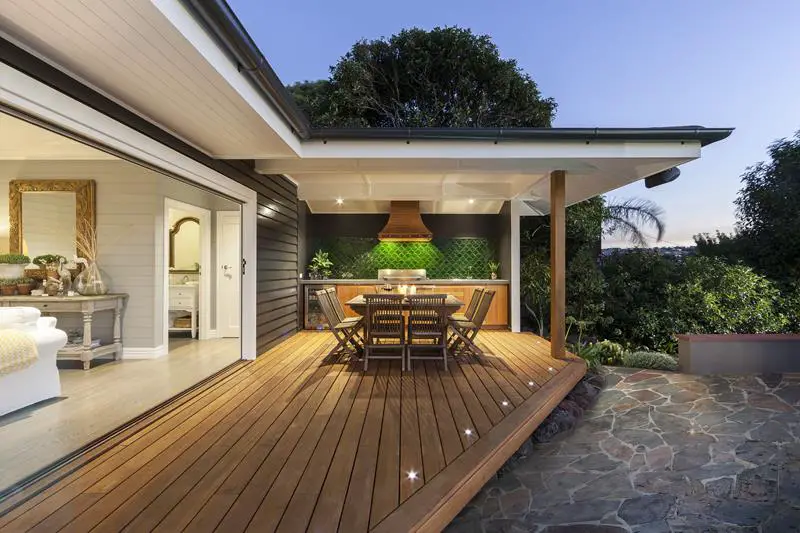 we love that this slanted deck incorporates both a covered and uncovered area, as well as a connection to the home. You can enjoy a meal after you cook in this outdoor area.
5. Luxury Hardwood and Stone Design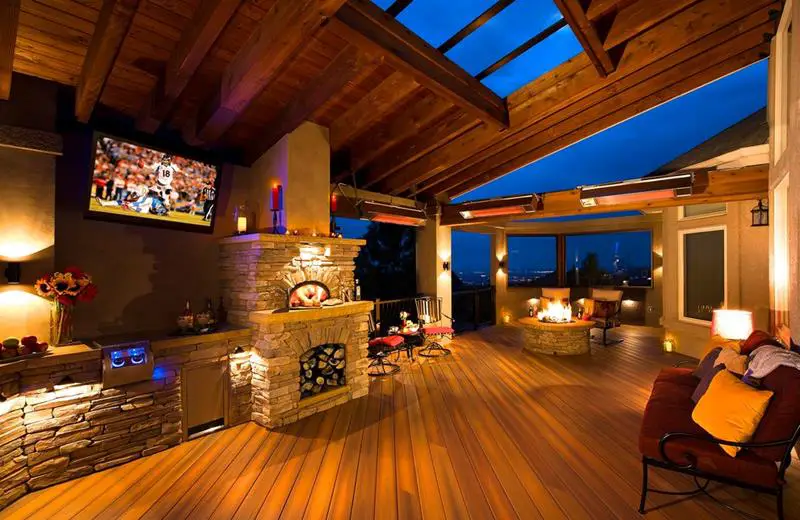 6. Indoor Outdoor Combination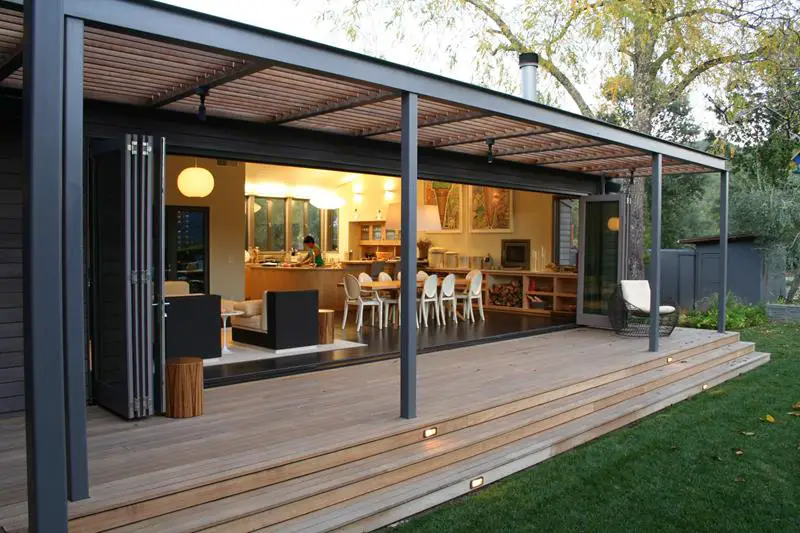 This wonderful outdoor deck space has the ability to be opened completely to the inside of this home, greatly expanding the area you have to entertainment.
7. Perfect Outside Addition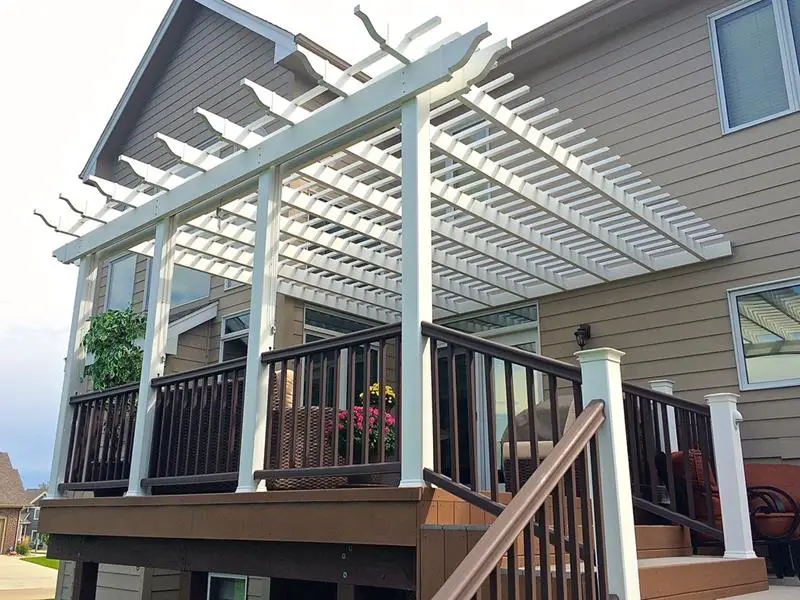 This great outdoor deck has a wonderful and minimal overhang that creates a fantastic look. We love how this space rises to the second floor of the home.
8. A Great Design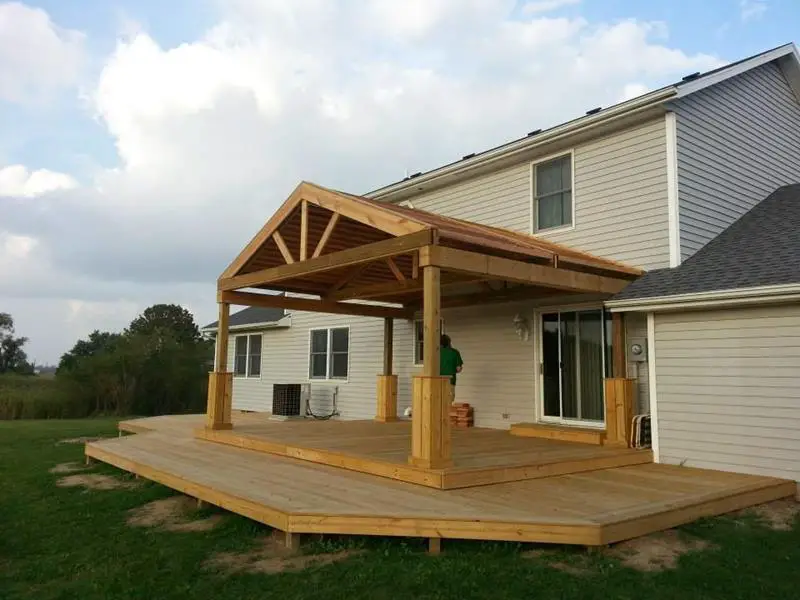 This deck and overhang is the perfect addition to this home. With two levels, you have plenty of room for any outdoor activity.
9. A Rustic Setting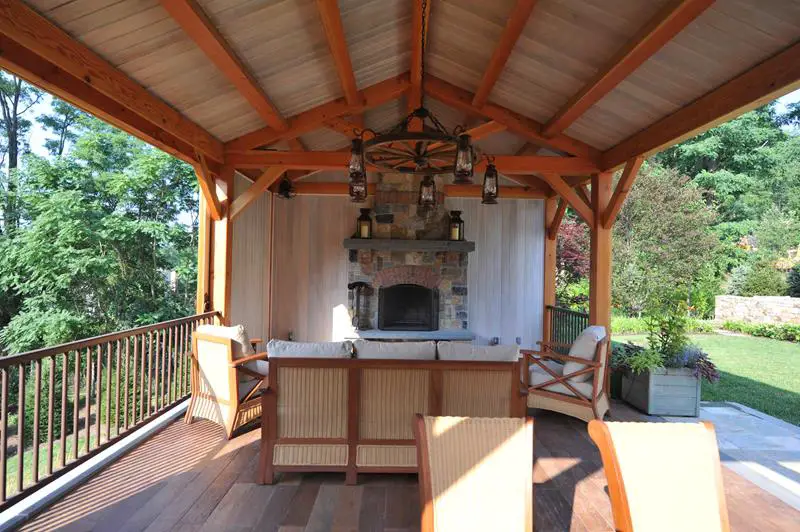 10. Handsome Outdoor Mountain Style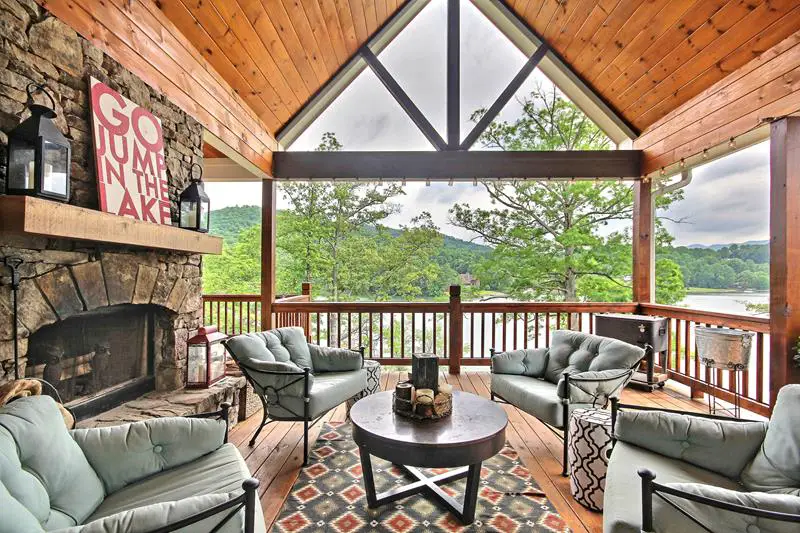 The materials used for this outdoor deck area, from the stone to the hardwood, all lend themselves to a wonderful mountain vibe.
11. Large Relaxing Area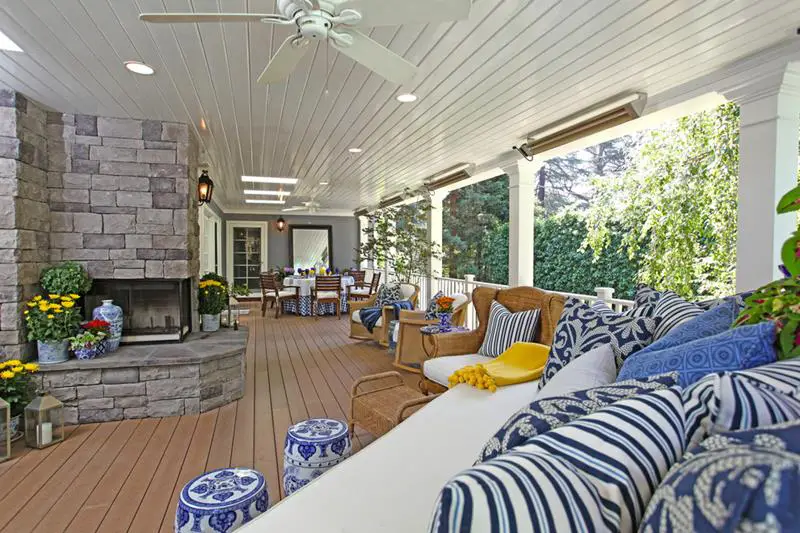 Attached to the house, this outdoor space has a comfortable and light style. We live the stacked stone fireplace area as well as the shades that can be drawn.
12. Multi-Level Deck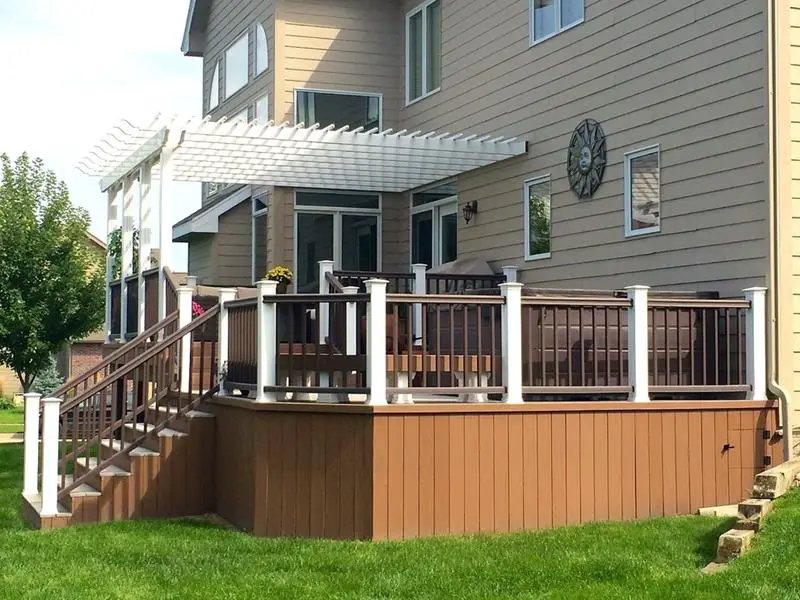 You can see how this deck incorporates two levels, accessible from the yard as well as from the home. We love how this whole area blends together so well.
13. Great Passthrough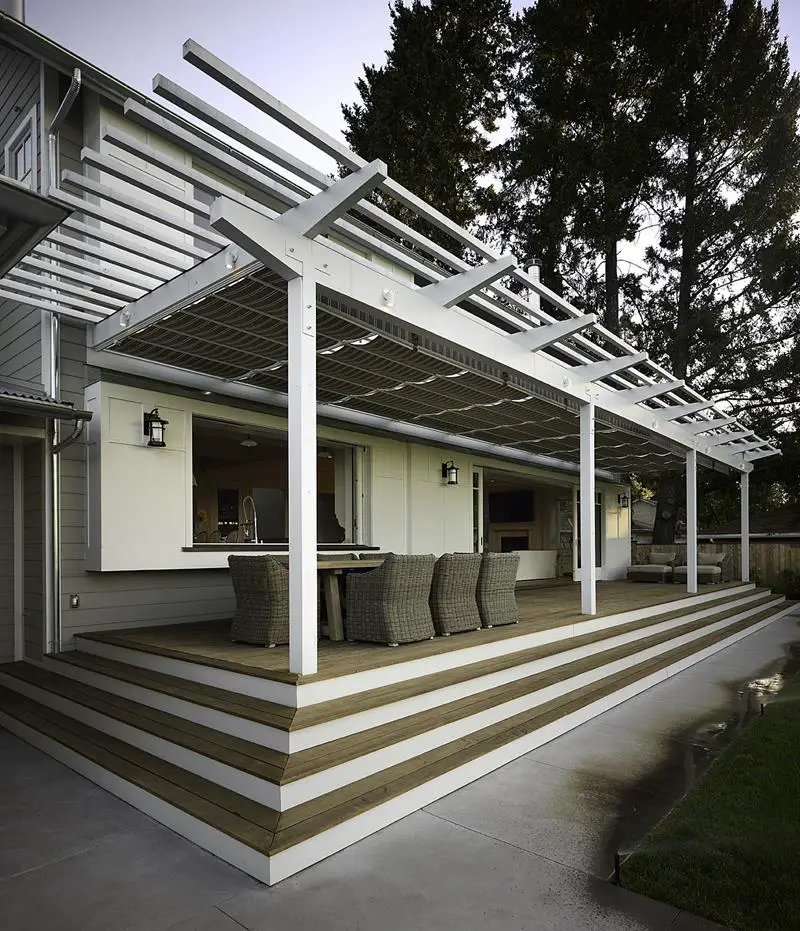 This outdoor deck was well planned out. We love how accessible it is to the inside of the home, both through the open walkway as well as through the kitchen bar area.
14. Dine and Relax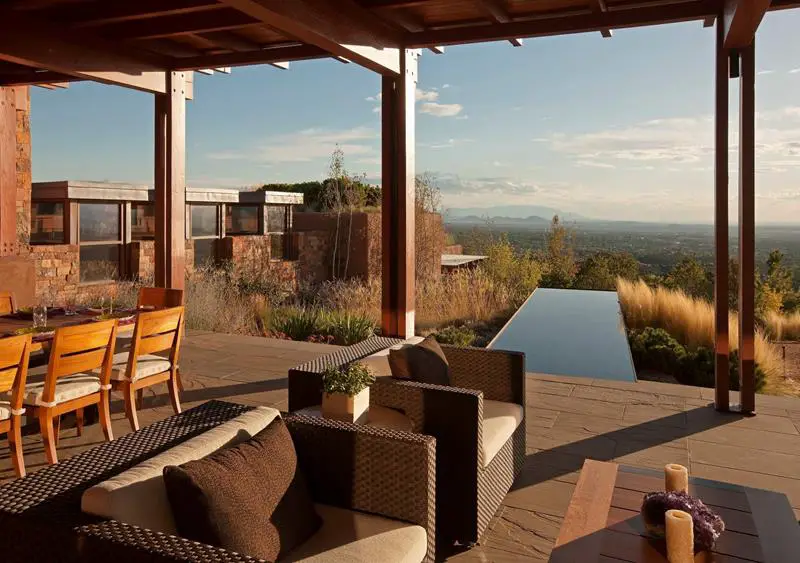 This outdoor space is a perfect fit for its environment. We love the stone style floor and how it blends with the home's architecture.
See Also: 20+ Beautiful Rustic Fence Designs, Styles and Ideas
15. Country Relaxation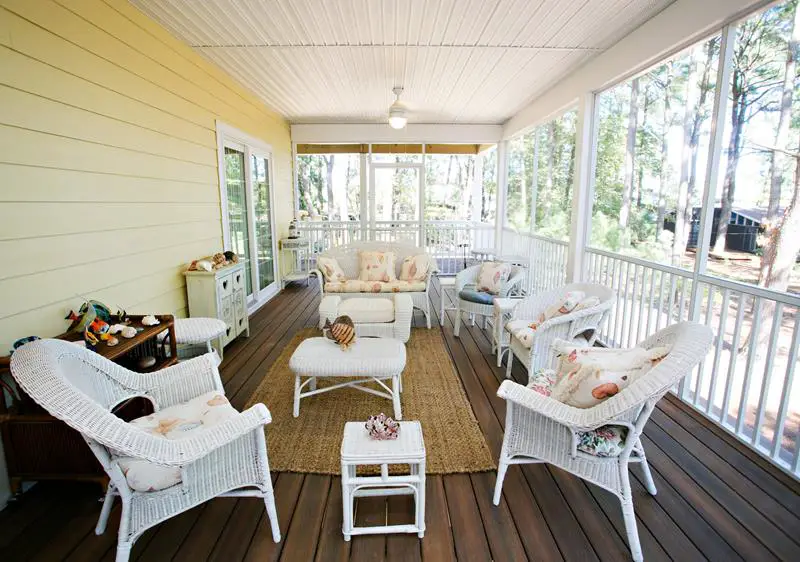 This charming outdoor covered deck has a wonderful and light bucolic feel thanks to the wicker furniture and color scheme.
16. Vaulted Ceiling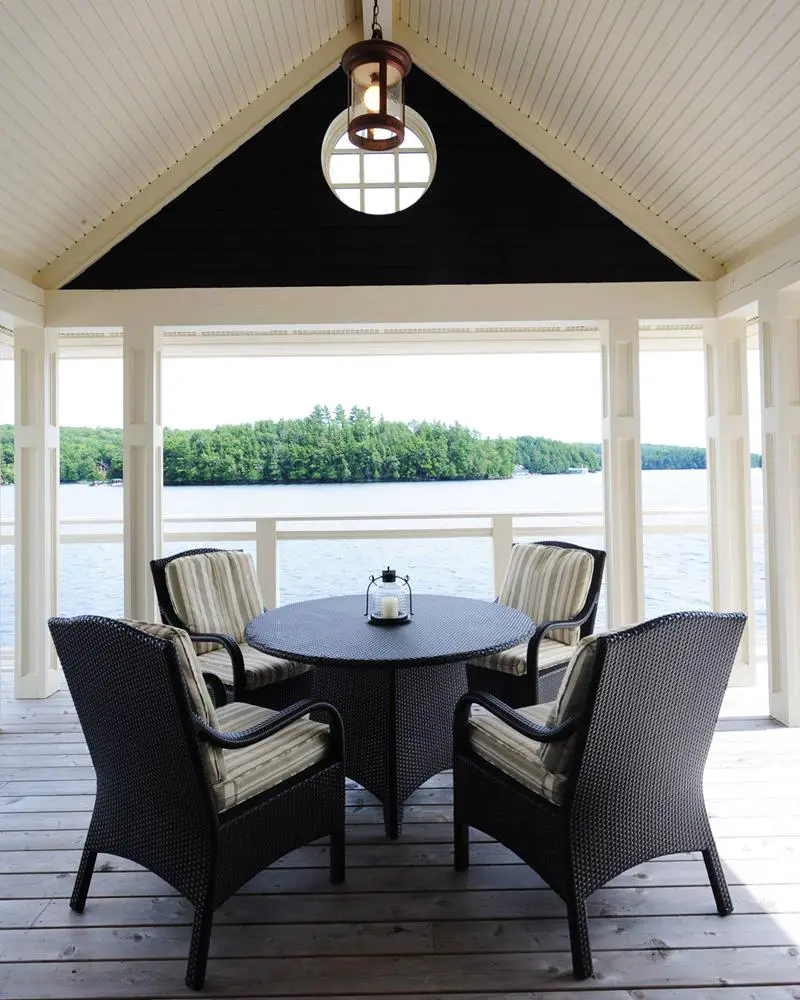 17. Wonderful Dark Hardwood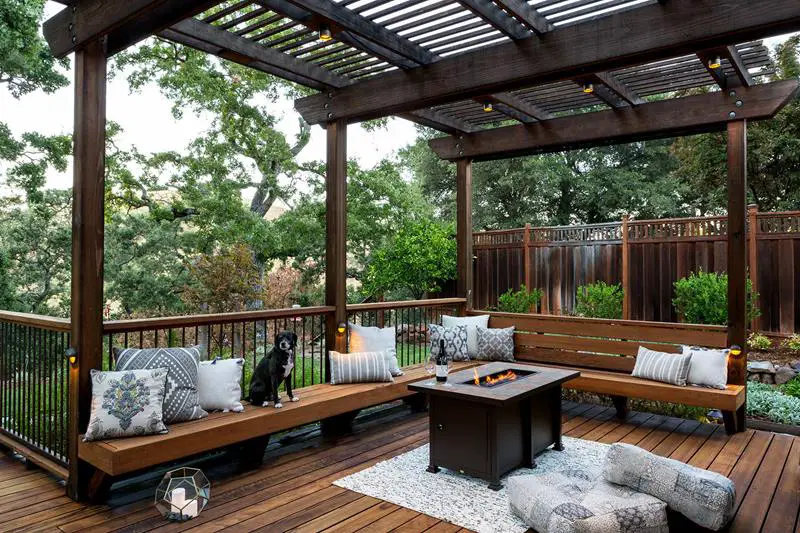 We love the hardwood architecture of this whole outdoor space. The forest look has a sense of calm and we love the modern style.
18. Fireplace and TV Combo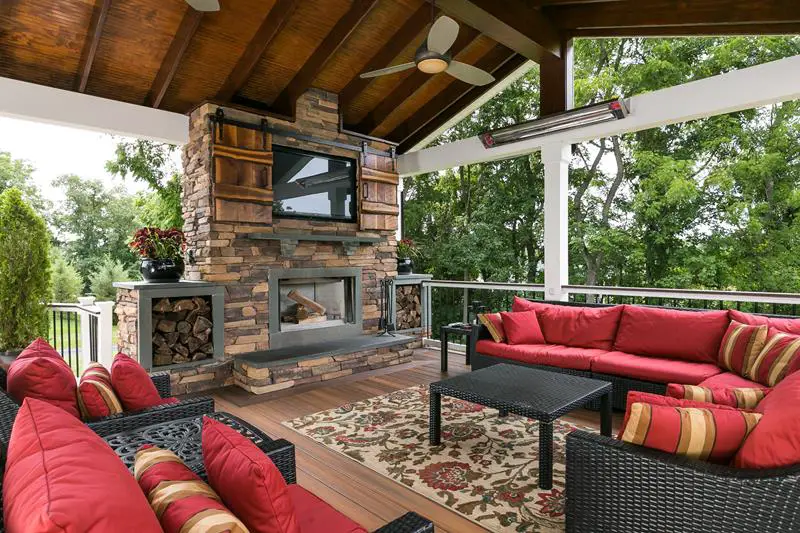 This area features a great stacked stone fireplace that works so well with the hardwood architecture. We love how well the furniture matches this whole area.
19. Large Deck With a View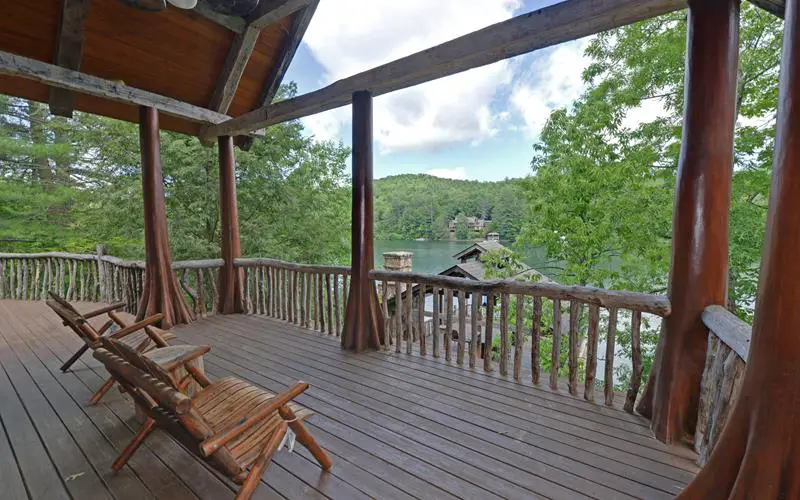 This is an amazing space thanks to the natural hardwood look of the posts and railings. We love how open this whole area is, giving you a wonderful view.
20. Length of the Home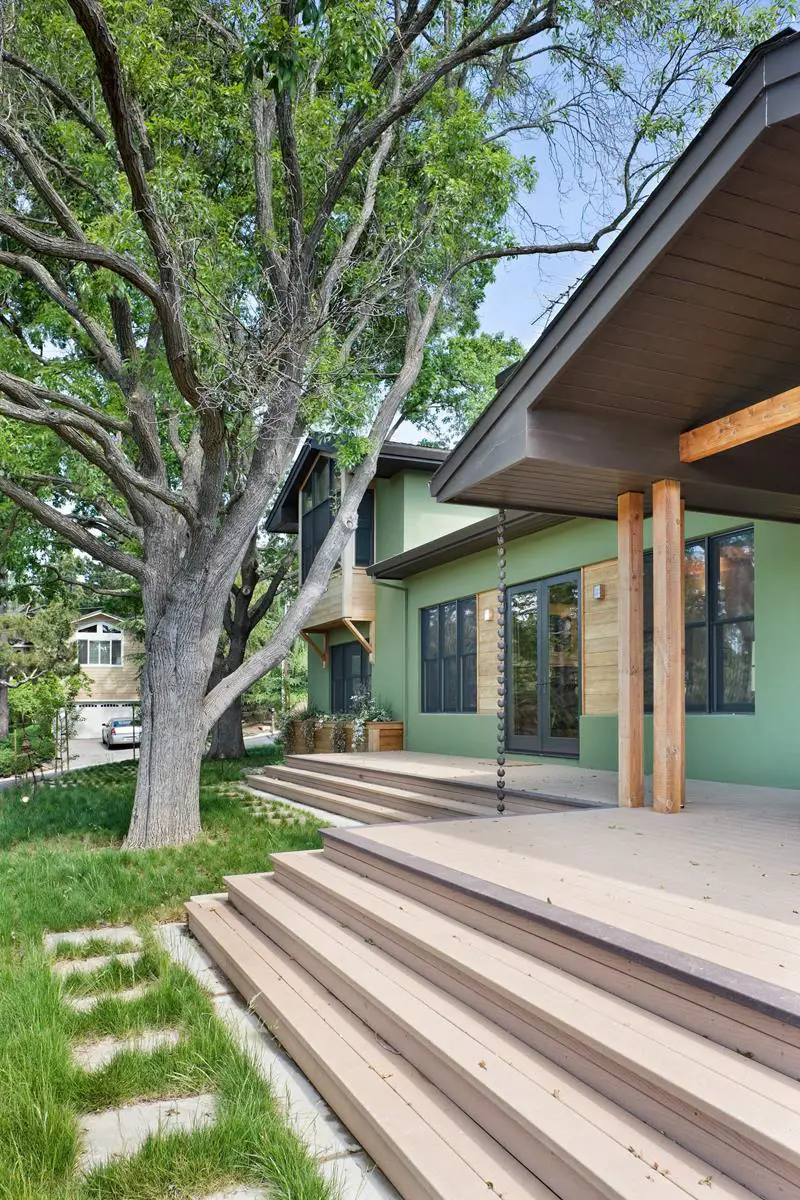 We love decks that run the length of the home, giving you plenty of space to enjoy the outdoors. This one blends with the house so well.
21. Great Covered Space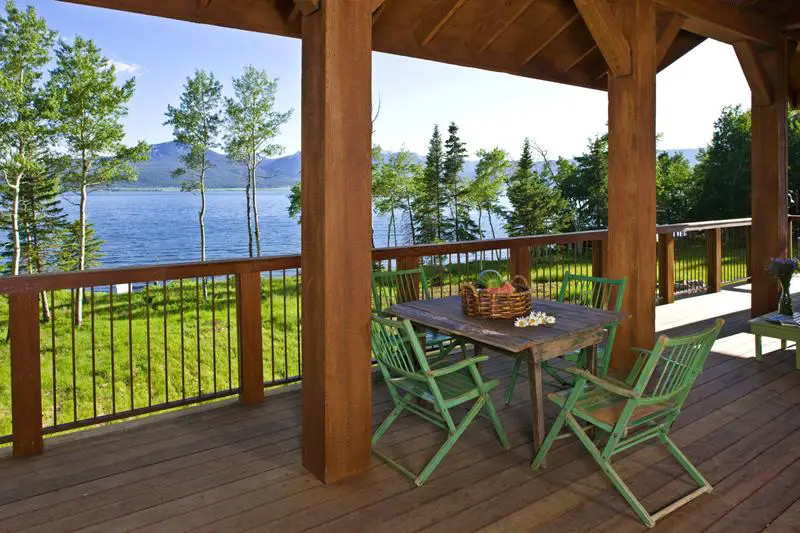 22. Modern Sophisticated Space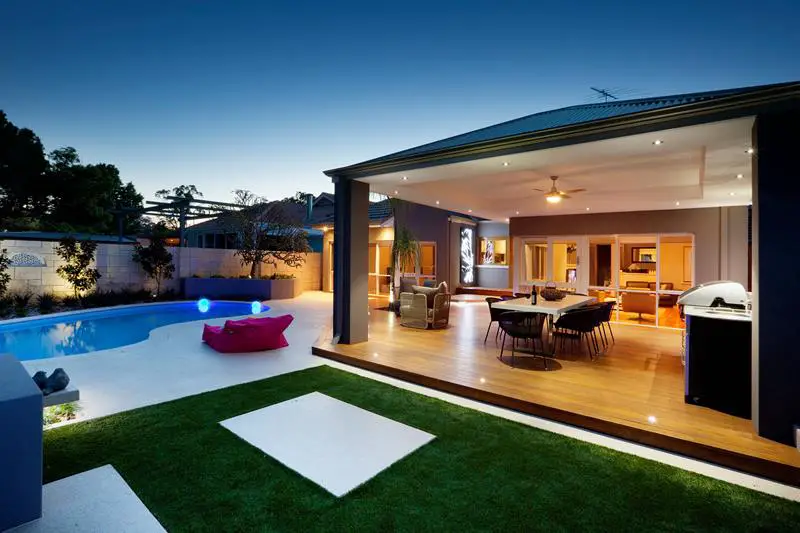 This outdoor space has everything you need for a complete fun experience. Whether you are relaxing for the evening or waiting for another swim, this space is contemporary and amazing.
23. Great City View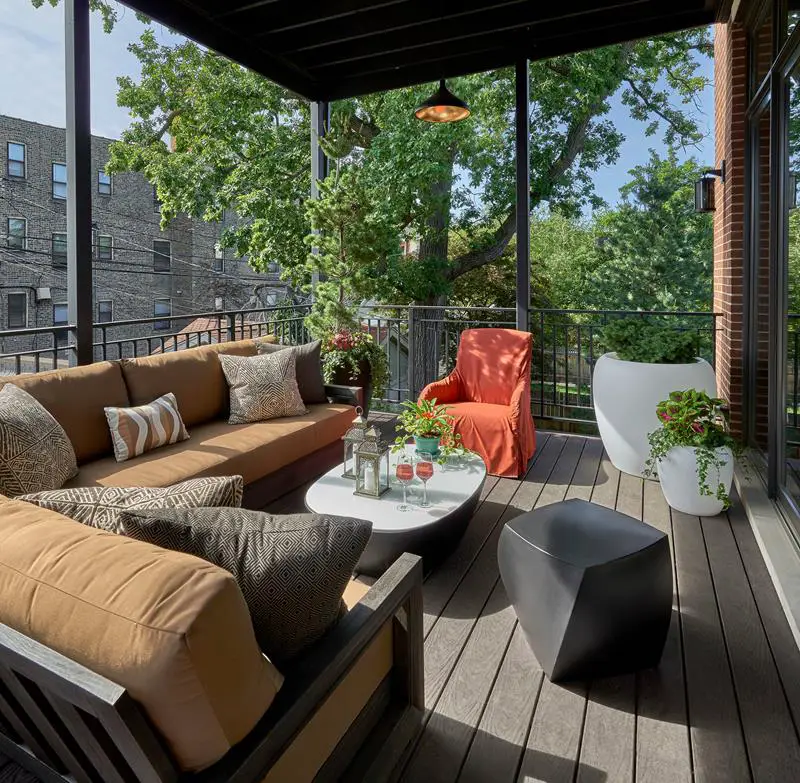 Outdoor decks aren't just for the suburbs. Here, you can see how great a covered hardwood deck can work in a city environment.
24. Covered and Uncovered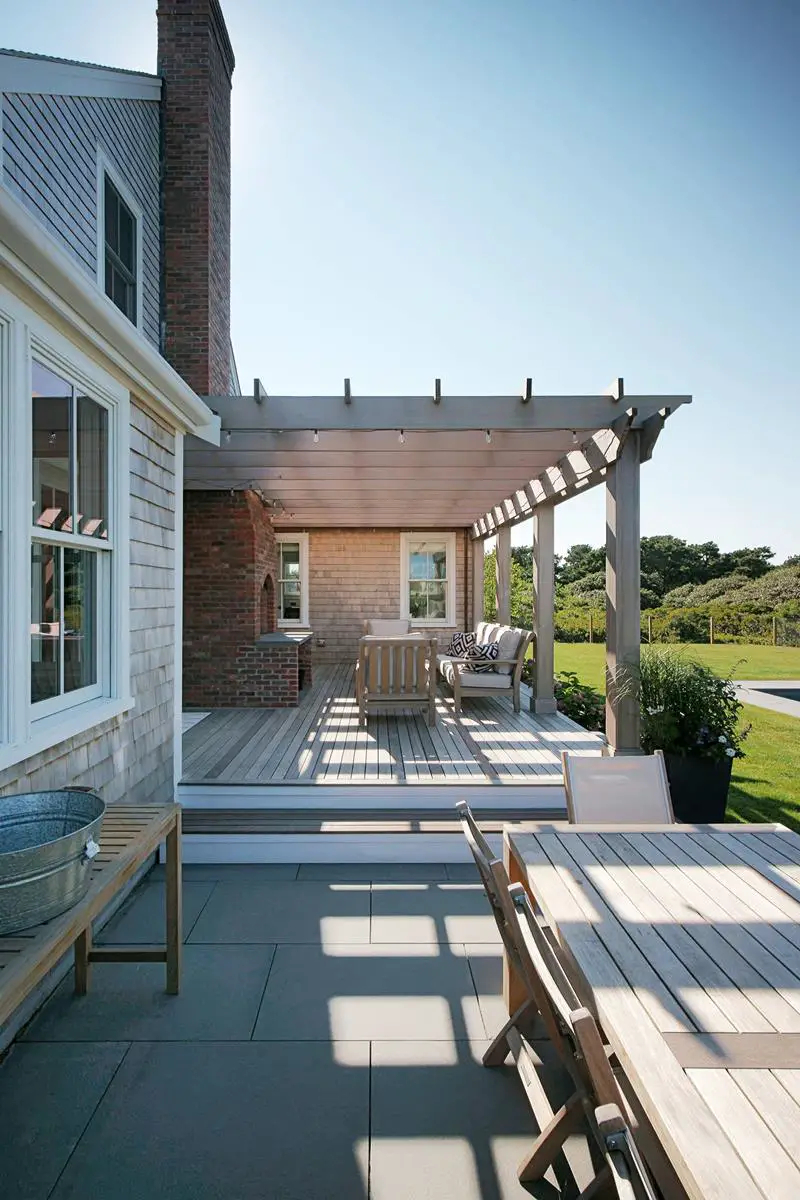 This outdoor deck and patio area extends down the house, giving you plenty of space. We love the simple hardwood furniture, as it gives an easy bucolic feel.
25. Large Beach Deck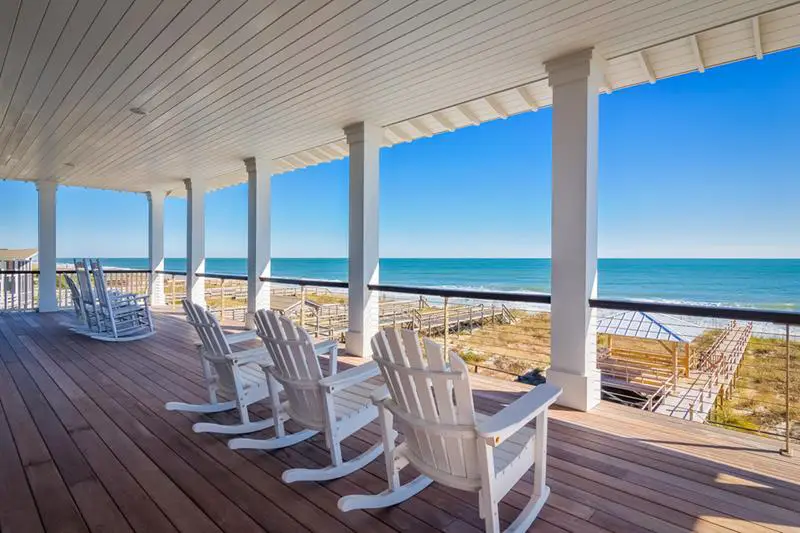 This large covered deck space gives you plenty of room to sit and rock, enjoying the ocean breeze. No matter the time of day, this space will give you peace and relaxation.
26. A European Design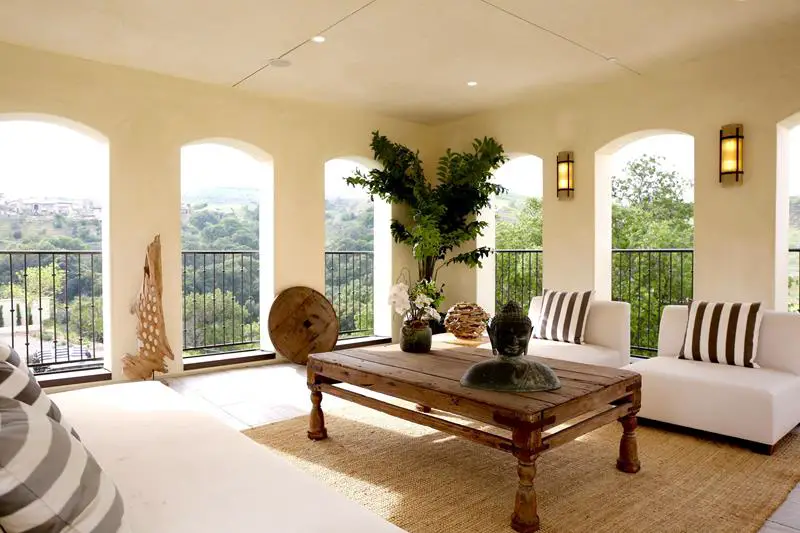 We love the European style of architecture used here, from the arched openings to the calm furniture. This space is light and gives you an amazing view.
27. Around the House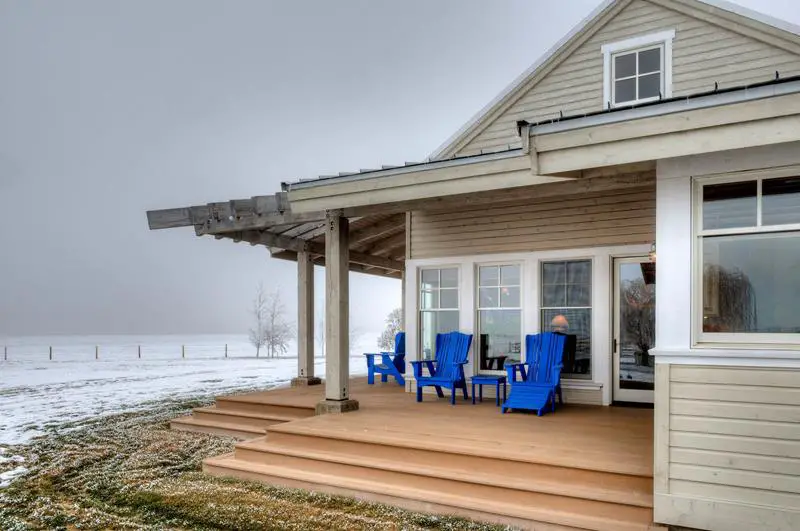 This deck wraps around the house, giving you plenty of room to enjoy the view, no matter which way you want to look.
Don't Miss: 10 Best Online Deck Design Software Programs (Free and Paid)